About Baebody Eye Gel
Baebody Eye Gel is an eye gel designed for under and around the eye care. According to its manufacturer it claims to reduce puffiness, eye bags, dark circles, fine lines, and wrinkles.
It is a lightweight and oil-free serum that doesn't leave you feeling greasy after application.
The gel claims to dry up fast and that it is compatible with other skincare products, thus you can apply your normal makeup and moisturizers over it.
Aging is a natural biological[1] process that we all expect and the first telltale signs that we get occur under the eyes.
For this reason, this product promises it will help you shake off the ever 'looking tired' appearance by hydrating and firming the area around and under the eyes.
Additionally, this eye gel highlights that it is cruelty-free and that it contains no phthalates and parabens.
Baebody Eye Gel – Quick Facts & Specs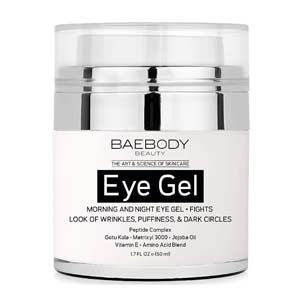 Buy on Amazon
Baebody Eye Gel is an eye gel that promises to decrease puffiness, eye bags, dark circles, fine lines, and wrinkles beneath and around the eyes
Form:

Gel

Skin Type:

Dry

Benefit:

Reduce puffiness and dark circles, moisturize and hydrate dry under eye skin

Brand:

Baebody

Uses:

Removes the fine lines, dark circles, wrinkles, puffiness, fights the signs of aging

Price:

$35*

Active Ingredients:

Mulberry Root Extract, Caffeine, Wheat Bran Extract, Olive Fruit Extract, Green Tea Leaf Extract
Pros And Cons Of Baebody Eye Gel

This eye gel claims to help reduce under-eye darkness, puffiness, fine lines and wrinkles
The claims behind its ingredients have research scientific backup
It is lightweight and supposedly oil-free
It comes with a dispenser for easy use

The gel contains nut thus not for those who are allergic to nuts
The results may not be as satisfactory to everyone
It might cause irritation for some users
How Does It Work? | The Science Behind Baebody Eye Gel
The skin under the eyes is thin and has less collagen than any other part of the eye thus more sensitive.
There are a number of reasons that cause these unwanted signs including lack of sleep, stress, allergies, poor blood circulation, and aging.
Baebody Eye Gel contains a number of ingredients that work to enhance collagen production, reduce inflammation, improve circulation, and stimulate new cell growth.
All these combined may help you achieve brighter under eyes skin to keep you looking younger.
Advertisement
*All individuals are unique. Your results can and will vary.
Baebody Eye Gel Ingredients – The Breakdown
Most of the ingredients used to formulate this anti-aging product are not so new in the market and they are as below;
Peptide Complex – this eye gel contains a blend of peptides including Matrixyl 3000 which works towards collagen building. According to The Journal of Clinical and Aesthetics Dermatology[2], when collagen levels increase it provides long term aesthetic benefits such as improved skin firmness and radiance.
Gotu Kola – also known as Centella Asiatica is an ancient herb which is rich in amino acids, beta carotene, fatty acids, and phytochemicals. According to the Journal of Ayurveda and Integrative Medicine[3], Gotu Kola calms inflammation, builds collagen, improves blood circulation, and speeds wound healing.
Vitamin E – Dermatology Online Journal describes vitamin E as a fat-soluble antioxidant. It works to protect the skin from harmful solar radiation using its photo-protective properties.
Jojoba Oil – in an article posted on Research Gate[4], jojoba oil is considered an essential moisturizer that is not oily, hence cannot clog pores. In fact, it balances sebum levels. It is also hypoallergenic which is important for those with sensitive skin.
Amino Acid Blend – peptides are chains of amino acids. This product has been formulated using a blend of peptides.
Baebody Eye Gel Alternatives
| Brand | Price | Active Ingredients |
| --- | --- | --- |
| Drunk Elephant Shaba Complex Eye Serum | $60 | Black Tea Ferment, Copper Peptides, Niacinamide, |
| Renewal Derm | Unknown | Retinol, Collagen |
| Plexaderm | $59.95 | Titanium Dioxide, Acetyl hexapeptide-8, hydrolyzed rice protein |
| Sudden Change Under Eye Firming Serum | $12.97 | Dextran Sulphate, Hyaluronic Acid, Tetrasodium EDTA, Dimethicone, Serum Albumin |
| Kiehl's Vitamin C Eye Serum | $59 | Vitamin C, Tri-Peptide and Hyaluronic Acid |
| Murad Renewing Eye Cream | $82 | Retinol, Mango Butter, Eye Brightening Complex, Advanced Peptides |
| ReVive Anti-Aging Eye Serum | $285 | Black Tea Ferment, Biotin, Peptides, Allantoin, Melia Azadirachta Flower Extract,Corallina Officinalis Extract, Mica, Aloe, Turmeric, Eggplant |
| G.M. COLLIN Diamond Eye Contour | $120 | Peptides, Watermelon Fruit Extract, Apple Fruit Extract, Tocopherol, Black Diamond, Sodium Hyaluronate, Squalene, Snow Algae |
| Dremu Airbrush Refining Eye Cream | $68 | Emu Oil, Collagen, Aloe Vera, Ylang Ylang, Green Tea, Ceramides, Vitamin E, Urea |
| DRMTLGY Needle-less Serum | $69.00 | Niacinamide (Vitamin B3), Hyaluronic Acid (Sodium Hyaluronate), Panthenol (Provitamin B5), Bambusa Vulgaris Leaf/Stem Extract |
Is Baebody Eye Gel Safe? – Warnings & Complaints
Yes, this product may be safe as it provides detailed warnings for its use. These include;
Avoid direct contact with the eye. If contact occurs, rinse thoroughly with water
Contains nuts which could pose a threat to those with a nut allergy
Keep out of reach of children
Baebody Eye Gel Customer Reviews & Results
This under eye gel has garnered both positive and negative results. Those that are happy with the results claim that their under eye dark circles improved greatly.
As for those who felt the eye gel was not worth the money, they complained that it did not work while others claimed it even worsened their condition.
Baebody Eye Gel: Packages, Deals, Prices & Where to Buy It
This product comes in a 50ml container and costs $24.95. It can be bought from the official website and online platforms.
Final verdict
Under-eye puffiness, darkness, and wrinkles are unpleasant appearances and make a person look tired and even older than he or she is.
Baebody Eye Gel is an eye product that claims to reduce eye puffiness, increase collagen production, improve blood circulation, and improve under eye dark circles[5]. Through all these processes, the eyes are expected to appear brighter free from fine lines, wrinkles, dark circles, and puffiness.
However, this product may be unfit for those with nut allergy as it contains nuts. It may thus cause irritation and other allergic reactions. For this reason, you should look for other under eye creams such as Olay Eyes Ultimate Eye Cream, No7 Eye Cream, and L'Oréal Paris Eye Defense that have no nuts in their formulation.
Advertisement
*All individuals are unique. Your results can and will vary.
Is There Anything Else You Should Know About Baebody Eye Gel?
Apart from under and around eyes application, this product can be used all over the face as treatment. So if you have dark pigmentation around your face this product could help out too.
Baebody Eye Gel – Frequently Asked Questions
Q: How to use Baebody Eye Gel?
A: Dab the gel gently around the eyes, forehead, and cheek area. It can be used under makeup. For optimum results, use twice daily, morning, and evening.
Q: Does Baebody Eye Gel have any side effects?
A: Yes this product may cause irritation or allergic reaction.
Q: Can I use Baebody Eye Gel if I have a skin condition?
A: The manufacturer has not given any restriction for those with health conditions so yes you can use but it is better to consult your dermatologist first.
Q: Does Baebody Eye Gel work?
A: This eye gel may work as it contains effective ingredients that have scientific evidence.
Q: What is Baebody Eye Gel moneyback guarantee, return & refund policy?
A: For damaged or defective goods, you must report within 14 days for a replacement. Money-back guarantees for unsatisfactory results have not been mentioned.
SOURCES
Health Insiders relies on peer-reviewed studies, academic research institutions, and medical associations. We avoid using tertiary references. You can learn more about how we ensure our content is accurate and current by reading our editorial policy.
[1] Miranda A. Farage, Kenneth W. Miller, Peter Elsner, and Howard I. Maibach.Advances in Wound Care.Feb 2013.5 10.http://doi.org/10.1089/wound.2011.0356
[2] Trookman NS, Rizer RL, Ford R, Ho E, Gotz V. Immediate and Long-term Clinical Benefits of a Topical Treatment for Facial Lines and Wrinkles. J Clin Aesthet Dermatol. 2009 Mar;2(3):38-43. PMID: 20729942; PMCID: PMC2923951
[3] Datta HS, Paramesh R. Trends in aging and skin care: Ayurvedic concepts. J Ayurveda Integr Med. 2010 Apr;1(2):110-3. doi: 10.4103/0975-9476.65081. PMID: 21836797; PMCID: PMC3151377
[4] Sandha, G.K. & Swami, V.K.. (2009). Jojoba oil as an organic, shelf stable standard oil-phase base for cosmetic industry. 2. 300-306
[5] Causes of dark circles under the eyes https://onlinelibrary.wiley.com/doi/abs/10.1111/j.1473-2165.2007.00324.x