About ArthroSoothe
ArthroSoothe is a joint support supplement that promises to replenish the nutrition required for joint lubrication. It also claims to enhance free movement and healthy function.
Precisely, this dietary supplement claims to improve the function of particular joint support tissues especially ligaments, tendons, cartilages, and the synovial fluid. And that its ingredients can promote continuous repair and remodeling processes for better joint health.
Although joint health is affected by physiological factors like diet, activities, stress, aging, and immune system, ArthroSoothe maintains that it can provide solutions to joint-related issues.
It is generally intended for professionals such as athletes but can also be used by anyone with joint issues.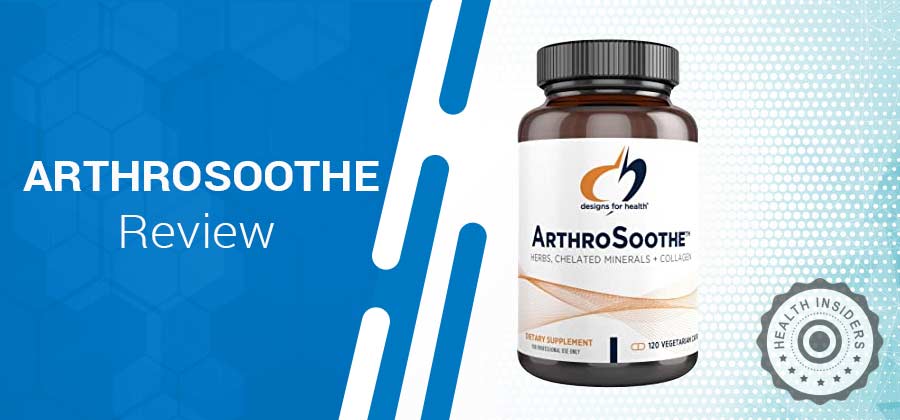 ArthroSoothe Ingredients – What to Look For
The ingredients present in this supplement are;
How Does It Work? | The Science Behind Designs for Health ArthroSoothe
ArthroSoothe uses several methods in battling joint pain. Firstly, it contains anti-inflammatory agents such as turmeric to help reduce swelling around the joint area.
Secondly, it uses suppressing power to reduce the levels of inflammatory markers. This helps to reduce the pain and stiffness of the joints.
Thirdly, ArthroSoothe uses its other ingredients to provide continuous relief, lubrication, and collagen support to improve joint health even further.
ArthroSoothe Pros & Cons
Pros
It claims to contain popular and lab-tested ingredients
Claims to provide anti-inflammatory effects
May reduce joint stiffness and pain
May enhance mobility and flexibility
Ingredients are free from dairy, gluten, and soy
Cons
This product only provides short term relief
Pain relief may not be as instant as expected
Prolonged use may have negative side effects
Contains shellfish extracts
SEE ALSO – Zyflamend and Movexa

People Also Ask – Questions and Answers
Q: How to Take ArthroSoothe?
A: Take 4 ArthroSoothe pills per day, preferably with meals or as directed by your physician.
Q: Does ArthroSoothe Have Any Side Effects?
A: No side effects have been mentioned but based on the ingredients some adverse effects such as stomach upsets, nausea, dizziness, and diarrhea may be experienced.
Q: Can I Take ArthroSoothe Designs for Health If I Have A Health Condition?
A: This product is silent about this information. It is therefore important to consult your doctor before using it.
Q: Does ArthroSoothe Work?
A: Going by the ingredients in this supplement, it may work. The ingredients also have scientific evidence to prove their effectiveness.
Q: What Is ArthroSoothe Work Moneyback Guarantee, Return & Refund Policy?
A: The company that produces this supplement allows the return of unopened products within 30 days of purchase. As for damaged items, the company expects users to reach out within 72 hours from the delivery time.
ArthroSoothe Alternatives
Brand
Price
Active Ingredients
Arthroben
$119.91
Baicalin, Collagen Peptides, Acacia Catechu
Turmeric Curcumin Plus
$23.95
Turmeric, curcuminoids, bioperine, cellulose,
magnesium stearate
Joint N-11
$49.00
Ginger root, Bioperine, N-acetyl-L-cysteine, MSM, niacinamide, turmeric root
CurcuWell
$29.99
Turmeric, Boswellia Serrata, Piperine
EienHealth Triple Power Joint Support
$39.99
Turmeric, curcumin, collagen
ProJoint Plus
$29.95
Chondroitin and Glucosamine, Turmeric, bromelain, methionine, boswellia extract
Omega XL
$39
Vitamin E, Green Lipped Mussel Oil and Olive Oil
Relief Factor
$79.95-93.95
Icariin, Turmeric, Resveratrol, Omega 3
Is ArthroSoothe Safe? – Warnings & Complaints
ArthroSoothe is only safe for those who have no allergic reactions to shellfish. If you are allergic to shellfish, it is better to stay away from this supplement. Most users complained that the bottle's lid always arrived broken.
The safety information on this supplement has not covered pregnant and breastfeeding women. It is therefore recommended to consult your doctor before purchasing it.
ArthroSoothe Customer Reviews & Results
Users who consumed this product have given varying reviews. Positive reviewers claim that their pain subsided, therefore, they will continue using the supplement.
ArthroSoothe: Packages, Deals, Prices & Where to Buy It
This product comes in a 120 capsules bottle which costs $70.00. It can be bought directly from the official website or other online retailers i.e Amazon.
SEE ALSO – Cramp Defense Review and SynerFlex Review
The Bottom Line
Designs for Health ArthroSoothe is a dietary supplement that is alleged to be the solution for arthritic pain and discomfort. It has been formulated using natural ingredients that are backed by science. Apart from providing relief, this product claims to replenish nutrients that offer cartilage support for future joint health.
Unfortunately, this product contains shellfish and so people who react to this allergen may experience side effects. Similarly, other ingredients like turmeric have the potential to cause undesired effects in some users, like mild stomach upset. ArthroSoothe is also not a joint health treatment thus pain may resurface after the dose is completed.
There are numerous joint pain supplements in the market by authentic brands and are popular with users such as Instaflex Joint Support, Arthrozene, and Aleve. Check them out and settle for those that have better ingredients, more positive reviews, and are affordable.
Is There Anything Else You Should Know About ArthroSoothe?
ArthroSoothe pills are supposedly free from dairy, gluten, and soy. It is non-GMO and the capsules are vegan friendly.
You may notice that there is a difference in the color, shape, and sizes of capsules between lots, that is the company's design.
Remember to store the supplement in a cool dry place and away from the reach of children.
READ NEXT – Flexcin Review and Mobili-T Review