About Replens
Replens pertain to a brand of doctor-recommended, polycarbophil-based topical products specifically formulated for the vaginal area.
It features three products which include:
Moisture Restore External Comfort Gel – A daily moisturizer that helps soothe dryness and irritation of the skin surrounding the vagina, as the hormonal decline that causes the internal vaginal dryness also contributes to external irritation.
Long-Lasting Vaginal Moisturizer – It replenishes vaginal moisture to provide long-lasting relief from vaginal dryness.
Silky Smooth Lubricant – A high-quality silicone-based lubricant that supplements the body's natural lubrication, making sexual activity easy and comfortable; it is a preservative-free formula that also renders the skin smooth and soft.
---
Replens Pros & Cons
Replens, like any other products, has its own share of advantages and disadvantages.
Pros
It offers a hormone-free alternative to hormonal treatment for vaginal discomforts.
It is said to be doctor-recommended, clinically-tested, and FDA-cleared.
It claims to provide immediate relief from discomforts caused by vaginal dryness.
It can deliver moisture that lasts up to three days.
Fragrance-free and compatible with most types of condoms.
There is a study conducted to assess the products' effectiveness and safety.
Cons
Although the manufacturer didn't specify any adverse reactions to any of the products, the majority of customer reviews say that they experienced side effects such as burning pain and bleeding.
---
How Does It Work? | The Science Behind Replens
Replens help relieves vaginal discomforts by acting as a non-hormonal substitute for estrogen. The product is said to be effective for menopausal and perimenopausal women, as they are the ones who suffer the most from decreased levels of estrogen.
Low estrogen levels cause insufficient maturation and atrophy of the vaginal epithelium, leading to a wide array of vaginal discomforts.
Replens hopes to address this by hydrating the vaginal cells and inducing the vaginal epithelium to mature. This results in reduced itching and irritation.
Furthermore, the formula also restores the normal, premenopausal pH of the vaginal tissues.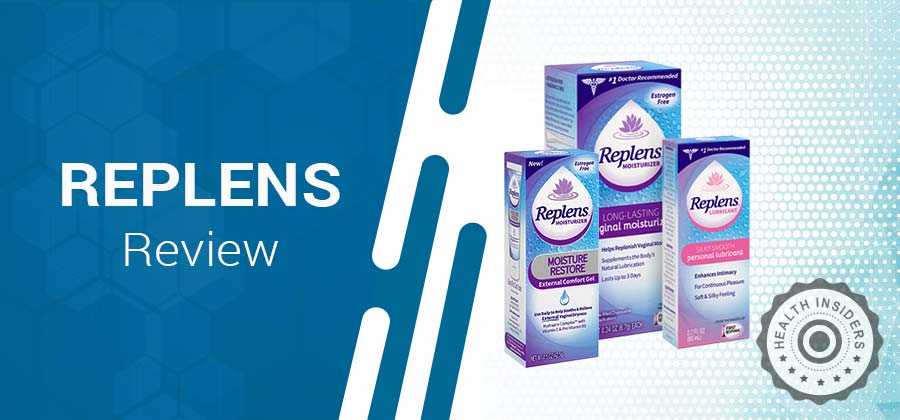 Replens Ingredients – The Breakdown
Unfortunately, the complete list of ingredients for each product was not listed. The ingredients below is the composition of the Long-Lasting Vaginal Moisturizer:
Provitamin B5 – A precursor of vitamin B5 (pantothenic acid) that serves various functions through its moisturizing, protective, and regenerative properties. It helps lock in moisture by forming a protective barrier on the skin's surface. Provitamin B5 may help relieve itching and irritation, according to this old article[1] from the Journal of Applied Cosmetology.
Vitamin E – This nourishing vitamin keeps the cells healthy and protects them against free-radical induced damage. The antioxidant effect of vitamin E is what makes it a staple in many dermatological products, as stated in this review article[2] from the Indian Dermatology Online Journal.
Advertisement
*All individuals are unique. Your results can and will vary.
Bioadhesive– The ingredient that sets apart Replens from other lubricants or moisturizers, as it allows the other ingredients in the formula to attach to the cells and continuously release moisture.
Replens FAQs
Q: How should I use Replens?
A: Use Replens exactly as instructed on the label, or as prescribed by your physician.
First, wash the area where the product will be applied. The moisturizer, in particular, works best when applied on wet or damp skin.
Dispense a small amount of the product then gently massage onto the skin.
CAUTION: Avoid using more than the recommended amount nor applying it over a large area.
Q: Does Replens have any side effects?
A: Replens are not expected to produce any adverse effects. However, in case of allergy or any other unwanted reactions, discontinue use.
Q: Can I use Replens if I have a health condition?
A: Replens may be safely used by anyone, but those with health conditions must consult their specialist first especially if their problem is related to skin issues or allergies. Meanwhile, women who are pregnant or breastfeeding must consult their specialist first prior to using Replens.
Q: Does Replens really work?
A: The effectiveness of Replens was evaluated in this study published in the Journal of Clinical Pathology. However, as far as actual customer reviews are concerned, the opinions of those who have tried the product are mixed.
Q: Do you offer any free samples or coupons for Replens?
A: Here is an offer where you can sign up to receive a free sample of Replens long-lasting vaginal moisturizer. Claim here for free sample of Replens. (Note: When you click the following link, the page tells you, 'We're sorry, we are unable to process your request as the offer has reached its allowed entries.') Also, would you like patient brochures and coupons in your office? Medical Professionals may order patient samples and information about Replens products for office use. Click here to request patient samples.
Q: What Is Replens' money-back guarantee, return, and/or refund policy?
A: Unfortunately, the official website did not mention any money-back guarantee or return/refund policy. Instead, Replens is offering free samples of their products.
Replens Vaginal Moisturizer Alternatives
| Brand | Price | Active Ingredients |
| --- | --- | --- |
| Female Viagra | $99 | Filbanserin |
| Membrasin | $64.97 | Sea Buckthorn Oil, Hyaluronate, Lactate |
| Provestra | $49.95 | Ginkgo Biloba, L-Arginine, Damiana Leaf, Black Cohosh Root |
| Revaree | $40 | Hyaluronic Acid, Glycerides |
| HerSolution | $49.95 | Niacin, Hops Extract, Mucuna Pririens, Ginkgo Biloba, Epimedium Sagittatum |
Is Replens Safe? – Warnings & Complaints
Replens is considered safe, but it must not be used by individuals who are allergic to any of the ingredients used in their moisturizers.
The same precaution must be taken by individuals with deep/open wounds and/or large areas of irritated skin.
Advertisement
*All individuals are unique. Your results can and will vary.
Replens Customer Reviews & Results
The available reviews for Replens are mixed. Some users claim that the brand is effective in relieving vaginal dryness, albeit only for a few weeks. Others say that the product was completely useless.
Nonetheless, all reviews positive or negative mentioned that Replens caused some burning pain and bleeding in their private area.
Replens: Packages, Deals, Prices & Where to Buy It
Replens products are available online through various third-party retailers. They are also available in most drugstores and regional retailers. The prices were not mentioned in the official website.
The Bottom Line
Replens seems worth a try given how its claims of safety and effectiveness are backed up by clinical studies. Unfortunately, available customer reviews don't agree with the findings.
Therefore, the best way to determine whether or not the brand is as effective as the manufacturer claims is to try it out yourself.
The good news is, free samples are being given away, allowing interested customers to try them out first before buying the full-sized products.
Is There Anything Else You Should Know About Replens?
According to the manufacturer, Replens may also be used in areas other than the vaginal area.
Advertisement
*All individuals are unique. Your results can and will vary.
Up NEXT – Durex Play and Zygasm
SOURCES
Health Insiders relies on peer-reviewed studies, academic research institutions, and medical associations. We avoid using tertiary references. You can learn more about how we ensure our content is accurate and current by reading our editorial policy.
[1] THE ROLE OF VITAMINS IN AGED SKIN http://iscd.it/files/THE-ROLE-OF-VITAMINS-IN-AGED-SKIN.pdf
[2] Keen MA, Hassan I. Vitamin E in dermatology. Indian Dermatol Online J. 2016 Jul-Aug;7(4):311-5. doi: 10.4103/2229-5178.185494. PMID: 27559512; PMCID: PMC4976416