About Mobili-T
Mobil-T is a joint support supplement that is specifically formulated from purely organic ingredients. It claims to work on damaged cartilage, inflamed joints and stiff joints.
According to the manufacturer, users will gain lots of benefits from this supplement. It claims to improve joint hydration, cartilage rebuilding, joint, and muscle strengthening as well as extend joint motion range.
Mobili-T also claims to help improve painful symptoms associated with diseases such as osteoarthritis.
Osteoarthritis(OA) is characterized by progressive cartilage degradation and mainly affects the knee.
Factors that predispose individuals to OA include genetics, aging, obesity, and inflammation, and that this product may help the body counter the impacts of these factors in the body.
---
QUICK FACTS
Buy on Website
Buy on Amazon
Quick Facts & Specs
Mobili-T
Mobili-T assists in free movement of the joints by providing building blocks for new cartilage and collagen synthesis. It also assists in moisturizing the joints to help support ease and range of mobility.
Form:

Capsule

Type:

Supplement

Benefit:

Soothes soreness, supports ease of movement, moisturizes the joints and promotes range of motion

Phone & Address:

877-455-2826;

[email protected]

Brand:

Life of Seasons

Uses:

Supports muscle and joint strength, strengthens body's building blocks for new cartilage and collagen synthesis

Price:

$36.99*

Active Ingredients:

Glucosamine, Chicken Collagen, MSM, Chondroitin Sulfate, Turmeric, Bromelain, Hypromellose, Rice Bran, Silica
Mobili-T Pros & Cons
Pros
The product claims to contain all organic ingredients
It might help improve joint pain and tissue swelling
Claims to help cartilage repair and cartilage health
The product may boost joint fluid level to enhance mobility
This formula may strengthen joints and muscles
Cons
It's not vegan friendly as it contains chicken collagen
One is required to take 4 capsules every morning
Contains rice bran which is a common allergen
Joint pain may resurface after dose completion
Glucosamine is extracted from shell fish thus not suitable for those who are allergic to this component
---
How Does It Work? | The Science Behind LifeSeasons Mobili-T
Mobili-T works through its ingredients to supplement and improve joint functions. It may provide additional fluid to joint surroundings to prevent friction and further stiffness.
Similarly, it supplements the cartilage with extra collagen for repair and prevention of further damage.
Advertisement
*All individuals are unique. Your results can and will vary.
As for joint swelling, LifeSeasons Mobili-T claims to contain effective anti-inflammatory agents that may help keep swelling at bay. Lastly, there are also antioxidant boosting ingredients in the formula that may assist the healing of knee arthritis.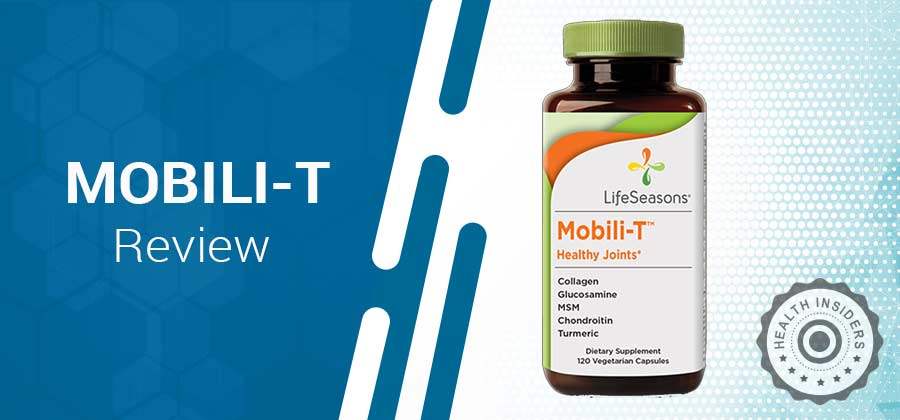 Mobili-T Ingredients – The Breakdown
Ingredients in this supplement include;
Chicken Collagen – also known as native type II collagen. Previous studies considered chicken collagen to be effective in the treatment of early rheumatoid arthritis. Recently, human trials have helped to prove the effectiveness of this ingredient in increasing joint functionality and reducing pain as mentioned in The Eurasian Journal of Medicine.
Turmeric – the main chemical ingredient in turmeric is curcumin. It is claimed to reduce pain, inflammation and stiffness caused by arthritis. In a study documented in the Arthritis Foundation, curcumin was considered effective in reducing osteoarthritis pain and inflammation.
MSM – methylsulfonylmethane is a popular dietary supplement owing to its anti-inflammatory properties. According to the Nutrients journal, MSM improves joint/muscle pain oxidative stress and antioxidant capacity.
LifeSeasons Mobili-T – Questions and Answers
Q: How to take LifeSeasons Mobili-T?
A: Take 4 capsules every morning with a glass of water with or without food.
Q: Does Mobili-T have any side effects?
A: Although the manufacturer maintains that this product causes no side effects, there are ingredients that are common allergens such as rice bran. Side effects from this ingredient may be intestinal gas and stomach discomforts.
Q: Can I take Mobili-T if I have a health condition?
A: Yes as there are no restrictions provided by the manufacturer. However, it is always advisable to seek medical consultation first before starting to use any nutritional supplement.
Q: Does LifeSeasons Mobili-T work?
A: Based on the ingredients in the formula, this product may actually work. The ingredients also have scientific backing in proving their effectiveness.
Q: What Is Mobili-T money-back guarantee, return, and/or refund policy?
A: Life Seasons, the manufacturer of Mobili-T offers a 90-day return policy within which a customer can return the product and receive a refund. However, the refund will be minus the shipping and handling fees. If you purchase from other retailers, you will be covered under the retailer's return policy so be careful when making your purchase.
Advertisement
*All individuals are unique. Your results can and will vary.
LifeSeasons Mobili-T Alternatives
Brand
Price
Active Ingredients
Joint N-11
$49
Turmeric, Boswellia Serrata, basil leaf powder, ginger root powder, rosemary root powder
Omega XL
$39 + shipping
Vitamin E, Green Lipped Mussel Oil and Olive Oil
Relief Factor
$79.95-93.95
Icariin, Turmeric, Resveratrol, Omega 3
Reuma-Art X Strength
$35.99
Horsetail Herb Extract, Celery Seed Extract, Stinging Nettle Leaf Extract, Garlic Extract
ParActin
$36.95
Andrographolides, 14-Deoxyandrographolide,
Neoandrographolide
Is Mobili-T Safe? – Warnings & Complaints
This product may be unsafe for those with shell fish allergy. There are no warnings provided for this product. As for complaints, some customers mentioned that the price was too high compared to other joint supplements.
Mobili-T Customer Reviews & Results
This joint supplement has many positive reviews from clients who used it. These customers claimed that LifeSeasons Mobili-T helped relieve their joint pains.
Similarly, there were negative reviews in which customers mentioned that it did not work for them.
Others were dissatisfied as they received fewer capsules in their supplement bottles as opposed to the expected 120 capsules.
Mobili-T: Packages, Deals, Prices & Where to Buy It
A container of Mobili-T contains 120 vegetarian capsules and costs $36.99. If you subscribe to the company's monthly auto-shipment program, it saves you 10% and you will only pay $33.29.
Advertisement
*All individuals are unique. Your results can and will vary.
The Bottom Line
With joint pains increasing among the populations, supplements for joint pain have become popular. Mobili-T is a joint supplement that claims to enhance joint fluid, reduce swelling and pain as well as to enhance cartilage regeneration and protection.
With all organic ingredients that have scientific proof, this product may actually work.
However, this supplement contains various allergens that may force you to look for other safer supplements. Vegans cannot use this supplement as well because it contains chicken collagen.
And with some negative reviews where users complained that Mobili-T did not work for them, it is a good idea to look for other better options such as Qunol Turmeric, Longvida Optimized Curcumin, and CurcuminMD.
Is There Anything Else You Should Know About Mobili-T?
Mobili-T contains turmeric which is a natural anti-inflammatory agent. In this supplement, the amount per serving (per capsule) is 100 mg. The recommended dose is 4 capsules per day.
And according to some studies, this may be high. A high intake of turmeric is suggested to act as a blood thinner which can cause further side effects such as stomach upsets.