About Lady Boss Lean
Lady Boss Lean is a high protein meal replacement shake for women that claims to help maintain a good weight and body shape. The manufacturers of this product state that it is filled with premium proteins and vitamins that keep users feeling satiated[1].
This so-called revolutionary formula is a product of a company called Lady Boss Labs, which is part of the company's larger 5-product transformation system.
It also claims to boost protein levels, improve immunity, curb cravings, improve digestive health and save money because it can be a breakfast replacement.
---
id="facts-specs" class="anchor">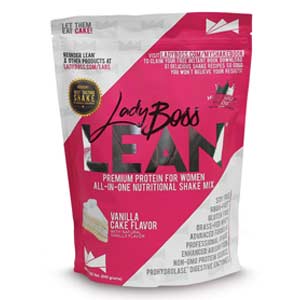 Buy on Website
Buy on Amazon
Quick Facts & Specs
LADYBOSS LEAN PROTEIN SHAKE POWDER
Almased is meal replacement shake packed with vitamins and minerals to help boost the metabolism and blast away unwanted body fat.
Form:

Powder

Type:

Supplements

Benefit:

Boost your immune system, weight Loss

Phone & Address:

877-246-0781; 10010 Indian School Road NE, 87112, Albuquerque, United States; support@ladyboss.com

Brand:

Whey

Uses:

Help women lose weight while loving themselves again*

Price:

$49.76*

Active Ingredients:

DigeSEB, Stevia, Fibersol-2
Almased Pros & Cons
Pros
Almased could lead to weight loss.
It may support healthy blood sugar levels.
It has a low glycemic index and is suitable for diabetics.
Almased optimizes the metabolism.
This product helps the body burn fat rapidly.
Cons
Almased contains soy and milk, which are common allergens.
You can't purchase it on the official website.
The shakes have no flavor.
---
How Does It Work | The Science Behind Lady Boss Lean
Lady Boss Lean is a meal replacement product, therefore it can be used in place of a meal or snack. When taken in place of breakfast, for instance, this protein shake provides the user with all the required nutrients to stay satiated until the next meal or snack.
Additionally, this product contains whey protein that can help you build lean muscle mass. It contains a small amount of carbohydrates.
Lady Boss Lean Ingredients – What to Look For
The ingredients in Lady Boss Lean are pretty straightforward and consist of protein, vitamins, and sweeteners.
Here are some ingredients explained:
Whey Protein – this is a commonly used protein source for supplements. According to a review article published in Sports Medicine and Doping Studies[2], whey protein could be the best protein supplement available due to its solubility and bioavailability. Whey contains a high number of essential amino acids.
DigeSEB – this contains digestive enzymes that claim to enhance the absorption of whey protein. In an article published in the Journal of the International Society of Sports Nutrition[3], a patented blend of digestive enzymes was found to increase the absorption of processed whey protein concentrate.
Fibersol-2 – this maltodextrin-based bulking agent is an excellent source of soluble fiber. According to a study in the journal Molecules[4], this ingredient may play a major role in maintaining biological functions such as lipid regulation and glucose homeostasis. It may also be involved in colon disease prevention and acts as a prebiotic.
Stevia – is a naturally-sourced sweetener. It is a zero-calorie sweetener that is used as a sugar substitute as well as a flavoring agent, as per the journal Nutrition Today[5]. In the same article, stevia is said to promote weight loss and weight maintenance through the reduction of energy intake.
Other Ingredients: The ingredients in Lady Boss Lean include whey protein, whey protein concentrate, maltodextrin, vitamin pre-mix, fibersol-2, non-fat dry milk, fructose, digestive enzymes, and stevia.
Lady Boss Lean – Questions and Answers
Q: How to Use Lady Boss Lean?
A: This product is to be used as a meal or snack replacement. Therefore, the number of doses daily will vary from person to person.
Q: Does Lady Boss Lean Have Any Side Effects?
A: Yes, based on the ingredients, users may experience bloating, loose bowel movements, gas, full feelings, or fatigue.
Q: Can I Take Lady Boss Lean If I Have A Health Condition?
A: Yes, there are no restrictions on this product.
Q: Does Lady Boss Lean Work?
A: This product claims to work based on its high protein and low carbohydrate content and low calories.
Q: Can Lady Boss Lean help you gain weight?
A: Lady Boss LEAN product is designed specifically for women and for weight loss! The Lady Boss Lean Shake is only 100 calories per scoop and can be used as part of a meal replacement or as an excellent low-calorie snack!
According to the manufacturer, if you are using this as a post-workout protein boost or as a meal replacement as part of a solid nutrition and workout plan, like LadyBoss Lifestyle, you will not have to worry about weight gain with this product alone.
Q: What Is Lady Boss Lean Moneyback Guarantee, Return & Refund Policy?
A: This product promises 100% satisfaction. It offers clients a 30-day money-back guarantee. There is information on how to receive a refund on the official.
Lady Boss Lean Alternatives
Brand
Price
Active Ingredients
Fitmiss Delight
$27.99
Vitamins, Minerals, Whey Protein, and Digestive Enzymes
PhenQ
$69.95
Capsimax, calcium carbonate, chromium picolinate, caffeine, nopal, L-carnitine fumarate, lacys reset
Plexus Slim
$89.95
Chromium Polynicotinate, green coffee bean extract, garcinia Cambogia
18 Shake
$79.98
Whey Protein Isolate, Whey Protein Concentrate, Magnesium, Calcium, Phosphorus, Sodium, Chromium, Iodine
Phen375
$65.95
Caffeine Anhydrous, L-Carnitine,Citrus Aurantium,Chromium,
Cayenne Pepper
Amsa Fast
$59.99 + shipping
Orlistat
RazaLean
$69.95
Capsaicin, caffeine, kelp, apple cider vinegar, turmeric, arginine
Is Lady Boss Lean Safe? – Warnings & Complaints
The company warns of the potential for feeling bloated and gassy after taking the product.
These side effects constitute the majority of customer complaints.
Lady Boss Lean Customer Reviews & Results – What Users Are Saying
Users seem to have varied reactions to this product and have different opinions regarding its effect.
While some say it has helped them lose weight others claim that they have instead gained weight.
Lady Boss Lean: Packages, Deals, Prices & Where to Buy It
A packet of Lady Boss Lean costs around $69.00 on the official website. It has been found as low as $47.50 on other websites.
The Bottom Line
Meal replacements have been considered to be effective for weight loss and building lean muscle mass. Although it may work, it may also result in undesirable side effects due to the high protein content.
Some findings indicate that meal replacements, though effective in the short term for weight loss, are not sustainable due to their extreme energy restriction.
If you are looking to shed weight in a healthier and sustainable fashion, you may want to incorporate exercise and a general healthy eating approach in your efforts.
Is There Anything Else You Should Know About This Product?
The Lady Boss Transformation System consists of:
Lady Boss Burn – for energy when you wake up
Lady Boss Lean – breakfast replacement
Lady Boss Fuel – to keep you motivated while you workout
Lady Boss Recover – to keep you hydrated while you workout
Lady Boss Rest – to help you stay refreshed
SOURCES
Health Insiders relies on peer-reviewed studies, academic research institutions, and medical associations. We avoid using tertiary references. You can learn more about how we ensure our content is accurate and current by reading our editorial policy.
[1] Dalton, M., Finlayson, G., Esdaile, E. et al. Appetite, Satiety, and Food Reward in Obese Individuals: A Behavioral Phenotype Approach. Curr Nutr Rep 2, 207–215 (2013). https://doi.org/10.1007/s13668-013-0060-4
[2] Naclerio, Fernando & Alkhatib, Ahmad & Jimenez, Alfonso. (2013). Effectiveness of Whey Protein Supplement in Resistance Trained Individuals. J Sports Med Doping Stud. 3. 2161-0673.1000130. 10.4172/2161-0673.1000130
[3] Oben, J., Kothari, S.C. & Anderson, M.L. An open label study to determine the effects of an oral proteolytic enzyme system on whey protein concentrate metabolism in healthy males. J Int Soc Sports Nutr 5, 10 (2008). https://doi.org/10.1186/1550-2783-5-10
[4] Huang W-C, Lin C-L, Hsu Y-J, Chiu Y-S, Chen Y-M, Wu M-F, Huang C-C, Wang M-F. Inulin and Fibersol-2 Combined Have Hypolipidemic Effects on High Cholesterol Diet-Induced Hyperlipidemia in Hamsters. Molecules. 2016; 21(3):313. https://doi.org/10.3390/molecules21030313
[5 ]Ashwell, M. (2015). Stevia, Nature's Zero-Calorie Sustainable Sweetener. Nutrition Today, 50 (3), 129-134. doi: 10.1097/NT.0000000000000094