About PhenQ Meal Shake
PhenQ Meal Shake is a natural product in the form of a delicious chocolate or vanilla meal replacement shake. It includes ingredients that help you burn fat, curb your appetite and cravings, leading to rapid weight loss. In addition, the product can reduce your levels of anxiety and stress, leading to less emotional eating. PhenQ Meal Shake also builds muscle mass and strength.
---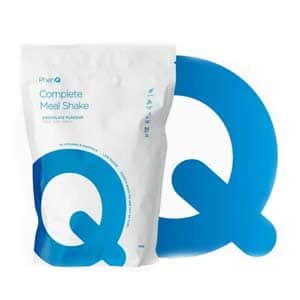 Buy on Website
Quick Facts & Specs
PhenQ Meal Shake
PhenQ Shake is a completely healthy meal that claims to stop food cravings, gives the energy and makes the weight loss journey easier and more fun.

Form:

Powder

Type:

Supplements

Benefit:

Help shed excess weight and assists in Fat Block & Burn

Phone & Address:

+91-124-6790455, Nutrafy Wellness Private Limited 1st Floor, Wing-B, AIHP Signature, 418 & 419, Udyog Vihar Phase 4, Gurugram-122015, Haryana, India,

[email protected]

Brand:

PhenQ

Uses:

Helps shed excess weight, satisfies hunger cravings, increases muscle strength

Price:

$49.95*

Active Ingredients:

MCT Coconut Oil, KSM-66 Ashwagandha, Pea Protein, Hemp Protein
PhenQ Meal Shake Pros & Cons
Pros
PhenQ Meal Shake can suppress food cravings.
This product can help build muscle mass and strength.
PhenQ Meal Shake initiates fat burning in the body.
The shake can decrease your levels of stress.
PhenQ Meal Shake can lead to rapid weight loss.
Cons
A wider selection of flavors would be preferable.
PhenQ Meal Shake works better for some customers than others.
Some users may find PhenQ Meal Shake too sweet for their taste.
---
How Does It Work? | The Science Behind PhenQ Meal Shake
PhenQ Meal Shake is meant to be a replacement for a meal. It's very filling but low in calories. The intention is to set up a calorie deficit so you lose weight. The protein and fiber also suppress your appetite and cravings so you eat less.
In addition, they help move food along the intestinal tract, enhancing digestive health. Protein also helps build up the muscles. An article published in the British Journal of Nutrition discussed the role of dietary protein in optimizing muscle mass (6).
The product also provides you with energy, which can extend your workout so you burn more calories. This shake includes ingredients that can lower cortisol levels in the body for decreased stress and raise levels of the brain chemical GABA to decrease anxiety.
This can prevent you from overeating due to stress. An article in the American Journal of Epidemiology noted that limited psychosocial stress may help limit weight gain in adults (7).
PhenQ Meal Shake also helps burn fat by increasing levels of the AMPK enzyme. In addition, it's high in antioxidants which lower levels of oxidative stress by destroying free radicals. This promotes overall health and strengthens the immune system.
PhenQ Meal Shake Ingredients – The Breakdown
Here are some of the primary active PhenQ Meal Shake ingredients:
MCT Powder – These are medium-chain triglycerides, and they can help you lose weight by suppressing appetite and burning fat. They become ketones in the body, which may help put you in a fat-burning state. They also boost energy and improve digestive health (1).
A review of the literature in The Journal of Nutrition concluded that MCT promoted satiety, increased energy levels, and caused weight loss (2).
Brown Rice Protein – This is an easy-to-digest protein which can help build up muscle mass and strength. In addition, it fills you up and suppresses hunger and cravings so you lose weight.
A study on rats in Lipids in Health and Disease found that brown rice increased fat burning, weight loss, and lowered lipid levels (3).
Ashwagandha – This is a potent herb that can lower stress and anxiety levels. This prevents overeating due to stress. Ashwagandha can also help build up muscle mass and strength (4).
A study in the Journal of Evidence-Based Integrative Medicine concluded that ashwagandha root is effective in helping adults with chronic stress manage their weight (5).
PhenQ Complete Meal Replacement Shake – Questions & Answers
Q: How to Use PhenQ Meal Shake?
A: According to the PhenQ Complete Meal Shake instructions, you mix either one or two packets with 8 or 16 ounces of water as a replacement for one meal. You also use milk as long as it's unsweetened. Stir the mixture, and then drink. Do not have more than 2 packets for a meal.
Q: Does PhenQ Meal Shake Have Any Side Effects?
A: PhenQ Meal Shake is a safe product that includes natural ingredients and has no potentially damaging additives. There are no harmful side effects associated with taking this product.
Q: Can I Take PhenQ Meal Shake If I Have A Health Condition?
A: The manufacturer does not mention any health conditions that preclude taking this shake. However, if you have a medical condition it's best to speak with your doctor first and make sure this product is suitable for you.
Q: Does PhenQ Meal Shake Work?
A: PhenQ Complete Meal Shake should work well for most people, as long as you use it consistently and follow a healthy diet. It includes a number of ingredients that will help fat and weight loss, give you more energy so you can be more active, and build muscles. It also lowers stress to curtail emotional overeating. Most of the PhenQ Complete Meal Shake review postings felt that this product was effective.
Q: What Is PhenQ Meal Shake Moneyback Guarantee, Return & Refund Policy?
A: The product manufacturer is offering a 60-day money-back guarantee. If you are not happy with the product for any reason, send it back to the company within 60 days of the purchase date for a full, hassle-free refund.
Q: Who Should Take PhenQ Meal Shake?
A: PhenQ Complete Meal Replacement Shake is the ideal product for customers who are looking for steady weight loss benefits and added energy through a meal replacement product. The shake is particularly suitable for people who eat when they feel stressed, as it will lower your anxiety. In addition, it's helpful for people who are trying to build up their muscle mass and strength.
Q: Who is the Manufacturer of PhenQ Meal Shake?
A: A UK-based sports nutrition and wellness company called Wolfson Brands manufactures the entire PhenQ line. They are a large corporation that also makes food products, dietary supplements, and beauty products. They have their headquarters in Glasgow, Scotland, and started in 2004.
Q: Does PhenQ Meal Shake Have Caffeine?
A: PhenQ Meal Shake is a natural weight-loss product that also provides you with an abundance of extra energy. However, there is no caffeine or other stimulants included in the product. Users who are sensitive to caffeine are fine to consume PhenQ Meal Shake.
Q: Is PhenQ Meal Shake Any Good?
A: As compared with other brands, PhenQ Meal Shake is on the low side price-wise for the market, or at the very least average. There's some overlap with these formulas, but they all have unique elements. PhenQ Complete Meal Shake has the most weight-loss ingredients.
Is PhenQ Meal Shake Safe? – Warnings & Complaints
Yes, PhenQ Complete Meal Shake is a very safe product that includes quality organic ingredients. There are no harmful additives or chemicals included and they do not lead to harmful side effects. In addition, the manufacturer is highly reputable and produces its products according to strict safety regulations.
PhenQ Meal Shake: Packages, Deals, Prices & Where to Buy It
The only place PhenQ Meal Shake is for sale is on the manufacturer's official website, which means you are certain to get the real, genuine product. For a one-time purchase, a bag costs $49.95, and if you purchase a second bag the cost is $18.95. You also have the option of getting a monthly subscription for a savings of 10%.
PhenQ Meal Shake Customer Reviews & Results – What Users Are Saying
A number of the PhenQ Complete Meal Shake review posts said very positive things about this shake, and in fact, there were few negative reviews or complaints. Many customers lost quite a bit of weight with PhenQ Complete Meal Shake, and they also mentioned gains in energy, muscle strength, and mood. People also found the product delicious.
The Bottom Line on PhenQ Meal Shake
PhenQ Complete Meal Shake is a meal replacement drink that promises to help you burn fat and lose weight rapidly. It's full of protein and fiber, as well as many rich nutrients that support overall health and immunity. This shake also gives you extra energy and helps build the muscles, and it lowers anxiety. It's available in chocolate and vanilla and is reasonably priced for the market.
Many of the PhenQ Meal Shake review posts had really positive things to say about this product. They said it was tasty and they looked forward to drinking it, and they also said it worked very well. Many uses experienced great weight loss as well as surges in energy, lower stress, and bigger muscles.
PhenQ Meal Shake is a high-quality product that also promotes overall health. It includes no harmful additives and will not cause any harmful side effects. The manufacturer has been in the nutrition business for over 25 years and is highly reputable and respected.
Is There Anything Else You Should Know About PhenQ Meal Shake?
If you use PhenQ Complete Meal Replacement Shake consistently and consume it on a regular basis, you should lose weight steadily, gain energy, build muscle, and feel better. If you're already using it, we hope it's helping you reach your weight and health goals. There are other lifestyle choices you can make which can enhance your weight loss efforts. Here are some tips:
If you have a craving, try taking just a bite or two of the treat. That way you satisfy your desire, but you don't overdo it.
When you change your eating and other habits for weight loss, do not attempt to change everything at once. Choose smaller goals and make changes over time.
Do not weigh yourself more than once a week, or you may become too concerned with the number of the scale. It could end up demotivating your weight loss efforts if you haven't reached the weight you expected.
Eat smaller portions and put them on a smaller plate than usual so it appears as if you're eating more.
Where To Buy PhenQ Complete Meal Shake
You can BUY it directly from the Official Website
SOURCES
Health Insiders relies on peer-reviewed studies, academic research institutions, and medical associations. We avoid using tertiary references. You can learn more about how we ensure our content is accurate and current by reading our editorial policy.
[1] D C Harvey CJ, Schofield GM, Williden M, McQuillan JA. The Effect of Medium Chain Triglycerides on Time to Nutritional Ketosis and Symptoms of Keto-Induction in Healthy Adults: A Randomised Controlled Clinical Trial. J Nutr Metab. 2018 May 22;2018:2630565. doi: 10.1155/2018/2630565. PMID: 29951312; PMCID: PMC5987302
[2] Marie-Pierre St-Onge, Peter J. H. Jones, Physiological Effects of Medium-Chain Triglycerides: Potential Agents in the Prevention of Obesity, The Journal of Nutrition, Volume 132, Issue 3, March 2002, Pages 329–332
[3] Yang L, Chen JH, Lv J, Wu Q, Xu T, Zhang H, Liu QH, Yang HK. Rice protein improves adiposity, body weight and reduces lipids level in rats through modification of triglyceride metabolism. Lipids Health Dis. 2012 Feb 13;11:24. doi: 10.1186/1476-511X-11-24. PMID: 22330327; PMCID: PMC3311603
[4] Ashwagandha Helps Manage Stress-Related Weight Gain | Natural Medicine Journal https://www.naturalmedicinejournal.com/journal/2016-11/ashwagandha-helps-manage-stress-related-weight-gain
[5] Choudhary D, Bhattacharyya S, Joshi K. Body Weight Management in Adults Under Chronic Stress Through Treatment With Ashwagandha Root Extract: A Double-Blind, Randomized, Placebo-Controlled Trial. Journal of Evidence-Based Complementary & Alternative Medicine. January 2017:96-106. doi:10.1177/2156587216641830
[6] The Role Of Dietary Protein In Optimizing Muscle Mass, Function And Health Outcomes In Older Individuals: Wolfe, R. (2012). The role of dietary protein in optimizing muscle mass, function and health outcomes in older individuals. British Journal of Nutrition, 108(S2), S88-S93. doi:10.1017/S0007114512002590
[7] Psychosocial Stress and Change in Weight Among US Adults (nih.gov) Block JP, He Y, Zaslavsky AM, Ding L, Ayanian JZ. Psychosocial stress and change in weight among US adults. Am J Epidemiol. 2009 Jul 15;170(2):181-92. doi: 10.1093/aje/kwp104. Epub 2009 May 22. PMID: 19465744; PMCID: PMC2727271