About Juvenon Reprieve
Juvenon Reprieve is marketed as a joint health support supplement. The product claims to be fast-acting and that it may improve mobility after a short time.
This product claims to help manage joint fatigue and stiffness through enhancing the repair of worn-out ligaments and cartilage tissues, unlike its competitors which may only work on the pain.
In precise, Jevenon Reprieve's ingredients are said to strengthen the body's mechanism of tissue reconstruction. This may help users regain their joint flexibility much safer and with less pain, as well as restore a person's youthful energy.
---
QUICK FACTS
Buy on Website
Buy on Amazon
Quick Facts & Specs
Juvenon Reprieve
Juvenon Reprieve is a health supplement that promises to help with joint fatigue and stiffness by boosting the regeneration of worn-out ligaments and cartilage structures.
Form:

Capsule

Type:

Supplement

Benefit:

Reduces joint pain and joint inflammation, helps relieve pain, restores youthful movement

Brand:

Juvenon

Uses:

Helps alleviate joint pain, and stop the worst aches fast

Price:

$51.90*

Active Ingredients:

Milk Thistle, Boswellia, Boron, Angelica Dahurica
Juvenon Reprieve Pros & Cons
Pros
The product might help improve joint flexibility
It could be safe as it is made from natural ingredients
Users may be able to work with less joint discomfort
It claims to slow aging symptoms and improve cell function
Cons
The product appears new with no customer feedback
It might not work for people with open joint injury
The anti-aging benefits that this product promises may not suffice after a certain age
The actual amount of each ingredient in this formula has not to be shared
---
How Does It Work? | The Science Behind Juvenon Reprieve
Juvenon Reprieve is meant to help improve joint health and it claims to achieve this through supporting the natural process which the body deploys to repair connective tissues in the body.
What it does is supplements the body with nutritional components that the body could no longer make enough on its own, to evoke proper function of the body's repair mechanism.
As such, users may begin to realize a gradual reduction of pain and joint discomfort after a while. With long term use, the producer mentions that users may notice their initially stiff joints become more and more flexible. However, like other products, not everybody might get the actual results they'd wish to see.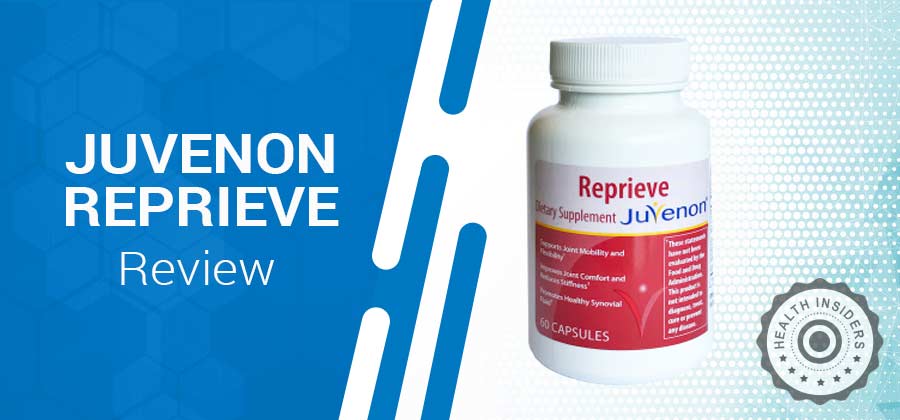 Advertisement
*All individuals are unique. Your results can and will vary.
Juvenon Reprieve Ingredients – The Breakdown
The ingredients used to formulate Juvenon Reprieve include:
Boswellia Serrata Extract – This is much of a protective ingredient in that, it supposedly blocks body chemicals or enzymes that might damage joint tissues. Boswellia slowed cartilage damage to subjects in one study in the Arthritis Foundation journal.
Milk Thistle – Originally referred to as to the blessed milk thistle, this ingredient may promote mobility, especially because it may reduce pain and joint inflammation. A publication in the Iranian Journal of Basic Medical Sciences associates milk thistle with pain-relieving benefits.
Angelica Dahurica – is claimed to have a soothing effect on nerve pain. Mixed with other herbs, it might play a role in reducing body pain, according to a review study in the Molecular Medicine Reports.
Boron – is said to have similar properties on bone health as magnesium and calcium in promoting bone and joint health, according to one article in the Journal of Environmental Health Perspectives.
Juvenon Reprieve – Frequently Asked Questions
Q: How to Take Juvenon Reprieve?
A: The manufacture recommends 2 capsules per day, recommended after your main meal, and with plenty of water.
Q: Does Juvenon Reprieve Have Any Side Effects?
A: The ingredients used are considered safe. Nevertheless, the fact the ingredients are new to the body, some users experience changes like feeling more energized than usual.
Q: Can I Take Juvenon Reprieve If I Have A Health Condition?
A: With serious medical situations, it is advised to involve your doctor before starting any supplement. However, in mild cases, it might be safe.
Q: Does Juvenon Reprieve Work?
A: Looking at the ingredients, most users are likely to benefit from this product as some studies are backing the claims made. What's not guaranteed is the time it takes to experience the full benefits.
Q: What Is Juvenon Reprieve Work Moneyback Guarantee, Return & Refund Policy?
A: This product has a 60 days money-back guarantee. However, for products ordered through retailer sites, users may want to confirm with the retailer how this is handled at their level.
Advertisement
*All individuals are unique. Your results can and will vary.
Juvenon Reprieve Alternatives
| Brand | Price | Active Ingredients |
| --- | --- | --- |
| Arthrozene | $49.95 | Type 2 collagen, Boswellia, Hyaluronic acid |
| Joints Alive | $49.97 | Boswellia Serrata Extract, Turmeric Extract, MSM, Black Pepper |
| Instaflex | $48.49 | Hyaluronic Acid, Turmeric, Collagen II, Ginger, White Willow Bark |
| MoveWell | 24.99 | Hyaluronic Acid (HLA), Methylsulfonylmethane (MSM), Glucosamine Sulfate, Boswellia |
| Relief Factor | $79.95 | Omega 3, Turmeric, Icariin, Resveratrol |
| Omega XL | $39 | Vitamin E, Green Lipped Mussel Oil and Olive Oil |
| ArthroMax | $33 | Glucosamine, Boron, Boswellia Serrata, Black Tea Theaflavins, MSM |
| Tamaflex | $39.99 | Boswellia Serrata, Turmeric |
Is Juvenon Reprieve Safe? – Warnings & Complaints
So far, no complaints have been filed against this product. The manufacturer has also not issued any warning against is use, other than strict adherence to the recommended dose.
Juvenon Reprieve Customer Reviews & Results
Seems like people who have mild joint issues and the arthritic have benefitted the most from this product according to most customer feedback.
"Reprieve has made my life much easier. The arthritic pain on my left shoulder that has been bothering me for quite a while now has greatly reduced. I am hopeful that by the time I'm done with the fourth bottle; I'll be feeling much better." – Rick M.
Juvenon Reprieve: Packages, Deals, Prices & Where to Buy It
A bottle with 60 capsules of Reprieve retails for $44.95 and the product is available on the official website. Currently, they are promoting this product, so for:
3 bottles + 1 free you get 25% off sale
5 bottles + 3 free you get 37% off sale
The Bottom Line
Although relatively new, Juvenon claims to help resolve joint-related health issues by supporting healthy tendons, ligaments and improve muscle pain. It may improve joint stiffness, increase flexibility, and help ease muscle discomfort. Unfortunately, the producer doesn't share the precise amounts used in each particular ingredient.
Besides, body pain or discomfort from open wounds may require professional attention, so this product should not be a replacement where medical attention is required.
Advertisement
*All individuals are unique. Your results can and will vary.
Is There Anything Else You Should Know About Juvenon Reprieve?
The "Natural Wonders," is the name that the company behind this product calls the ingredients they have used.
In other words, Reprieve is purely from natural components and might be of help to people who prefer organic health solutions for their joint pain.
READ NEXT – New Chapter Zyflamend Whole Body Review – Does It Relieve Joint Pain & Is It Safe To Use?
SOURCES
Health Insiders relies on peer-reviewed studies, academic research institutions, and medical associations. We avoid using tertiary references. You can learn more about how we ensure our content is accurate and current by reading our editorial policy.
[1] Choi JH, Yoo KT, An HJ, Choi WS, Koo JP, Kim JI, Kim NJ. The effects of taping, stretching, and joint exercise on hip joint flexibility and range of motion. J Phys Ther Sci. 2016 May;28(5):1665-8. doi: 10.1589/jpts.28.1665. Epub 2016 May 31. PMID: 27313394; PMCID: PMC4905933
[2] 9 Supplements for Arthritis https://www.arthritis.org/health-wellness/treatment/complementary-therapies/supplements-and-vitamins/supplements-for-arthritis
[3] Karimi G, Vahabzadeh M, Lari P, Rashedinia M, Moshiri M. "Silymarin", a promising pharmacological agent for treatment of diseases. Iran J Basic Med Sci. 2011 Jul;14(4):308-17. PMID: 23492971; PMCID: PMC3586829
[4] Essentiality of boron for healthy bones and joints. https://ehp.niehs.nih.gov/doi/10.1289/ehp.94102s783