What is Protandim?
Protandim NRF2 is a nutritional supplement with anti-oxidant activity; increasing antioxidant activity in the body. This product contains proteins called sirtuins that are said to have medicinal benefits.
Protandim claims to reduce oxidative stress in the body by 40% in 30 days. They claim that the product will lead to better health, focus, energy, mental clarity, and mood.
---
QUICK FACTS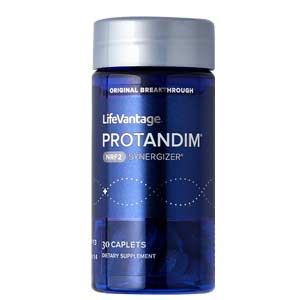 Buy on Website
Buy on Amazon
Quick Facts & Specs
Protandim
Protandim is a nutritional supplement that combats oxidative stress through Nrf2 activation. Nrf2 regulates survival genes.
Form:

Caplets

Type:

Supplement

Benefit:

Reduces cellular & oxidative stress by 40% in just 30 days, helps to repair and rejuvenate cells, regulates survival genes

Phone & Address:

1 (866)460.7241; support@lifevantage

Brand:

Life Vantage

Uses:

Helps the body detoxify genes, fights cellular stress, maintain joint health, and aid digestion, upport for memory enhancement and restful sleep

Price:

$59.99*

Active Ingredients:

Niacin, Copper, Theacrine, Olive Leaf Extract
Protandim Complex Pros & Cons
Pros
Protandim NRF2 may increase mental clarity.
May enhance your mood.
Protandim may improve your health.
May increase your mental focus.
Cons
It is expensive.
It contains rice flour,a potential allergen
Can be dangerous if consumed by children.
Has a bad taste, as per some users.
---
How Does It Work? | The Science Behind Protandim
Protandim ingredients aim to reduce oxidative stress in your system. It can apparently get rid of some of the harmful free radicals in your body. The supplement is rich in anti-oxidants like sirtuins. Some research suggests that Protandim can reduce oxidative stress.
A PLoS One. 2016 study that looked at the effect of Protandim on athletic performance and oxidative blood markets in runners, showed that there was no beneficial effect on running time, antioxidant enzyme levels, or quality of life.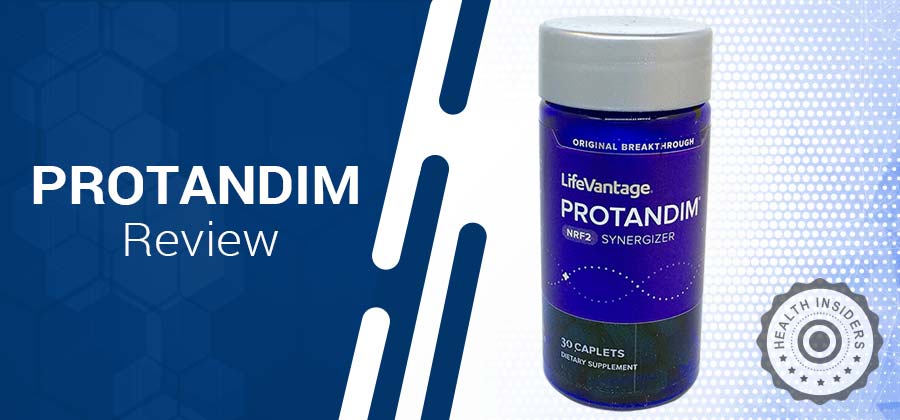 Protandim Ingredients – What to Look For
Protandim NRF2 contains several active ingredients that aim to reduce oxidative stress and increase mood, focus, and energy.
Some of them include:
Cuprous Niacin – This is the compound in between copper and Vitamin B3 on the periodic table. It plays some essential roles in the body including iron metabolism, nerve function, and energy production. This is a precursor for NAD synthesis in energy metabolism.
Olive Leaf Extract – This extract is taken from the leaves of the olive tree. It contains a compound called hydroxytyrosol, which is a phenolic phytonutrient that is responsible for a beneficial inflammation response, a healthy lipid profile, and a healthy digestive system. A research published in the EXCLI Journal shows some of the health benefits of olive leaf extract such as reducing blood pressure and cardiovascular risk.
Theacrine – This is a psychostimulant that comes from the tea camellia Kucha. It is said to increase both energy and physical and mental performance. It has an impact on the dopaminergic and adenosinergic pathways. A research published in the Nutrients has shown that theacrine can improve energy and mood but does not significantly impact cognitive performance.
Protandim FAQs
Q: How to Take Protandim?
A: The recommended Protandim dosage is 1 capsule every day with a meal. It is not recommended to take more than the recommended daily dose.
Q: Does Protandim Have Any Side Effects?
A: There are only mild Protandim side effects reported. Users have complained about nausea, skin welts or redness, upset stomach, and diarrhea.
Q: Can I Take Protandim If I Have A Health Condition?
A: There are no health conditions that preclude taking Protandim NRF2. However, people who are receiving immunosuppressive therapy should avoid Protandim. Check with your doctor before taking this supplement.
Q: Does Protandim Work?
A: The Protandim reviews and reports are mixed. Many users were happy with the supplement, finding that it made them more focused and enhanced their mood and energy level. However, other customers found the product had no effect.
Q: What's the difference between Protandim NRF1 and NRF2?
A: First, rest assured both formulas are great. The biggest differences between Protandim NRF1 and NRF2 is the business model (Protandim is an MLM), as well as the quality of ingredients – NRF2 Boost is Pharmaceutical Grade. If you compare the ingredients, NRF2 Boost contains all NRF-2 activating ingredients.
Q: What Is Protandim Moneyback Guarantee, Return & Refund Policy?
A: The Protandim manufacturer has a 30-day return policy, but it only applies to unopened products in good condition. Send the product back within 30 days of the purchase date to get your money back, minus shipping and handling fees.
Q: I had an account a couple of years ago. Can I reactivate it? How do I contact LifeVantage?
A: Yes. To reset your password, please login at https://evo-lifevantage.myvoffice.com/. Under the Account Services, tab is Account Information. You can contact Distributor Support by calling or texting 1 (866) 460-7241. They are also available by email, support@lifevantage.com. Please allow 24-48 business hours for an email response.
Protandim Alternatives
Brand
Price
Active Ingredients
Protandim
$50.99
Niacin, Copper, Theacrine, Olive Leaf Extract
Brain Forza – Organic KSM-66 Ashwagandha
$21.87
Ashwagandha
Goli Nutrition
$25.43
Apple Cider Vinegar, Pomegranate, and Carrots
Advanced Restorative Probiotic
$69.99
Lactobacillus Casei, Lactobacillus Brevi, Lactobacillus Acidophilus,
Lactobacillus Plantarum, Lactobacillus Infantis, and Lactobacillus Fermentum
Pure NAD
$172.36
NAD
Eternus
$104.95
L-tryptophan, Thiamine, Riboflavin, Biotin
Relief Factor Energy
$34.95
Taurine, Caffeine, Vitamins, Inositol, Biotin,
Choline, Pantothenic Acid
LCR Health Telogenesis
$69.95
Unicaria Tomentosa, Astralagus, Ashwagandha
Nutrim
$25
Fiber, fat, carbohydrates, protein
The supplements listed above are all extremely expensive. Compared to other brands, the price of Protandim is actually quite good, however, it's still costly. Also, these products differ quite a bit in terms of ingredients.
Is Protandim Safe? – Warnings & Complaints
The product is safe, although some users have reported mild Protandim side effects like stomach upset or a rash. Customers who are receiving immunosuppressive therapy should avoid this product. Be sure to consult with your doctor before starting this supplement.
Protandim Customer Reviews & Results
There are many positive Protandim reviews online. These state that users found that it improved their mood, brain health, and a general feeling of well-being.
However, other reviews stated this product was ineffective or included other complaints. Many reviews stated the product had a bad taste, while others reported side effects like nausea and stomach upset.
Protandim: Packages, Deals, Prices & Where to Buy It?
You can purchase Protandim on the manufacturer's official website for $50.99, and $40.99 monthly if you get a subscription. You can purchase this product from other retailers but note that you can only buy the real product from a verified Life Vantage distributor. There are fake versions of the product around.
SEE NEXT – NingXia Red Ingredients

Protandim – The Bottom Line
Customers were divided about Protandim. Half of the users found the product to be very helpful, stating it sharpened their focus, increased mood, provide more energy, and improved overall health. The other half of the customers found the supplement to be ineffective, also stating that it has a bad taste.
There are mild side effects reported Protandim that include nausea and diarrhea. If you experience side effects, stop taking the product.
Is There Anything Else You Should Know About Protandim?
Protandim may be a good supplement for you, and it may enhance your overall health and mood. However, it's important to build an overall healthy lifestyle and not rely on a supplement alone. Here are some tips for a healthy lifestyle.
Manage the stress in your life. Stress can manifest as physical issues.
Practice meditation and other calming activities.
Exercise and stretch as often as possible. Aim for 3 times a week.
Follow a nutritious, healthy diet that is rich in vitamins and minerals.
SOURCES
Health Insiders relies on peer-reviewed studies, academic research institutions, and medical associations. We avoid using tertiary references. You can learn more about how we ensure our content is accurate and current by reading our editorial policy.
[1] Lim JL, van der Pol SM, Baron W, McCord JM, de Vries HE, van Horssen J. Protandim Protects Oligodendrocytes against an Oxidative Insult. Antioxidants (Basel). 2016 Sep 7;5(3):30. doi: 10.3390/antiox5030030. PMID: 27618111; PMCID: PMC5039579
[2] Ueberschlag SL, Seay JR, Roberts AH, DeSpirito PC, Stith JM, Folz RJ, Carter KA, Weiss EP, Zavorsky GS. The Effect of Protandim® Supplementation on Athletic Performance and Oxidative Blood Markers in Runners. PLoS One. 2016 Aug 11;11(8):e0160559. doi: 10.1371/journal.pone.0160559. Erratum in: PLoS One. 2020 Oct 23;15(10):e0241520. PMID: 27513339; PMCID: PMC4981460
[3] Niacin https://lpi.oregonstate.edu/mic/vitamins/niacin
[4] Ivanov M, Vajic UJ, Mihailovic-Stanojevic N, Miloradovic Z, Jovovic D, Grujic-Milanovic J, Karanovic D, Dekanski D. Highly potent antioxidant Olea europaea L. leaf extract affects carotid and renal haemodynamics in experimental hypertension: The role of oleuropein. EXCLI J. 2018 Jan 4;17:29-44. doi: 10.17179/excli2017-1002. PMID: 29383017; PMCID: PMC5780626
[5] Kuhman DJ, Joyner KJ, Bloomer RJ. Cognitive Performance and Mood Following Ingestion of a Theacrine-Containing Dietary Supplement, Caffeine, or Placebo by Young Men and Women. Nutrients. 2015 Nov 19;7(11):9618-32. doi: 10.3390/nu7115484. PMID: 26610558; PMCID: PMC4663612
[6] The Effect of Protandim Supplementation on Oxidative Damage and Athletic Performance https://clinicaltrials.gov/ct2/show/results/NCT02172625