About Nutrim
Nutrim claims to be a 100% oat bran soluble fiber which is meant to bring down your blood cholesterol level. You add a scoop of tasteless powder to the foods and beverages you normally eat, and it takes on their flavor.
It can also remove cholesterol from the things you eat and drink as well as the cholesterol that your body creates. This product is great for your heart health.
---
QUICK FACTS
Buy on Amazon
Buy on Walmart
Quick Facts & Specs
Nutrim
Nutrim is a complex carbohydrate made entirely of oat bran that is supposed to lower blood cholesterol levels.
Form:

Powder

Type:

Supplement

Benefit:

Helps to remove cholesterol, healthy weight management, blood sugar balance, digestive health, and immune support

Phone & Address:

1-800-862-0438; Nutrim 214 Mechanic st Momence, IL 60954; [email protected]

Brand:

Nutrim

Uses:

Easy to incorporate into the diet, provides heart-healthy benefits

Price:

$25*

Active Ingredients:

Fiber, fat, carbohydrates, protein
Nutrim Complex Pros & Cons
Pros
This product can help lower your cholesterol.
It can remove cholesterol from the foods you eat.
It takes on the flavor of your food or drink and mixes easily.
It can be used to replace fat in food recipes.
Cons
Some users had an increase in cholesterol.
Each scoop contains 30 calories.
A number of people are allergic to oats.
If you are not used to taking fiber you can experience digestive issues
Contains only one ingredient
---
How Does It Work? | The Science Behind Nutrim
The product is made of beta-glucans which is the soluble fiber in the cell wall of oats. The cholesterol-lowering effects of oat beta-glucans have been well documented.
Beta-glucans might lower blood cholesterol by preventing the absorption of cholesterol from food in the stomach and intestines. In addition, oat glucans can bind to both saturated fat and dietary cholesterol, and this lessens their impact on the body.
Cholesterol that is produced in the liver can be blocked by oat glucans. Bacteria in the body can transfer it into a substance that can prevent this production.
The Mayo Clinic states that a diet high in fiber can reduce the risk of heart disease, diabetes, and obesity.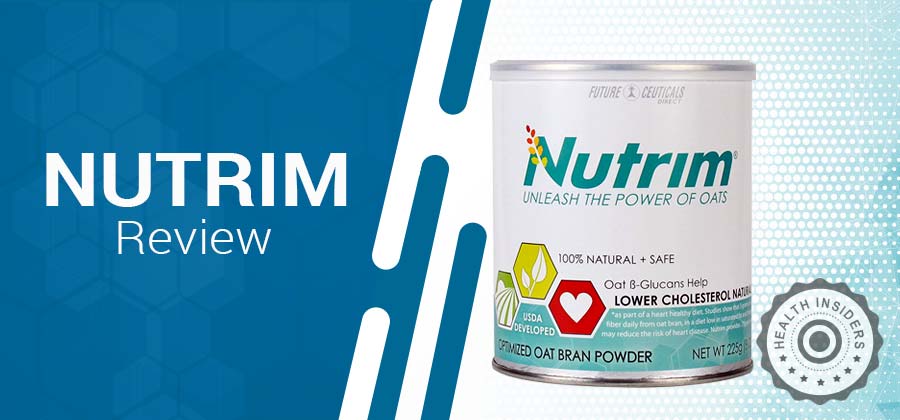 Nutrim Ingredients – What to Look For
According to the manufacturer, this product is 100% oat bran or beta-glucans from the oat cell walls which helps your body flush out cholesterol and may curb cravings for unhealthy foods.
According to Science Direct, oat bran is "a by-product obtained by grinding oat groats or rolled oats." It's known to be very rich in anti-oxidants, which strengthen the immune system. Research has demonstrated the cholesterol-lowering effect of oat bran.
In addition to lowering cholesterol, it has many other medicinal benefits including heart health, relief for inflammatory bowel disease, controlling blood sugar levels, lowering your risk of rectal or colon cancer, and helping with weight loss.
Nutrim – Questions and Answers
Q: How to Use Nutrim?
A: The recommended dosage is to take 1 packet either when you get up in the morning, before a meal, or before you exercise, for a total of up to 3 packets a day.
Q: Does Nutrim Have Any Side Effects?
A: This product is quite safe unless you have an allergy to oats. Start with one scoop daily to ensure tolerance. When you first start using this product regularly, you may get diarrhea and stomach upset if you haven't been eating a lot of fiber. Once you tolerate one scoop, increase to twice daily.
Q: Can I Take Nutrim If I Have A Health Condition?
A: There are no health conditions that preclude taking this product, except for people with an allergy to oats.
Q: Does Nutrim Work?
A: Yes, it works. There's a lot of evidence for the effectiveness of oat bran at lowering cholesterol. Customers who purchased this product were very happy with the concrete test results showing lowered cholesterol levels.
Q: Is Nutrim Gluten-Free?
A: Yes, Nutrim claims their product is gluten-free, USDA organic, clean label, and made in the USA.
Q: How fast do you see improvement in LDL levels?
A: Yes, Nutrim works! One of the Nutrim customers (John), was able to lower his cholesterol from 240ml/dl to 190ml/dl after a couple of months using Nutrim. Also, Dr. Nieca Goldberg, medical director of the Joan H. Tisch Center for Women's Health at the NYU Langone Medical Center, says it can take between three to six months to see lower LDL numbers through just diet and exercise, noting that it takes longer to see changes in women than men.
Q: What Is Nutrim Moneyback Guarantee, Return & Refund Policy?
A: The manufacturer is offering a 90-day money-back guarantee. If you're dissatisfied with the product within the first 90 days of taking it, you can contact the company for a full refund.
Nutrim Alternatives – Comparison with Similar Items
Brand
Price
Active Ingredients
Nutrim
$25
Fiber, fat, carbohydrates, protein
Advanced Restorative Probiotic
$69.99
Lactobacillus Casei, Lactobacillus Brevi, Lactobacillus Acidophilus,
Lactobacillus Plantarum, Lactobacillus Infantis, and Lactobacillus Fermentum
UMZU zuPOO
$29.95
Milk Thistle Seed Powder, Slippery Elm Bark Powder, Burdock Root Powder
Goli Nutrition
$25.43
Apple Cider Vinegar, Pomegranate, and Carrots
Bob's Red Mill Organic Oat Bran
$6.95
Fiber, fat, carbohydrates, protein
Now Foods Oat Bran
$6.95
Fiber, fat, carbohydrates, protein
Oat Bran by Sunrise Botanics
$16.49
Fiber, fat, carbohydrates, protein
You can purchase oat bran to add to your food for less than the price of Nutrim, although the Nutrim 30 serving can is quite large so the price may even out.
Oat fiber has two components, insoluble and soluble fiber. The soluble oat fiber, beta-glucan, has been clinically proven to help reduce cholesterol.
The all-natural processes of Nutrim capture just the beta-glucans in powder form which makes it easier to add to your food and have it blend in naturally.
Is Nutrim Safe? – Warnings & Complaints
This product is made from 100% natural oat bran, and it's quite safe for anyone who isn't allergic.
A few users complained that it didn't work for them, but this was a very minimal amount.
SEE NEXT – Young Living NingXia Red
Nutrim Customer Reviews & Results
Most of the users who reviewed this product had only great things to say about Nutrim. Many mentioned actual test results indicating lowered results within a few short weeks or months.
There were some negative reviews as well, but there were few. With every product, there will be a few people who won't see results because everyone is built differently.
One review says, "Walmart and Walgreens do not carry Nutrim. It seems that its only mail order" ~ by Jack Duryea
Nutrim: Packages, Deals, Prices & Where to Buy It
On the manufacturer's official website, the prices are as follows:
30 servings can – $25
120 servings can – $75
"Success Kit" of 2 30-serving cans and a 30-day guide to lowering cholesterol – $50
"Success Kit" with blender bottle – $55
The product is also available on a third-party website, sometimes for a higher price.
The Bottom Line
This is a very popular product among users. The vast majority of customer reviews were very positive, stating blood test results with lowered cholesterol after a period of use. There were a few users who were displeased and had no results.
However, these were only a minority of customers. This is a solid product with demonstratable results.
If you don't typically take in a lot of fiber, you may want to start slowly with this product and only use 1 scoop a day. You may experience mild digestive symptoms if you use more. Over time, you can add more to your day.
Is There Anything Else You Should Know About Nutrim?
Nutrim is 100% oat bran, which is known to be extremely healthy and to lower cholesterol levels. You can use this product every day, and it's perfectly healthy.
There are other things you can do to lower your cholesterol levels.
Try to lower your saturated fats by eating less red meat and fatty dairy products.
Eliminate artificial trans fats (hydrogenated or partially hydrogenated fats) found in many snack and other foods. They can really increase your cholesterol.
Eat more soluble fiber, as it lowers the absorption of cholesterol into your system.You can find this in kidney beans, oatmeal, pears, and Brussel sprouts.
According to the Mayo Clinic, you should add additional whey protein to your diet. You can find it in dairy products.
Reduce sugar intake
Exercise