Introduction to Diet Programs
Online weight loss and health-based programs are very in vogue right now, and many of them are quite comprehensive. They may offer meal plans, food lists, digital information or exercise plans, and personalized coaching.
Many people find these systems to be very helpful in promoting weight loss and improving general health, and Metabolic Renewal is one of the more successful products available.
"One must remember that healthy weight loss is a commitment that takes time. There is no silver bullet. When choosing a diet, opt for one that is all-food inclusive and not one that is about eliminating foods, especially those you love," says
Keri Gans, R.D.N
, author of the book
'The Small Change Diet'
.
Metabolic Renewal – Quick Facts & Specs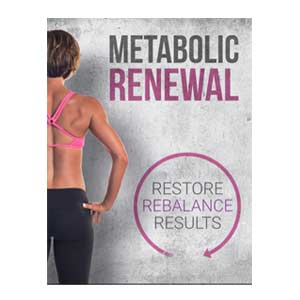 Buy on Amazon
Buy on Walamrt
Metabolic Renewal is a program intended to optimize women's metabolism by making changes to their diet and exercise routines.
Form:

DVD

Type:

Diet program

Benefit:

Speeds up the metabolism.

Brand:

Metabolic Renewal

Uses:

An overall lifestyle modification.

Price:

$37
Pros And Cons Of Metabolic Renewal

Metabolic Renewal can speed up your metabolism.
It leads to fat burning and weight loss.
Rather than just a diet, this is an overall lifestyle modification.
Metabolic Renewal helps to balance your hormones.
There's a private online community for diet followers.

If you go back to normal eating after 12 weeks you could regain some weight.
It takes time to keep up with the different aspects of the program.
The results will be different for different users.
What is Metabolic Renewal?
Metabolic Renewal is a 12-week diet program designed by health and wellness physician Dr. Jade Teta. It's particularly designed for women, and the approach focuses on hormones and the way they influence the body and weight loss.
Meal plans are suited to your hormone type. The program also includes guidebooks, 15-minute Metabolic Renewal exercise workouts, and an online support community.
Metabolic Renewal will be there for you with Dr. Teta's specialized, clinically-proven "4 M" framework for the female metabolism, whether your needs change from day to day, week to week, month to month, or year to year.
Let's have a detailed look over the Clinically-Proven 4 M Framework:
#Mindset: The first aspect of this framework is to teach participants approaches to stress relief and adopting a positive mindset. This strategy is supposed to assist them to regulate their hormones and jumpstart the weight loss programs. Participants also have access to a group of people on Facebook who support and encourage weight loss. In a nutshell, it is an ideal way for those who struggle to adopt a positive mindset.
#Movement: These Metabolic Renewal workouts involve a series of non-exercise-associated thermogenesis (NEAT), also known as non-exercise types of movement. These activities are designed to improve mobility through regular activities instead of intense training sessions. Because these activities are easier to incorporate into daily life, the program is easy to follow.
#Meals: Metabolic Renewal takes a different, hormones-first, approach to nutrition. Participants are required to complete a quiz that determines their hormone type. Then, individualized diet plans are prepared based on the hormone type determined.
#Metabolics: The fourth part of this framework focuses on consistent and scheduled Metabolic Renewal Workouts. This program simply involves three 15-minute workouts once a week. The idea is that short-duration workouts produce results for up to 48 hours. As a result, participants can optimize their exercises and workouts.
Advertisement
*All individuals are unique. Your results can and will vary.
How Does Metabolic Renewal Work?
This program works on Dr. Jade Teta's principle that there are 7 female hormone types and knowing the type can help to tailor a program to speed up your metabolism and cause you to begin burning fat and lose weight.
When you sign up for the program, you do the Metabolic Renewal quiz which tells you which category you fall into hormone-wise. An article in the Journal of Biological Research[1] discussed nutrition, obesity, and hormones.
The program runs for 12 weeks, and for the Metabolic Renewal Diet Plan, you receive meal lists and recipes suited to your specific type. They include 3 meals a day and a snack. Two of the meals have protein and vegetables and the third has a small number of carbohydrates.
A low protein, carbohydrate diet does have the potential to lead to weight loss. A study in the Journal of Pediatrics[2] showed the success of this regimen in obese adolescents.Besides meal plans, there are 15-minute Metabolic Renewal workouts that combine cardio training and resistance, and you are supposed to do these 3 times a week. On the off days, you walk for a period of time that relates to your hormone type.
There are also a number of guidebooks to help you progress in the program, and an online community you can go to for support and information.
Discovering The Hormone Type
The following are the seven hormone types, and you will fit into one of them, all of which is going to make sense once you take the Metabolic Renewal quiz.
Metabolic Renewal Hormone Type 1
Balanced Progesterone and Estrogen – Mixed Signals
Metabolic Renewal Hormone Type 2
Estrogen Dominant – Hormone Overload
Metabolic Renewal Hormone Type 3
Progesterone Deficient – Hormone Shortfall
Metabolic Renewal Hormone Type 4
Progesterone & Estrogen Deficiency – Ovarian Burnout
Metabolic Renewal Hormone Type 5
High Estrogen and/or fluctuating with a progesterone deficiency – Metabolic Sputter
Metabolic Renewal Hormone Type 6
Progesterone and Estrogen deficient (Menopause) – Ovarian Fatigue
Metabolic Renewal Hormone Type 7
Estrogen & Progesterone Deficient (Post Menopause) – Ovarian Shutdown
Advertisement
*All individuals are unique. Your results can and will vary.
What Are Metabolic Renewal Meals Like?
There are no specific foods that are banned, but they suggest you avoid sugar, processed foods, and dairy. The diet you follow for Metabolic Renewal is low in carbohydrates and high in protein. The specific daily meal plans include 3 meals plus a snack. A study in the Journal of Nutrition[3] concluded that high-protein, low-fat diets are effective for weight loss.
The meals include fruits and vegetables, chicken, fish, meat, grains, fats, and healthy oils. An example lunch, for example, is a salad with grilled chicken, lettuce, tomatoes, and carrots. A sample dinner is baked salmon with broccoli and quinoa. Breakfast is often smoothies with berries.
Metabolic Renewal Alternatives
| Brand | Price | Active Ingredients |
| --- | --- | --- |
| Slim For Life | $299 to $599 | Weight Loss Aids, Guarana, Green Tea, Bitter Orange |
| Phen375 | $65.95 | Caffeine Anhydrous, L-Carnitine, Citrus Aurantium, Chromium, Cayenne Pepper |
| Zuccarin Diet | $24.95 | Chromium, Calcium, White Mulberry (leaf extract) (Morus alba L.) 1% 1-Deoxynojirimycin (1-DNJ) |
| PhenQ | $69.95 | Capsimax, calcium carbonate, chromium picolinate, caffeine, nopal, L-carnitine fumarate, lacys reset |
Metabolic Renewal Program – Benefits And Side Effects
The major benefits and side effects of the program are still unknown because of the lack of studies and pieces of evidence. However, the program does restrict the intake of carbohydrates. As a result, the chances of increased cravings are high particularly for individuals with past eating disorders.
A complicated risk to brain function from low-carb consumption, may not affect all participants the same.
Overall, there may not be any significant risks associated with following the rest of the program, other than the diet plan/pattern.
Final verdict
Metabolic Renewal for women is a weight loss program based on the idea that each of us has a different hormone type, designed by a physician by the name of Dr. Jade Teta. There are meal plans and recipes tailored to each one, an exercise program, guidebooks, and a community of online dieters to support you. The diet follows a low carbohydrate, high protein regimen.
The majority of the reviews on Metabolic Renewal had very good things to say about this program. Users said they lost weight and never felt really hungry while following the plan. They found it simple to follow and many users enjoyed it. Of course, not every woman was successful, as you do have to follow the plan carefully to lose weight.
If you're trying to drop a few pounds and are finding it difficult to do on your own, Metabolic Renewal is a program that is certainly worth considering. Once you finish the Metabolic Renewal login process, it provides you with all of the information you need to finally meet those weight loss goals, plus online support to get you through the rough patches.
Metabolic Renewal- Frequently Asked Questions
Q: Is Metabolic Renewal legit?
A: This is a legitimate weight loss program offered online by a company called Metabolic Living, LLC and designed by a physician. According to the company, the principles of the program follow science and research. There are a number of Metabolic Renewal reviews that attest to the fact that this is a real program and it can be very effective.
Q: Who is the manufacturer of Metabolic Renewal?
A: The manufacturer of the diet program is a company called Metabolic Living, LLC based in Wilmington, North Carolina. This organization offers a comprehensive diet program whose purpose is to help you lose weight and raise your level of health and wellness. They started in 2011 and aim to become a billion-dollar company by 2023.
Q: Who should use Metabolic Renewal?
A: Metabolic Renewal program is preferred by those who want a regulated diet and exercise plan which is helpful for them to stay on track.
Advertisement
*All individuals are unique. Your results can and will vary.
Q: What do the Metabolic Renewal reviews say?
A: The Metabolic Renewal reviews in 2023 offered different opinions, but many of them were quite positive. Customers found the program easy to follow, and many said they did lose a lot of weight. A number of people mentioned that the price was incredibly reasonable for what you get, and it was worth it for the way it enhanced their health and well-being.
Q: How much does Metabolic Renewal cost?
A: You can buy Metabolic Renewal Diet on the manufacturer's official website. The entire program with all components costs $37 at the moment, down from the original $97. It's a very reasonably priced package for what you get.
Q: Can you eat dairy on Metabolic Renewal?
A: There is no dairy on the Metabolic Renewal Program, and the reason is that they say milk can introduce hormones into the body. The diet plan does allow for butter and considers it to be healthy fat.
Q: What is the refund policy for Metabolic Renewal?
A: There is a 90-day refund policy for any physical product you return to the company within that time. There are no refunds on digital subscriptions, but if you cancel your program future payments will be stopped. If you want a refund, contact the company first for instructions on how to process it.
Q: Is Metabolic Renewal a paleo diet?
A: Metabolic Renewal is not specifically a paleo diet, although there are some similarities. However, the diet provides options in its meal plans for people who are following this regimen, and it also has selections for vegetarian, keto, and vegan diets.
Q: Does Metabolic Renewal work?
A: There is some evidence that hormones can have an impact on weight loss, supporting the premise of the diet. A review in the Journal of Nutrition and Metabolism[4] discussed how weight control strategies affect hormonal balance.
However, beyond that, there's certainly evidence that a low carbohydrate, high protein diet is an effective weight-loss regimen. A study in the Journal of Nutrition[5] showed that a low carbohydrate diet reduces fat in adults at risk for type 2 diabetes.
Q: How long should you use Metabolic Renewal Program?
A: Metabolic Renewal is a short-term program that is to be followed for 12 weeks. However, the results vary and many individuals may have to repeat it several times until they reach the goals.
Sources
Health Insiders relies on peer-reviewed studies, academic research institutions, and medical associations. We avoid using tertiary references. You can learn more about how we ensure our content is accurate and current by reading our editorial policy.
[1] Giammanco, M., Lantieri, L., Leto, G., Pescia, F., & Di Majo, D. (2018). Nutrition, obesity and hormones. Journal of Biological Research - Bollettino Della Società Italiana Di Biologia Sperimentale, 91(2). https://doi.org/10.4081/jbr.2018.7755
[2] Efficacy and Safety of a High Protein, Low Carbohydrate Diet for Weight Loss in Severely Obese Adolescents
[3] Carol S. Johnston, Sherrie L. Tjonn, Pamela D. Swan, High-Protein, Low-Fat Diets Are Effective for Weight Loss and Favorably Alter Biomarkers in Healthy Adults, The Journal of Nutrition, Volume 134, Issue 3, March 2004, Pages 586–591, https://doi.org/10.1093/jn/134.3.586
[4] A Review of Weight Control Strategies and Their Effects on the Regulation of Hormonal Balance
[5] Gower BA, Goss AM. A lower-carbohydrate, higher-fat diet reduces abdominal and intermuscular fat and increases insulin sensitivity in adults at risk of type 2 diabetes. J Nutr. 2015 Jan;145(1):177S-83S. doi: 10.3945/jn.114.195065. Epub 2014 Dec 3. PMID: 25527677; PMCID: PMC4264021.
[6] Trumbo P, Schlicker S, Yates AA, Poos M., Food and Nutrition Board of the Institute of Medicine, The National Academies. Dietary reference intakes for energy, carbohydrate, fiber, fat, fatty acids, cholesterol, protein and amino acids. J Am Diet Assoc. 2002 Nov;102(11):1621-30.
[7] Ebbeling CB, Feldman HA, Klein GL, Wong JMW, Bielak L, Steltz SK, Luoto PK, Wolfe RR, Wong WW, Ludwig DS. Effects of a low carbohydrate diet on energy expenditure during weight loss maintenance: randomized trial. BMJ. 2018 Nov 14;363:k4583.
[8] Bueno NB, de Melo IS, de Oliveira SL, da Rocha Ataide T. Very-low-carbohydrate ketogenic diet v. low-fat diet for long-term weight loss: a meta-analysis of randomised controlled trials. Br J Nutr. 2013 Oct;110(7):1178-87.
[9] Ebbeling CB, Feldman HA, Klein GL, Wong JMW, Bielak L, Steltz SK, Luoto PK, Wolfe RR, Wong WW, Ludwig DS. Effects of a low carbohydrate diet on energy expenditure during weight loss maintenance: randomized trial. BMJ. 2018 Nov 14;363:k4583.