About Life Extension
Life Extension Foundation is a US-Based company with its Headquarters in Fort Lauderdale, Florida, and has a call center in Las Vegas, Nevada. The firm specializes in the production of vitamins and dietary supplements using carefully sourced and clinically validated finest ingredients to help prolong a healthy human lifespan.
The company, therefore, manufactures products that not only control aging but also eradicate lifestyle diseases like diabetes, blood pressure, arthritis, osteoporosis, and cancer, among others, so that users can experience overall body health benefits.
What Are The Best Selling Life Extension Products?
| Product | Benefit | Cost | Active Ingredients |
| --- | --- | --- | --- |
| Zinc Caps | Immune Support | $6.08 | Zinc Citrate, Zinc Monometheonine, Silica, Vegetable cellulose, Microcrystalline cellulose |
| Life Extension Vitamin D3 | Immune Support | $6.75 | Vitamin D3 (as Cholecalisferol), Rosemary Extract, Extra Virgin Olive Oil, Gelatin, Medium chain Triglycerides |
| Neuro-Mag Magnesium Threonate | Brain Health | $27.00 | Magnesium L-threnoenate, Vegetable Cellulose, Stearic acid, Silica, Vegetable Stearate, microcrystalline cellulose |
| Circumin Elite Turmeric Extract | Inflammation Management | $21.60 | Circumin Elite Proprietary blend, Turmeric extract, Glactomannans from fenugreek seeds, Silica, Vegetable Stearate |
| AMPK Metabolic Activator | Immune Health and Metabolism Support | $25.65 | Calcium, Hesperidin (from orange extract), Actiponin (Gynostemma leaf extract) |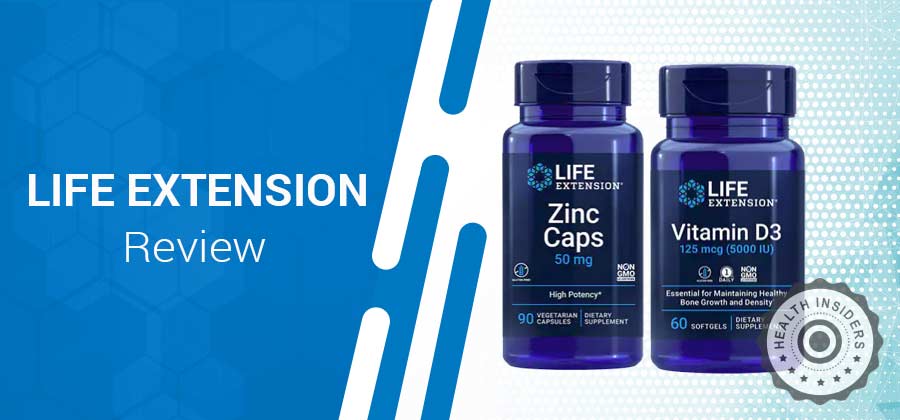 Life Extension Pros & Cons
Pros
The products may help improve the function of various body organs
The supplements and vitamins from this brand may help eradicate lifestyle diseases
The products claim to be made using carefully sourced and clinically validated ingredients
The products are available at an affordable price
Cons
The products are not organic
They are not vegan-friendly because they some use animal products
How Does It Work? | The Science Behind Life Extension
Life Extension has a variety of products, each designed to help you manage and support various health concerns such as heart, Digestive, and Brain health as well as inflammation and energy management. Each product is produced using carefully sourced and clinically validated ingredients to ensure it addresses the specific health concerns for optimal results.
Life Extension Ingredients – The Evidence
Life Extension NAC products are numerous and each one contains ingredients meant to target specific health concerns in the body. Here are some of the key ingredients contained in products from this brand:
Vitamins
Vitamins are considered essential nutrients because of the crucial roles they play in the body. They are said to heal wounds, shore up bones, and bolster the body's immune system. They also convert food into energy and repaire cellular damage.
According to Vitamin British Medical Journal, supplements can be ideal when it comes to either maintaining adequate intake or correcting micronutrient deficiency. The study further states that the effect of vitamin supplements on risks related to non-communicable diseases is generally healthy in people with clinical nutritional deficiency.
Minerals
Minerals are essential nutrients that the body requires for its proper functioning. Studies have shown that getting minerals from whole foods is the best option, but where such nutrient is lacking, using supplements can also benefit your body.
According to the Canadian Family of Physicians, the use of supplements with approved levels of minerals is generally safe for everyone as long as there is an individual risk assessment.
Fatty Acids
Fatty acids play vital functions in the body, including heart health. Also, in the absence of glucose, the body can use fatty acids to fuel the body cells. Omega 3 fatty acids are the most potent fatty acids known to boost heart health by reducing irregular heartbeats, lowering blood pressure, and boosting cholesterol levels.
A study in the Nursing Standards-Royal College of Nursing has shown that optimal intake of fatty acids confer plenty of health benefits, including heart disease reduction, depression, behavioral problems, inflammatory conditions lie rheumatoid arthritis.
Probiotics
According to Tropical Life Science Research, Probiotics supplementation provides the body with plenty of health benefits such as bowel disease prevention, improved immune health system, intestinal microbial balance, antihypertensive effects, reduction of serum cholesterol, and postmenopausal disorders.
How Does Life Extension Brand Rate?
Feature
Rating
Comments
Safety
10 /10
The brand uses scientifically validated ingredients. But, they are non-organic and also non-vegan because they use animal products. They are, however, they are paraben-free
Performance
7 / 10
Users may not experience similar results because of the difference in their body and lifestyle
Customer Reviews
4 /5 stars
Based on reviews, the majority of users like the brand.
Life Extension FAQs
Q: Who Owns Life Extension Company?
A: Life Extension is a US-based private company owned by William Faloon and Saul Kent with around 315 employees.
Q: Is Life Extension a Good Brand?
A: According to the manufacturer of the Life Extension supplements, their products have received many positive reviews, an indication that they are good. It is clear that customers love the products and highly recommend them to loved ones, including family and friends.
Q: Where Can I Buy Life Extension Products?
A: You can buy Life Extension products from the official website. They are also available on other authorized online retail shops.
Q: What Is Life Extension's Refund Policy?
A: Life Extension vitamins and supplements come with a one-year money-back guarantee. So, if for some reason you change your mind about the products, you are free to cancel your order within 12 months from the date of purchasing the item. Upon receiving the returned item, your account will be credited with a full purchase price refund without hassle.
Q: Is Life Extension Legit?
A: Life Extension products are legit. It has an official website with vital information about the product, including customer reviews to gauge the authenticity of its products. It also has a presence on other social media platforms like Twitter, Instagram, Facebook, Pinterest, and LinkedIn
Life Extension Supplements – Compare with other Brands
| Brand | Price | Active Ingredients |
| --- | --- | --- |
| Zenith Labs | $39.00 | Turmeric Root Extract, Huperzine A, Rhodiola Root, |
| Activated You | $59.95-79.99 | Acacia Fiber, Flaxseed, Oat Bran, Rice Bran Extract |
| Relief Factor | $79.95 | Turmeric, Omega 3 Fatty Acids, Resrevatrol, Icariin, Epimedium |
| Aleve | $5.99 | Naproxen Sodium |
| Ensure | $39.96 | Corn Maltodextrin, Canola Oil, Sodium, Sugar |
Life Extension Customer Reviews & Results – What Users Are Saying
Life Extension reviews available on the official website as well as on other several independent websites, show that the products are excellent, effective, and affordable. Most of the users are happy with the results and have, therefore, highly recommended the brand for use by friends and love ones.
Life Extension: Packages, Deals, Prices & Where to Buy It
Life Extension products are many and each has its own price tag. There are also a number of juicy price deals including Life Extension Coupon and Life Extension discount code available on the official website. Prices for some of the popular products include:
Zinc Caps – $6.08
Vitamin D3 -$6.75
Neuro-Mag Magnesium L- Threonate – $27.00
Vitamin C and Bio-Quercetin Phytosome – $6.75
AMPK Metabolic Activator – $25.65
Life Extension Two-Per-Day Multivitamin – $16.20
Curcumin Elite-Turmeric Extract- $21.60
Super Omega 3 EPA/DHA Fish Oil Sesame Lignans & Olive Extract – $21.60
The Bottom Line on Life Extension
Based on customer reviews from the official website and other websites, Alcor Life Extension Foundation appears to be one of the few companies that produce best products in the category of supplements that focus on different vital aspects: quality, potency, and purity.
It, therefore, gives users the best quality supplements such as Life Extension Magnesium, Life Extension Melatonin, Life Extension Multivitamin, and Life Extension Bone Restore that can help address various health concerns, including heart, digestive, and brain health, immune support, as well as energy and inflammation management.
So, if you are looking for a brand with a variety of health supplements and vitamin products worth your money, Life Extension coq10 is the brand to look out for in the market.
Is There Anything Else You Should Know About Life Extension?
There is Life Extension Labs products like Lab Test Kits where your sample is collected and tested. The company also has Wellness Specialists who will review your test results, identify the problem, and recommend the right supplement for you. They are also available around the clock to answer any of your questions free of charge.
4 sources
Health Insiders relies on peer-reviewed studies, academic research institutions, and medical associations. We avoid using tertiary references. You can learn more about how we ensure our content is accurate and current by reading our editorial policy.
[1] Zhang FF, Barr SI, McNulty H, Li D, Blumberg JB. Health effects of vitamin and mineral supplements. BMJ. 2020 Jun 29;369:m2511. doi: 10.1136/bmj.m2511. PMID: 32601065; PMCID: PMC7322674.
[2] Ryan-Harshman M, Aldoori W. Health benefits of selected minerals. Can Fam Physician. 2005 May;51(5):673-5. PMID: 15934270; PMCID: PMC1472933.
[3] Shi LH, Balakrishnan K, Thiagarajah K, Mohd Ismail NI, Yin OS. Beneficial Properties of Probiotics. Trop Life Sci Res. 2016 Aug;27(2):73-90. doi: 10.21315/tlsr2016.27.2.6. PMID: 27688852; PMCID: PMC5031164.
[4] Ruxton C. Health benefits of omega-3 fatty acids. Nurs Stand. 2004 Aug 11-17;18(48):38-42. doi: 10.7748/ns2004.08.18.48.38.c3668. PMID: 15366399.