What is Immuneti?
Immuneti is a natural supplement and gummy which may strengthen your immune system. They could reduce the time it takes to get rid of a cold, promote heart health, improve respiration, and enrich the skin.
The manufacturer claims that these products are up to 20x more effective than Vitamin C alone. However, with only 6 ingredients, they may not be the most potent supplements out there.
QUICK FACTS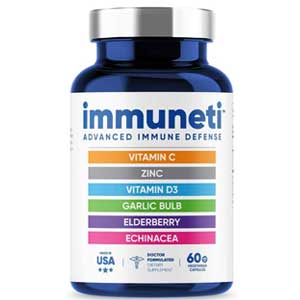 Buy on Website
Buy on Amazon
Quick Facts & Specs
Immuneti
Immuneti is an organic supplement and gummy combination which promises to boost your immune functioning, shorten the length of an illness, and promote heart and respiratory health.
Form:

Capsules and Gummies

Type:

Supplement

Benefit:

Boosts immune functioning, Supports Heart Health, Supports Healthy Weight Management

Phone & Address:

+1 (877) 221-1547; 16620 Stagg Street, Building H, Van Nuys, CA 91406, USA; hello@immuneti.com

Brand:

Immuneti

Uses:

Reduces Flu and Cold Duration, Enhances the Skin, Improves Respiratory Wellness

Price:

$29*

Active Ingredients:

Vitamin D3, Zinc, Vitamin C, Garlic Bulb, Elderberry, Echinacea
Immuneti Pros & Cons
Pros
Immuneti may strengthen the immune system.
The supplements could decrease the length of a cold or flu.
Immuneti might enhance skin health.
They may promote respiratory wellness.
Immuneti could support heart health.
Cons
Customers have complained about additional charges.
Different users will experience the benefits differently.
How Does Immuneti Work?
These products are very high in antioxidants which kill free radicals in your system and decrease oxidative stress. This promotes healing in the body and strengthens the immune system. A review in the Journal of Dairy Sciences discussed the physiological role of antioxidants in the immune system [1].
Immuneti also includes anti-inflammatory benefits, which can reduce swelling and redness and help heal skin and respiratory infections.
At least a couple of the ingredients in the supplements may reduce the length of a cold or flu. In addition, these products could lower blood pressure and balance blood sugar levels. The Vitamin D supports stronger bones and may improve mood.
An article in Issues in Mental Health Nursing discussion the important connection between Vitamin D and depression [2].
What Are the Ingredients in Immuneti?
These are some of the primary active ingredients in Immuneti:
Garlic Bulb – This is a potent medicinal bulb rich in antioxidants and anti-inflammatory agents. There's evidence that it could help prevent conditions like cardiovascular disease, high blood pressure, and metabolic disease.
An overview in Antioxidants discussed the potential health benefits of garlic based on clinical studies [3].
Elderberry – This plant is full of antioxidants and nutrients which strengthen the immune system. Some say it decreases the length of cold or flu symptoms.
Elderberry also promotes heart health and can lessen stress. A study in the Journal of International Medical Research found that elderberry was a safe and effective treatment for influenza [4].
Vitamin D3 – This is a key vitamin in the body, which regulates phosphorus and calcium. It's important in maintaining proper bone structure.
In addition, it may play a role in helping to regulate depression. An article in Nutrition Journal discusses Vitamin D3 in health and disease [5].
Echinacea – This is a flowering plant which is high in antioxidants and is thought to strengthen immunity and prevent the risk of getting the flu or colds.
It has the ability to help the body fight infections. A study in The Lacet Infectious Diseases concluded that echinacea decreases the chances of getting a cold significantly, as well as the duration of the cold [6].
How Does Immuneti Rate?
| Feature | Rating | Comments |
| --- | --- | --- |
| Ingredients | 7 | With only 6 ingredients, there are some key ones missing |
| Manufacturer | 4 | There have been a number of complaints in BBB about their business tactics |
| Price | 9.5 | Low price and free shipping |
Immuneti (FAQs)
Q: How Do You Take Immuneti?
A: The recommended dosage for both the supplement and the gummies is 2 per day. You may take them at any hour you choose. Do not take more than the maximum dosage for any reason.
Q: Where Can You Buy Immuneti?
A: You can buy these supplements on the manufacturer's official website, and from a number of other online and offline retailers like Walmart and Amazon. On the official site, the company pays the shipping. The prices are as follows:
1 Month – $29
3 Months – $18.33/each
4 Months – $17.80/each
Q: What is the Immuneti Return Policy?
A: The company has an open return policy. If at any time you ever feel that the product is not right for you, you can return it for a no-hassle refund.
Q: Who is the Manufacturer of Immuneti?
A: Immuneti Nutrition Ine. is the manufacturer, and they have their headquarters in Van Nuys, California. Their goal is to produce organic products which support health and immunity.
Q: Is Immuneti Worth It?
A: Although some of the ingredients in Immuneti do have research supporting their benefits, for some of them the evidence is only moderate. These supplements should have some benefits, but they would be more potent if they included additional ingredients.
Q: What Sets Immuneti Apart From the Competition?
A: What's somewhat unique about Immuneti is the option for both gummies and capsules. In addition, the low price of this product really stands out.
Q: What Do the Customers Think of Immuneti?
A: There were a mix of reviews about this product. On the one hand, a number of users said they got great benefits including less allergic reactions, joint pain reduction, better sleep, and lower stress. However, there were customers who said the company overcharged them and the customer service was hard to reach.
How Does Immuneti Compare with Other Brands?
| Product | Price | Ingredients |
| --- | --- | --- |
| 1MD Immunity | $38.99 | Probiotics, Zinc Sulfate, Lactobacillus Acidophilus, Lactobacillus Rhamnoses, L-Lysine |
| Primal Harvest Primal Immune Defense | $23.96 | Reishi, Organic Lion's Mane Mushroom, Lactobacillus Acidophilus, Vitamins C, B6, and K2, Zinc |
| BiomeMD for Women | $45.99 | Bifidobacterium Lactis HN019, Lactobacillus Acidophilus LA-14, Lactobacillus Reuteri 1E1, HMO CARE4U |
| Dr. Berg Immunity Support | $32.99 | Vitamins C and D, Zinc, Freeze Dried Black Elder Extract |
| NingXia Red | $100 | Wolfberry Superfruit, Plums, Apricot, Pomegranate, Stevia |
Conclusion
Immuneti is an all-natural supplement and gummy which promises to strengthen the immune system. Among its reported benefits are enhancing the skin, supporting heart health, decreasing flu duration, weight loss, and improving respiratory wellness. One of its faults is that it has a limited number of ingredients.
There were different reports from the Immuneti reviewers. There were a number of people who spoke positively about this product, and said it gave them benefits for the skin, joints, and immunity. Other users complained about customer service and said they incurred charges for additional products.
Immuneti contains ingredients which may lead to some mild side effects. If you experience symptoms that are unpleasant, discontinue use of the product immediately. Before taking a new supplement, see a doctor and make sure it's medically suitable for you.
Up NEXT – Orgain Organic Superfoods + Immunity Up Review: Superfood Drink Supplement for Health Benefits