What is Dr. Berg Supplements?
Dr. Berg Keto Supplements is a brand which supports a number of different health issues, including balancing hormones and blood sugar levels, weight loss, glandular support, lung health, and immune strengthening.
The line is particularly intended to promote the health and nutritional needs of keto dieters, although they are suitable for any adult. Here are some of the Dr. Berg recommended supplements:
Adrenal Stress Advanced Formula – This supplement can balance the hormones, support adrenal health, decrease inflammation, lower stress, and help ease menopause symptoms.
Digest Formula – This is a potent product which supports general digestive health and eases uncomfortable symptoms like gas, diarrhea, and bloating.
Blood Sugar Support – This product can balance your blood sugar, increase your energy levels, and reduce hunger cravings.
Keto Energy – One of the top Dr. Berg weight loss supplements, it's especially made to support keto dieters. This supplement gives you added energy and can alleviate brain fog.
| | |
| --- | --- |
| Features | Live Experts offer advice |
| Form | Capsules |
| Health Benefits | Glandular Support, Immune Functioning. Digestive Health, Hormonal and Electrolyte Balance, Gall Bladder Support, Weight Loss, Sinus and Lung Support |
| Ingredients | Vitamin C, K, D, Elderberry, Zinc, Skullcap, Echinacea, Garlic Bulb Extract, Berberine, Green Tea, Bitter Melon, Potassium, Calcium |
| Type | Natural Dietary Supplements |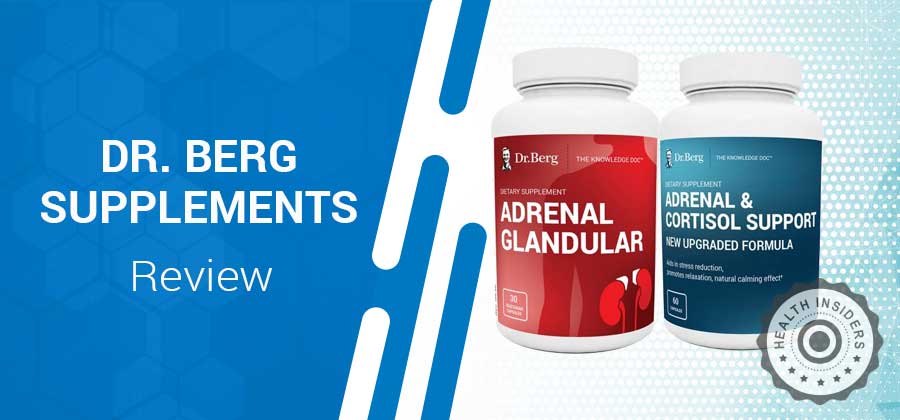 How Do Dr. Berg Supplements Work?
The line includes supplements and powders that support weight loss, in particular for keto dieters. They stimulate the mitochondria of the cells, activating ATP and promoting cellular energy. An article in the Journal of Physical Chemistry B discussed energy transfer from ATP [1].
ATP also gives you more physical energy. Other supplements provide needed amino acids which support the muscle, skeletal, and hormonal systems. The products also support adrenal functioning, which can decrease stress and fatigue.
These formula are rich in nutrients which can resolve deficiencies, and antioxidants which kill free radicals and lower oxidative stress. This promotes healing in the body and strengthens the immune system.
Some supplements balance the electrolytes, which can keep you hydrated and support energy and muscle function. An article in StatPearls discussed the characteristics and functioning of electrolytes [2].
Digestive supplements help support a healthy microbiome and ease symptoms like gas, bloating, and digestion.
Dr. Berg Supplements Pros & Cons
Pros
These supplements may support weight loss and health while dieting.
Dr. Eric Berg Supplements could help balance your blood sugar.
These products might support healthy immune functioning.
Dr. Berg Supplements may balance hormone levels.
These supplements could provide glandular support.
Cons
Some users had difficulty with the customer service department.
The owner is a chiropractor without nutrition credentials.
The line carries weight loss but no bodybuilding supplements.
What Are the Ingredients in Dr. Berg Supplements?
These are some of the primary active ingredients in Dr. Berg Supplements:
Bitter Melon – This is a tropical vine in the same family as the gourd. It's edible, and it's good for weight loss as it's low in calories and contains fiber. This can help suppress your appetite so you take in less calories.
An article in the Journal of Lipids discussed the beneficial role of bitter melon in obesity and other metabolic issues [3].
Berberine – This is an ammonium salt that comes from a plant. It travels to the mitochondria in the cells, activating ATP. This supports cellular energy and helps boost health functioning all over the body.
A meta-analysis in the Journal of Ethnopharmacology concluded that berberine has a therapeutic effect on type 2 diabetes, hypertension, and hyperlipemia [4].
Echinacea – This is a group of flowers which offers a range of health benefits. It's high in antioxidants, which supports a strong immune system and could reduce the length of colds.
In addition, it has mood-boosting benefits and may reduce anxiety [5]. A critical review published in Phytomedicine explored the medicinal properties of echinacea [6].
Elderberry – This plant contains protein, amino acids, unsaturated fatty acids, vitamins, minerals, and antioxidants. It helps promote healing in the body, and it strengthens the immune system. In addition, there's evidence that it can lower blood pressure [7].
An article in the Journal of Functional Foods explored the research on the health and antioxidant benefits of elderberry [8].
How Do Dr. Berg Supplements Rate?
| Feature | Rating | Comments |
| --- | --- | --- |
| Ingredients | 8 | Formulas include healthy natural ingredients, some supplements could be richer |
| Manufacturer Reputation | 7 | A mix of reviews online, some positive and others critical of the brand. |
| Benefits | 8 | A wide range of health benefits, largely to support the wellness of keto dieters |
Dr. Berg Supplements – Frequently Asked Questions (FAQs)
Q: How Do I Take Dr. Berg Supplements?
A: There are a number of supplements in this line, and the instructions are all somewhat different. It's essential that you read and follow the directions carefully before using any of these products. Do not take more than the maximum dosage for any reason.
Q: Where Can You Buy Dr. Berg Supplements?
A: You can purchase Dr. Berg Supplements on the manufacturer's website, as well as from other online and offline retailers like Amazon and Walmart. Here are the prices of some of the Dr. Berg recommended supplements.
Digest Formula – $21.99
Dr. Berg's Chewable Vitamin C Complex – $29.99
Cod Liver Oil – $24.99
Blood Sugar Support – $36.99
Adrenal Glandular – $24.99
Adrenal Stress Advanced Support– $41.99
Advanced Digestive Formula – $25.99
Q: What is the Dr. Berg Supplements Return Policy?
A: The manufacturer has a 30-day return policy for domestic and international customers. If you only bought one bottle, contact the company and get a full refund without returning the product. For multiple products, you will have to return the bottles to the company at your expense to get your refund.
Q: Who is the Manufacturer of Dr. Berg Supplements?
A: Dr. Berg Supplements is a company which makes all-natural health-based supplements designed to support overall wellness. The line is particularly designed to support the health of people who are following the keto diet. This organization has its headquarters in Alexandria, Virginia.
Q: Is Dr. Berg Legit?
A: Dr. Berg is a chiropractor who claims to have a lot of knowledge of health and nutrition. Having said that, he has no actual qualifications in these areas. The supplements themselves are legit, as this company exists and has a real street address in Virginia, United States.
There are a number of Dr. Berg Supplements reviews online which attest to the legitimacy of the brand. However, users have various opinions of the products.
Q: How Does Dr. Berg Supplements Compare with Other Brands?
| Brand | Price Range | Ingredients |
| --- | --- | --- |
| Unify Health Labs | Approx. $40-$75 | Probiotics, Vitamin B12, Pea Protein, Whey Protein, Magnesium, Choline L-Methionine, Theacrine |
| It Works | Approx. $10-$180 | Cayenne Fruit, Caffeine, Apple Cider Vinegar, Chromium, Pectin, Coconut Oil, Cinnamon |
| Primal Harvest | Approx. $30s and $40s | Reishi, Collagen, Postbiotics, Probiotics, Prebiotics, Fruits and Vegetables, Lion's Mane Mushroom, Turmeric, MCT |
| Zenith Labs | Approx. $22-$95 | Omega 3 Fatty Acids, Chamomile, Skullcap, Valarian, Zinc, Lutein, Vitamin C, Probiotics, Ginger Root Powder, Niacinamide, Basil Root Powder |
| Plexus | Approx. $25-$60 | Green coffee bean extract, Chromium polynicotinate, Xylooligosaccharide, Lactobacillus, Magnesium |
Q: What Sets Dr. Berg Supplements Apart From the Competition?
A: Although this is a brand of health supplements suitable for everyone, the company markets them as support products for keto dieters. This could be a positive, but it also limits the market for products that are largely for any customer who wants to improve their heath and wellness.
Q: What Do the Customers Think of Dr. Berg Supplements?
A: Many of the Dr Berg products reviews had good things to say about the brand, and there were users who said they got great health benefits. Naturally, some customers experienced less advantages. There are a number of complaints on the Better Business Bureau site about issues with customer service.
Conclusion
Dr. Berg Supplements is an organic supplement and powder brand which is particularly geared towards users who are following a ketogenic diet. This line offers a range of benefits such as hormonal and glandular support, weight loss, electrolyte balance, and immune functioning.
The products are reasonably-priced, but the brand would be better directed at users generally instead of keto dieters. The Dr. Berg Supplements review posts offered a range of opinions, some very positive and others less so. Many customers did say they experienced health benefits from using these supplements.
Dr. Berg Supplements are healthy products which contains natural ingredients. If you should experience any unpleasant side effects, stop taking the supplement right away. You should see a doctor before starting a regimen, to make sure the product is medically suitable for you.