About BiomeMD for Women
BiomeMD for Women is a revolutionary digestive and immune support supplement that specifically targets to improve feminine care[1], according to its producer.
Among the detail that makes this product worth the attention is each serving offers up to 62 billion CFUs of potent probiotics strains that target to improve women's health.
This is a first-class probiotic and one of its kind that promotes different aspects of women's health.
In precise, it helps restore and rebalance the vaginal and digestive microbiome in the female body as well as support immune function and digestive health.
---
QUICK FACTS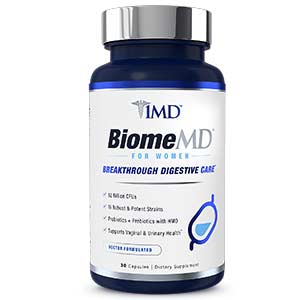 Buy on Website
Buy on Amazon
Quick Facts & Specs
BiomeMD for Women
The BiomeMD for Women contains the unique blend of prebiotic soluble fiber and Lactobacillus Rhamnosus that help to re-balance the gut microbiome, absorb nutrients, improve vaginal microbiomes, regulate vaginal pH levels and support normal gastrointestinal function
Form:

Capsule

Type:

Dietary Supplement

Benefit:

Immune Support, Digestive

Phone & Address:

(888) 393-4030; 1MD Nutrition, 675 N 2800 W #101, Lindon, UT 84042

Brand:

1MD

Uses:

Supports healthy immunity and gastrointestinal lining, digestive care*

Price:

$45.99*

Active Ingredients:

Bifidobacterium Lactis HN019, Lactobacillus Acidophilus LA-14, Lactobacillus Reuteri 1E1, HMO CARE4U
BiomeMD for Women Pros & Cons
Pros
The product supports thyroid function
It supports gastrointestinal lining
It helps nutrient absorption and digestion
Cons
It is only available online
Not everybody may get the same results
---
How Does It Work? | The Science Behind BiomeMD for Women
The BiomeMD for Women formula features a unique blend of prebiotic soluble fiber and Lactobacillus Rhamnosus, a bioactive strain of the lactobacillus species that occurs naturally in the gut to support digestive health. This supplement is designed to help re-balance the gut microbiome, absorb nutrients and fight toxins in the tummy, improve vaginal microbiomes, regulate vaginal pH levels and support normal gastrointestinal function.
BiomeMD supplement contains carefully selected and clinically researched strains that pass safely through your digestive system and right into the vaginal microbiome, to regulate pH levels. It also contains prebiotics that works within your system to nourish good bacteria for digestive health optimization.
BiomeMD for Women Ingredients – What to Look For?
Bifidobacterium Lactis HN019 – This probiotic strain helps boost the immune system response. Besides, an article in the Nutrients Journal, mentions that it reduces regurgitation. And that it is used to improve heartburn and improvement upper gastrointestinal symptoms like abdominal pain and gas-related symptoms such as gurgling, belching.
Lactobacillus Acidophilus LA-14 – This probiotic prevents vaginal infection and also has a balancing effect on the vaginal microbiome. According to the International Journal of Immunopathology and Pharmacology[3], it is a potent inclusion in the treatment of bacteria-caused vaginal infections.
Lactobacillus Rhambosus HN001 – This probiotic helps relieve bloating, gas, and other digestive issues. It also boosts mood, especially when you combine it with prebiotics. According to the World Journal of Gastroenterology[2], Lactobacillus rhombus HN001 has been shown to modulate the composition of gut microbiota, resulting in a significant increment of beneficial bacteria and a reduction of harmful ones.
Lactobacillus Reuteri 1E1 – This probiotic can help reduce oxidative-related damages to the tissues as well as an overworked immune response. According to Frontiers in Microbiology[4], Lactobacillus Reuteri 1E1 has been found to play an important role in getting rid of infections and weakening GI diseases as well as diseases in remote tissues.
HMO CARE4 – This Human identical oligosaccharide is synthesized from natural ingredients and is a potent prebiotic. It confuses the bad bacteria to improve their elimination from the body system. According to the Journal of Functional Foods[5], HMOs play an essential role in the promotion of healthy microbial diversity hence boosting the neonatal immune system.
BiomeMD for Women – Questions & Answers
Q: How to Use BiomeMD for Women?
A: The dosage for this dietary supplement is one capsule per day preferably with food rich in fiber.
Q: Does BiomeMD for Women Have Any Side Effects?
A: BiomeMD is free from any serious side effects as per the producers. Besides, no customer has complained about any reaction after using the supplement.
Q: Can I Use BiomeMD for Women If I Have A Health Condition?
A: In answering this concern, the company says yes, but advises that you go by your doctor's before using this supplement.
Q: Does BiomeMD for Women Work?
A: Chances are that this product works for most new users since it has lots of positive feedback from previous users.
Q: What Is BiomeMD for Women's Money-back Guarantee, Return & Refund Policy?
A: BiomeMD allows product returns through a 90-day money-back guarantee that comes with this supplement. In case you are unsatisfied with the item, you can return it for your cash.
BiomeMD for Women Alternatives – Compare with Similar Items
Brand
Price
Ingredients
Once Daily Probiotic –
Women's Probiotic
$23.34
Lactobacillus Plantarum, Lactobacillus paracasei,
Lactobacillus gasseri, Lactobacillus casei
Women's Raw Probiotic
$25.00
5 Organic Probiotic, 34 Raw Organic Whole Food Strains Probiotic,
9 Types of Digestive Enymes
Doctor's Recipes –
Women's Probiotics
$16.99
Lactobacillus Acidophilus, Lactobacillus Plantarum, Leuconostoc
mesenterioides, Lactococcus Lactis, Lactobacillus gasseri
AZO Complete Feminine Balance
Daily Probiotics
$18.99
Lactobacillus Crispatus, Lacobacillus gasseri, Lacobacillys
rhamnosus, Microstalline cellulose, Silicon Dioxide
Is BiomeMD for Women Safe? – Warnings & Complaints
This female health support supplement is considered safe. Also, no complaints or warnings whatsoever regarding the use of this supplement have been shared online.
YOU MAY ALSO LIKE – GlucoseMD and ImmunityMD
BiomeMD for Women Customer Reviews & Results – What Users Are Saying
This product's rating, as well as the BiomeMD for Women reviews, are largely positive. The testimonials from those who have used the product as provided on the brand's website show that the supplement is effective and works as promised.
BiomeMD for Women: Packages, Deals, Prices & Where to Buy It
1 Bottle – $45.99
3 pack bottle – $41.99
6 pack bottle – $35.99
The Bottom Line on BiomeMD for Women
The gut microbiome is like an orchestra. When it is out of balance, it affects every other part of the body. BiomeMD® for Women promises to help restore the natural balance of the gut bacteria, helping with digestion and absorption of nutrients, immunity.
It also helps in managing vaginosis[6] and fighting vaginal infections, regulating pH levels in the vagina to prevent yeast and urinary tract infections.
Is There Anything Else You Should Know About BiomeMD for Women?
Although this supplement sounds like it is specially designed for adult women, the producer points out that men, as well as younger women who want to improve or maintain their immune and digestive health, can use it. It is also supposedly non-GMO, gluten-free, and free from shellfish.

SOURCES
Health Insiders relies on peer-reviewed studies, academic research institutions, and medical associations. We avoid using tertiary references. You can learn more about how we ensure our content is accurate and current by reading our editorial policy.
[1] Martin DH. The microbiota of the vagina and its influence on women's health and disease. Am J Med Sci. 2012 Jan;343(1):2-9. doi: 10.1097/MAJ.0b013e31823ea228. PMID: 22143133; PMCID: PMC3248621
[2] Toscano M, De Grandi R, Stronati L, De Vecchi E, Drago L. Effect of Lactobacillus rhamnosus HN001 and Bifidobacterium longum BB536 on the healthy gut microbiota composition at phyla and species level: A preliminary study. World J Gastroenterol. 2017 Apr 21;23(15):2696-2704. doi: 10.3748/wjg.v23.i15.2696. PMID: 28487606; PMCID: PMC5403748.
[3] Bertuccini L, Russo R, Iosi F, Superti F. Effects of Lactobacillus rhamnosus and Lactobacillus acidophilus on bacterial vaginal pathogens. Int J Immunopathol Pharmacol. 2017 Jun;30(2):163-167. doi: 10.1177/0394632017697987. Epub 2017 Mar 1. PMID: 28580872; PMCID: PMC5806794
[4] Mu Q, Tavella VJ, Luo XM. Role of Lactobacillus reuteri in Human Health and Diseases. Front Microbiol. 2018 Apr 19;9:757. doi: 10.3389/fmicb.2018.00757. PMID: 29725324; PMCID: PMC5917019
[5] Walsh C, Lane JA, van Sinderen D, Hickey RM. Human milk oligosaccharides: Shaping the infant gut microbiota and supporting health. J Funct Foods. 2020 Sep;72:104074. doi: 10.1016/j.jff.2020.104074. Epub 2020 Jul 3. PMID: 32834834; PMCID: PMC7332462
[6] Kairys N, Garg M. Bacterial Vaginosis. [Updated 2021 Jul 18]. In: StatPearls [Internet]. Treasure Island (FL)