What is Provitalize?
Provitalize is an organic supplement intended for women who are going through perimenopause or menopause. It can reduce symptoms like hot flashes and give you additional energy. In addition, it may help with added weight gain, as it has weight loss properties. Provitalize is a probiotic which can improve digestion and ease bloating.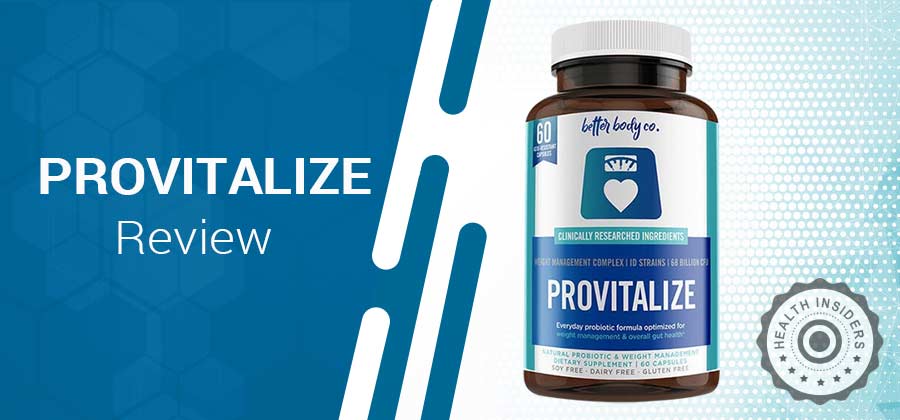 QUICK FACTS
BETTER BODY CO. PROVITALIZE BEST NATURAL WEIGHT MANAGEMENT PROBIOTIC
TYPE: Supplements
FORM: Capsule
HEALTH BENEFIT: Digestive Health, Weight Control
ADDRESS & EMAIL: United States:
304 S. Jones Blvd,
Las Vegas, NV 89107
MANUFACTURER: Better Body Co.
USES: Help boost natural metabolism and impact stubborn fat.* (*All individuals are unique. Your results can and will vary.)
INTRODUCTORY PRICE: $49.
SUPPLEMENT INGREDIENTS: Probiotics, B Lactis, Moringa Leaf Extract, Turmeric Root Extract
Provitalize Ingredients – The Breakdown
Here are some of the primary active Provitalize ingredients:
B Lactis – This is a very well-known probiotic which can remove bad bacteria from your intestinal system and replace it with healthy bacteria. It can improve digestion and help reduce bloating. An article in Microorganisms examined the science behind B. Lactis, which is the worlds most documented probiotic.
Moringa Leaf Extract – This is a plant called Moringa Oleifera, which is native to India. It's rich in vitamins, minerals, and proteins. It has powerful anti-inflammatory properties which help lessen bloating. It's also high in Vitamin C and E, which have immunity-boosting antioxidants. An article in the Asian Pacific Journal of Tropical Medicine examined the research on the many benefits of moringa leaf.
Turmeric Root Extract – This is a spice which has potent antioxidant properties. It kills free radicals and lowers oxidative stress, strengthening the immune system. It may also help to reduce fat levels in the body. A study on rats in Oxidative Medicine and Cellular Longevity found that curcumin supplementation can lead to a reduction in intestinal fat, a decrease in cholesterol, and lower oxidative stress.
How Does It Work? | The Science Behind Provitalize
Provitalize contains ingredients like Moringa which have phytoestrogens; botanicals that mimic estrogen. This raises the levels of this hormone in the body, eliminating symptoms like hot flashes. An article in Frontiers in Endocrinology examined the pros and cons of phytoestrogens.
This supplement also contains probiotics which eliminate bad bacteria from the gut and line it with good bacteria. This can help the process of digestion, and it eases bloating. Some of the probiotics have the ability to reduce fat and BMI. They may also help to lower cholesterol levels.
In addition, Provitalize supports the immune system. The product is high in antioxidants, which kills dangerous free radicals in the body and lowers oxidative stress. This strengthens immunity.
A review in the Journal of Dairy Science discussed the physiological role of antioxidants in the immune system.
Provitalize Pros & Cons
Pros
Provitalize Supplement may reduce hot flashes.
It could help you lose weight during menopause.
The product may have probiotic properties which ease bloating.
Provitalize for Menopause might increase your energy levels.
It could lower your cholesterol levels.
Cons
Provitalize for Menopause may cause stomach upset when you first start taking it.
This supplement is somewhat expensive.
The large capsules may be hard to swallow.
Customer Questions and Answers
Provitalize Alternatives
| Brand | Price | Ingredients |
| --- | --- | --- |
| Provitalize | $49 | Turmeric, Lecithin, Curry Leaf, Moringa Leaf, B. Lactis, L. Gasseri, B. Breve, Bioperine |
| Morning Complete | $49 | Aloe Vera, Green Tea, Turmeric, Ginger Root, Probiotic Blend, Astralagus, Fennel Seed, Spinach, Broccoli, Kale, Cinnamon Bark |
| Previtalize | $49 | Galacto-oligosaccharides (GOS), Xylooligosaccharides (XOS), Inulin, Fructooligosaccharides |
| Vital Reds | $69.95 | Green tea, Aronia berries, grape seed extract, mulberry extract, bitter melon extract |
| Trubiotics | $14.50-20 | Lactobacillus acidophilus, Bifidobacterium animalis |
| Bio X4 | $99.00 | Probiotic Blend (4 Billion CFU), Digestive Enzyme Blend (43mg), Weight Management Blend (100mg), Craving Control Blend (166mg) |
| Peptiva | $59.99 | Gamma-Aminobutyric Acid, valerian root, melatonin |
| Estroven | $9.96 – $21.97 | Black cohosh, Ginkgo Biloba |
| Amberen | $49.99 | Ammonium Succinate, Glycine, Monosodium L-Glutamate |
Better Body Provitalize is a pricey product compared to most of these other brands. In terms of ingredients, all of these products include a rich collection of organic substances which help with issues like weight loss, digestion, and menopause. They each have a different formula and slightly different benefits.
Is Provitalize Safe? – Warnings & Complaints
It's important to heed the health warnings we provided for people with certain conditions. Otherwise, the ingredients in this supplement are perfectly safe organic substances which can only lead to mild potential side effects.
Provitalize Customer Reviews & Results
The Provitalize reviews on the official website are glowing. Many customers said this product reduced bloating and helped them lose weight. Users also mentioned that they had more energy and that their hot flashes had decreased.
On Amazon, the reviews were moderately good. About 70% of customers gave Provitalize a very high rating and wrote good reviews. There were also some users who said they didn't get a lot of benefits from Provitalize probiotics.
Provitalize: Packages, Deals, Prices & Where to Buy It
You can buy Provitalize on the manufacturer's official website, Provitalize Amazon, and on a couple of other retail websites. The Provitalize cost of supplements on the official site are as follows:
1 Bottle – $49
2 Bottles – $45/each
3 Bottles – $36/each
The Bottom Line
Better Body Provitalize is a menopause supplement which can reduce hot flashes, and it also acts as a probiotic which can ease digestion and reduce bloating. The primary goal of the product is to help the user lose some of the weight they have gained in menopause. This supplement has high quality organic ingredients, but it's slightly expensive.
All of the Provitalize reviews are on the manufacturer's official website; there are no others elsewhere online. Customers were mostly very happy with this product, stating that it gave them energy, diminished hot flashes, and helped them lose a lot of weight. There were few poor reviews.
There are some mild side effects which could occur taking Provitalize. If you should experience any unpleasant symptoms, discontinue the use of the supplement immediately. Before you begin using this product, make an appointment with a doctor and get medical approval.
Is There Anything Else You Should Know About Provitalize?
Hopefully, Provitalize probiotics has worked well for you to reduce some of your menopause symptoms and take off the weight. There are other lifestyle methods to help you lose weight during menopause. Here are some suggestions:
Limit your portion sizes at each meal, to limit your caloric intake.
Follow a healthy diet like the Mediterranean or a vegetarian diet.
Exercise several times a week. Aerobic activity can be very effective at helping you lose weight.
Work on your stress levels, perhaps by trying yoga or meditation. Extra stress can lead to snacking and emotional overeating.