What is Provitalize?
Provitalize is an organic supplement intended for women who are experiencing a decrease in metabolic rate and hormonal shifts that are associated with perimenopause or menopause. It can reduce symptoms like hot flashes and provide you with additional energy. In addition, it may help with weight management as it has weight loss properties. Provitalize is a thermogenic probiotic and herbal blend that can improve digestion and ease bloating.
---
Quick Facts & Specs
Provitalize
Provitalize is a probiotic supplement that is designed to help women going through all stages of menopause.
Form:

Pill

Type:

Supplements

Benefit:

Helps in losing weight during menopause.

Brand:

Better Body Co.

Uses:

Lowers the cholesterol levels.

Active Ingredients:

Turmeric, Lecithin, Curry Leaf, Moringa Leaf, B. Lactis, L. Gasseri, B. Breve, Bioperine

Price:

$49
Provitalize Pros & Cons
Pros
Provitalize Supplement may reduce hot flashes.
It could help you lose weight during menopause.
The product may have probiotic properties which ease bloating.
Provitalize for Menopause might increase your energy levels.
It could lower your cholesterol levels.
Cons
Provitalize for menopause may cause stomach upset when you first start taking it.
This supplement is somewhat expensive.
The large capsules may be hard to swallow.
It may not work as well for you as it does for another woman.
A lot of Provitalize complaints online.
---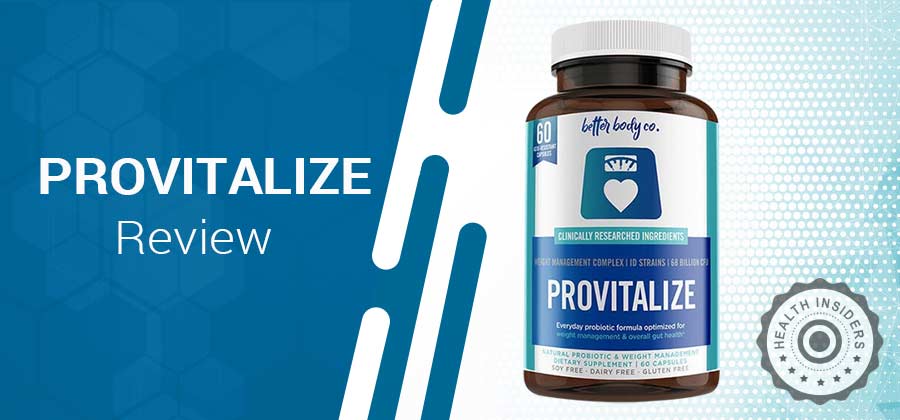 Provitalize Ingredients – The Breakdown
Here are some of the primary active Provitalize ingredients:
B Lactis – Among the other probiotics contained in the formula can crowd out the bad bacteria from your intestinal system and replace it with healthy bacteria. Beneficial bacteria can improve digestion and help reduce bloating, for those who are plagued by small intestinal bacterial overgrowth, probiotics can sometimes make symptoms worse.
A meta-analysis [1]conducted in 2018 indicated that people taking certain probiotic strains did experience weight loss compared to those who were not.
Moringa Leaf Extract – These leaves come from the Moringa Oleifera tree which is native to India. It's rich in vitamins, minerals, and proteins. For this reason, it is a great nutritional supplement that has been consumed by people for many years.
One of the powerful anti-oxidants vitamin E, has been associated with improvements in cognitive decline[2]. Thus, it may be helpful for women as they age and struggle with the associated symptoms.
Advertisement
*All individuals are unique. Your results can and will vary.
Turmeric Root Extract – This is as it sounds, a root that looks very similar to ginger. It is one of the most studies anti-inflammatory spices. In addition to that, it may also help to prevent accumulation of fat[3] levels in the body.
A study on rats in Oxidative Medicine and Cellular Longevity[4] found that curcumin supplementation can lead to a reduction in intestinal fat, a decrease in cholesterol, and lower oxidative stress.

How Does Provitalize Work? | The Science Behind Provitalize
Provitalize contains ingredients like Moringa which have phytoestrogens; botanicals that mimic estrogen. This raises the levels of this hormone in the body, eliminating symptoms like hot flashes. An article in Frontiers in Endocrinology[5] examined the pros and cons of phytoestrogens. Because of the decline in estrogen during menopause, there may be a reduction in the hot flashes because the Moringa essentially raises the estrogen-like levels in the body, eliminating symptoms like hot flashes.
Provitalize also contains probiotics which can help to reduce bad bacteria from the gut and line it with good bacteria. This can help the process of digestion, and it eases bloating. Additionally, there is increasing evidence that certain probiotics have the ability to reduce fat[6] and lower cholesterol levels.
In addition, Provitalize supports the immune system. A review in the Journal of Dairy Science[7] discussed the physiological role of antioxidants in the immune system and they found antioxidants, which neutralize dangerous free radicals in the body and lowers oxidative stress help to support healthy immune system function.
Provitalize – Frequently Asked Questions
Q: How do I Take Provitalize?
A: The manufacturer recommends that you take 2 Provitalize capsules first thing in the morning, either with or without food. Do not take any more than the maximum dosage for any reason.
Q: Does Provitalize Have Any Side Effects?
A: There are some mild Provitalize side effects which may occur from taking this supplement, due to some of the ingredients. For example, turmeric may lead to nausea, stomach upset, diarrhea, or dizziness . In addition, lecithin can lead to abdominal pain, nausea, diarrhea, or fullness .
Q: Is Provitalize Legit or a Scam?
A: Provitalize is not a rip-off. You should do it for 90 days risk-free and see if it affects your health, so I suggest giving it a shot and seeing how it goes.
Q: Is Provitalize FDA Approved?
A: Provitalize is manufactured in the United States in a GMP-certified, FDA-registered warehouse. Better Body Co is committed to continuing to produce high-quality supplements.
Q: Can I Take Provitalize If I Take Another Medication?
A: The manufacturer of Provitalize recommends that it should not be taken with NSAIDs, blood-thinners and Cox2-inhibitors. So, if you are taking any of those medications, please do not take this supplement.
Overall, Provitalize is a generally safe product with high-quality organic ingredients. However, if you live with any medical condition, are planning to get pregnant or have surgery within a few weeks, it is wise to consult your doctor before consuming Provitalize.
Q: Does Provitalize Really Work?
A: The ingredients that make up Provitalize should work well, based on the fact that the chosen ingredients are all based on clinical studies. There are several substances, which purport to assist with weight management, reduce inflammation and increase estrogen.
Advertisement
*All individuals are unique. Your results can and will vary.
These Provitalize ingredients may reduce symptoms such as: hot flashes, unwanted weight gain, digestive upset and bloating. For the most part, the reviews on Provitalize agree that this is an effective supplement.
Q: What Is Provitalize Moneyback Guarantee, Return & Refund Policy?
A: The manufacturer has a 90-day return policy. If you are not happy with the product, contact the company for further instructions and then send it back within 90 days of the original purchase date. The product must be in its original packaging and not damaged. You'll get a full refund within 5-21 business days.
Q: How Long Does it Take for Provitalize to Work?
A: The manufacturer suggests that it should take between 1 to 8 weeks to really show any efficacy, depending on the individual. Following a healthy lifestyle that includes a nutritious diet and exercise is essential and this supplement claims to be able to enhance the impact of those strategies.
Q: Who Makes Provitalize?
A: The Better Body Co. manufactures this product, and they have their headquarters in Las Vegas, Nevada. They are a health and wellness company that makes and sells health supplements. Most of their products deal with weight management. The company has a team of expert nutritionists and naturopaths who develop their formulas.
Q: Is Provitalize Sold in Stores?
A: No, there are not any retail stores that sell Provitalize. You can purchase it on the manufacturer's website, on Amazon, and from a couple of other online retailers.

Provitalize Alternatives
| Brand | Price | Ingredients |
| --- | --- | --- |
| Provitalize | $49 | Turmeric, Lecithin, Curry Leaf, Moringa Leaf, B. Lactis, L. Gasseri, B. Breve, Bioperine |
| Total Restore | $44.95 | L- Glutamine, PepZin GI, Licorice Root Extract, and N-acetyl D-glucosamine |
| Morning Complete | $49 | Aloe Vera, Green Tea, Turmeric, Ginger Root, Probiotic Blend, Astralagus, Fennel Seed, Spinach, Broccoli, Kale, Cinnamon Bark |
| Previtalize | $49 | Galacto-oligosaccharides (GOS), Xylooligosaccharides (XOS), Inulin, Fructooligosaccharides |
| Vital Reds | $69.95 | Green tea, Aronia berries, grape seed extract, mulberry extract, bitter melon extract |
| Trubiotics | $14.50-20 | Lactobacillus acidophilus, Bifidobacterium animalis |
| Peptiva | $59.99 | Gamma-Aminobutyric Acid, valerian root, melatonin |
| Estroven | $9.96 – $21.97 | Black cohosh, Ginkgo Biloba |
| Amberen | $49.99 | Ammonium Succinate, Glycine, Monosodium L-Glutamate |
Provitalize is a pricey product compared to most of these other brands. In terms of ingredients, all of these products include a rich collection of organic substances which help with issues like weight loss, digestion, and menopause. They each have a different formula and slightly different drawbacks or benefits
Is Provitalize Safe? – Warnings & Complaints
It's important to heed the health warnings we provided for people with certain conditions. Otherwise, the ingredients in this supplement are generally recognized as safe for most people.
Provitalize Customer Reviews & Results
The Provitalize reviews on the official website are glowing. Many customers said this product reduced bloating and helped them lose weight. Users also mentioned that they had more energy and that their hot flashes had decreased.
Advertisement
*All individuals are unique. Your results can and will vary.
On Amazon, the reviews were moderately good. About 70% of customers gave Provitalize a very high rating and wrote good reviews. There were, however, some users who said they didn't get a lot of benefit from Provitalize.
Provitalize: Packages, Deals, Prices & Where to Buy Provitalize
You can buy Provitalize on the manufacturer's official website, Provitalize Amazon, and on a couple of other retail websites. Special offers and deals along with Provitalize coupon code is available on the website throughout the year. The Provitalize cost of supplements on the official site are as follows:
1 Bottle – $49
2 Bottles – $45/each
3 Bottles – $36/each
The Bottom Line – Provitalize
Provitalize is a supplement designed to reduce hot flashes, ease digestion, reduce bloating and assist with weight management. The primary goal of the product is to help the user prevent weight gain commonly associated with menopause or lose some of the weight they have gained in menopause. This supplement has high-quality organic ingredients, but it's slightly expensive.
Customer Provitalize reviews expressed that they were mostly happy with the product. stating that it gave them energy, diminished hot flashes, and helped them lose a lot of weight. Although, there were few poor reviews.
There are some mild Provitalize side effects which could occur taking it. If you should experience any unpleasant symptoms, discontinue use of the supplement immediately. Before you begin using this product, make an appointment with a doctor and get medical approval.
Is There Anything Else You Should Know About Provitalize?
Hopefully, Provitalize probiotics has worked well for you to reduce some of your menopause symptoms and take off the weight. There are other lifestyle methods to help you lose weight during menopause. Here are some suggestions:
Limit your portion sizes at each meal, to limit your caloric intake.
Follow a healthy diet like the Mediterranean or a vegetarian diet.
Exercise several times per week. Aerobic activity can be very effective at helping you lose weight.
Work on your stress levels, perhaps by trying yoga or meditation. Extra stress can lead to snacking and emotional overeating.
Sources
Health Insiders relies on peer-reviewed studies, academic research institutions, and medical associations. We avoid using tertiary references. You can learn more about how we ensure our content is accurate and current by reading our editorial policy.
[1] Borgeraas H, Johnson LK, Skattebu J, Hertel JK, Hjelmesaeth J. Effects of probiotics on body weight, body mass index, fat mass and fat percentage in subjects with overweight or obesity: a systematic review and meta-analysis of randomized controlled trials. Obes Rev. 2018 Feb;19(2):219-232. doi: 10.1111/obr.12626. Epub 2017 Oct 18. PMID: 29047207.
[2] Morris MC, Evans DA, Bienias JL, Tangney CC, Wilson RS. Vitamin E and Cognitive Decline in Older Persons. Arch Neurol. 2002;59(7):1125–1132. doi:10.1001/archneur.59.7.1125
[3] Bradford PG. Curcumin and obesity. Biofactors. 2013 Jan-Feb;39(1):78-87. doi: 10.1002/biof.1074. Epub 2013 Jan 22. PMID: 23339049.
[4] Curcumin Supplementation Decreases Intestinal Adiposity Accumulation, Serum Cholesterol Alterations, and Oxidative Stress in Ovariectomized Rats
[5] The pros and cons of phytoestrogens
[6] Probiotics: How Effective Are They in the Fight against Obesity?
[7] Bendich A. Physiological role of antioxidants in the immune system. J Dairy Sci. 1993 Sep;76(9):2789-94. doi: 10.3168/jds.S0022-0302(93)77617-1. PMID: 8227682.