About Backaid Max
Backaid Max is an acetaminophen-based pain relief product which focuses on easing temporary soreness in the back, legs, and joints. In addition, it can decrease radiating waves of pain in the legs and decrease pressure due to retaining water. This is a safe product if you take it according to instructions, and it does not cause drowsiness.
---
Backaid Max Pros & Cons
Pros
It may relieve temporary lower back, leg, and joint pain.
Backaid Max may eliminate radiating leg pain.
This product should not cause drowsiness.
Backaid Max doesn't contain aspirin or caffeine.
It may release pressure due to water retention.
Cons
You can't buy it on the official website.
Backaid Max only has 2 primary active ingredients.
If you have an allergy, this could cause a skin reaction.
---
How Does It Work? | The Science Behind Backaid Max
Backaid Max functions by blocking receptors in the brain to decrease pain and discomfort anywhere in the body. A study in the Journal of Clinical Oncology found that acetaminophen improved pain and well-being in patients with cancer.
In addition, it includes a diuretic, which can decrease bloating due to retaining water. A study in the British Medical Journal found that when they stopped diuretic treatment, water retention occurred.
Backaid Max Ingredients – What Does Backaid Max Have In It?
Here are the primary active Backaid Max ingredients:
Acetaminophen – This is the central ingredient in the product, and it's an FDA-approved pain killer which research supports in terms of its pain-relieving properties.It's used to treat mild to moderate discomfort, and not severe conditions. An article in Frontiers in Pharmacology discussed the benefits of this substance beyond pain and fever.
Pamabrom – This is a diuretic, which increases urination to rid the body of liquids. It can reduce swelling and bloating from water retention. According to the International Journal of Science and Research it's often used in combination with acetaminophen to treat menstrual symptoms.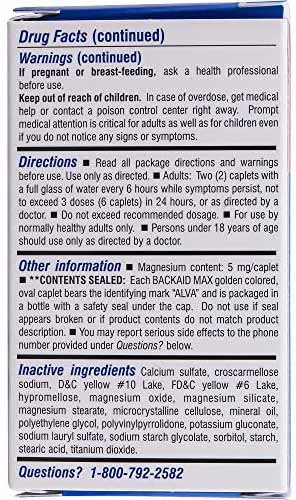 Backaid Max – Questions & Answers
Q: How to Take Backaid Max?
A: The Backaid Max dosage for adults is 2 capsules with a full glass of water every 6 hours. You should not exceed 8 capsules in a 24-hour period. Those under the age of 18 should use only under the direction of a doctor.
Q: Does Backaid Max Have Any Side Effects?
A: Acetaminophen has no serious side effects, but if you have an allergy it could cause hives and red skin (1). If this occurs, stop using the product immediately and see a physician if necessary.
Q: Can I Take Backaid Max If I Have A Health Condition?
A: You should not take this product if you have an allergy to acetaminophen, as it can cause a severe skin allergy (1). In addition, the manufacturer warns that if you take too much of the product, it can cause severe liver damage.
People with liver conditions should avoid the product. You should also stay away from Backaid Max if you take the blood-thinning drug Warfarin.
Q: Does Backaid Max Work?
A: Yes, Backaid Max certainly works. It contains a high amount of acetaminophen which can reduce pain all over the body. The vast majority of the Backaid Max review listings agree that this is a highly effective product.
Q: What Is Backaid Max Moneyback Guarantee, Return & Refund Policy?
A: Backaid Max is not for sale on the official website, so they have no return policy. If you buy from another retailer, they will have their own guarantee.
Q: Does Backaid Max Make You Sleepy?
A: No, there are no ingredients in Backaid Max which would lead you to become sleepy. This is a non-drowsy formula.
Q: Can You Take Backaid Max With Ibuprofen?
A: Yes, you can take acetaminophen and ibuprofen at the same time, as long as you stick to the correct dosages (2). There's a chance you could experience stomach upset from taking both medications. Do check with your doctor first before you do this.
Q: Who Should Take Backaid Max?
A: Anyone suffering from mild to moderate back, leg, or joint pain may benefit from Backaid Max. For more severe problems, seek treatment from a physician.
Backaid Max Alternatives – Compare with Similar Items
Brand
Price
Ingredients
Backaid Max
$10.99
Acetaminophen
Curamin
$69.13
Curcumin, Boswellia Serrata, DLPA, Nattokinase
Omega XL
$49.67
30 Essential Fatty Acids
AOR Ortho Adapt
$46.74
Vitamin C, Licorice, Pantothenic Acid, Siberian Ginseng,
Ashwagandha, Rhodiola Rosea
Backaid Max is very reasonably priced compared to some of the organic pain killer brands on the market. Rather than include a few ingredients like the others, it focuses on one very potent, an effective substance that works and a secondary ingredient.
Is Backaid Max Safe? – Warnings & Complaints
This is a safe, quality product with no real Backaid Max side effects, as long as you take it according to the directions. Taking too much can lead to liver problems. Some people have an allergy to acetaminophen, which could cause a skin reaction. Check with your doctor first if you are uncertain whether you have an allergy.
Backaid Max Customer Reviews & Results – What Users Are Saying
Most of the Backaid Max reviews were highly positive, praising the pain-relieving benefits of this product. Many long-time backs and joint pain sufferers said that Backaid Max really improved the quality of their lives. There were only a few reviews from users who didn't get the same benefits.
Backaid Max: Packages, Deals, Prices & Where to Buy It
You can't get Backaid Max on the manufacturer's official website, but you can get it from numerous other retailers both online and offline. The prices vary somewhat from retailer to retailer, but it's approximately $10.99.
The Bottom Line on Backaid Max
Backaid Max pills are powerful pain killers for the back, legs, and joints. The product can also decrease pressure due to retaining water and lessen radiating leg pain. It's based mostly on acetaminophen, which is FDA-approved and known to be a potent pain medication. It's reasonably priced for the market.
There weren't a lot of Backaid Max reviews online, but the ones that existed were mostly very positive. Users liked the product and said it was an effective pain reliever and improved the quality of their lives. There were a few users who didn't get many benefits from Backaid Max.
This product has few Backaid Max side effects, although you could have a skin reaction if you have an allergy. If this or any other unpleasant symptoms occur, stop using Backaid Maximum Strength Back Relief. Before taking this product, see a doctor and get medical approval.
Is There Anything Else You Should Know About Backaid Max?
Backaid Max should help relieve back and leg pain effectively, and we hope it's worked well for you. If you're looking for additional, natural ways to help soothe your pain, there are a few methods. Here are some tips:
Get your endorphins moving because they decrease levels of pain. Some endorphin-boosting activities include massage, meditation, or physical activity.
Poor sleep can worsen pain levels, so try to get an adequate amount of rest every night.
Soothe the pain in your back or legs with either a cold pack or a hot pack, as both ease pain and inflammation.
Do exercises for your back and abs, to strengthen the muscles that support your spine.