About Dr. Kellyann
BellaBiotics supplements are made by the company of Dr. Kellyann Petrucci, M.S., N.D., a New York Times best-selling author of a variety of books, including Bone Broth Diet, 10-Day Belly Slimdown, and Bone Broth Cookbook.
She's considered a weight-loss and natural anti-aging experient who is a sought-after doctor for celebrities in New York City and Los Angeles. She is a board-certified naturopathic physician and a certified nutrition consultant.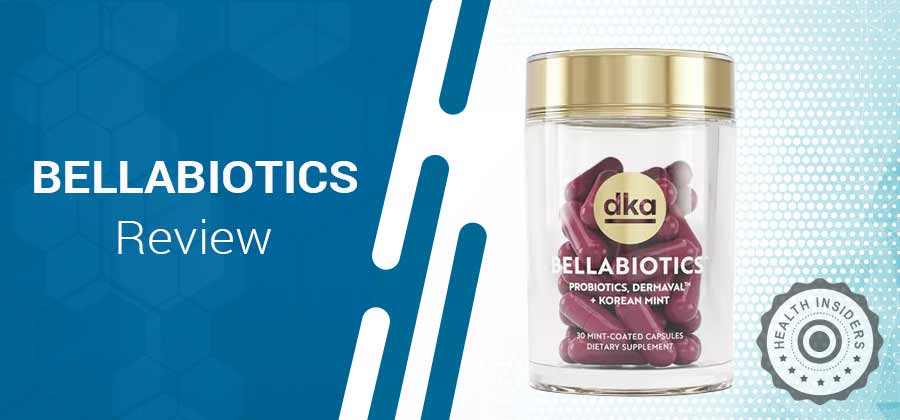 QUICK FACTS
Buy on Website
Dr. Kelly Ann's Healthy Skin Probiotic
BellaBiotics
Bella Biotics works by targeting the skin and gut microbiomes from a cellular level to restore your skin's elasticity, smooth out wrinkles, and restore skin elasticity.
Form:

Capsule

Type:

Anti-Aging

Benefit:

Bella Biotics combines Dermaval and Agatri Koren Mint two of the most cutting-edge discoveries.

Phone & Address:

1888-871-2155
3515 Naturally Fresh Blvd, Suite 540, Atlanta, GA 30349

Brand:

Dr. Kellyann

Uses:

Naturally reduce wrinkles and tighten skin

Price:

$49.00 with a discount if you purchase multiple bottles

Active Ingredients:

Vitamin A, Vitamin D3, Vitamin E, Agatri
Pros
Restores skins elasticity
Reduce wrinkles, and fine lines
Hydrate skin
Ingredients are listed on the label
90-day money-back guarantee
Customer reviews are shown on the official websites.
Promotes collagen production
Repair and protects skin from UVB damage
Cons
There are no clinical trials
Some individuals experienced side effects
No Free trial is available
No samples available
Bulk pricing discounts are not available
It may be a bit costly
BellaBiotics: An Overview
BellaBiotics is an anti-wrinkle product made by the company Dr. Kellyandd and sold through their official website and select retail stores. The website itself looks professional and provides a complete list of ingredients, customer reviews, and information on how you can contact customer service. However, nothing is known about the manufacturing process, and there's no clinical testing information provided.
We like that there's a 90-day money-back guarantee (If you purchase BellaBiotics through Amazon, you have to get your refund from them). The company also offers a monthly subscription program where consumers can save 10% on their orders.
It's important to note that this product is manufactured in a facility that processes milk, soy, egg, wheat, peanuts, tree nuts, fish, and shellfish. If you're allergic to any of these ingredients, you may not want to purchase this item.
Advertisement
*All individuals are unique. Your results can and will vary.
BellaBiotics: The Science Behind It
According to the website, BellaBiotic combines Agatri Korean Mint and Dermaval, a blend of 9 plant-based antioxidants plus vitamins A, D, and E. Both Dermaval and Agatri Koran Mint have proven benefits similar to those of clinical-grade probiotics and essential vitamins. While the key ingredients are provided, the exact amounts aren't included.
The peptides and plant extracts are said to enhance the texture and look of aged skin, making it softer and nourishing it with essential vitamins and minerals. BellaBiotics may smooth wrinkles By helping with skin elasticity and collagen growth and increasing hydration in the skin. BellaBiotic supplements contain vitamins A, D, and E, which help improve your ability to fight infections and remove free radicals in your cells that may cause tissue damage.
Your Gut and Skin Issues
One of the claims of BellaBiotics is that it helps reduce fine lines by combining pre and pro-biotics. While it's well known there's a connection between your gut health and the brain but does it also affect your skin? According to the Canidian Digestive Health Foundation (CDHF) (1), the answer to this is yes. For example, one study suggests that those who have rosacea were more likely to also have tiny intestinal bacteria overgrowth compared to those who didn't.
Digestive issues cause irritation and inflammation, which can decrease your skin's elasticity. Microbiome (2) is a bacteria in your gut that influences your health, including the health of your skin. When you have digestive issues, it can cause various skin conditions such as Acne, Atopic Dermatitis, Psoriasis, and loss of collagen.
Probiotics and prebiotics work from the inside out, helping to balance out the good bacteria helping to reduce wrinkles, erase fine lines and reduce skin inflammation. Once the good bacteria start to grow and your gut starts to heal, you'll notice a difference in your skin. Don't expect same-day changes; it can take 1-2 weeks.
Key Ingredients of BellaBiotics
Vitam A as retinyl Pamitate – vitamin A comes from retinoids found in foods such as liver, eggs, dairy products, and carotenoids present in dark green vegetables and carrots. The body uses carotenoids to create retinol while your liver stores vitamin A and helps maintain healthy levels of vitamins in the blood.
Vitamin A is the first drug approved by the Food and Drug Administration because it's proven to have an-aging (3) effects.
Benefits of Vitamin A For the Skin
Prevent breakouts
Reduce fine lines
Protects skin from UV rays
Improves skin texture
Reduce hyperpigmentation
Shrinks pores
It helps to build epidermis layers
Agatri Korean Mint – Agatri Korean Mint is also known as Agastache rugosa. It is an herb in the mint family that, like other herbs, has a pleasant smell and is used for a variety of medicinal purposes. According to a study (4) published in December 2019, this herb may help reverse the sign of photoaging caused by UVB-irritated skin and reduces oxidative stress.
Benefits of Agtri Korean Mint
Reduces wrinkles, and fine lines
Diminish age spots
Reverses harmful effects of UV rays
Lowers anti-oxidative stress
Helps with baldness
Dermaval – Dermaval is a combination of superfoods to help collagen production. The ingredients contained within dermaval are:
Advertisement
*All individuals are unique. Your results can and will vary.
Pomegranate extract prevents collagen breakdown
Acerola, mangosteen, camu camu which has vitamin C, which boosts collagen production
Coffee cherry, asparagus, acai sophora, japonica flower, and okra are phytonutrients, including quercetin, anthocyanins, and chlorogenic acid.
One study (5) conducted by FutureCenticals Inc., the company that developed Dermaval, found a spike in antioxidants activity by day 3 of taking the superfood in a glass of water.
Most collagen supplements on the market today are animal-based to renew collagen production in the body. However, the problem is that it breaks down in our digestive system once it's eaten, which prevents our body from increasing collagen production.
Dermaval, which is plant-based, does not contain collagen but still plays a role in its production by giving us the nutrients needed to stimulate collagen production.
Alternatives to BellaBiotics
| Brand | Price | Ingredients |
| --- | --- | --- |
| XYZ Smart Collagen | $49.99 | Knipholone, Bulbine Frutescens, Acetylated Polymannose |
| Beverly Hills MD Dermal Repair Complex | $39.95 | Vitamin A, Thiamin, Riboflavin, Niacin, Vitamin B6, Folate, Biotin, Pantothenic Acid |
| Miami MD | $69.00 | Progeline, Matrixyl 3000, Argireline |
| Earths cure vegan retinol repairing cream | $38.00 | Botanical Hyaluronic Acid, Vitamin C & E, Gotu Kola, Glycerin, Green Tea |
| Estee Lauder Advanced Night Repair | $75.00 | Tripeptide 32, Sodium Hyaluronate |
How Does BellaBiotics Rate?
| Feature | Rating | Comments |
| --- | --- | --- |
| Ingredients | 5.0 | All-natural ingredients work to reduce the look of fine lines and wrinkles and protects the skin from UV damage |
| Manufacturer | 4.7 | Dr. Kellyann is a published author and public speaker known as the doctor for the stars. |
| Return Policy | 5.0 | BellaBiotics stands behind its product and offers a refund minus a processing fee. Also, the refund is offered even several months after purchase. They do h |
BellaBiotics FAQs
Q: Is BellaBiotics gluten-free, vegan, and/or dairy-free?
A: Yes, BellaBiotics is keto-friendly, gluten-free, vegan, and dairy-free. However, the label states that it's manufactured in a facility that processes milk, soy, egg, wheat, peanuts, tree nuts, fish, and shellfish (crustacean).
Q: How many capsules do I take a day?
A: According to the instructions on the back of the label, you should take one BellaBiotics capsule a day and take it with food.
Q: Where can I buy BellaBiotics?
A: You can purchase BellaBiotics through Dr. Kellyann's website and third-party retailers.
Q: What are the side effects of BellaBiotics?
A: Currently, there have been very few side effects. Since this product is all-natural, they are safe to take with most medications. However, you need to consult your physician before starting any new supplements.
Advertisement
*All individuals are unique. Your results can and will vary.
Q: Does BellaBiotics offer a money-back guarantee?
A: Yes, Dr. Kellyann offers a 90-day money-back guarantee.
Q: Are there any product complaints?
A: No, currently, there are no product complaints.
Final Thoughts
BellaBiotics reviews are primarily positive, with a few negative ones stating that they didn't see the expected results. Several clinical studies back the ingredients in this product; however, the supplement doesn't have any clinical studies.
5 sources
Health Insiders relies on peer-reviewed studies, academic research institutions, and medical associations. We avoid using tertiary references. You can learn more about how we ensure our content is accurate and current by reading our editorial policy.
[1] Canadian Digestive Health Foundation (CDHF) How Does your Gut Health Affect your Skin? Published 2022 https://cdhf.ca/health-lifestyle/how-does-your-gut-health-affect-your-skin/
[2] Salem I, Ramser A, Isham N, Ghannoum MA. The Gut Microbiome as a Major Regulator of the Gut-Skin Axis. Front Microbiol. 2018;9:1459. Published 2018 Jul 10. doi:10.3389/fmicb.2018.01459
[3] Zasada M, Budzisz E. Retinoids: active molecules influencing skin structure formation in cosmetic and dermatological treatments. Postepy Dermatol Alergol. 2019;36(4):392-397. doi:10.5114/ada.2019.87443
[4] Seo H, Kim C, Kim MB, Hwang JK. Anti-Photoaging Effect of Korean Mint (Agastache rugosa Kuntze) Extract on UVB-Irradiated Human Dermal Fibroblasts. Prev Nutr Food Sci. 2019;24(4):442-448. doi:10.3746/pnf.2019.24.4.442
[5] Reyes-Izquierdo T, Nemzer B, Argumedo R, Shu C, Pietrzkowski Z. Dermaval™ inhibits glucose-induced neutrophil elastase activity in healthy subjects. Nutrition and Dietary Supplements. 2014;6:1-7 https://doi.org/10.2147/NDS.S53838