About PhenTabz
PhenTabz is an appetite suppressing and weight loss supplement that promotes itself to help to maintain a slimmer body by consistently burning fats. It may help users to obtain a slender body without necessarily relying on exercise.
The company behind PheTabz is called Gentech Pharmaceuticals and prides itself as being a market authority when it comes to making herbal based alternative health products. That manufacturers state this product's strength is it may accelerate the process of metabolism, raise a person's daily levels of energy, suppress appetite and limit hunger pangs[1].
---
Quick Facts & Specs
PhenTabz
PhenTabz is an appetite suppressant and weight loss supplement that claims to help maintain a leaner body by burning fats on a continuous basis.
Form:

Pills

Type:

Supplement

Benefit:

Claims to help suppress appetite.

Brand:

PhenTabz

Uses:

Might improve a person's metabolic rate.

Ingredients:

Caffeine, Synephrine HCL, Octopamine

Price:

$69.00
PhenTabz Pros & Cons
Pros
Claims to help suppress appetite.
Might improve a person's metabolic rate.
Promises to make you stronger.
The product may support weight loss.
Cons
Its full list of ingredients is not shared.
The product became a prescription free product only recently.
It seems to come from a background of negative history as it was once stopped.
May not work well if regular exercise is not observed.
---
How Does It Work | The Science Behind PhenTabz
PhenTabz is purported to help the user in their weight loss efforts by suppressing appetite so much that you may skip meals. This means the amount of glucose that is manufactured in the liver[2] would reduce and the body would have to burn stored fats around the belly, the hips and other areas for energy.
Nevertheless, the producer recommends eating a protein-loaded low-fat, low carbohydrate diet for better results. The manufacturers state that this product promotes a muscular and stronger physique through fat metabolism.
To obtain maximum results it is suggested to participate in aerobic exercises such as walking, running and climbing stairs. With a combination of such physical exercise, this product claims it may help you burn up to 50% of the fat within a month.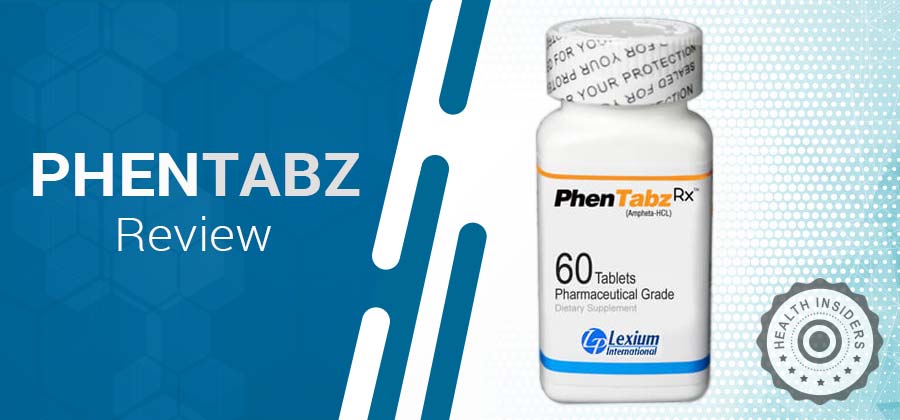 A while ago, this product was strictly a prescription weight support drug, but they have introduced a prescription free version, which is now available for ordering online.
Advertisement
*All individuals are unique. Your results can and will vary.
To optimize weight loss users may need to augment this product with regular exercise for optimum results.

PhenTabz Ingredients – What to Look For
The producer hasn't yet shared the full list of ingredients for this particular version of PhenTabz except for Ampheta HCL, which there is also very little that is known about it.
Nevertheless, since it is marketed as a lighter version of the PhenTabz Plus could be it has the same ingredients but in lesser amounts. Basically, PhenTabz Plus list of ingredients include:
Caffeine – An article in the journal Critical Reviews in Food Science and Nutrition[3], suggests that caffeine may to some degree boost weight loss. It may have appetite suppressing and metabolism properties.
Synephrine HCL (or bitter orange) – might play a role in improving the rate of fat oxidation, as indicated in one study article appearing in the British Journal of Clinical Pharmacology[4]. Unfortunately, the study was done on people who were already exercising.
Octopamine – is associated with having possible fat-burning properties. More research needs to be done or availed to confirm this allegation, as there's currently scant information about it.
PhenTabz – Questions and Answers
Q: How to Take PhenTabz?
A: Take the pills twice per day, preferably on an empty stomach and with a glass of water, or 30 minutes before eating your breakfast and the other before the lunch meal.
Q: Does PhenTabz Have Any Side Effects?
A: The official site's take on this detail is that the product is generally safe. However, some people may on occasion experience sleeplessness or the symptoms of dehydration like a dry mouth. As such, you should use it during the day and not before bedtime.
Q: Can I Take PhenTabz If I Have A Health Condition?
A: If you are on medications, especially under-stimulation drugs like amphetamines or antidepressants, you should not use this product.
NOTE: As in getting professional advice if you are on any sort of medication.
Q: Does PhenTabz Work?
A: The producer seems bold that the product may actually help reduce appetite and weight loss. Nevertheless, it's also advised that you stick to regular exercise and eat healthily.
Q: What Is PhenTabz Moneyback Guarantee, Return & Refund Policy?
A: This supplement is sold through a distributor, Lexium International who has a return policy that only covers unopened goods. On the refund, they also deduct a 20% restocking fee.
Advertisement
*All individuals are unique. Your results can and will vary.
PhenTabz Alternatives
Brand
Price
Active Ingredients
Phen Q
$69.95
Calcium Carbonate, Caffeine Anhydrous, Capsimax, Piperine Extract, A-lacy's Reset, Chromium Picolinate
RazaLean
$69.95
Capsaicin, caffeine, kelp, apple cider vinegar, turmeric, arginine
Phen375
$65.95
Caffeine Anhydrous, L-Carnitine,Citrus Aurantium,Chromium,
Cayenne Pepper
Active PK
$69.00
Berberine HCI, Gynostemma Pentaphyllum Leaf Extract, Quercetin Dihydrate
Hydroxycut
$30.99
L-theanine, Ashwagandha, Caffeine, Choline Bitrate
Fit Affinity
$39.00
Garcinia Cambogia, Raspberry Ketone Powder, Carnitine, Green Tea Leaf
Is PhenTabz Safe? – Warnings & Complaints
PhenTabz is safe as indicated by the producer. However, the manufacturer warns that if you are below 18 years of age, nursing, pregnant or taking other weight loss products, you should not use it.
PhenTabz Customer Reviews & Results
"I'm now 2 months into this product and I can see some good progress. Well, besides taking it, I also live a pretty active life which I think helps me burn fats faster." – Linda Johns.
"The reading on my weight scale shows I've dropped some 15 pounds already since I started this regimen. So, yes it's working for me, but still, I'd advise it for people who are completely healthy." – Tony.
PhenTabz: Packages, Deals, Prices & Where to Buy It
PhenTabz is available online on its official site, but they sell it through their main distributor, Lexium International.
1 bottle has 60 tablets and costs $69.00
3 bottles – $187.00 (save $20.00)
6 bottles – 249.33 (save $164.67)
The Bottom Line
The original version of this product, which was only available under prescription, has a history of delivering notable results. The producer claims that this product uses the same exact ingredients as the initial version only that the strength of for PhenTabz is reduced to help make it prescription free.
Advertisement
*All individuals are unique. Your results can and will vary.
Unfortunately, there's no indication that this product might not work to support weight loss. What is there is that more tests from at least third party researchers are needed to confirm its claims. It is also likely that notable changes might be realized, but again only if the user is observing a regular exercise routine.
Is There Anything Else You Should Know About PhenTabz?
If you are planning or working to eliminate caffeine in your diet then the producer highlights that this product may be counterproductive to your efforts. Also, if your daily consumption of caffeine is high you might either want to reduce that completely to avoid caffeine overdose as this product has a lot of it.
Another detail worth noting is that this product is now available as a prescription-free drug, but its original version, PhenTabz Plus is still strictly only available on prescription drugs.
READ NEXT – Thermo Burn and TeDivina
Sources
Health Insiders relies on peer-reviewed studies, academic research institutions, and medical associations. We avoid using tertiary references. You can learn more about how we ensure our content is accurate and current by reading our editorial policy.
[1] Appetite Suppression and Antiobesity Effect of a Botanical Composition Composed of Morus alba, Yerba mate, and Magnolia officinalis
[2] Energy Metabolism in the Liver
[3] The effects of caffeine intake on weight loss: a systematic review and dos-response meta-analysis of randomized controlled trials
[4] Acute p-synephrine ingestion increases fat oxidation rate during exercise.