What is Perbelle CC Cream?
Perbelle CC Cream is a color-correcting moisturizer which could balance skin tone. In addition, it may diminish redness and other skin blemishes. One cream works for every shade, as the cream purportedly adjusts itself to your individual tone.
It may be a good base for makeup. In addition, the formula also has anti-aging benefits, helping to reduce wrinkles, lines, and dark spots. With an SPF of 43, Perbelle CC Cream is also a good sunblock.
QUICK FACTS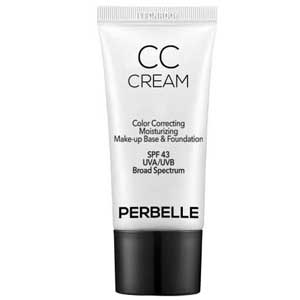 Buy on Website
Quick Facts & Specs
Perbelle CC Cream
Perbelle CC Cream color-corrects and balances skin tone, as well as being a solid makeup base and providing anti-aging benefits
Form:

Cream

Skin Type:

All Skin Types

Benefit:

Anti-Aging, Adjusting Skin Tone, Make Up Base and Foundation, Concealing Pigmentation, Moisturizing

Phone & Address:

646-328-6562; cs@perbellecosmetics.com

Brand:

Perbelle

Uses:

Maintains long-lasting skin moisture, diminishes the appearance of fine lines, reduces the reducing the visible signs of aging

Price:

$39*

Active Ingredients:

Niacinamide, Hyaluronic Acid, Adenosine, Flower Extract Complexion, Nelumbo Nucifera Flower Extract, Jasmine Flower Leaf Extract
Perbelle CC Cream Pros & Cons
Pros
This product may balance your skin tone.
Perbelle CC Cream could offer anti-aging benefits.
This cream could serve as a good makeup base.
Perbelle CC Cream might conceal skin pigmentation.
This formula is suitable for every skin type and tone.
Cons
You can only purchase this product online.
It contains fragrance and other ingredients which may lead to skin irritation.
Free shipping over $50 is only for American residents.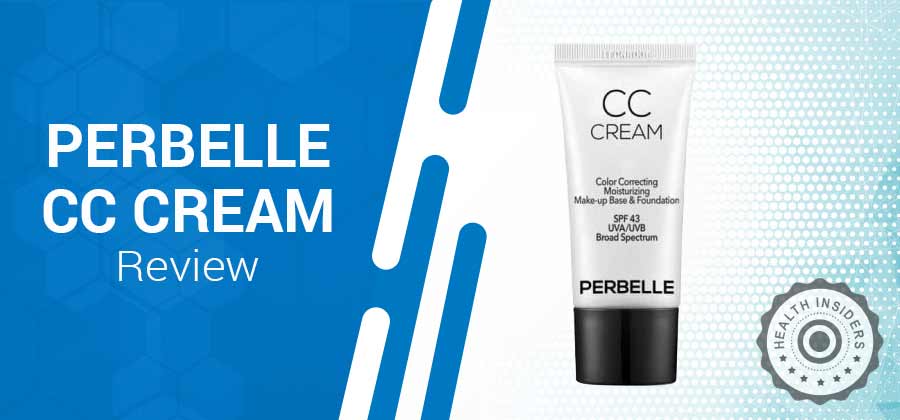 How Does Perbelle CC Cream Work?
Perbelle CC Cream includes some very hydrating ingredients, which moisturize the skin and eliminate dryness. This also plumps the dermis, smoothing wrinkles and fine lines. There are ingredients which boost collagen production, firming the skin, improving elasticity, and diminishing lines.
This cream has SPF 43, which prevents further damage and deterioration from the sun. There are also ingredients which block melanin production, lightening the under eye skin and helping to eliminate skin spots and hyperpigmentation. An article in the International Journal of Cosmetic Science discussed the mechanisms of skin-lightening agents [1].
This formula also includes some iron oxides which serve as pigmentation for the skin. This is what allows the formula to shift to your natural pigment. A study in the Journal of Cosmetic Dermatology concluded that iron oxides provide additional protection against blue light to prevent skin damage [2].
Perbelle CC Cream is high in anti-inflammatory agents which can reduce redness and swelling on the skin, and possibly help heal blemishes. It's also high in antioxidants, which get rid of free radicals on the skin and lower oxidative stress. This promotes healing of the skin barrier, and further protects from UV rays and pollutants.
Advertisement
*All individuals are unique. Your results can and will vary.
What Are the Ingredients in Perbelle CC Cream?
These are some of the primary active ingredients in Perbelle CC Cream:
Nelumbo Nucifera Flower – This is a lotus flower which is highly protective against the sun's rays. In addition, it can help to prevent the skin from losing moisture, and to slow aging so that wrinkles don't develop as quickly. An article in Preventive Nutrition and Food Science discussed the photoprotective effect of lotus [3].
Hyaluronic Acid – This is a molecule that exists naturally in the skin, but its amount diminishes with age. It's referred to as a humectant as it draws massive amounts of water. It serves as an excellent moisturizer, and it helps to smooth wrinkles and lines. A review in the International Journal of Biological Macromolecules explored the rejuvenating benefits of hyaluronic acid [4].
Niacinamide – This is a form of Vitamin B3 which can shrink the pores and improve skin hydration. In addition, it can lighten and get rid of hyperpigmentation, helping to even out skin tone. It could also help eliminate acne scarring. An article in IFSCC reviewed the benefits of niacinamide for the skin [5].
Adenosine – This is a chemical which exists naturally in the cells. It could be a good anti-wrinkle agent, as it boosts collagen production and firms the skin.
It's also high in anti-inflammatory agents which may help heal skin conditions. A study in the International Journal of Cosmetic Science showed that adenosine had anti-wrinkle potential [6].
How Does Perbelle CC Cream Rate?
| Feature | Rating | Comments |
| --- | --- | --- |
| Formula | 7 | Solid ingredients but they could have added additional ones |
| Price | 9 | The cost is reasonable for the market. |
| Return Policy | 5 | 30-day policy for new and lightly used items with a $9 (almost 25%) processing fee. International orders are not refundable. |
Perbelle CC FAQs
Q: How to Apply Perbelle CC Cream?
A: To apply this formula correctly, begin by cleansing your face and then drying it carefully. You can apply a moisturizer if you like or add it to the skin alone.
Take some of the formula onto your fingers and spread an even, thin layer on your face. Repeat as needed during the day. You may apply makeup following application if you choose.
Q: What is the Perbelle CC Cream Return Policy?
A: The manufacturer has a 30-day return policy for new or lightly used products. If you're not happy with what you bought, e-mail the company for a shipping label and send it back within 30 days of receiving the product.
There is a $9 processing fee for all returns. This policy is only relevant to U.S customers, as there are no returns for international orders.
Advertisement
*All individuals are unique. Your results can and will vary.
Q: Who is the Manufacturer of Perbelle CC Cream?
A: The manufacturer is Perbelle Cosmetics Global Ltd, located in Tel Aviv, Israel. Formed in 2020, they are a fairly new skin care and cosmetics organization with a small selection of products in their line.
Q: Is Perbelle CC Cream Worth It?
A: The price of this cream is fairly reasonable, and users seems to have gotten some benefits from it. It may be worth it, however, there also may be other more purely organic brands on the market.
Q: What Sets Perbelle CC Cream Apart From the Competition?
A: This product is not as pure and organic as some of the other creams on the market, as it contains fragrance and synthetic ingredients which could cause skin reactions.
On the positive side, this is a multi-beneficial product which moisturizes, tones, provides anti-aging benefits, and doubles as an SPF 43 sunblock.
Q: What Do the Customers Think of Perbelle CC Cream?
A: There were a few video Perbelle CC Cream reviews on the official website, although we couldn't find any anywhere else. The testimonials were positive, with most of the users saying they got great hydrating, toning, and anti-aging benefits. However, we would like to see more independent reviews to find out what the Perbelle CC Cream complaints are.
Q: Where to Buy Perbelle CC Cream?
A: You can purchase this cream on the manufacturer's official website and on eBay. There may be other retailers who sell it as well. The prices are as follows:
1 Bottle – $39
2 Bottles – $72
4 Bottles – $128
How Does Perbelle CC Cream Compare with Other Creams?
| Product | Price | Ingredients |
| --- | --- | --- |
| SkinCeuticals C E Ferulic | $166 | 15% L-Ascorbic Acid, 1% Alpha-Tocopherol, Ferulic Acid, Sodium Hyaluronate |
| No7 | $10-$40 | Dimethicone, Peptides, Vitamin C, Glycerin |
| Tru Alchemy | $10.60-$38.60 | Mangifera Indica, Dimethicone, Glycolic Acid, Butrospermum ParkiiDi-C12-15 Alkyl Fumarate |
| Revision Skincare C+ Correcting Complex | $164 | Vitamins C and E, Beta Glucan, Diglucosyl Gallic Acid, Squalane, Radish Root, Euterpe Oleracea Fruit, Ergothioneine, Punica Granatum |
| Murad Hydrating Toner | $48 | Lecithin, Grape Seed Extract, Peach and Cucumber Fruit Extracts, Osmolytes, Urea, Chondrus Crispus, Amino Acids, Anthemis Nobilis Flower Extract, Fragrance |
CHECK ALSO – Cicatricure Gold Lift Day cream
Conclusion
Perbelle CC Cream is a hydrating formula which may work to even out skin tone and correct color on the face. In addition, it's an anti-aging formula which could firm the skin and smooth wrinkles and lines, as well as eliminating dark spots and hyperpigmentation. The formula is good, but it could use some additional organic ingredients. This cream is reasonably-priced.
The Perbelle CC Cream reviews weren't very numerous. There were a few video reviews on the official site which were all quite positive. Users said and demonstrated the skin tone adjusting benefits of this product. However, this would be much more convincing if we found other reviews online echoing this sentiment.
Advertisement
*All individuals are unique. Your results can and will vary.
Perbelle CC Cream contains some ingredients, like fragrance, which could provoke a skin irritation or rash. If you develop related symptoms, do not continue using this cream. It's a good idea to see a dermatologist before trying out a new skin product, to make sure that it's suitable for you.