What is Ouro Vitae?
Ouro Vitae offers a line of dietary supplements geared toward men and male health issues. The products help build muscle mass and strength, provide energy, raise testosterone levels, support heart health, and lower cholesterol. They also promote improved general health and a stronger immune system. Here are some of the top products in the line:
Mito Male – A hormone support supplement that can enhance libido, energy, mood, heart health, muscle strength, and cognition
Ouro Krill – A powerful omega 3 fatty acid formula that can decrease inflammation, improve vision, support heart health, and enhance mental functioning
Overnight T + – A testosterone booster that can raise your libido and improve the quality of your sleep
Ouro C – A highly bioavailable Vitamin C which claims to shorten cold duration by 85%
| | |
| --- | --- |
| Features | Subscription Available |
| Form | Capsules, Powder Drink |
| Health Benefits | Cognitive Function, Boosting Libido, Heart Health, Lowering Cholesterol, Energy, Muscle and Strength, Weight Loss |
| Supplement Ingredients | Boron, Eurycoma Longfolia, Apple Extract, L-Carnitine L Titrate, Zinc, L-Citrouille, L-Norvaline, Krill Oil |
| Type | Supplements |
Who is the Manufacturer of Ouro Vitae?
This brand is manufacturer by a company called Ouro Vitae, which has their headquarters in Virginia Beach, Virginia. Founded in 2019, this organization is in the health and wellness industry. They produce high-quality natural supplements, primarily for men.
What Are the Pros and Cons of Ouro Vitae?
Pros
These products can support heart health.
Ouro Vitae can lower cholesterol levels.
The supplement can boost cognitive functioning.
Ouro Vitae can boost levels of testosterone.
Cons
The products are only for sale online.
It's a small brand with only 7 products.
These supplements sometimes go out of stock.
How Does Ouro Vitae Work?
Ouro Vitae is a line with several supplements, each of which has their own purpose. Some increase levels of testosterone, which can boost libido and build up muscle mass and strength. A study in the Journal of Clinical Endocrinology and Metabolism founded a strong connection between testosterone and libido in aging men [1].
The products are rich in vitamins, minerals, and fatty acids which support general health. Some have protein, which can curb appetite and build muscles. They are high in anti-inflammatory agents which can reduce pain and swelling, for example in the joints and muscles.
The supplements are also all high in antioxidants, which eliminate free radicals and decrease oxidative stress. This helps heal damage in the body and strengthens the immune system.
Amino acids and other ingredients help to support brain health by raising levels of key neurotransmitters in the brain. This may improve memory, focus, and attention. An article in the International Journal of Molecular Science looked at the role of amino acids in neurotransmission [2].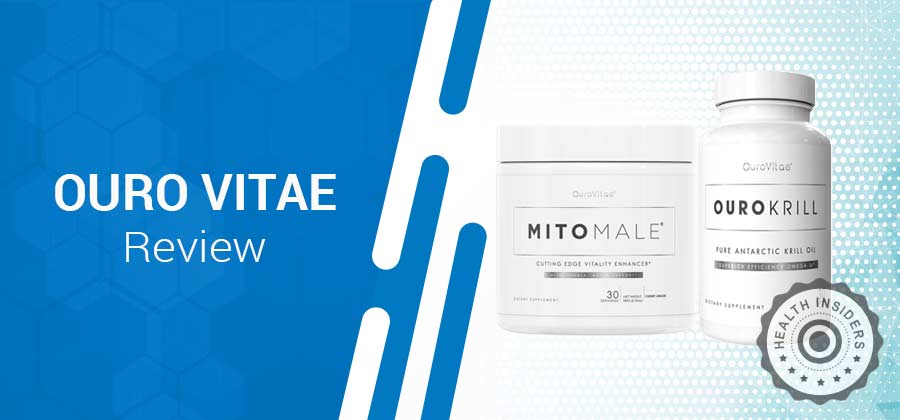 What Are the Ingredients in Ouro Vitae?
These are some of the primary active Ouro Vitae ingredients:
Boron – This is a micronutrient in the body which is important in numerous processes. It balances hormone levels and may increase testosterone. It also boosts levels of antioxidants, which can repair damage and strengthen the immune system [3].
An article in the Journal of Evidence-Based and Integrative Medicine explored the evidence for the health benefits of boron [4].
Zinc – This is an essential mineral in the body, and it plays an important role in cellular metabolism. It's important in promoting healthy prostate function in men. It may also raise libido.
A study in Nutrition concluded that zinc supplementation can raise levels of testosterone in healthy male adults [5].
Eurycoma Longfolia – This is a plant from South East Asia which is a potent aphrodisiac. It can increase testosterone, boost sexual libido, and build muscle mass and strength.
A study in rats in Evidence-Based Complementary and Alternative Medicine raised testosterone levels and improved bone structure [6].
How Does Ouro Vitae Rate?
| Feature | Rating | Comments |
| --- | --- | --- |
| Ingredients | 9 | 100% organic ingredients backed by science |
| Benefits | 9.5 | Numerous health benefits like heart health, energy, muscle-building, libido, and immune system |
| Guarantee | 8.5 | 30-day return policy for full refund |
Ouro Vitae – Frequently Asked Questions (FAQs)
Q: How Do I Take Ouro Vitae?
A: There are a number of supplements in this line, each with their own individual instructions. Read and follow the directions carefully before taking the product, and do not take more than the maximum dosage under any circumstances.
Q: Where Can You Buy Ouro Vitae?
A: You can buy the Ouro Vitae products on the manufacturer's official website, as well as from a few other online retailers. The prices of the products on the official site are as follows:
Mito Male – $59.97
Overnight T + – $69.96
Ouro Krill – $39.97
Ouro Co Q10 – $39.97
Ouro D3 – $24.97
Bio-Available Whey – $49.97
Ouro C – $49.97
| Store | Product | Details | Sales & Deals | Item Price | Total Price |
| --- | --- | --- | --- | --- | --- |
| Amazon | Mito Male | | | $92.39 | $92.39 + tax |
| Desert Cart | Mito Male | Free delivery to the U.S | | Out of Stock | Out of Stock |
Q: What is the Ouro Vitae Return Policy?
A: The manufacturer is offering a 30-day return policy. If you're unhappy with the product you bought, contact the company. Then send it back within 30 days of the purchase date. You should get a full refund.
Q: Is Ouro Vitae Worth It?
A: Ouro Vitae is a high-quality brand of supplements with organic ingredients that have scientific support. They should be effective. Many of the reviews of Ouro Vitae said they loved the benefits of these supplements.
Q: How Does Ouro Vitae Compare with Other Brands?
| Brand | Pricing | Guarantee | Benefits | Ingredients |
| --- | --- | --- | --- | --- |
| Ouro Vitae | $24.97 – $69.96 | 30-day return policy | Cognitive Function, Boosting Libido, Heart Health, Lowering Cholesterol, Energy, Muscle and Strength, Weight Loss | Boron, Eurycoma Longfolia, Apple Extract, L-Carnitine L Titrate, Zinc, L-Citrouille, L-Norvaline, Krill Oil |
| Gundry MD | $60 – $80 bottle | 90-day money back guarantee | Digestive Health, Energy, Athletic Performance, Weight Loss | Marshmallow Roots, Licorice, Grape Seed, Organic Guar Gum, Hemp Seed Protein, Flaxseed, Spirulina |
| Primal Harvest | $29.95 – $49.95 | 90-day money-back guarantee | Strong immune system, Ease joint pain, Healthy digestive tract, Supports heart health | Vitamin E, Huperzine A, Elderberry, Turmeric, Collagen, MCT Oil, Probiotics, Prebiotics |
| Onnit | $39.99 – $89.95 | 90-day money-back guarantee | Strengthen the immune system, Healthy digestion, Supports cognitive functioning, Reduce stress and anxiety | Phosphatidylserine, L-Theanine, Bacopa Monnieri, Alpha-GPC, Probiotics, Avocado |
Q: What Sets Ouro Vitae Apart From the Competition?
A: What's special about the Ouro Vitae brand is the focus on male health issues. They design the supplements specifically with the male body and functioning in mind. Few brands do this, and they generally throw men and women into the same boat and make products to accommodate both of them.
Q: What Do the Customers Think of Ouro Vitae?
A: Although there was a mix of opinions, most of the Ouro Vitae reviews were from happy customers who had positive things to say. A number of men said the supplements gave them great health benefits including more energy, stronger muscles, sharper thinking, and lower cholesterol levels. Some liked the flavor of the drink product, while others said was too sweet.
Conclusion
Ouro Vitae is a brand of supplements geared towards men and male health. They offer a range of benefits like boosting testosterone and raising libido, building muscles, supporting heart health, and increasing energy levels. These are natural, quality products that use ingredients based on science and research.
Users had a lot to say in the Ouro Vitae reviews, and most of it was positive. Men said these products helped them bulk up and trim down, gave them motivation, and improved their sex lives. Many men said they planned to repurchase and to try other supplements in the line.
Ouro Vitae is a safe brand with products composed of 100% organic ingredients. There are no artificial or chemical additives or fillers, and they have labeled any allergens clearly. You should not experience any harmful side effects from taking these products. This is a new brand, but it's already very popular in the market.
11 sources
Health Insiders relies on peer-reviewed studies, academic research institutions, and medical associations. We avoid using tertiary references. You can learn more about how we ensure our content is accurate and current by reading our editorial policy.
[1] The Relationship between Libido and Testosterone Levels in Aging Men https://academic.oup.com/jcem/article/91/7/2509/2656285
[2] Dalangin R, Kim A, Campbell RE. The Role of Amino Acids in Neurotransmission and Fluorescent Tools for Their Detection. Int J Mol Sci. 2020 Aug 27;21(17):6197. doi: 10.3390/ijms21176197. PMID: 32867295; PMCID: PMC7503967.
[3] Nothing Boring about Boron:https://www.ncbi.nlm.nih.gov/pmc/articles/PMC4712861/
[4] Growing Evidence for Human Health Benefits of Boron - Forrest H. Nielsen, Susan L. Meacham, 2011 (sagepub.com
[5] Prasad AS, Mantzoros CS, Beck FW, Hess JW, Brewer GJ. Zinc status and serum testosterone levels of healthy adults. Nutrition. 1996 May;12(5):344-8. doi: 10.1016/s0899-9007(96)80058-x. PMID: 8875519.
[6] Effects of Eurycoma longifolia on Testosterone Level and Bone Structure in an Aged Orchidectomised Rat Model (nih.gov)
[7] Antioxidant Supplements And Semen Parameters: An Evidence Based Review: https://www.ncbi.nlm.nih.gov/pmc/articles/PMC5203687/
[8] Dietary Supplements for Male Infertility: A Critical Evaluation of Their Composition: https://www.mdpi.com/2072-6643/12/5/1472
[9] Common Dietary Supplements for Cognitive Health: https://www.ncbi.nlm.nih.gov/pmc/articles/PMC3311304/
[10] Dietary Adjuncts for Improving Testosterone Levels in Hypogonadal Males: https://journals.sagepub.com/doi/10.1177/1557988315598554
[11] Supplement Consumption in Body Builder Athletes: https://www.ncbi.nlm.nih.gov/pmc/articles/PMC3430026/