About More Hair Naturally 9
More Hair Naturally 9 is a product created to promote hair growth and minimize hair thinning and loss. It is recommended for men and women who suffer from hair-related problems, regardless of age, gender, and hair type.
Unlike the regular hair growth supplements that use Minoxidil, the primary ingredient of More Hair Naturally 9 is stem cells.
When used on a regular basis, this product can help your hair grow more especially in bald regions, making your hair look fuller.
---
QUICK FACTS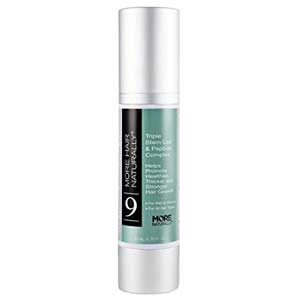 Buy on Website
Buy on Amazon
Quick Facts & Specs
More Hair Naturally 9
More Hair Naturally 9 is a product designed to increase hair growth and reduce hair thinning in both men and women of all ages, genders, and hair types who suffer from hair-related issues.
Form:

Spray

Benefit:

Stimulates stem cell improvement, energizes the growth phase of hair, improves the follicular cells

Phone & Address:

1(818)303-9038; 440 Western Ave #103, Glendale, CA 91201; info@morehairnaturally.com

Brand:

More Hair Naturally

Uses:

Increases hair growth and reduce hair thinning, revives hair follicles, improves the hair health

Price:

$125*

Active Ingredients:

Stem Cells, Probiotics, Amino Acids, Peptides, Botanical Extracts, Redensyl, Baicapil, Capixyl
More Hair Naturally 9 Pros & Cons
Pros
It uses the latest stem cell technology that may improve hair health.
It has other all-natural ingredients that are proven safe and effective.
It may help revive hair follicles as well as fix their functionality.
It may help the hair grow thicker, longer, and stronger especially in bald regions.
Cons
It may produce varying results in different individuals.
It may take time for the product to give the desired results.
---
How Does It Work? | The Science Behind More Hair Naturally 9
The main target of this product is hair follicles. By nourishing the hair follicles and maintaining their health and proper function, they give rise to thicker and stronger hair strands.
The growth phase is also extended, thus causing hair to grow longer.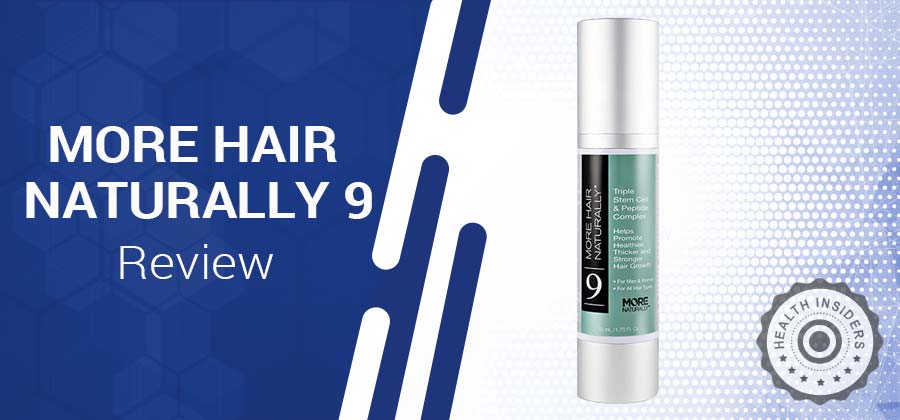 Advertisement
*All individuals are unique. Your results can and will vary.
More Hair Naturally 9 Ingredients – The Breakdown
Despite the competitive market when it comes to hair loss solutions, More Hair Naturally 9 stands out because of the following ingredients:
Stem Cells – Stem cells derived from adipose tissues, according to an article Journal Eplasty in the secrete growth factors that aid in hair growth. Those that come from bamboo sprouts and mountain ginseng can also be of some use. Stem cells from these plants are said to be the best plant sources when it comes to stimulating hair growth. While it still has limitations in the United States, other countries already have enough research to prove the effectiveness of using stem cells in treating various diseases like hair loss.
Redensyl – This compound functions to activate the stem cells of the hair follicle. While more research is necessary to prove its safety and effectiveness, redensyl has already been shown promising results based on the available studies.
Baicapil – Made up of various plant extracts known to fight hair thinning, Baicapil helps grow healthier hair by targeting the hair follicle as it grows, according to a review article in the International Journal of Clinical and Experimental Dermatology. This compound affects the growing phase and prevents further shedding. This results in longer, stronger, and thicker hair strands.
More Hair Naturally 9 – Questions and Answers
Q: How to Use More Hair Naturally 9?
A: To use More Hair Naturally 9, make sure that your hair is washed and properly dried.
Dispense an adequate amount of the product.
Depending on the length of your hair, you may be required to use anywhere from 4 to 8 pumps.
Gently massage all over the scalp and hair.
Apply the product twice a day.
Q: Does More Hair Naturally 9 Have Any Side Effects?
A: Since the product is composed mostly of natural ingredients, the risk of adverse side effects is low. However, if you have existing allergies or if you have very sensitive skin, you might have to consult your physician first.
Q: Can I Take More Hair Naturally 9 If I Have A Health Condition?
A: Although the product is generally safe to use because of its all-natural composition, it is still advised to consult your health specialist first if you have any medical problems.
This precautionary measure is to check if any of the components will potentially trigger an allergic reaction.
Q: Does More Hair Naturally 9 Work?
A: Many customers have expressed positive feedback regarding the effectiveness of More Hair Naturally 9. However, the results may still vary depending on the individual.
Q: What Is More Hair Naturally 9 Money Back Guarantee, Return & Refund Policy?
A: Unfortunately, More Hair Naturally does not have a refund policy. Instead, they encourage customers to call their hotline at (800)655-3847 for any questions and consultations.
They will willingly answer any questions regarding the product, so you will not have regrets after buying it. They have also emphasized that all products purchased from their site are final and unexchangeable.
Advertisement
*All individuals are unique. Your results can and will vary.
More Hair Naturally 9 Alternatives
| Brand | Price | Active Ingredients |
| --- | --- | --- |
| H-Boost | $54.99 | Copper, selenium, vitamin C, pantothenic acid |
| Propidren | $39.99 | Green Tea Extract, Fo Ti Root, Nettle Extract, Saw Palmetto, Horsetail Extract. |
| LES Labs Hair Health | $29.99 | Biotin, bamboo extract, hydrolyzed keratin, MSM |
| Shapiro MD | $49.95 | Green Tea (EGCG), Caffeine, Saw Palmetto |
| Folexin | $24.95 | Fo-Ti, Biotin, L-Tyrosine, Saw Palmetto |
| Lipogaine | $20-$29.95 | Minoxidil 2% and Minoxidil 5% |
Is More Hair Naturally 9 Safe? – Warnings & Complaints
The manufacturer of the product claims that More Hair Naturally 9 is safe to use.
However, there is no sufficient clinical evidence that it is safe or effective.
WARNING: If you have allergies, make sure to consult a physician first, as some of the ingredients may trigger undesirable effects.
More Hair Naturally 9 Customer Reviews & Results
Most users agree that More Hair Naturally 9 is useful because they have seen visible effects on their hair within a short time.
They also added that their hair not only became thicker but also stronger.
One review says, "Is this product similar to Minoxidil which causes hair loss at first? I started using it 2 wks ago, and not only is my scalp itching, but my hair is falling out much more than before! Scary! What should I do?" ~ by Kathy

More Hair Naturally 9: Packages, Deals, Prices & Where to Buy It
Aside from their official website, you can also purchase More Hair Naturally 9 from third-party online retail stores.
If you are buying from the site, make sure that you are fully decided to buy the product since they do not have a return policy.
Advertisement
*All individuals are unique. Your results can and will vary.
The Bottom Line
More Hair Naturally 9 is made up of all-natural ingredients. This makes the product safe to use compared to other alternatives created with synthetic components.
The product will not have adverse effects on the health of the user. Unlike most hair supplements that target specific areas, More Hair Naturally works evenly across the scalp.
Even with these positive responses, it is still advisable for you to research more products and compare them to find the best one for you.
Is There Anything Else You Should Know About More Hair Naturally 9?
Before buying the product, make sure that you've already decided about your purchase since the company does not have a money-back guarantee, return, and refund policy.
READ NEXT – Viviscal Extra Strength and Keranique Hair Regrowth System
SOURCES
Health Insiders relies on peer-reviewed studies, academic research institutions, and medical associations. We avoid using tertiary references. You can learn more about how we ensure our content is accurate and current by reading our editorial policy.
[1] Suchonwanit P, Thammarucha S, Leerunyakul K. Minoxidil and its use in hair disorders: a review. Drug Des Devel Ther. 2019 Aug 9;13:2777-2786. doi: 10.2147/DDDT.S214907. Erratum in: Drug Des Devel Ther. 2020 Feb 10;14:575. PMID: 31496654; PMCID: PMC6691938.
[2] A Study to Evaluate the Efficacy of Baicapil Formulations in Treatment of Telogen Effluvium https://opastonline.com/wp-content/uploads/2018/11/a-study-to-evaluate-the-efficacy-of-baicapil-formulations-in-treatment-of-telogen-effluvium-ijced-18.pdf
[3] Baatile M. Komane, Ilze Vermaak, Guy P.P. Kamatou, Beverley Summers, Alvaro M. Viljoen, Beauty in Baobab: a pilot study of the safety and efficacy of Adansonia digitata seed oil, Revista Brasileira de Farmacognosia, Volume 27, Issue 1, 2017, Pages 1-8, ISSN 0102-695X, https://doi.org/10.1016/j.bjp.2016.07.001
[4] Redensyl - the hair growth galvanizer https://www.cosmeticsbusiness.com/news/article_page/Redensyl__the_hair_growth_galvanizer/96717
[5] A Study to Evaluate the Efficacy of Baicapil Formulations in Treatment of Telogen Effluvium https://opastonline.com/wp-content/uploads/2018/11/a-study-to-evaluate-the-efficacy-of-baicapil-formulations-in-treatment-of-telogen-effluvium-ijced-18.pdf