About Immunity Defense with EpiCor
Immunity Defense with EpiCor is marketed as a supplement designed to boost immunity in as little as 2 hours.
This supplement contains a proprietary blend of mushrooms, vitamin D3 and vitamin C which is manufactured in an FDA facility and meets or exceeds USP standards for quality.
---
Buy on Website
Buy on Amazon
Quick Facts & Specs
Immunity Defense with EpiCor
Immunity Defense with EpiCor is the blend of natural ingredients that rapidly boost the immune system in as little as 2 hours.
Form:

Capsule

Type:

Supplement

Benefit:

Strengthens the immune system and promotes overall wellness

Phone & Address:

800.627.9721; Customer Care, 4938 Hampden Lane #109, Bethesda, MD, 20814;

[email protected]

Brand:

Stop Aging Now

Uses:

Potent support for immune system, increases energy and stamina

Price:

$27.99*

Active Ingredients:

Vitamin C, Vitamin D3, Dried Yeast Extract, Proprietary Mushroom Immune Support Complex (Shitake, cordyceps, reishi and maitake)
Immunity Defense with EpiCor Pros & Cons
Pros
Supports the immune system
Provides anti-inflammatory properties
Increases energy and stamina
Wards off colds and flu
Supports the respiratory system
Cons
There are few customer reviews
Most reviews are from the manufacturer's site
Some customers complained they were not able to get a refund
---
How Does It Work? | The Science Behind Immunity Defense with EpiCor
According to the Journal of Medicinal Food, consumers taking EpiCor showed an increase in immune activity. Natural Killer cells increased and fought off pathogens.
EpiCor increased IgA, an antibody that traps pathogens. EpiCor acts like a prebiotic, which is food for friendly bacteria, that is important for gut health. The study also shows that EpiCor is a great antioxidant.
EpiCor is produced from the fermentation of whole food by saccharomyces cerevisiae which is brewer's yeast.[1]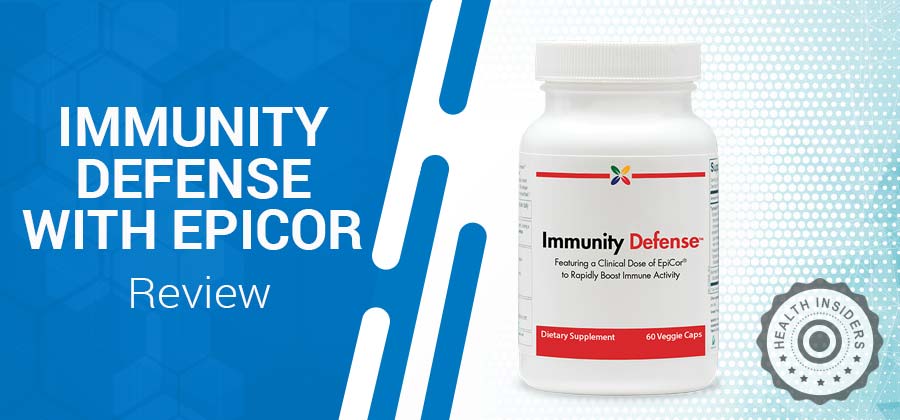 Immunity Defense with Epicor Ingredients – The Breakdown
There are several primary active ingredients in this immunity supplement:
Vitamin C (as ascorbic acid) – According to the professional journal Nutrients, vitamin C is an essential nutrient and antioxidant. It supports our immune system by supporting cellular function.
Vitamin D3 (as Cholecalciferol) – According to Clinical Therapeutics, Vitamin D plays an important role in immune support and anti-inflammatory function.
Dried Baker's Yeast Extract (Epicor) – Open Nutrition Journal published a study that concluded that Epicor supports and protects the immune system.
Proprietary Mushroom Immune Support Complex (Shitake, cordyceps, reishi and maitake) – In a study published in Integrative Medicine – A Clinician's Journal, these mushrooms offer anticancer and immune support.
Other ingredients: Cellulose, vegetable magnesium stearate and silicon dioxide.
Immunity Defense with EpiCor – Questions and Answers
Q: How do I take Immunity Defense with EpiCor?
A: According to the manufacturer, take 1 capsule twice per day before meals.
Q: Does Immunity Defense with EpiCor work?
A: Studies indicate this product supports immune and respiratory health.
Immunity Defense with EpiCor Alternatives
Brand
Price
Active Ingredients
Complete Immune Formula
$48
Vitamins and minerals, echinacea, green tea, grape seed extract, garlic, beta glucan
Immune Defence
$44.95
Rose Hip Powder, sugar, Zinc Gluconate, Acerola Powder
SuperBeets Immune
$34.95
Grape Seed Extract, Beetroot Powder, Wellmune Baker's Yeast Beta Glucan
Immune Support
$33.02
Green tea extract, Vitamin E, selenium, panax ginseng, cat's claw bark powder, lycopene, grape seed, pine bark
Immune Complex
$26.40
Turmeric, Lactobacillus Acidophilus, Echinacea,
Garlic Powder, Elderberry, Vitamin E, Vitamin C, Zinc
Is Immunity Defense with EpiCor Safe? – Warnings & Complaints
It appears this supplement is safe according to published clinical studies. It also meets FDA standards and is considered to be generally recognized as safe (GRAS).

Immunity Defense with EpiCor Customer Reviews & Results
On Amazon, customer reviews gave this product a 4.5 out of 5 stars. There was a total of 4 reviews, three reviews indicated it was good to take as soon as you have a cold and one review was unsure of the product.
Reviews were also found on the manufacturer's website which contained 13 reviews and received a score of 5 stars out of 5.

Immunity Defense with EpiCor: Packages, Deals, Prices & Where to Buy It
You can buy this product on the manufacturer's official website, and on Amazon. Each bottle of 60 capsules costs $24.95 per month.
There is an auto-ship program where you can purchase 3 bottles every 3 months at $19.95 per bottle. A savings of $15.00. There is 100% satisfaction guarantee or your money back.

The Bottom Line
With so many supplements claiming to boost your immune system, it can be hard to know what's going to actually work.
Immunity Defense with EpiCor can be consider as a good immune support supplement based on published studies. Customer reviews are sparse, a total of 17 in all. Four from Amazon and 13 from the manufacturer's website. More customer reviews are needed to make an informed decision about this supplement.
All ingredients appear to be safe and effective. If you are looking to boost your immune support system with a supplement, then this product may provide some benefit.
SOURCES
Health Insiders relies on peer-reviewed studies, academic research institutions, and medical associations. We avoid using tertiary references. You can learn more about how we ensure our content is accurate and current by reading our editorial policy.
[1] Jensen GS, Redman KA, Benson KF, Carter SG, Mitzner MA, Reeves S, Robinson L. Antioxidant bioavailability and rapid immune-modulating effects after consumption of a single acute dose of a high-metabolite yeast immunogen: results of a placebo-controlled double-blinded crossover pilot study. J Med Food. 2011 Sep;14(9):1002-10. doi: 10.1089/jmf.2010.0174. Epub 2011 Apr 18. PMID: 21501093; PMCID: PMC3157306
[2] Carr AC, Maggini S. Vitamin C and Immune Function. Nutrients. 2017 Nov 3;9(11):1211. doi: 10.3390/nu9111211. PMID: 29099763; PMCID: PMC5707683
[3] The Role of Vitamin D in the Immune System as a Pro-survival Molecule https://www.clinicaltherapeutics.com/article/S0149-2918(17)30235-7
[4] Consumption of a High-Metabolite Immunogen from Yeast Culture has Beneficial Effects on Erythrocyte Health and Mucosal Immune Protection in Healthy Subjects https://www.embriahealth.com/media/cms/The_Open_Nutrition_Journal_F930A1A39680D.pdf
[5] Guggenheim AG, Wright KM, Zwickey HL. Immune Modulation From Five Major Mushrooms: Application to Integrative Oncology. Integr Med (Encinitas). 2014 Feb;13(1):32-44. PMID: 26770080; PMCID: PMC4684115