What is Front of the Pack?
Dog lovers will appreciate this line of nutritious health products for canines developed by Los Angeles, California-based start-up Front of the Pack. Designed by veterinarians, scientists, and animal nutrition experts, the line consists of health supplements as well as tasty treats.
These products support digestion, joint and muscle health, skin, and a strong immune system. They also decrease levels of stress and anxiety in dogs. Here are some of the top products:
Front of the Pack The One – A nutrient-rich supplement that provides 8 health benefits to enhance your dog's wellness
Front of the Pack Harmony – An anti-stress supplement that should have your dog calm in about 90 minutes
Wild Alaskan Salmon Treats – Freeze-dried raw salmon treats for dogs that provide omega 3 and 6 fatty acids and enhance your pet's skin and coat
Free Range Beef Tripe Treats – Protein-enriched beef treats include probiotics that promote healthy digestion, and also strengthen the immune system.
---
QUICK FACTS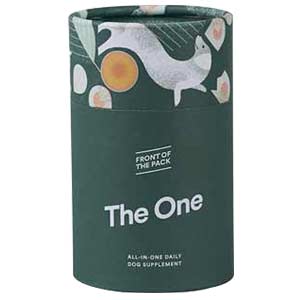 Buy on Website
Quick Facts & Specs
Front of the Pack
Front Of The Pack (FOTP) is a brand of nutritional supplements and treats for dogs that offer numerous health benefits like better digestion and lower stress levels.
Form:

Treats(for dogs)

Type:

Dog Supplement

Benefit:

Relieves hip & joint stiffness, alleviates stress & anxiety, supports immune health and healthy digestion

Phone & Address:

323-922-5737; 6060 Center Drive, Ste 69, Fl 10, Los Angeles, CA 90045;

[email protected]

Brand:

Front of the Pack(FOTP)

Uses:

Promotes mental sharpness, maintains healthy heart function, soothes itchy skin & allergies

Price:

$39.99*

Active Ingredients:

Curcumin, Ashwagandha, Taurine, Chondroitin, L-carnitine
Front of the Pack Pros & Cons
Pros
Front of the Pack can lower anxiety levels in dogs.
The supplements can ease joint pain and improve mobility.
Front of the Pack supports healthy digestion.
The products maintain healthy muscle function.
They use clinically-tested and approved ingredients.
Cons
They don't have products for other animals.
You have to wait 6 weeks to see results.
Different dogs will react differently to the products.
---
How Does It Work? | The Science Behind Front of the Pack
Front of the Pack is rich in nutrients like vitamins, minerals, and omega 3 fatty acids which are healthy for dogs, and they also contain a high amount of antioxidants. These work to eliminate free radicals in the canine's system and lower oxidative stress, strengthening the immune system. It also promotes healing and repair all over the body.
A study in the Canadian Journal of Veterinary Research concluded that a controlled, balanced antioxidant diet could be very beneficial to dogs (7).
The formulas are also full of anti-inflammatory benefits as well as ingredients that balance the inflammatory system. This can reduce swelling and pain in the joints and help restore mobility. There are ingredients like glucosamine that repair joint and cartilage damage for long-term benefits.
The supplements contain prebiotics, which feeds the good bacteria in your gut. They also include postbiotics which help support a healthy digestive system. This can promote healthy bowel movements and reduce symptoms like gas and diarrhea.
These products also support a healthy heart, and they promote muscle strength. There are ingredients that benefit the skin and also give dogs a shiny coat. A study in the Journal of Veterinary Pharmacology and Therapeutics reviewed the research on the efficacy of dietary supplements in dogs for the management of osteoarthritis (8).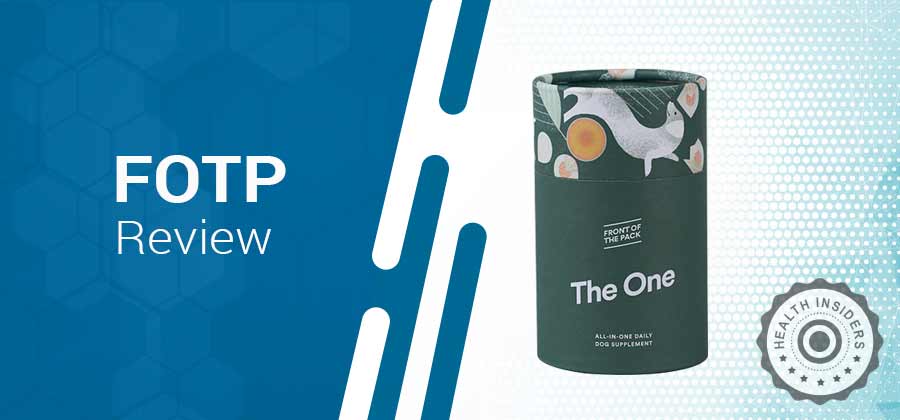 Front of the Pack Ingredients – What to Look For?
Here are some of the primary active ingredients in Front of the Pack:
Curcumin – Curcumin is one of the curcuminoids found in Turmeric, and it's very potent in anti-inflammatory properties. It can reduce joint swelling and pain and help increase mobility. It also contains antioxidants which help heal damage and boost the immune system (1).
There are currently few studies on dogs, but research on rats in Frontiers in Immunology concluded that curcuminoids had a beneficial effects on osteoarthritis (2).
Ashwagandha – This shrub grows in Africa and Asia, and it's often called an adaptogen. This refers to its ability to decrease stress and anxiety and induce calmness.It has anti-inflammatory, antioxidant, and anti-cancer properties, and may support heart health (3).
A study in Applied Biological Research found that this herb was effective in helping to heal liver dysfunction in old dogs, due to its antioxidant potential (4).
Taurine – This is an amino sulfonic acid. It occurs naturally in the human body, and also exists in meat, fish, and dairy products. It serves a number of functions like supporting the heart and the central nervous system (5).
A study in PLOS ONE found that commercial pet food diets could lead to a taurine deficiency in dogs. In turn, this may cause cardiomyopathy (6).
Front of the Pack – Questions & Answers
Q: How to Use Front of the Pack?
A: Each product has separate instructions, as well as a scale you can use to see how much to give a dog based on their weight. It's crucial that you follow these guidelines carefully to make sure you give your dog the right amount.
Q: Does Front of the Pack Have Any Side Effects?
A: The Front of the Pack dog supplement products and treats include completely, 100% organic and safe ingredients which have been thoroughly clinically tested. They should not lead to any harmful side effects in dogs.
Q: Can I Take Front of the Pack If I Have A Health Condition?
A: The manufacturer has not mentioned any health conditions that preclude taking this supplement, and the ingredients are healthy and safe. However, if your dog has a particular medical issue do check with the vet before using any new product.
Q: Does Front of the Pack Work?
A: There's little doubt that these products work. The primary reason is the selection of potent natural ingredients that offer great health benefits. Most of the botanicals are scientifically proven to be effective, and they are all clinically tested.
According to the Front of the Pack reviews, the supplements worked very well to improve digestion, energy, joint and muscle health, stress levels, and other benefits in their dogs.
Q: What Is Front of the Pack Moneyback Guarantee, Return & Refund Policy?
A: Front of the Pack has a 90-day return policy. If the product is not suitable for your dog, contact customer service by phone or email within 90 days of the day you received it and they will instruct you on how to return the item.
If you prefer to keep the remainder of the product, they will give you a 30% discount. Otherwise, you'll get a full refund, minus the shipping fees.
Q: Is Front of the Pack Legit?
A: Front of the Pack has only been around since 2019, but they have already established a solid reputation in the pet food industry. They are certainly legitimate, and there was an article in Forbes recently praising them. In addition, there are many Front of the Pack reviews online which attest to the fact that this is a real and effective brand,
Q: Who Should Buy Front of the Pack?
A: Front of the Pack is a line made specifically for canine owners who want to improve the health of their dogs either overall or in terms of specific issues like digestion and joint health.
Q: How Long Will it Take to See the Results of Front of the Pack?
A: Naturally depending on the dog the time it takes will vary, but according to the manufacturer after about 6 weeks you should notice great benefits.
Q: How do I track my package?
A: When your order has shipped, you will receive an email notification which will include a tracking number, you can use to check it's status. Please allow 48 hours for the tracking information to become available. If you have any complication regarding your order, please contact the company at [email protected] with your name and order number.
SEE ALSO – Live Conscious Beyond Greens

Is Front of the Pack Safe For Dogs? – Warnings & Complaints
The Front of the Pack pet line is extremely safe, and the manufacturer has made every effort to ensure this. An advisory board of animal nutritionists, scientists, and veterinarians designed the line. The products are non-GMO, free of gluten, and hypoallergenic.
The products include only the safest, most effective organic ingredients, and they have been thoroughly clinically tested. This manufacturer carries out third-party testing to ensure product quality, and they follow rigid safety guidelines in production.
Front of the Pack Customer Reviews & Results – What Users Are Saying
The Front of the Pack supplement reviews was very positive. Dog owners said their pets benefited greatly from these products, in terms of energy, digestive health, and joint wellness. In addition, users with nervous dogs found it really helped their anxiety. There were also some reviews about the treats, and most people mentioned that their dogs loved them.
Where to Buy Front of the Pack?
You can buy these products on the manufacturer's Official Website, and you can purchase some of them on Amazon. The prices on the Front of the Pack website are as follows:
Supplements
Front of the Pack The One – $35.99
Front of the Pack Harmony – $35.99
Front of the Pack Move – $39.99
Treats
Free Range Beef Tripe Treats – $32.37
Farm Raised Rabbit Treats – $32.37
Wild Alaskan Salmon Treats – $32.37
The Bottom Line on Front of the Pack
Front of the Pack is a brand of dog supplements and treats which include purely organic ingredients. The products support general health for dogs, and they also offer specific benefits like improving digestion, joints and muscles, skin, and the immune system as well as decreasing stress and anxiety. These are reasonably-priced high-quality products.
It was a pleasure to read through the Front of the Pack Dog Supplement reviews because so many users loved these products and found them very beneficial to their dogs. Customers whose dogs suffered from anxiety were much improved with these supplements. They also said their pets enjoyed them and regarded them as a reward. Of course, the Front of the Pack treats was also very popular.
What's great about Front of the Pack is how hard they work to make sure the products are 100% pure and safe, with rigid clinical and third-party testing. They use high-quality ingredients backed by research that provide rich health benefits for your dog.
Is There Anything Else You Should Know About Front of the Pack?
The goal of Front of the Pack is to produce products that elevate your dog's health and wellness as well as dealing with specific issues like stress. Ideally, this product has worked well for your best friend and they have also enjoyed the taste. There are some natural methods you can use to help boost your dog's health. Here are some tips:
Make sure your dog stays at a healthy weight, as they can develop health issues if they gain too much. Don't overfeed your dog under any circumstances.
Your dog should be getting a lot of physical activity, so take them for frequent walks and let them run in the park if possible.
Take your dog to the vet at least once a year to get their shots and have a complete physical. In addition, take them in if you notice any health issues.
Feed your dog a high-quality, balanced diet that ensures proper nutrition.
Where To Find It
You can BUY it directly from the manufacturer's Official Website
SOURCES
Health Insiders relies on peer-reviewed studies, academic research institutions, and medical associations. We avoid using tertiary references. You can learn more about how we ensure our content is accurate and current by reading our editorial policy.
[1] Efficacy of Turmeric Extracts and Curcumin for Alleviating the Symptoms of Joint Arthritis: A Systematic Review and Meta-Analysis of Randomized Clinical Trials (nih.gov) https://www.ncbi.nlm.nih.gov/pmc/articles/PMC5003001/
[2] Frontiers | A Next Generation Formulation of Curcumin Ameliorates Experimentally Induced Osteoarthritis in Rats via Regulation of Inflammatory Mediators | Immunology (frontiersin.org) https://www.frontiersin.org/articles/10.3389/fimmu.2021.609629/full
[3] Lopresti, Adrian L. PhDa,b,∗; Smith, Stephen J. MAa,b; Malvi, Hakeemudin MBBS, MDc; Kodgule, Rahul MBBSd. An investigation into the stress-relieving and pharmacological actions of an ashwagandha (Withania somnifera) extract: A randomized, double-blind, placebo-controlled study. Medicine: September 2019 - Volume 98 - Issue 37 - p e17186 doi: 10.1097/MD.0000000000017186
[4] Nabi, Showkat & Wani, A.R. & Dey, Sahadeb. (2014). Therapeutic effect of ashwagandha ( Withania somnifera L.) in liver dysfunction of old dogs. Applied Biological Research. 16. 232. 10.5958/0974-4517.2014.00015.9.
[5] Review: Taurine: A "very essential" amino acid (nih.gov) https://www.ncbi.nlm.nih.gov/pmc/articles/PMC3501277/
[6] Taurine deficiency and dilated cardiomyopathy in golden retrievers fed commercial diets (plos.org) https://journals.plos.org/plosone/article?id=10.1371/journal.pone.0209112
[7] Oxidative stress and food supplementation with antioxidants in therapy dogs (nih.gov) https://www.ncbi.nlm.nih.gov/pmc/articles/PMC5508397/
[8] Review of dietary supplements for the management of osteoarthritis in dogs in studies from 2004 to 2014 - Comblain - 2016 - Journal of Veterinary Pharmacology and Therapeutics - Wiley Online Library https://onlinelibrary.wiley.com/doi/abs/10.1111/jvp.12251