About Live Conscious Beyond Greens
Live Conscious Beyond Greens is a green powder supplement that is allegedly formulated with several powerful superfoods. To be precise, it provides up to 2,650 milligrams of superfoods per serving.
The 14 ingredients are supposedly packed with antioxidants, minerals, and vitamins that may benefit the body significantly. Unlike other powdered drinks, Beyond Greens clearly lists its ingredient dosage on the label.
This nutritional drink supplement has been designed to improve multiple body functions including full-body detox, immunity boost, and energy surge.
---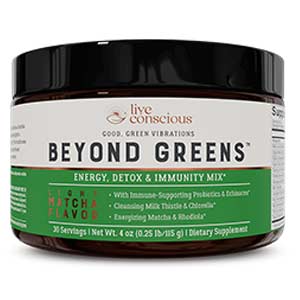 Buy on Official Website
Quick Facts & Specs
Live Conscious Beyond Greens
Live Conscious Beyond Greens is packed with superfood protein, mushrooms, and Echinacea that help with whole body detoxification and immune support.
Form:

Powder

Type:

Supplement

Benefit:

Elevates energy levels in the body.

Brand:

Live Conscious

Uses:

Helps to enhance cognitive function.

Ingredients:

Rhodiola Rosea, Matcha, Chlorella, Echinacea, Acacia Gum

Price:

$31.99
Live Conscious Beyond Greens Pros & Cons
Cons
Some users may not like the flavor
---
How Does It Work? | The Science Behind Live Conscious Beyond Greens
Live Conscious Beyond Greens is packed with ingredients that are known to promote general well-being. It contains superfoods that have nourishing, detoxifying, immunity boosting, mood-enhancing, and digestion improving properties. Together these ingredients target body systems including such as the digestive system and optimizes its performance.
This way, users can achieve whole-body health benefits from all the nutrients in the formula. Some of the benefits expected are a healthy immune system, whole-body detoxification, harmonious gut health, and clean energy.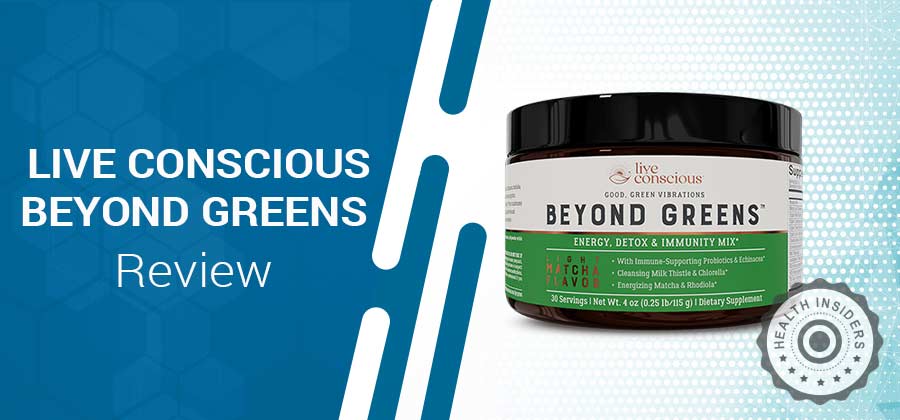 Live Conscious Beyond Greens Ingredients – What to Look For?
Rhodiola Rosea – This is an herb that is claimed to be safe and packed with multiple health benefits. According to an author manuscript in Current Pharmacology Reports, Rhodiola Rosea extracts have proved to have anti-stress, anti-aging, anti-inflammation, anti-cancer, DNA repair, and immunostimulating properties.
Matcha – This ingredient is a type of powdered green tea. In a review article in the Molecules journal, matcha is claimed to be rich in antioxidants and has the potential to prevent many diseases. It is also claimed to support cognitive function thus regular consumption may have a positive effect on physical and mental health.
Chlorella – This ingredient is a green unicellular alga that is used worldwide as a dietary supplement. Chlorella contains vitamins B12 and D as well as folate and iron. Studies in the Nutrients journal claim that chlorella exhibits various pharmacological activities such as antioxidant, antidiabetic, antihypertensive, and immunomodulatory properties.
Echinacea – This is a group of flowering plants popularly used in herbal remedies. A study in the Elsevier Public Health Emergency Collection journal claims that Echinacea supplementation can reduce the severity and duration of acute respiratory tract infections.
Acacia Gum – This ingredient is a complex polysaccharide that is indigestible to both animals and humans, but has been considered a safe dietary fiber. A randomized double-blind trial in the BMC Nutrition Journal found that ingestion of acacia gum reduced BMI and body fat percentage significantly.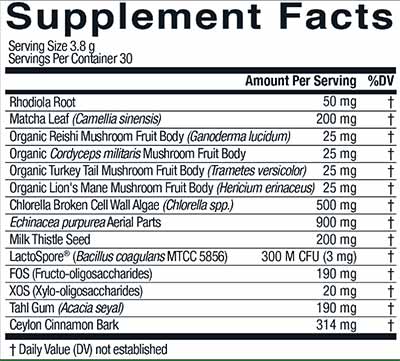 Live Conscious Beyond Greens – Questions & Answers
Q: How to Use Live Conscious Beyond Greens?
A: Stir 1 scoop of Beyond Greens into 8 to 12 fl oz of your favorite beverage and drink once daily.
Q: Does Live Conscious Beyond Greens Have Any Side Effects?
A: This supplement is touted as an all-natural product that may cause no side effects. However, some of the superfoods in Beyond Greens are known to cause side effects such as stomach discomfort and headaches.
Q: Can I Use Live Conscious Beyond Greens If I Have A Health Condition?
A: Yes you can if approved by your healthcare provider. If not, it is better to stay away to avoid serious side effects.
Q: Does Live Conscious Beyond Greens Work?
A: Yes, this drink supplement may work considering the ingredients present in the formula. Since the ingredient per serving is minimal, users may not experience results fast.
Q: What Is Live Conscious Beyond Greens Money-back Guarantee, Return & Refund Policy?
A: LiveConscious has a 365-day return policy on unopened bottles. As for opened bottles, the company allows a limit of two bottles per product, per order, to be refunded.
Live Conscious Beyond Greens Alternatives – Compare with Similar Items
Brand
Price
Ingredients
HealthyCell Pro AM/PM Cell Health System
$59.95
Vitamins A, C, E, K, calcium, iodine, magnesium, zinc, bilberry fruit, grape skin,
Dr. Cabral Detox
$99.00
Vitamin C, selenium, alpha-lipoic acid, glycine, N-acetyl cysteine, L-carnitine, glutamine
Amazing Grass Green Superfood
$37.00
Vitamins A, C, K, wheatgrass, barley, alfalfa, acai, spirulina, matcha, raspberry,
Is Live Conscious Beyond Greens Safe? – Warnings & Complaints
Yes, this product may be safe because it is free from major allergens. It is also formulated with organic ingredients which may cause limited to no side effects compared to its synthetic counterparts.
Live Conscious Beyond Greens Customer Reviews & Results – What Users Are Saying
Beyond Greens, customer reviews are generally positive. On Amazon, the supplement scored a 4.4-star rating out of 1493 global ratings which is quite impressive. Positive Live Conscious Beyond Greens reviews claimed that they experienced noticeable results in gut health, hydration, energy levels, and mental clarity. Users also provided that positive results went hand in hand with a healthy lifestyle. Nevertheless, there were negative reviews from customers who experienced no changes or side effects after using the green food mix.

READ NEXT – Ka'Chava Meal Replacement Shake Reviews
Live Conscious Beyond Greens: Packages, Deals, Prices & Where to Buy It
You can buy this supplement on the official website or from retail stores such as Amazon. A jar of this product contains 30 servings which is a month's supply. On the LiveConscious website, this supplement costs:
1 jar – $31.99
2 jars – $28.99 each
4 jars – $24.99 each
The Bottom Line on Live Conscious Beyond Greens
Live Conscious Beyond Greens is a green food mix supplement that claims to contain several superfoods in its ingredient list. These ingredients supposedly work together to promote the general well-being of the users in terms of gut health, immune health, enhanced cognitive function, and improved energy levels.
This drinkable supplement may work because most of its ingredients are backed by scientific studies. Additionally, users are quite taken by the product claiming it works as advertised. While some complained, it was due to mild side effects which are expected to fade once one gets used to the dosage.
As for ingredient per serving, this product may not be well endowed but makes it up with its diverse ingredient composition. These components work synergistically to propel its users to greater heights in health.
Beyond Greens is mixable in any drink thus making its use diverse to consumers. You can mix this powdered product in milk, water, tea, smoothies, or any other beverage of your choosing.
For flavoring, the manufacturers went with salt and stevia giving it a pretty decent taste. Worth mentioning also is bear in mind that adjusting your lifestyle will help you harness all its health benefits.
Is There Anything Else You Should Know About Live Conscious Beyond Greens?
Live Conscious Beyond Greens was rebranded from LiveWell Beyond Greens. Apart from that, the supplement was previously packaged in a packet which may have been quite cumbersome and unsafe. Now, Beyond Greens is packed in a jar, making it both easy to scoop and store safely.
SOURCES
Health Insiders relies on peer-reviewed studies, academic research institutions, and medical associations. We avoid using tertiary references. You can learn more about how we ensure our content is accurate and current by reading our editorial policy.
[1] Hossain A, Khatun MA, Islam M, Huque R. Enhancement of Antioxidant Quality of Green Leafy Vegetables upon Different Cooking Method. Prev Nutr Food Sci. 2017 Sep;22(3):216-222. doi: 10.3746/pnf.2017.22.3.216. Epub 2017 Sep 30. PMID: 29043220; PMCID: PMC5642804
[2] Li Y, Pham V, Bui M, Song L, Wu C, Walia A, Uchio E, Smith-Liu F, Zi X. Rhodiola rosea L.: an herb with anti-stress, anti-aging, and immunostimulating properties for cancer chemoprevention. Curr Pharmacol Rep. 2017 Dec;3(6):384-395. doi: 10.1007/s40495-017-0106-1. Epub 2017 Sep 14. PMID: 30393593; PMCID: PMC6208354.
[3] Kochman J, Jakubczyk K, Antoniewicz J, Mruk H, Janda K. Health Benefits and Chemical Composition of Matcha Green Tea: A Review. Molecules. 2020 Dec 27;26(1):85. doi: 10.3390/molecules26010085. PMID: 33375458; PMCID: PMC7796401.
[4] Bito T, Okumura E, Fujishima M, Watanabe F. Potential of Chlorella as a Dietary Supplement to Promote Human Health. Nutrients. 2020 Aug 20;12(9):2524. doi: 10.3390/nu12092524. PMID: 32825362; PMCID: PMC7551956
[5] Aucoin M, Cooley K, Saunders PR, Carè J, Anheyer D, Medina DN, Cardozo V, Remy D, Hannan N, Garber A. The effect of Echinacea spp. on the prevention or treatment of COVID-19 and other respiratory tract infections in humans: A rapid review. Adv Integr Med. 2020 Dec;7(4):203-217. doi: 10.1016/j.aimed.2020.07.004. Epub 2020 Aug 1. PMID: 32837894; PMCID: PMC7395221
[6] Babiker R, Merghani TH, Elmusharaf K, Badi RM, Lang F, Saeed AM. Effects of Gum Arabic ingestion on body mass index and body fat percentage in healthy adult females: two-arm randomized, placebo controlled, double-blind trial. Nutr J. 2012 Dec 15;11:111. doi: 10.1186/1475-2891-11-111. PMID: 23241359; PMCID: PMC3570285.
[7] Hills RD Jr, Pontefract BA, Mishcon HR, Black CA, Sutton SC, Theberge CR. Gut Microbiome: Profound Implications for Diet and Disease. Nutrients. 2019 Jul 16;11(7):1613. doi: 10.3390/nu11071613. PMID: 31315227; PMCID: PMC6682904.