About BiomeMD
BiomeMD is a digestive health care supplement that uses effective breakthrough ingredients.
It uses proprietary probiotics and prebiotics to promote overall health and ensure the proper functioning of the digestive tract[1].
The supplement also boosts immune system function.
---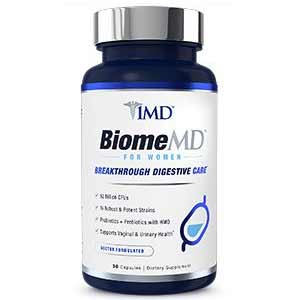 Buy on Official Website
Quick Facts & Specs
BiomeMD
BiomeMD is a digestive health supplement that improves overall health and ensures optimal digestive function.
Form:

Pills

Type:

Supplements

Benefit:

Reduces chronic immune system stress.

Brand:

1MD Nutrition

Uses:

Boosts proper digestion and absorption of nutrients.

Active Ingredients:

Bifidobacterium Lactis HN019, Lactobacillus Rhambosus GG, Probiotic Blend, Human Identical Oligosaccharides (HMO)Lactobacillus Casei L30C

Price:

$34.99
BiomeMD Pros & Cons
Pros
It contains gut defending HMO
The product reduces chronic immune system stress
It boosts proper digestion and absorption of nutrients
The product contains 5 clinically studied probiotic strains that help maximize its effectiveness
Cons
You might find the results to vary from one user to the other
Some people may not like the smell
---
How Does It Work? | The Science Behind BiomeMD
BiomeMD taps the potency of its breakthrough ingredients to help improve digestion and restore the inner balance of the digestive system. It brings in multi-phased digestive support with clinically confirmed probiotic strains and active ingredients to the gut areas of the body that need them most – for optimal results. The formula also helps promote overall wellness by supporting healthy immune function, balanced gastrointestinal health, maximizing nutrient absorption in the small intestine, and restoring the right probiotic bacteria to your gut's microbiome – all while promoting weight management goals.
BiomeMD Ingredients – What to Look For?
Bifidobacterium Lactis HN019– This is a probiotic strain to prevents toxins from seeping through the digestive tract and getting into the bloodstream, hence boosting the immune system response. According to the Scandinavian Journal of Gastroenterology[2], Bifidobacterium lacis HN019 lowers the frequency of gastral symptoms such as constipation and irregular bowel movement in adults.
Advertisement
*All individuals are unique. Your results can and will vary.
Lactobacillus Rhambosus GG – This ingredient is a probiotic that promises to relieve bloating, gas, and other indigestion symptoms. It also boosts mood when combined with prebiotics. According to Microbial Cell Factories[3], Lactobacullys rhambosus is one of the most used probiotic strains.
Probiotic Blend – This blend is purported to boost digestive and immune health. According to Tropical Life Sciences Research[4], probiotics are health-friendly bacterial with a number of health benefits, including the prevention of bowel disease, improvement of the immune system, and intestinal microbalance.
Human Identical Oligosaccharides (HMO) – This is a potent prebiotic synthesized from natural ingredients. It helps trick bad bacteria and flush them from your system. According to Pediatric Gastroenterology Hepatology & Nutrition[5], studies show that HMO is a potential candidate when it comes to preventing attachment of bad bacteria, thus preventing infectious diseases.
Lactobacillus Casei L30C – It is a potent probiotic with plenty of health benefits. It supports proper digestion. According to Frontiers in Microbiology[6], lactobacillus casei L30C can be used therapeutically in health conditions related to gut microbiota disruption.
SEE ALSO – BalanceMD and BiomeMD for Women

BiomeMD – Questions & Answers
Q: How to Use BiomeMD?
A: It is recommended that you take one capsule per day with food rich in fiber and a full glass of water. You can also take it as per your healthcare professional recommendation.
Q: Does BiomeMD Have Any Side Effects?
A: No, BiomeMD doesn't cause any potential negative effects. Also, on the official website, there are no customer reviews indicating any unwanted reaction after using the supplement.
Q: Can I Use BiomeMD If I Have A Health Condition?
A: The product is considered safe as it is a dietary supplement. However, if you have a serious health condition, feel free to talk to your doctor first before using this supplement.
Q: Does BiomeMD Work?
A: The supplement markets itself as an effective breakthrough formula that combines crucial probiotics that work to support digestive health, fast and effectively. Also, from the BiomeMD reviews posted on the brand's official website, those who have used the product say the supplement does work.
Q: What Is BiomeMD Money-back Guarantee, Return & Refund Policy?
A: BiomeMD has a 90-days money-back guarantee for those who might find the product not to meet their digestive health needs.
SEE ALSO – BreatheMD
Advertisement
*All individuals are unique. Your results can and will vary.
1MD Best Sellers
| Brand | Price | Active Ingredients | Explore Products |
| --- | --- | --- | --- |
| 1MD BiomeMD | $34.99 | Bifidobacterium Lactis HN019, Lactobacillus Rhambosus GG, Probiotic Blend, Human Identical Oligosaccharides (HMO), Lactobacillus Casei L30C | Shop Now |
| 1MD MoveMD | $54.95 | Hyaluronic acid, chicken collagen, Boswellia serrata | Shop Now |
| 1MD D3 | $40.99 | EVNolMax, Siliphos Bioavailable Silybin, N-acetyl Cysteine, Alpha Lipoic Acid, Zinc, Selenium | Shop Now |
| 1MD OsteoMD | $45.99 | Calzbone, MenaQ7, Vitamin D3 as Cholecalciferol, Calcium Hydroxyapatite | Shop Now |
| 1MD B12 | $16.99 | B12 as Methylcobalamin, Olive Oil, Tapioca Starch, Glycerine, Candelilla Wax | Shop Now |
| 1MD CholestMD | $45.99 | Bergavit Bergamot Orange Fruit Extract, Niacin, Olive Leaf 40% Oleuropein Extract, and Garlic Bulb 20:1 Extract | Shop Now |
| 1MD KrillMD | $49.99 | Krill Oil, EPA, DHA, Phospholipids, Astaxanthin | Shop Now |
| 1MD Prostate MD | $49.99 | Saw Palmetto, Pumpkin Seed Oil, Pygeum, Stinging Nettle, Pine Bark Extract, Lutein, Lycopene, Copper, Safflower Oil | Shop Now |
| 1MD BalanceMD | $35.99 | Oregano Leaf Extract , Caprylic Acid, Lactobacillus Acidophilus, Cellulase, Aloe vera leaf gel | Shop Now |
| 1MD GutMD | $41.99 | Acacia Fiber Gum , L-Glutamine, Licorice Root-Based Gutgard, HOM CARE4U (Fucosyllactose), HMO | Shop Now |
| 1MD EnzymeMD | $35.99 | Saccharomyces Boulardii, Bromelain, Protease, Glucoamylase, Peptidase | Shop Now |
Is BiomeMD Safe? – Warnings & Complaints
BiomeMD is doctor-formulated and so is considered safe. On the brand's official website there are no warnings or complaints as far as the safety of this supplement is concerned. Besides, no user has hard any serous bad experience after consumption.
YOU MAY ALSO LIKE – 1MD GlucoseMD Review – Does This Supplement Regulate Blood Sugar Levels?
BiomeMD Customer Reviews & Results – What Users Are Saying
The feedback and comments posted on this brand's website portray that previous users have had a positive experience with the supplement. The product has received a fairly above-average star rating of 4.7/5 which signifies the effectiveness of this product. Users of this product have said that after using the supplement, they have had better digestion ever with less gas and belching.
BiomeMD: Packages, Deals, Prices & Where to Buy It
BiomeMD price deals are as follows:
1 bottle – $34.99
3 bottles – $31.99
6 bottles – $28.99
The Bottom Line on BiomeMD
Incomplete digestion can be a nuisance and makes one uncomfortable. To help out, you may want to feed your microbiome[7] to help achieve your digestive care and weight management goals.
Advertisement
*All individuals are unique. Your results can and will vary.
BiomeMD prides itself on relying on a detailed blend of over 15 probiotic strains that improve digestion, immune function, nutrient absorption, and aid in body fat management.
It is one of the digestive supplements in the market that promises to help you have complete digestion and maintain a healthy digestive system.
Is There Anything Else You Should Know About BiomeMD?
The company points out that traces of lactose traces would be present in BiomeMD, and that this small amount was intentionally added to the formulation to help keep the probiotics active. As such, people who are extremely sensitive to traces of lactose can use the Complete Probiotics Platinum, which is a sister product to this.

Sources
Health Insiders relies on peer-reviewed studies, academic research institutions, and medical associations. We avoid using tertiary references. You can learn more about how we ensure our content is accurate and current by reading our editorial policy.
[1] Ogobuiro I, Gonzales J, Tuma F. Physiology, Gastrointestinal. [Updated 2021 Apr 25]. In: StatPearls [Internet]. Treasure Island (FL): StatPearls Publishing; 2021 Jan-. Available from: https://www.ncbi.nlm.nih.gov/books/NBK537103/
[2] Waller PA, Gopal PK, Leyer GJ, et al. Dose-response effect of Bifidobacterium lactis HN019 on whole gut transit time and functional gastrointestinal symptoms in adults. Scand J Gastroenterol. 2011;46(9):1057-1064. doi:10.3109/00365521.2011.584895
[3] Segers ME, Lebeer S. Towards a better understanding of Lactobacillus rhamnosus GG--host interactions. Microb Cell Fact. 2014;13 Suppl 1(Suppl 1):S7. doi:10.1186/1475-2859-13-S1-S7
[4] Shi LH, Balakrishnan K, Thiagarajah K, Mohd Ismail NI, Yin OS. Beneficial Properties of Probiotics. Trop Life Sci Res. 2016;27(2):73-90. doi:10.21315/tlsr2016.27.2.6
[5] Hegar B, Wibowo Y, Basrowi RW, et al. The Role of Two Human Milk Oligosaccharides, 2'-Fucosyllactose and Lacto-N-Neotetraose, in Infant Nutrition. Pediatr Gastroenterol Hepatol Nutr. 2019;22(4):330-340. doi:10.5223/pghn.2019.22.4.330
[6] Hill D, Sugrue I, Tobin C, Hill C, Stanton C, Ross RP. The Lactobacillus casei Group: History and Health Related Applications. Front Microbiol. 2018;9:2107. Published 2018 Sep 10. doi:10.3389/fmicb.2018.02107
[7] Ursell LK, Metcalf JL, Parfrey LW, Knight R. Defining the human microbiome. Nutr Rev. 2012;70 Suppl 1(Suppl 1):S38-S44. doi:10.1111/j.1753-4887.2012.00493.x