What is Align Probiotic?
Align Probiotic is a brand of supplements for digestive health made by Proctor and Gamble. They support healthy digestion by proliferating good gut flora and easing unpleasant symptoms like bloating and gas. There's some evidence that they can help ease certain digestive conditions like Inflammatory Bowel Syndrome. Here are a few of the top products:
Align Probiotic Digestive Support – This product supports digestive health and wellness.
Align Antibiotic Support Probiotic Supplement – This is a probiotic which also helps decrease the risk of digestive symptoms due to antibiotics.
Align Probiotic Gummies – These are strawberry-flavored probiotics in the form of chewable gummies.
Align Probiotic + Prebiotic Gummies – These are Align Probiotic chewables with flavor which both promote and feed healthy gut flora.
---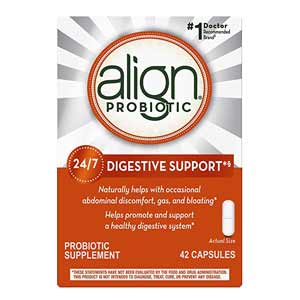 Buy on Amazon
Buy on Walmart
Quick Facts & Specs
Align Probiotic
Align probiotic is a dietary supplement aiming to improve your overall gut health and daily wellness.
Form:

Pill

Type:

Supplements

Benefit:

Helps in supporting a healthy digestive system.

Brand:

Align

Uses:

Can ease symptoms like bloating and diarrhea.

Active Ingredients:

Bacillus Coagulans Lactospore, Bifidobacterium Longum, Saccharomyces Cerevisiae

Price:

$30
Align Probiotic Pro Pros & Cons
Pros
These products help to support a healthy digestive system.
Align Probiotic can ease symptoms like bloating and diarrhea.
The products promote healthy gut flora.
There are no Align Probiotic side effects.
Align Probiotic can ease Irritable Bowel Syndrome
Cons
The effects disappear if you stop taking the product.
The results will be different for different users.
More flavor options for each product would be nice.
---
Who Makes Align Probiotic?
The manufacturer of Align Probiotic is Procter & Gamble, which is a multinational corporation headquartered in Cincinnati, Ohio. They sell a wide variety of consumer goods which do include natural supplements as well as personal care and hygiene, food and beverages, and other items. William Procter and James Gamble started this organization in 1837.
Advertisement
*All individuals are unique. Your results can and will vary.
What is in Align Probiotic Supplement?
Here are some of the primary active Align Probiotic ingredients:
Bacillus Coagulans Lactospore – This is a probiotic which can populate the human digestive system with healthy bacteria. In addition, it has tremendous benefits for the immune system. A study in Food and Nutrition Research[1] found that this probiotic eased inflammatory bowel syndrome symptoms and decreased associated depression.
Bifidobacterium Longum – This is a probiotic known to stabilize the gut microflora and promote good bacteria. It can ease digestive symptoms as well as healing gastrointestinal, infectious, and immunological diseases. An article in Frontiers in Microbiology[2] discussed the Bifidobacterium and their role in the gut microbiome.
Saccharomyces Cerevisiae – This probiotic is a yeast that people often use in baking. It supports a healthy gut flora and a healthy digestive system overall. A study published in BMC Complementary Medicine and Therapies[3] found that this probiotic also has antimicrobial and antioxidant effects, meaning it can also strengthen the immune system.
What Does Align Probiotic Do?
Probiotics are microorganisms that stimulate the growth of healthy microbes in the gut, and this helps to promote a healthy microflora and overall well digestive system. It can also reduce unpleasant symptoms like diarrhea and bloating. A review in, ISRN Nutrition[4] explored the various health benefits of probiotics.
One of the products also contains prebiotics, and their role is to feed the good bacteria in the gut so they can proliferate and promote healthy digestion.
According to a review in the Journal of Agriculture and Food Chemistry[5], there's evidence that probiotics have antioxidant potential. They can kill free radicals and reduce oxidative stress, which can heal the digestive system and other parts of the body.
Advertisement
*All individuals are unique. Your results can and will vary.
Customer Questions & Answers
Q: How to Take Align Probiotic?
A: Each Align Probiotic supplement contains capsules to take on a daily basis. The specific Align Probiotic dosage is on the label. Be sure to read them carefully before taking the product, and never take more than the recommended dosage.
Q: Where to Buy Align Probiotic?
A: You can buy Align Probiotic from many different online and offline retailers. The manufacturer states that you can get it from their site, but there's no visible place for you to do so and there are no prices. The price of these products varies a lot from retailer to retailer, but the average Align Probiotic price is about $30.
Q: How Long Does it Take Align Probiotic to Work?
A: The manufacturer doesn't specifically provide this information, but with most probiotics, you should see noticeable results within about 4 weeks. This will vary somewhat depending on the individual.
Q: Does Align Probiotic Work?
A: Yes, Align Probiotic Digestive Support should work very well. These supplements include a strong collection of probiotics that promote healthy gut bacteria and sometimes prebiotics that feed that bacteria. This supports healthy gut health and can ease symptoms like gas and bloating. Most of the Align Probiotic reviews agreed that this was a highly effective product.
Q: What Do the Align Probiotic Reviews Say?
A: The Align Probiotic Supplement reviews were overwhelmingly positive. The vast majority of the users loved the product and said that the Align Probiotic benefits included a much more settled digestive system and less unpleasant symptoms. Customers with digestive conditions like Inflammatory Bowel Syndrome said this really changed the quality of their lives.
Q: Is Align Probiotic Good for You?
A: These are very healthy products that not only support your digestive health and eliminate unpleasant symptoms, they also contain antioxidants that help in healing the body and supporting a healthy immune system.
Q: Can You Take Align Probiotic While Pregnant?
A: Research shows that probiotics are safe for pregnant women to take and there are no particular risks. Of course, you should check this with your physician before going ahead and taking one of these supplements.
Q: Does Align Probiotic Help You Lose Weight?
A: There is evidence that some of the probiotic strains can help you burn belly fat and lose weight, partly by altering gut microflora. They may also help to suppress appetite, so you eat smaller portions and provide you with the extra energy that allows you to burn more calories.
The Final Word
Align Probiotic is a line of several probiotic supplements which populate the gut with good, healthy bacteria and support overall digestive wellness. They can ease symptoms like diarrhea and bloating and help treat conditions like Inflammatory Bowel Disorder. The multinational corporation Proctor and Gamble makes these supplements, and they are reasonably priced compared to other brands like Seed Probiotics.
Advertisement
*All individuals are unique. Your results can and will vary.
The vast majority of the Align Probiotic review posts online had only good things to say about these supplements. Users loved how quickly and effectively they eased their gut upset and eliminated symptoms like constipation and gas. There were very few complaints or negative Align Probiotic reviews about Align Probiotic.
Align Probiotic is a very safe product that contains quality ingredients that should not lead to any side effects. With Proctor and Gamble, you know they produce the products safely and under strict safety standards. We would highly recommend these probiotics.
Up NEXT – Uqora Review
Sources
Health Insiders relies on peer-reviewed studies, academic research institutions, and medical associations. We avoid using tertiary references. You can learn more about how we ensure our content is accurate and current by reading our editorial policy.
[1] Majeed M, Nagabhushanam K, Arumugam S, Majeed S, Ali F. Bacillus coagulans MTCC 5856 for the management of major depression with irritable bowel syndrome: a randomised, double-blind, placebo controlled, multi-centre, pilot clinical study. Food Nutr Res. 2018;62:10.29219/fnr.v62.1218. Published 2018 Jul 4. doi:10.29219/fnr.v62.1218
[2] O'Callaghan A, van Sinderen D. Bifidobacteria and Their Role as Members of the Human Gut Microbiota. Front Microbiol. 2016;7:925. Published 2016 Jun 15. doi:10.3389/fmicb.2016.00925
[3] Fakruddin, M., Hossain, M.N. & Ahmed, M.M. Antimicrobial and antioxidant activities of Saccharomyces cerevisiae IFST062013, a potential probiotic. BMC Complement Altern Med 17, 64 (2017). https://doi.org/10.1186/s12906-017-1591-9
[4] Kechagia M, Basoulis D, Konstantopoulou S, et al. Health benefits of probiotics: a review. ISRN Nutr. 2013;2013:481651. Published 2013 Jan 2. doi:10.5402/2013/481651
[5] Mishra V, Shah C, Mokashe N, Chavan R, Yadav H, Prajapati J. Probiotics as potential antioxidants: a systematic review. J Agric Food Chem. 2015 Apr 15;63(14):3615-26. doi: 10.1021/jf506326t. Epub 2015 Apr 6. PMID: 25808285.