Overview
Seed Health company has gained a reputation for scientifically proven formulas and for making use of probiotics more innovatively. Their mission is to formulate blends of probiotic bacteria to support the digestive system and improve immunity and wellness. Ara Katz and Raja Dhir, two researchers in the field of microbiome science, are the Seed Health founders and co-CEOs.
Katz is a mom and states that her fascination for microbiomes and probiotics was piqued when she first started breastfeeding her son. Then, with the help of Dhir, her coworker, they founded the Seed company in 2018. They assert having a brilliant team of innovative doctors, scientists, artists, tech specialists, and entrepreneurs. Their efforts snowballed into various entrepreneurial objectives, presenting startup opportunities.
Their official platform (especially the first page) has a futuristic design using computer techniques & science of microbiology. This brand is marketing capsules for adults and has produced a powder (made into drinkable shakes) for kids.
This Seed Probiotics review glances at some of the highlighted facts about the Seed brand, this company's pros and cons, its products, its scientific background, Seed Probiotics reviews, and more.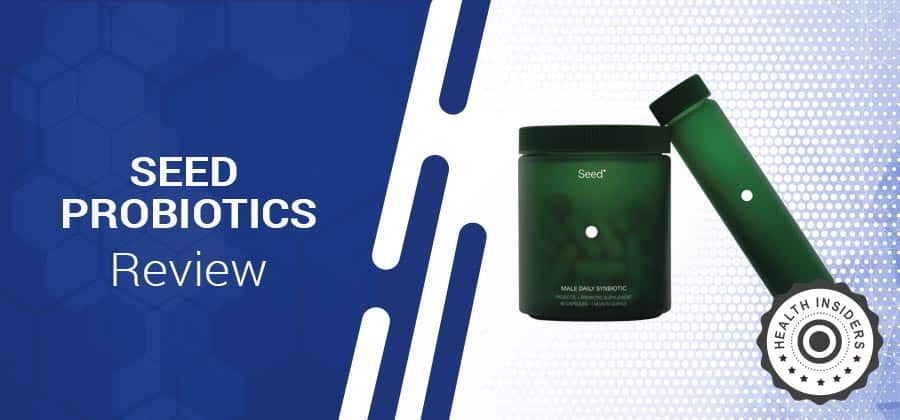 Quick Facts & Specs
View On Amazon
The Probiotic Made By Science
Seed Probiotics
Seed Probiotics is a brand of supplements producing formulas made of probiotic bacteria designed to improve your digestion, immunity, and health in general. As the company advertises, they have an innovative scientific baked way, a capsule-in-capsule strategy, and an eco-friendly approach.
Form:

Capsules & Powder

Type:

Probiotic Supplements

Benefit:

Formulated to benefit the gut, gastrointestinal, immunity & overall health

Telephone & Email:

844-646-3586,

[email protected]

Brand:

Seed Health

Uses:

It is used to provide digestive, cardiovascular & dermatological health. It also promises support for gut barrier integrity, immunity & micronutrient synthesis.

Price:

$39.99-$49.99 (A month)

Active Ingredients:

Bifidobacterium longum, Bifidobacterium breve, Bifidobacterium infantis , Bifidobacterium lactis, Bifidobacterium adolescentis, Lactiplantibacillus plantarum, Lacticaseibacillus rhamnosus, Lactobacillus crispatus, Lacticaseibacillus casei, Limosilactobacillus fermentum, Limosilactobacillus reuteri, Ligilactobacillus salivarius, Indian Pomegranate [whole fruit]
Seed Probiotics Supplements Pros & Cons
Pros
Seed Probiotics is an innovative & science-backed brand
The manufacturer promises fast results (in the first 24–48 hours)
Products that benefit gut health, digestive system, immunity, and even skin
They also offer a product specifically designed for kids and teens.
According to their website, DS-01 Daily Synbiotic is vegan and free of GMOs & more than 14 known allergens.
Their formulas have no preservatives & glyphosate/AMPA
Their invention is a capsule-in-capsule delivery technology.
You can find extensive, complicated lab testing results on the main website.
Seed Probiotics' main website is informative and filled with scientific statements, easy to understand knowledge on microbes in separate sections named "SeedLabs," "Microbiome-101," & "Probiotics-101."
They offer environmentally friendly packaging, plus a free travel vial.
You can benefit from free US shipping
Cons
Seed Probiotics products are not very affordable ($1.66 for a daily dosage)
First, customers must also commit to a monthly subscription, which is not ideal.
Although the auto-ship program seems convenient, but not when you decide not to buy anymore
The official website of Seed health has acknowledged the possible side effects, including gastrointestinal discomfort, abdominal tightness, mild nausea, or changes in the stool.
There is no option for pre-order.
There are no discounts or coupon codes available.
You can not find a lot of Seed Probiotics reviews.
You can see complaints of Seed Probiotics side effects such as breakouts, rashes, and price.
Not everybody experiences the same results.
They don't offer a wide range of products, only two items.
Seed Probiotics Supplements – Key Ingredients
Beneficial bacteria strains are the primary Probiotics Seed ingredients. Here are some scientific findings on how they can help with digestive function & wellness.
Bifidobacterium Longum
Bifidobacterium Longum is a recognized probiotic bacteria that can have a gut-supporting effect on the human body, improve immunity and even help fight inflammatory symptoms in the intestine.
Advertisement
*All individuals are unique. Your results can and will vary.
Based on clinical trials, Bifidobacterium Longum supplementation can strengthen the immune system in the elderly.[1]
Some findings show this famous microbe can also improve intestinal barrier function.[2]
Limosilactobacillus Fermentum
Limosilactobacillus Fermentum, known to be the human breath milk bacteria, is a necessary factor in the first meal human infants drink which acts against gastrointestinal infections.
Based on scientific evidence, Limosilactobacillus Fermentum strains have potential anti-diabetic health effects and help prevent toxic aspects of oxidative stress & inflammation.[3]
Lacticaseibacillus Rhamnosus
Several teams of researchers have widely studied Lacticaseibacillus Rhamnosus, not to mention FDA recognize this probiotic bacteria as a safe bet.[4]
Various articles focus on Lacticaseibacillus Rhamnosus strains and their positive effects as a famed probiotic. For example, one recent animal study by Moloko G. Mathipa-Mdakane in 2022demonstrated how B. Longum supplementation significantly affects metabolism and decreases obesity.
Ligilactobacillus Salivarius
Ligilactobacillus Salivarius is yet another good probiotic bacteria, a strain that improves the health of teeth, gum, and the digestive system overall.
L.Salivarius has several immunological and anti-microbial properties, especially regarding balancing intestinal microbiota and protecting gum.[5]
According to research, Ligilactobacillus Salivarius secrete bacteriocin (an anti-microbial molecule) that can support the body against invasive food pathogens.
Limosilactobacillus Reuteri
Limosilactobacillus Reuteri has been used a lot by people to relieve stomach pain, constipation, diarrhea, Helicobacter pylori (H. pylori) infection, colic, etc. Many possible medicinal benefits can be attributed to this probiotic bacteria, which can affect various metabolic mechanisms in your system.
However, recent 2022 studies like that of Jumana Abuqwider showed that Limosilactobacillus Reuteri produces a molecule called "Reuterin," which is beneficial as an anti-inflammatory & anti-microbial agent that helps gut microbiota improvement.
Questions and Answers
Q: Can I Take Too Many Probiotics At Once?
A: Probiotics are good and beneficial bacteria that stand against harmful bacteria in our gut. Having a balanced amount of these microbes is a must, but overeating them might not be the best choice. Because, unlike vitamins and minerals, probiotics are actual bacteria, and f you consume more than the recommended dose, they can be toxic, and your health may suffer. Thus, always follow the clinically studied dosage or your doctor's advice.
Advertisement
*All individuals are unique. Your results can and will vary.
Q: Is It Safe to Take DS-01™ Seed Probiotics with other Supplements?
A: The manufacturer has guaranteed that taking DS-01™, along with other probiotics and supplements, is entirely safe. However, it states that some functional redundancy may happen when you coincide their blends of probiotics with different bacterial strains. Simply put, this act doesn't harm your body, but it may be less effective than expected.
Q: Is It Ok To Take Probiotics Seed with Other Meds?
A: The Seed brand has indicated no drug contraindications between DS-01 and any prescribed meds or other over-the-counter medications. That said, checking with your physician before taking any supplement is always safe.
Q: What Kind of Diets Are Compatible with These Capsules?
A: The seed company production line is vegan and free of gluten, dairy, soy, shellfish, nuts, sesame, glyphosate/AMPA, GMOs, preservatives binders, & 14 types of EFSA-defined allergens. Here are diets compatible with Seed Probiotics supplements: Vegetarian, Gluten-Free Vegan, Intermittent Fasting, and Ketogenic.
Q: What Is The Instruction For Taking DS-01™ Daily Synbiotic?
A: The recommended dosage for adults is two servings (capsules) together daily, preferably on an empty stomach or at least 10 minutes before any meal. The reason is to avoid stomach acids, digestive enzymes, and bile salts. Although, some folks don't feel good taking supplements when hungry, so see which is best for you.
If you're not very comfortable with probiotic supplementation and feel the need to take it slow, the manufacturer recommends taking only one capsule in the first three days. You can keep up with the total dosage on the fourth day (or whenever you're ready).
Q: How Long Does It Take to Witness Results?
A: Considering that people have different bodies and digestive systems, therefore, they will experience different results. However, based on the brand estimates, you can witness digestive changes in 1-2 days, which is quick. On the other hand, cardiovascular & gut immunity improvements might be slower, take longer, or they may not be remarkable. The manufacturer also emphasizes mostly probiotic effects, such as getting rid of bloating & unregulated bowel movements.
Q: What Is the Seed Probiotics' Shipping Policy?
A: Seed Health company ships its goods to different states and abroad, and it offers free US shipping & only a flat rate of $10 for other countries. You can check here to learn more about that: seed.com/entire-world. Also, for customers outside the US, f they follow Sustainable Transport Program, they can receive their orders free of shipping charge every three months. The sale team sends a tracking number via email to customers after their initial order, which can be traced, and customers will know the exact location of their package at any time.
Q: How Long Is the Probiotics Seed Return Policy?
A: The brand offers a 30-day refund policy, and you don't need to send the product back. If You are unsatisfied with your purchase, just request a refund within 30 days of delivery. The return policy is only vital for the first order. And they refund you fully, no question asked, except shipping, VAT, or duties.
Q: How Can Customer Contact Seed Probiotics?
A: Here are the Contact Info available for the Seed Health brand:
Email: [email protected]
Phone number: (844) 646-3586
Q: Where Can I Purchase Seed Probiotics?
A: The official website is the best and most reliable method for purchasing Seed Probiotics. These products are also available on other online retailers such as Amazon. But right now, the more reasonable price can be found on the main website.
Advertisement
*All individuals are unique. Your results can and will vary.
Seed Probiotics Supplements Alternatives
| Brand | Price | Ingredients |
| --- | --- | --- |
| Multi-GI 5 | $49.95 | L-Glutamine, Lactobacillus gasseri |
| Morning Complete | $49 | Gymnema sylvestre leaf, Pomegranate peel extract, Probiotic Blend, Aloe Vera |
| Primal Plants | $99 | Bacillus coagulans, Cinnamon bark, Fennel Seed; Green Tea Leaf |
| Gundry MD Lectin Shield | $79.95 | Sodium Alginate, Bladderwrack, Okra Extract |
| Energy Renew | $74.95 | D-Ribose, Bladderwrack, Nitric oxide boosters, Beet Root Extract, Acerola |
| Gundry MD Bio Complete 3 | $69.95 | CoreBiome™, Sunfiber®, ProDURA, Beet Root Extract, Acerola |
| 1MD Complete Probiotic Platinum | $40.99 | Bifidobacterium Lactis, Lactobacillus acidophilus, NutraFlora prebiotic fiber |
| 1MD BiomeMD | $34.99 | HUM care4U HMO, Bifidobacterium Lactis HN019, Lactobacillus casei |
---
View On Amazon
1. DS-01™ Daily Synbiotic For Adults (18+)
DS-01™ Daily Synbiotic is a probiotic supplement designed to improve gastrointestinal & whole-body health. This formula is included a different blend of beneficial bacteria specifically created to support diverse organs gut, heart, and skin. It supposedly helps gut barrier integrity, gut immunity & micronutrient synthesis.
Ingredients: Bifidobacterium longum, Bifidobacterium breve, Bifidobacterium infantis , Bifidobacterium lactis, Bifidobacterium adolescentis, Lactiplantibacillus plantarum, Lacticaseibacillus rhamnosus, Lactobacillus crispatus, Lacticaseibacillus casei, Limosilactobacillus fermentum, Limosilactobacillus reuteri, Ligilactobacillus salivarius, Indian Pomegranate [whole fruit].
Cost: $49.99 (A month)
---
View On Website
2. PDS-08™ Pediatric Daily Synbiotic For Kids + Teens (3-17)
This is formulated with a less intensive dosage of probiotic strains plus a dual-phase prebiotic to benefit kids' guts & support their wellness. This powder can man a children-friendly shake and promises parents to improve the youngster's digestive, skin, and respiratory systems by delivering probiotics straight to the lower small intestine.
Ingredients: Lacticaseibacillus rhamnosus, Lacticaseibacillus casei, Lactobacillus acidophilus, Bifidobacterium lactis, Bifidobacterium breve, Ligilactobacillus salivarius, Bifidobacterium lactis, Bifidobacterium longum, Molecular weight profiled inulin and fructooligosaccharides.
Cost: $39.99 (A month)
---
How Can I Take Advantage of Seed Probiotics Discounts & Bonuses?
Seed health brand is not presenting discount codes, bonuses, free trials, etc., for their customers.
What Do the Seed Probiotics Reviews Say?
The seed Probiotics website has no section dedicated to customer reviews, comments, or testimonials. Instead, they decided only to inform clients or regular visitors about probiotics and microbiome science on their own.
They even have sections unrelated to their purchasable products with understandable microbiologic knowledge.
You can't find many online reviews on other platforms; most Seed Probiotics Amazon reviews are favorable; however, there are also‌ people complaining about "unbearable stomach cramps," rashes, and breakouts."
Are Seed Probiotics Safe?
Seed products can be considered safe; plenty of testing and advanced technology lowers the probable harmful effects. They strongly believe in their quality checkups and are regularly evaluated by European and Japanese standards.
With that being said, Seed probiotics are not fully side effects free either. In fact, the official website acknowledges the possibility of some adverse effects upon taking these capsules. The brand included mild nausea, abdominal tightness, gastrointestinal discomfort, or changes in the stool in the list of Seed Probiotics side effects. Some people complained of rashes, cramps, and bloating.
Conclusion
In this Seed Probiotics review, we tried to introduce a brand of probiotic agents in the form of pills and powder designed to help digestion, immunity, and more. This brand has a specific marketing strategy, relying on innovation's appeal, scientific facts, various complex tests, & advanced technology.
Their formula has several blends of beneficial bacteria (aka probiotics), and they include zero gluten, GMOs, and many possible allergens in their products. Although it is nice to be informed, there is a massive amount of complex data & modern tests that many never heard of.
Their two products (for kids & adults) have sophisticated environment-friendly packaging. Their prices are not very reasonable in comparison, and the leading platform doesn't present any Seed Probiotics reviews or positive feedback. You get to learn about the microbiome world when you visit their website, but at the same time, it is crucial to evaluate the pros and cons and see if these Seed Probiotics products are worth it.
8 Sources
Health Insiders relies on peer-reviewed studies, academic research institutions, and medical associations. We avoid using tertiary references. You can learn more about how we ensure our content is accurate and current by reading our editorial policy.
[1] Yao S, Zhao Z, Wang W, Liu X. Bifidobacterium Longum: Protection against Inflammatory Bowel Disease. J Immunol Res. 2021 Jul 23;2021:8030297. doi: 10.1155/2021/8030297. PMID: 34337079; PMCID: PMC8324359.
[2] Blanco-Rojo R, Maldonado J, Schaubeck M, Özen M, López-Huertas E, Olivares M. Beneficial Effects of Limosilactobacillus fermentum CECT 5716 Administration to Infants Delivered by Cesarean Section. Front Pediatr. 2022 Jul 7;10:906924. doi: 10.3389/fped.2022.906924. PMID: 35874592; PMCID: PMC9301023.
[3] Mathipa-Mdakane MG, Thantsha MS. Lacticaseibacillus rhamnosus: A Suitable Candidate for the Construction of Novel Bioengineered Probiotic Strains for Targeted Pathogen Control. Foods. 2022 Mar 8;11(6):785. doi: 10.3390/foods11060785. PMID: 35327208; PMCID: PMC8947445.
[4] Abuqwider J, Altamimi M, Mauriello G. Limosilactobacillus reuteri in Health and Disease. Microorganisms. 2022 Feb 28;10(3):522. doi: 10.3390/microorganisms10030522. PMID: 35336098; PMCID: PMC8953724.
[5] Finamore A, Roselli M, Donini L, Brasili DE, Rami R, Carnevali P, Mistura L, Pinto A, Giusti A, Mengheri E. Supplementation with Bifidobacterium longum Bar33 and Lactobacillus helveticus Bar13 mixture improves immunity in elderly humans (over 75 years) and aged mice. Nutrition. 2019 Jul-Aug;63-64:184-192. doi: 10.1016/j.nut.2019.02.005. Epub 2019 Feb 18. PMID: 31029046.
[6] Lacerda DC, Trindade da Costa PC, Pontes PB, Carneiro Dos Santos LA, Cruz Neto JPR, Silva Luis CC, de Sousa Brito VP, de Brito Alves JL. Potential role of Limosilactobacillus fermentum as a probiotic with anti-diabetic properties: A review. World J Diabetes. 2022 Sep 15;13(9):717-728. doi: 10.4239/wjd.v13.i9.717. PMID: 36188141; PMCID: PMC9521441.
[7] Yun B, Ryu S, Kang M, Lee J, Yoo J, Kim Y, Oh S. Probiotic Lacticaseibacillus rhamnosus GG Increased Longevity and Resistance Against Foodborne Pathogens in Caenorhabditis elegans by Regulating MicroRNA miR-34. Front Cell Infect Microbiol. 2022 Jan 19;11:819328. doi: 10.3389/fcimb.2021.819328. PMID: 35127565; PMCID: PMC8807481.
[8] Guerrero Sanchez M, Passot S, Campoy S, Olivares M, Fonseca F. Ligilactobacillus salivarius functionalities, applications, and manufacturing challenges. Appl Microbiol Biotechnol. 2022 Jan;106(1):57-80. doi: 10.1007/s00253-021-11694-0. Epub 2021 Dec 10. PMID: 34889985.