What is Virtue Labs?
Virtue Labs is a brand of luxury hair care products ranging from shampoo and conditioner to sprays, mousses, oils, and other enriching items. They use a proprietary bioengineered keratin ingredient along with other organic substances which enrich, revitalize, and repair damage to the hair as well as promote growth and strength.
The products are full of rich nutrients which enhance the health of the hair. Here are some of the top items in the line:
Virtue Labs Recovery Conditioner – This product makes the hair soft and manageable while also repairing damage and reconstructing frayed cuticles and brittle ends.
Virtue Labs Exfoliating Scalp Treatment – This treatment detoxifies the scalp and removes impurities while also conditioning and softening.
Virtue Labs Refresh Dry Shampoo – This product cleanses the hair, elevates scalp health, and removes buildup and odor without having to get your hair wet.
Virtue Labs Full Shampoo – This shampoo deeply cleanses the hair and gives it body while eliminating oils and lifting the roots.
| | |
| --- | --- |
| Features | Uses Biotech Engineered Protein |
| Form | Sprays, Creams, Gels, Foams, Oils, Masks, Pastes, Mousses |
| Health Benefits | Promotes Hair Health, Growth, Heals and Repairs Damage, Helps With Styling, Provides Nutrients, Cleanses, Softens, Detoxes, Reinvigorates, Strengthens |
| Ingredients | Hydrolyzed Quinoa, Baobab Seed Oil, Pink Pomelo, Keratin, Minoxidil, Saccharomyces Lysate, Biomimetic Signal Peptides, Tahitian Gardenia Flower, Tocopherol, Hyaluronic Acid |
| Type | Hair Care Products |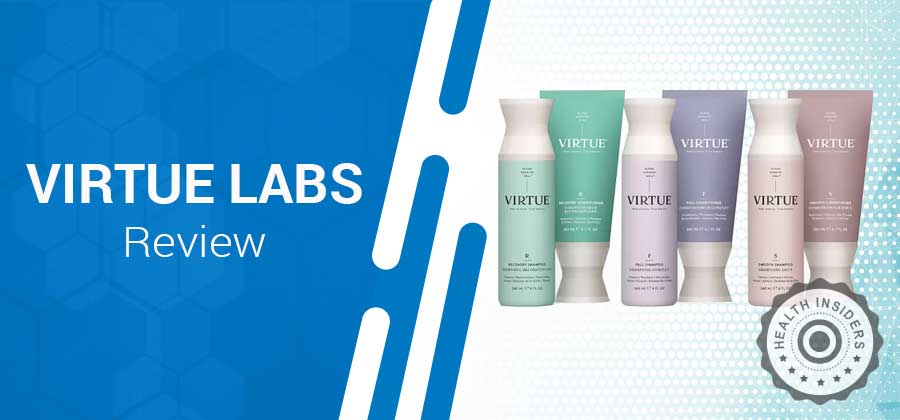 How Does Virtue Labs Work?
This products contain nutrients which deeply nourish the hair and promote its health. There are shampoos which cleanse and conditioners which soften and promote body. The brand includes a proprietary keratin ingredient which is the main protein making up the hair, and it strengthens and helps prevent breakage and shedding.
Some ingredients prevent the conversion of testosterone into the hormone DHT, which causes hair loss. This helps promote hair growth and volume over time.
A study in Advances in Dermatology and Allergology found that DHT levels were a key factor in diagnosing androgenetic alopecia (hair loss) [1]. Virtue Labs contains anti-inflammatory agents which reduce swelling and redness on the scalp.
The products are also rich in hydration which moisturizes the hair and boosts its health. They contain a wealth of antioxidants which can eliminate free radicals and lessen oxidative stress. This helps repair damage to the hair and protect it from UV rays and pollutants.
An article in the Journal of Photochemistry and Photobiology talked about the efficacy of antioxidants in the hair [2].
Advertisement
*All individuals are unique. Your results can and will vary.
What Are the Ingredients in Virtue Labs?
These are some of the primary active Virtue Labs ingredients:
Alpha Keratin 60ku® – This protein is what your hair, skin, and nails is composed of, and it protects them from damage and gives them structure. It also gives your hair shine and body, and repairs split ends.
It strengthens the hair and follicles to prevent hair loss. An article in RSC Advances discussed changing the shape of hair using keratin peptides [3].
Hyaluronic Acid – This is a deeply hydrating humectant, meaning it draws a tremendous amount of liquid. This helps moisturize the hair, scalp, and follicles and prevent dryness.
In addition, it can give the hair body and decrease frizziness. A study in BioMed Research International demonstrated the hair growth promoting effects of hyaluronic acid [4].
Minoxidil – This is a medication which was originally made to help decrease high blood pressure. However, it's also very effective at promoting growth in people with hair loss. It takes about 4-6 months to produce full results.
A study in the Journal of the American Academy of Dermatology concluded that 5% minoxidil was much more powerful at hair growth than 2% in men with hair loss [5].
Tocopherol – This is Vitamin E, a very potent antioxidant which can repair damage to the hair and protect it from UV rays and pollutants. It supports the overall health of the scalp, hair, and follicles and can also reduce swelling and redness. A study in Pharmaceutics found that tocopherol combined with menthol promoted hair growth in mice [6].
Pros and Cons of Virtue Labs Products
Benefits
Virtue Labs may revitalize hair health.
This brand can refresh and reinvigorate the hair.
Virtue Labs hair products can repair damage.
The brand provides rich nourishment to the hair.
Some products help you style your hair for the perfect look.
Cons
The Virtue Labs Hair Products are somewhat expensive.
Some users may develop an irritation on the scalp, as there is fragrance in some products.
The results will vary for different customers.
How Does Virtue Labs Rate?
| Feature | Rating | Comments |
| --- | --- | --- |
| Ingredients | 9 | Quality organic ingredients with some scientific support |
| Prices | 7 | Prices are slightly high for the market |
| Manufacturer | 7.5 | Respected company with almost 10 years experience in the industry |
Virtue Labs – Frequently Asked Questions (FAQs)
Q: Is Virtue Labs Cruelty-Free?
A: On their site, the brand claims to be completely cruelty-free and vegan. However, they are not on the PETA site as a company certified as not testing on animals.
Q: Where Can You Buy Virtue Labs?
A: You can buy these products on the manufacturer's website, and from a range of other online and offline retailers like Holt Renfrew, Sephora, and Skinstore. The manufacturer supports the children of Ukraine with some of their proceeds. Here are the prices of some of the top products:
Virtue Labs Shampoo – Full – $16-$40
Virtue Labs Full Conditioner – $17-$88
Virtue Labs Healing Oil – $44
Virtue Labs Recovery Shampoo – $16-$74
Virtue Labs Moisture Defining Whip – $5
Virtue Labs Dry Shampoo – $17-$34
Virtue Labs Volumizing Styler – $42
Q: What is the Virtue Labs Return Policy?
A: The manufacturer has a 30-day return policy. If you're not happy with what you bought, send it back to the company within 30 days of the purchase date. They will refund you the full price of the product plus sales tax.
Advertisement
*All individuals are unique. Your results can and will vary.
Q: Who Owns Virtue Labs?
A: The manufacturer of this brand is Virtue Labs, LLC, located in Raleigh North Carolina. Founded in 2015, this hair care company uses a signature ingredient called Alpha Keratin 60ku to repair the hair and promote its health. This is a human protein designed from regenerative medicine. They offer a wide range of products from shampoo to hot oil treatment.
Q: Is Virtue Labs Worth it?
A: Virtue Labs is a high-end brand with high-end prices. Considering the ingredients, the products are likely high quality and effective, it's just a matter of whether you want to spend this much on your shampoo and hairspray.
Q: What Sets Virtue Labs Apart From the Competition?
A: What sets the brand apart is their proprietary ingredient Alpha Keratin 60ku, a protein from regenerative medicine which has powerful repair properties, as well as promoting growth and overall health.
Q: What Do the Customers Think of Virtue Labs?
A: The Virtue Labs reviews varied depending on the product and user. There was some very good feedback from users who said they got wonderful hair health benefits. Other customers said the products were ordinary or even dried out their hair. Several people said the fragrance was too potent.
How Does Virtue Labs Compare with Other Brands?
| Brand | Price | Ingredients | Benefits | Return Policy |
| --- | --- | --- | --- | --- |
| Hair La Vie | Approx. $20-$30 | Hydrolyzed Collagen, Hydrolyzed Silk, Hydrolysed Soy Protein, Horsetail Extract, Pea Extract, Panthenol | Promotes Hair Health, Growth, Body, Volume, Hydration, Strength | 90-Day Money Back Guarantee |
| Valotin | Approx. $20-40 | Plant Sterols, Bamboo, Saw Palmetto, Barley Grass, Horsetail, Fo-Ti, Peony, Vitamins A, B, C, D3, E, Biotin, Magnesium, Spirulina, Aloe Vera | Hair Growth, Health, and Volume, Prevents Breakage, Softens, Cleanses, Strengthens, Hydrates | 30-Day Return Policy |
| Folexin | Approx. $24.95 | Biotin, Fo Ti Root, Saw Palmetto, L-Tyrosine | Hair Growth, Health, and Volume, Prevents Breakage, Softens, Cleanses, Strengthens, Hydrates | 30-Day Return Policy |
| Viviscal | Approx. $29-$45 | Keratin, Zinc, Biotin, Vitamin C, Bitter Orange, Lemon Peel Extract, Camphor Bark Oil, Nutmeg, Horsetail Stem Extract, Marine Complex | Hair Growth and Volume, Strength, Hydration, Detangles, Smooths, Repairs Damage | 90-day money-back guarantee |
| Shapiro MD | Approx. $40-$120 | Green Tea (EGCG), Caffeine, Saw Palmetto | Cleanses Hair, Promotes Growth and Volume, Repairs Damage, Eliminates Shedding and Breakage, Hydrates | 60-day return policy |
Conclusion
Virtue Labs is a high-end line of hair care products which promises to repair damage to the scalp and follicles and leave the hair healthier and more radiant. It may strengthen and promote growth, as well as providing necessary nutrients. Much like SugarBear brand, this is a quality brand, but the prices are quite expensive.
Many of the Virtue Labs review posts had good things to say about the brand, raving about how healthy and shiny the products made their hair. Others said they were too costly and were no better than cheaper hair care products. A number of customers mentioned side effects like rash and drying out the hair.
Virtue Labs could lead to side effects like scalp rash and redness, especially if you have an allergy to an ingredient. If you experience symptoms, stop using this brand immediately. It's a good idea to see a dermatologist before trying a new brand to ensure that it's suitable for you.
SEE ALSO – ScalpMED Review: Is This An Effective Hair Regrowth System?
Advertisement
*All individuals are unique. Your results can and will vary.
11 sources
Health Insiders relies on peer-reviewed studies, academic research institutions, and medical associations. We avoid using tertiary references. You can learn more about how we ensure our content is accurate and current by reading our editorial policy.
[1] Urysiak-Czubatka I, Kmieć ML, Broniarczyk-Dyła G. Assessment of the usefulness of dihydrotestosterone in the diagnostics of patients with androgenetic alopecia. Postepy Dermatol Alergol. 2014;31(4):207-215. doi:10.5114/pdia.2014.40925
[2] Fernández E, Martínez-Teipel B, Armengol R, Barba C, Coderch L. Efficacy of antioxidants in human hair. J Photochem Photobiol B. 2012 Dec 5;117:146-56. doi: 10.1016/j.jphotobiol.2012.09.009. Epub 2012 Oct 13. PMID: 23123594.
[3] Changing The Shape Of Hair With Keratin Peptides: https://pubs.rsc.org/en/content/articlelanding/2017/ra/c7ra10461h
[4] In Vitro Hair Growth Promoting Effect of a Noncrosslinked Hyaluronic Acid in Human Dermal Papilla Cells (PDF) In Vitro Hair Growth Promoting Effect of a Noncrosslinked Hyaluronic Acid in Human Dermal Papilla Cells (researchgate.net)
[5] Olsen EA, Dunlap FE, Funicella T, Koperski JA, Swinehart JM, Tschen EH, Trancik RJ. A randomized clinical trial of 5% topical minoxidil versus 2% topical minoxidil and placebo in the treatment of androgenetic alopecia in men. J Am Acad Dermatol. 2002 Sep;47(3):377-85. doi: 10.1067/mjd.2002.124088. PMID: 12196747.
[6] Ahn S, Lee JY, Choi SM, Shin Y, Park S. A Mixture of Tocopherol Acetate and L-Menthol Synergistically Promotes Hair Growth in C57BL/6 Mice. Pharmaceutics. 2020;12(12):1234. Published 2020 Dec 18. doi:10.3390/pharmaceutics12121234
[7] Nayak BS, Ann CY, Azhar AB, Ling ECS, Yen WH, Aithal PA. A Study on Scalp Hair Health and Hair Care Practices among Malaysian Medical Students. Int J Trichology. 2017 Apr-Jun;9(2):58-62. doi: 10.4103/ijt.ijt_76_16. PMID: 28839388; PMCID: PMC5551307.
[8] Basit A, Asghar F, Sadaf S, Akhtar MW. Health improvement of human hair and their reshaping using recombinant keratin K31. Biotechnol Rep (Amst). 2018 Oct 24;20:e00288. doi: 10.1016/j.btre.2018.e00288. PMID: 30416979; PMCID: PMC6218806.
[9] Suchonwanit P, Thammarucha S, Leerunyakul K. Minoxidil and its use in hair disorders: a review [published correction appears in Drug Des Devel Ther. 2020 Feb 10;14:575]. Drug Des Devel Ther. 2019;13:2777-2786. Published 2019 Aug 9. doi:10.2147/DDDT.S214907
[10] Beoy LA, Woei WJ, Hay YK. Effects of tocotrienol supplementation on hair growth in human volunteers. Trop Life Sci Res. 2010;21(2):91-99.
[11] A One-Year Observational Study With Minoxidil 5% Solution In Germany: Results Of Independent Efficacy Evaluation By Physicians And Patients: https://www.jaad.org/article/S0190-9622(03)03692-2/fulltext