About Umzu Redwood
Umzu Redwood is a dietary supplement whose aim is to increase blood circulation all over the body. It does this with ingredients that increase the amount of nitric oxide in your system. The benefits include reduced blood pressure, better mood, stronger erections, elevated sexual stamina, and warmer hands and feet. This is also a healthy product that supports overall wellness.
---
QUICK FACTS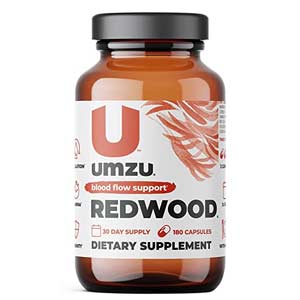 Buy on Website
Buy on Amazon
Quick Facts & Specs
Umzu Redwood
The naturally-sourced formula in Redwood supports blood flow for healthy, smooth circulation, strong immune health, optimal blood pressure and bedroom performance.
Form:

Capsule

Type:

Supplement

Benefit:

Circulation, Immunity, Stamina

Phone & Address:

UMZU LLC, 6325 Spine Road, Boulder, CO 80301;

[email protected]

Brand:

Umzu

Uses:

Circulation, Nitric Oxide Boost, Energy, Pre-Workout, Immune Health

Price:

$33.96*

Active Ingredients:

Pine Bark Extract, Horse Chestnut, Garlic, Vitamin C, L-Leucine, Casein Hydrolysate
Umzu Redwood Pros & Cons
Pros
Umzu Redwood could improve the circulation in the entire body.
This product may increase overall physical immunity.
Redwood by Umzu might lower your blood pressure.
This product may increase positive mood.
It could strengthen erections and improve sexual stamina.
Cons
It has rich powder as an ingredient, which is an allergen for some.
You have to take 6 large capsules every day.
There may be mild side effects like headaches and nausea.
---
How Does It Work? | The Science Behind Umzu Redwood
Umzu Redwood has a number of ingredients that initiate the production of nitric oxide in the body. This greatly improves circulation all over the system, leading to benefits like improved sexual virility, good mood, decreased blood pressure, and more warmth in the hands and feet. An article in Circulation explored the link between nitric oxide and hypertension.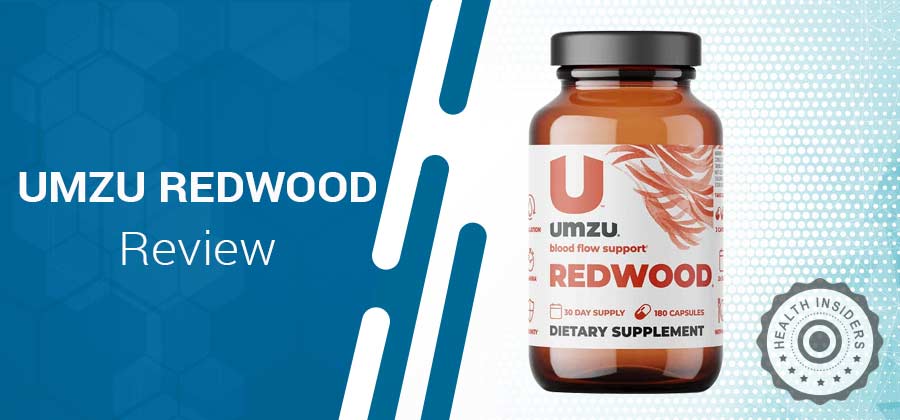 Umzu Redwood Ingredients – What to Look For?
Here are some of the primary active Umzu Redwood ingredients:
L-Leucine – This is an amino acid which is found in the proteins in the body and is involved in protein synthesis. It promotes nitric oxide production via L-arginine, which improves circulation all over the body. A review in Amino Acids concluded that the nitric oxide synthesis from L-Leucine leads to improved cardiovascular function.
Horse Chestnut – This is a flowering plant that has the ability to raise nitric oxide levels in the body. This improves blood flow, and this plant is often used to treat poor circulation. According to Science Direct, the major active compound in horse chestnut is escin, and it has anti-inflammatory, vasculoprotective, and vagotonic benefits.
Casein Hydrolysate – This is a mixture of amino acids derived from dairy products. It can increase nitric oxide production and enhance overall blood flow. A study published in Pharmacological Research concluded that, due to the increase in nitric oxide, casein hydrolysate has cardiovascular benefits and prevents the development of hypertension.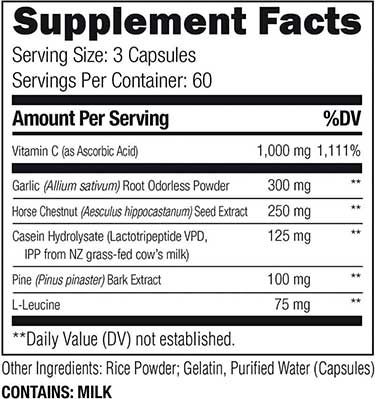 In addition, this is a very healthy product that is packed with antioxidants. They kill harmful free radicals in the body and decrease oxidative stress. This supports healing and strengthens the immune system. A review in the Journal of Dairy Science looked at the role of antioxidants in immunity.
Umzu Redwood FAQs
Q: How to Use Umzu Redwood?
A: The manufacturer recommends taking 3 of these capsules first thing in the morning and 3 right before you work out. Do not take more than 6 capsules per day for any reason.
Q: Does Umzu Redwood Have Any Side Effects?
A: There are some mild side effects that could occur from ingredients in this supplement. For example, horse chestnut could lead to itching, dizziness, nausea, headache, or stomach upset. Pine bark could cause headaches, bad breath, mouth sores, headaches, or stomach upset.
Q: Are UMZU Products Legit?
A: Umzu Redwood is usually thought for being healthy, but if you are consuming nitrates or blood thinners, you can consult a doctor before trying it.
Q: Can I Take Umzu Redwood If I Have A Health Condition?
A: There are a few health conditions that preclude taking this supplement. These include bleeding conditions, auto-immune disorders, diabetes, hepatitis, digestion problems, liver disease, and a latex allergy. In addition, avoid this product if you're having surgery within 2 weeks.
Q: Does Umzu Redwood Work?
A: There are several ingredients in Umzu Redwood that are very effective at raising levels of nitric oxide in the body and improving circulation. This leads to a number of benefits like decreased blood pressure, sexual enhancement, better mood, and warming the extremities.
The majority of the Umzu Redwood reviews agree that this is a very effective product that provided them with numerous benefits, including an overall feeling of well-being.
Q: What Is Umzu Redwood Moneyback Guarantee, Return & Refund Policy?
A: This manufacturer is offering a 60-day money-back guarantee. You have to wait until 2 weeks after the purchase to request a refund. Contact the company for instructions, and then send the product back within 60 days of the date you bought it. There is a limit of 3 products per year for returns.
Q: How Long Does it Take for Redwood to Work?
A: The manufacturer doesn't comment on the length of time the product will take to work. However, customers mention that it took about 2 weeks to experience full results.
Q: Is Redwood Supplement Good for You?
A: Umzu Redwood is extremely good for you. It contains Vitamin C and other antioxidants which support health and immune functioning. They kill free radicals in the body and boost oxidative stress. It also contains garlic, which has potent health properties.
Q: Can You get Umzu Redwood in Stores?
A: Yes, you can purchase Umzu Redwood Supplement at Walmart and likely at other offline stores as well. It's a fairly widely distributed product.
Umzu Redwood Alternatives – Compare with Similar Items
Brand
Price
Ingredients
Umzu Redwood
$39.95
Pine Bark Extract, Horse Chestnut, Garlic, Vitamin C,
L-Leucine, Casein Hydrolysate
Primal Plants
$99.99
Cinnamon Bark, Fennel Seed, Green Tea Leaf, Bromelain and Bacillus Coagulans
Circulation Complex
$25.24
Horse Chestnut, Butcher's Broom, Gingko Biloba, Bilberry,
Cayenne
Curculari-T
$25.45
Chromium, Hose Chestnut, Grape Seed Extract, Gingko Biloba,
Gotu Kola, Butcher's Broom, Citrus Bioflavonoids, Buckwheat Seed
N1N Blood Circulation
Supplement
$63.21
Butcher's Broom, Cayenne Pepper, Horse Chestnut, Ginger Root,
L-Arginine
The price of Umzu Redwood is average for the market, although there are cheaper brands. There's a lot of overlap in terms of ingredients for these supplements. On the whole, though, there are cheaper products than this which are richer in ingredients.
Is Umzu Redwood Safe? – Warnings & Complaints
This a safe, healthy product which uses quality ingredients. It contains no artificial or chemical ingredients. There are some health warnings you should heed, but otherwise the product only leads to mild side effects.
Umzu Redwood Customer Reviews & Results – What Users Are Saying
The Umzu Redwood supplement review postings were quite positive on the whole. Users cited benefits like improved sexual stamina, lowered blood pressure, warmer extremities, and better mood. There weren't a lot of negative reviews, but some customers didn't find the product effective and others mentioned side effects.
Umzu Redwood: Packages, Deals, Prices & Where to Buy It
Redwood is for sale on the manufacturer's official website, Umzu Redwood Amazon, and from several other online and offline retailers. On the official site, you pay $39.95 for a one-time purchase. If you join the subscription service, you pay $33.96 per month.
ALSO READ – Water Off Reviews
The Bottom Line on Umzu Redwood
Redwood is a natural supplement whose goal is to improve bodily circulation by supporting the release of nitric oxide. This has numerous benefits, such as lowing blood pressure, warming the hands and feet, elevating mood, and improving sexual stamina and virility. This is a healthy product rich in antioxidants, and it supports immunity.
The vast majority of the Umzu Redwood reviews had really good things to say about this product. Customers mentioned improvements in their sex lives, more energy, and lower blood pressure, among others. There weren't a lot of poor reviews, but there were some users who didn't find it effective, and others had side effects.
There is the possibility of developing mild Umzu Redwood side effects due to the ingredients in this supplement. If you experience unpleasant symptoms, stop using the product right away. Before you begin taking Umzu Redwood it's essential that you go to a doctor and get medical approval.
Is There Anything Else You Should Know About Redwood?
Umzu Redwood enhances circulation all over the body, which has numerous benefits for physical and mental health. Ideally, this product has been working well for you and has improved your life. There are some lifestyle changes you can make which could enhance your circulation. Here are some tips:
Exercise on a regular basis; at last 3-4 times a week. Working out really gets your circulation flowing.
Drink plenty of water. Water gets the blood flowing through the body, and it also has other health benefits.
If you really want to get the blood flowing, sign up for a yoga class. Yoga is great for improving body circulation because the movements are so varied.
Follow a diet high in fruits and vegetables and low in saturated fats. This will keep your cholesterol and your blood pressure low and support good circulation.
SOURCES
Health Insiders relies on peer-reviewed studies, academic research institutions, and medical associations. We avoid using tertiary references. You can learn more about how we ensure our content is accurate and current by reading our editorial policy.
[1] Nitric Oxide and Hypertension https://www.ahajournals.org/doi/full/10.1161/01.cir.94.6.1197
[2] Yang Y, Wu Z, Meininger CJ, Wu G. L-Leucine and NO-mediated cardiovascular function. Amino Acids. 2015 Mar;47(3):435-47. doi: 10.1007/s00726-014-1904-y. Epub 2015 Jan 1. PMID: 25552397
[3] Aesculus https://www.sciencedirect.com/topics/agricultural-and-biological-sciences/aesculus
[4] Sánchez D, Kassan M, Contreras Mdel M, Carrón R, Recio I, Montero MJ, Sevilla MÁ. Long-term intake of a milk casein hydrolysate attenuates the development of hypertension and involves cardiovascular benefits. Pharmacol Res. 2011 May;63(5):398-404. doi: 10.1016/j.phrs.2011.01.015. Epub 2011 Feb 15. PMID: 21300153
[5] Adrianne Bendich, Physiological Role of Antioxidants in the Immune System, Journal of Dairy Science, Volume 76, Issue 9, 1993, Pages 2789-2794, ISSN 0022-0302
[6] Horse Chestnut https://www.webmd.com/vitamins/ai/ingredientmono-1055/horse-chestnut
[7] Maritime Pine https://www.webmd.com/vitamins/ai/ingredientmono-1019/maritime-pine