What is Theradome?
Theradome is a brand of laser caps which use low level laser therapy to promote hair growth and thickness over time. In addition, they can slow shedding and thinning, and they give the hair a health sheen. The caps are portable, so you can do the treatments anywhere you like at any time. These are the products in this brand:
Theradome Evo Laser Hair Growth Device – This is a cap which uses 40 laser diodes to grow the hair and prevent shedding.
Theradome LH80 PRO – This is a slightly more powerful low level laser therapy cap which delivers 80 diodes of power.
Features
Hands Free, User Interface, Treatment Tracking
Form
Helmet
Health Benefits
Hair Growth, Slows Shedding and Thinning, Thickens Hair, Strengthens Follicles and Scalp
Components
40-80 Laser Diodes, Full Head Coverage, 5mm Follicle Depth, Cool Airflow, Up to 18,000 20 minute treatments, 680nm
Type
Laser Hair Growth Helmet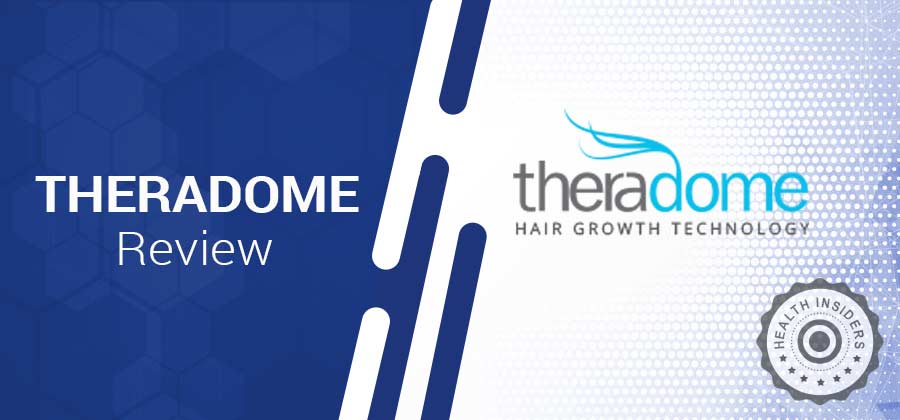 What Are the Components of Theradome?
The Theradome brand consists of 2 different helmets which deliver low level laser therapy to the scalp for faster hair growth, thickness, and better health. An article in Science Direct explored the use and function of low level laser therapy [1].
The Theradome Eva contains 40 diodes and the Theradome Pro has 80 diodes, and they function at a wavelength of 680nm with a 5mm follicle depth. They offer full head coverage, and a cool airflow to make you more comfortable when using the products.
These devices have FDA clearance, are clinically tested, and physician recommended. An article in the Journal of Dermatological Treatment explored the FDAs approval process of low level laser therapy devices [2].
Pros And Cons of Theradome

These laser helmets can promote hair growth over time.
You can do the treatments anywhere, anytime.
The Theradome Laser Helmet can slow thinning hair and shedding.
These products can promote hair with more volume and thickness.
Theradome can repair damage to the follicles and scalp.

Some users may not like the design or find it to be their style.
The speed of growth will be different for every user.
Theradome offers free shipping and promos to U.S customers only.
How Does Theradome Work?
The laser diodes in the device send photons deep into the scalp to stimulate the hair follicles. In addition, it stimulates the hemoglobin in the blood, improving scalp circulation.
A study in Medicine using a helmet-like LLT decide showed a significant increase in hair density in patients with hair loss [3].
The photons also stimulate the mitochondria of the cells, activating ATP (adenosine triphosphate). This powers all of the cells in the body, and it promotes hair growth, thickness, and overall health.
A study in the International Journal of Recent Scientific Research examined the ATP channels involved in human hair growth [4].
How Does Theradome Rate?
| Feature | Rating | Comments |
| --- | --- | --- |
| Power | 9 | For a helmet, the devices deliver a decent amount of power for maximum growth. |
| Portability | 10 | This is a helmet which is light and easy to carry anywhere. |
| Guarantee | 10 | 6-month money back guarantee and 1 year manufacturer's warranty |
Conclusion
Theradome is a brand including 2 helmets which promote hair growth, thickness, and overall health using low level laser therapy. These devices are portable and can be used anywhere at anytime. There's a tremendous amount of research supporting the effectiveness of this technology, and these are fairly powerful products.
The majority of the Theradome reviews loved the benefits of these helmets, and said they developed rich hair growth and thickness within a few months. Users found the helmets easy to use, and many mentioned that the Theradome before and after was incredibly impressive.
The Theradome laser therapy helmets use a technology which is FDA-approved as safe. It should not lead to a reaction on your scalp or any other side effects, and it should work very effectively. If you're looking for a hair growth device, this brand is a good choice.
Advertisement
*All individuals are unique. Your results can and will vary.
Theradome – Frequently Asked Questions
Q: How to Use Theradome Laser Helmet?
A: To begin, activate the on switch and put the helmet on your head. The treatment will begin immediately. Throughout the process, the device will update you on the progress of the treatment using the voice command feature.
After 20 minutes the treatment is over, and the device will automatically shut down. The manufacturer recommends that you do 2 treatments of 20 minutes each per week.
Q: Where Can You Buy Theradome?
A: You can purchase Theradome from the manufacturer's official website, and from a number of online retails and offline stores. It's also available at some dermatology centers. There is free shipping for U.S customers. The prices on the official site are as follows:
Theradome EVO LH40 – $595
Theradome PRO LH80 – $895
Q: What is the Theradome Return Policy?
A: The manufacturer has a 6-month money-back guarantee for U.S customers only. They do ask that before you return the product you try it twice a week for 180 days in 20 minute sessions.
If you are not happy, contact the company and return the product within 6 months of the purchase date. Returns are only valid if you bought the item from the manufacturer's website. In addition, there is a 1-year manufacturer's warranty for the device.
Q: Can I Use Theradome Every Day?
A: It's best that you not overuse the device, as this will not accelerate the benefits. Every day is too often for this product. The recommended program is 2 sessions of 20 minutes every week.
Q: Does the Theradome Laser Helmet Work?
A: The effectiveness of low level laser therapy and even devices similar to this one is well established in the scientific literature. With 40 and 80 laser diodes, the devices are fairly powerful for laser helmet products. They certainly should work for most people, and the Theradome reviews confirm this.
Q: How Does Theradome Compare with Other Brands?
| Brand | Price Range | Features |
| --- | --- | --- |
| CapillusUltra Mobile Laser Therapy | $639.78 | Hands-free without a cord, 6-month satisfaction guarantee, clinically approved |
| iRestore Hair Growth System | $695-$1195 | Medical grade lasers and LEDs, extended scalp coverage, 12-month money back guarantee |
| iGrow | $449.99 | Red laser diodes, built-in headphones, 6 month money-back guarantee |
| illumiFlow | $449-$849 | FDA-approved, durable, 180-day money-back guarantee |
| Kiierr | $645-$955 | FDA-Approved, 93% success rate, 7-month money-back guarantee |
| Regrow MD | $799 | 272 high-quality diodes, battery operated, FDA clearance, 1 year money-back guarantee |
Q: What Sets Theradome Apart From the Competition?
A: The manufacturer provides a wealth of information on their website about the products themselves, how they function, and also the process you should go through in order to determine if this type of item is right for you.
Q: What Do the Customers Think of Theradome?
A: Both the Theradome Evo reviews and the Theradome LH80 Pro reviews had wonderful things to say about these helmets. Most people found that within a few short months and a short weekly time investment their hair was much longer and thicker and stopped falling out. There was no mention of scalp irritation or other side effects.
8 sources
Health Insiders relies on peer-reviewed studies, academic research institutions, and medical associations. We avoid using tertiary references. You can learn more about how we ensure our content is accurate and current by reading our editorial policy.
[1] Low Level Laser Therapy: https://www.sciencedirect.com/topics/medicine-and-dentistry/low-level-laser-therapy
[2] Wang S, Seth D, Ezaldein H, Tripathi R, Merati M, Muakkassa F, Scott J. Shedding light on the FDA's 510(k) approvals process: low-level laser therapy devices used in the treatment of androgenetic alopecia. J Dermatolog Treat. 2019 Aug;30(5):489-491. doi: 10.1080/09546634.2018.1528327. Epub 2018 Nov 19. PMID: 30252550.
[3] Yoon JS, Ku WY, Lee JH, Ahn HC. Low-level light therapy using a helmet-type device for the treatment of androgenetic alopecia: A 16-week, multicenter, randomized, double-blind, sham device-controlled trial. Medicine (Baltimore). 2020;99(29):e21181. doi:10.1097/MD.0000000000021181
[4] Avci P, Gupta GK, Clark J, Wikonkal N, Hamblin MR. Low-level laser (light) therapy (LLLT) for treatment of hair loss. Lasers Surg Med. 2014;46(2):144-151. doi:10.1002/lsm.22170
[5] Examining the Safety and Efficacy of Low-Level Laser Therapy for Male and Female Pattern Hair Loss: A Review of the Literature: https://www.karger.com/Article/FullText/509001
[6] Photobiomodulation For The Management Of Hair Loss: https://onlinelibrary.wiley.com/doi/full/10.1111/phpp.12649
[7] Jimenez JJ, Wikramanayake TC, Bergfeld W, et al. Efficacy and safety of a low-level laser device in the treatment of male and female pattern hair loss: a multicenter, randomized, sham device-controlled, double-blind study. Am J Clin Dermatol. 2014;15(2):115-127. doi:10.1007/s40257-013-0060-6
[8] Alopecia: A Review Of Laser And Light Therapies: https://escholarship.org/uc/item/1jt041t2