About Teami Blends
Teami Blends is a line of products that you can trust to kickstart your healthy lifestyle. It is supposedly crafted using natural, plant-based ingredients.
The ingredients work from within to provide you with a number of health benefits including gut health, immunity, ant-aging symptoms, and stressors to leave you feeling your best. Teami Blend's location is in Seminole Florida, United States.
What Are The Best Selling Teami Blends?
| Teami Blends | Benefit | Cost | Active Ingredients |
| --- | --- | --- | --- |
| Detox Starter Pack | Supports gut health | $84.99 | Yerba Mate, Oolong Tea, Lime Leaf extract, Lotus leaf, Rhubarb root, Ginger root |
| Gut Love Probiotic + Prebiotic Powder | Belly balance Gut health support | $35.00 | Probiotic blend, Prebiotic blend, Organic Beet root, |
| Gentle Superfood Liquid Cleanser | Cleanses skin Hydrates skin Nourishes skin | $31.99 | Matcha, Apple, Turmeric, |
| Colon Cleanse Tea Blend | Colon Cleanse, | $24.99 | Rhubarb root, Hawthorn berry extract, Lotus leaf |
| Beauty Butterfly Collagen | Improve digestion Healthy skin, hair and nails Energy | $38.00 | Acacia berry, Butterfly pea flower, Marine collagen |
Other Teami Blends products include Teami Blends tea, Teami Blends colon cleanse, Teami Blends Vitamin C, Teami Blends Superfood Powder, Teami Blends chai tea, Teami Blends Greens, Teami Blends 30-day detox, Teami Blends face mask, Teami Blends ultimate beauty bundle, among other products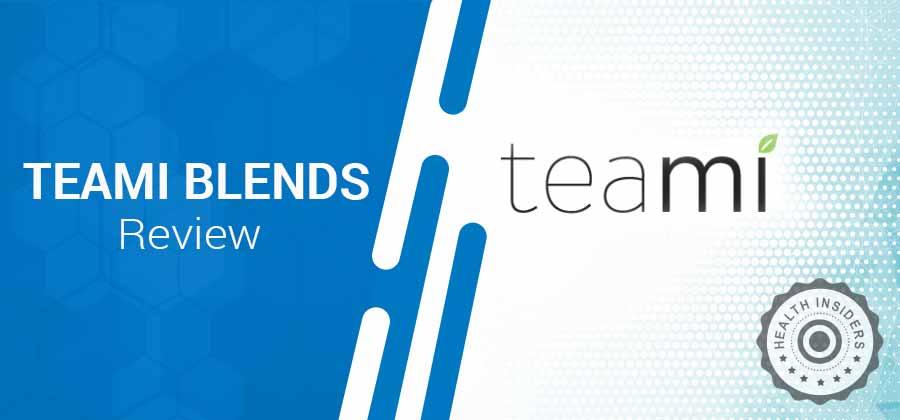 Teami Blends Pros & Cons
Pros
Produces variety of products to address various health concerns
Uses organic plant-based ingredients
Customer reviews available
Products available both online and in stores
Satisfactory ingredient information
Cons
You may find the products a bit highly-priced
No free trial offers
Some products need refrigeration
Too many products make the choosing the right product a bit hectic
How Does It Work? | The Science Behind Teami Blends
The brand claims to use only well-researched and tested organic ingredients to guarantee efficiency and safety.
Herbs, tea, and other natural ingredients are mixed to create various products. The combination of such natural plant-based ingredients is said to build on each other to ensure that users get the results they desire to improve their overall health.
Teami Blends Ingredients – The Evidence
Matcha
Matcha contains L-theanine and caffeine that work to fortify the immune system by limiting harmful bacteria and virus growth in the body. It fights and protects the body against various bacterial and viral infections.
A research study in Molecules has shown that matcha contains powerful antioxidants and anti-inflammatory properties that have promising health effects such as preventing various illnesses.
Probiotic Blend
The probiotic blend is made of ingredients such as lactobacillus acidophilus ad lactobacillus rhamnosus. These two can have a number of benefits on gut health.
According to Postgraduate Medicine, lactobacillus rhamnosus can effectively help treat and prevent various health conditions including acute gastroenteritis.
Rhubarb root
Rhubarb root extract is among the Chinese medicinal herbs that have been used for centuries by the Chinese to treat various illnesses.
According to the Chinese Medical Journal, supplementation of rhubarb root extract can help protect intestinal barrier function, promote gastrointestinal peristalsis, and intestinal bacterial translocation.
Yerba Mate
Yerba Mate has a high choleretic effect that can aid in soothing upset stomach and managing other digestion problems like diarrhea and constipation. It has also been seen to increase bile flow that might support a healthy gastrointestinal tract.
According to Nutrients, taking yerba mate may have a long-term effect on gastrointestinal tract health.
Oolong Tea
Oolong tea is oxidized with a lighter but more floral character compared to black tea. Studies have shown that Oolong tea can increase metabolism, aid digestion, and burn fat.
According to the Journal of Food Science and Technology, Oolong tea extract can significantly increase Bifidobacterium and Lactobacillus-Enterococcus Spp and SCFA production white support retention of healthy bacteria like clostridium histolyticum and Bacteroides-prevotella groups. Its consumption can, therefore, be beneficial for intestinal microecology and contribute to host health.
How Does Teami Brand Rate?
| Feature | Rating | Comments |
| --- | --- | --- |
| Safety | 10/10 | All natural ingredients, 100% vegan, Non-GMO, Gluten-free, Allergen-free, No chemical preservatives, No fillers or additives |
| Performance | 8/10 | Though most of the products have proven to work, results may slightly vary from one user due to various factors such as lifestyle |
| Customer Comments | 9/10 | The majority of customers seem to like products from this brand |
Teami Blends FAQ
Q: Who Sells Teami Blends?
A: Teami Blends are sold by the manufacturer through the official website. The products are also sold on other authorized online retail shops and stores.
Q: Is Teami Blends FDA Approved?
A: Teami Blends belongs to the supplement class and FDA does not approve supplements. However, to guarantee the quality, Teami Blends are manufactured in FDA and GMP-certified facilities.
Q: How Do You Make Teami Blends?
A: Scoop the desired amount of Teami Blends tea and add it into Teami Blends Tumbler and add hot water until it reaches below the rim. Add your preferred natural sweetener if you prefer then leave the in steep for 1-3 minutes and then drink it.
Q: Do Teami Blends Teami Blends Need to be refrigerated?
A: To prolong the life shelf of some Teami Blends products or keep them fresh, you will need to refrigerate them.
Q: Does Teami Blends Have Caffeine?
A: Teami Blends is known for using all-natural ingredients to craft its products. Most of these ingredients have some small amount of natural plant-based caffeine.
Q: What is Teami Blends's Money-back Guarantee, Return & Refund Policy?
A: Teami Blends products come with a 30-day money-back guarantee. You can return the product within 30 days from the purchase day for a full purchase price refund as long as the product is unopened and unused. Teami Blends' shipping fee is, however, not included in the return policy.
SEE ALSO – Thorne Supplements and Alani Nu Supplements
Teami Blends Alternatives – Compare With Other Brands
| Brand | Price | Benefits | Ingredients |
| --- | --- | --- | --- |
| Primal Harvest | $22.46-$49.95 | Immune system support Eases joint pain Promotes digestive health | Elderberry, Huperzine A, Vitamin E |
| LCR Health | $32.48-$89.92 | Eases joint and inflammation Boost energy and longevity Healthy immune system | Berberine, Ashwagandha, White willow, Astralagus, Turmeric |
| Onnit | $21.21-$413.85 | Eases digestion Improve mood Support brain health | Probiotics, Avocado, MCT Oil, |
| Balance of Nature | $49.95-$159.95 | Boost immune system Ease oxidative stress Supports digestive system | Turmeric, Pectin, Fruits and Vegetable Powder, Psylium Husk |
| Life Conscious | $19.99-$34.99 | Gut health Digestion Joint and muscle support | Omega-3, Vitamin D3, Probiotics, Hydralized Collagen |
Is Teami Blends Safe? – Warnings & Complaints
The manufacturer of Teami Blends claims to manufacture and test its products in FDA-certified facilities to ensure that all the products that get out there are safe for consumption.
However, there have been claims from various sources that some products from this brand cause serious side effects which raise questions as to whether the products are indeed safe or not?
Teami Blends Customer Reviews & Results – What Users Are Saying
Rating the efficiency and authenticity of a product can be difficult on the side of the manufacturer.
Fortunately, Teami Blends seem to have earned the trust of many customers who were extremely happy to leave positive comments after buying and using some of the products.
Teami Blends reviews are available on the official website and most of them are positive. It seems that most customers have found satisfaction in products from this brand. Check out what Teami Blends Detox reviews and Teami Blends Repair Oil reviews to see what customers are saying.
Teami Blends: Packages, Deals, Prices & Where to Buy Team Blends
You can buy Teami Blends products from the brand's official website and from other authorized retail sellers or stores.
Teami Blends products vary in price depending on the available packages and price deals. However, all the products are in two price categories:
One-time purchase price
Subscription price
Teami Blends coupon and Team blends discount are also available for customers. For information, you can contact them through Teami blends Twitter handle or Teami Blends contact number available on the website.
The Bottom Line
Teami Blends produces a variety of high-quality products to help people across the world have access to as many supplements and products as possible so that they can be able to address their various health concerns.
Apart from taking care of your gut health, products from this brand will also give you other health benefits like targeting anti-aging symptoms, acne, and immunity to ensure that you lead an overall healthy life without illness or blemishes.