About Slique Essence
Slique Essence is marketed as an organic weight-loss product that comes in the form of essential oil. You add a few drops to whatever you're drinking, and it's supposed to curb your appetite, making you feel full, and cleansing your system.
This product provides added flavor to your beverage, as it combines the flavors of tangerine, grapefruit, lemon, spearmint, and stevia leaf.
---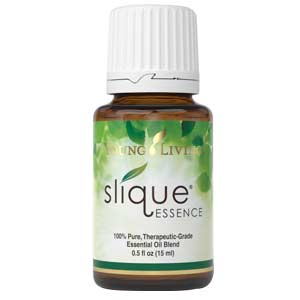 Buy on Official Website
Buy on Amazon
Quick Facts & Specs
Slique Essence
Slique Essence is a weight-loss supplement that claims to curb your appetite while also purifying your system.
Form:

Liquid

Type:

Essential Oil

Benefit:

Can make you feel full.

Brand:

Young Living

Uses:

Is said to be cleansing to your body.

Ingredients:

Grapefruit, Lemon, Stevia leaf

Price:

$35.20
Slique Essence Pros & Cons
Pros
Can make you feel full.
Can help control your food cravings.
Is said to be cleansing your body.
Cons
Many users dislike the flavor.
Is not appropriate for use by children.
Some customers found it ineffective.
---
How Does It Work | The Science Behind Slique Essence
This product contains ingredients like stevia, which is said to curb the appetite, so you eat less over the day. The other fruit oils are said to cleanse and detox the system.
The included citrus fruits are rich in d-limonene[1], a chemical in their rind. Some find it effective for the management of gastroesophageal reflux.
D-limonene is also said to be a weight-loss agent. Eur J Pharmacol. 2013[2] research shows that it may prevent metabolic disorders and can be beneficial to patients with hyperglycemia.
Advertisement
*All individuals are unique. Your results can and will vary.
Slique Essence Ingredients – What to Look For
This product is a collection of fruit oils and other plant-based substances.
A few of these essential oils include:
Grapefruit – This fruit is said to cleanse and purify the system and to curb the appetite. It's very high in d-limonene, which is touted as a weight-loss agent. Research[3] supports the inclusion of grapefruit in a weight-loss diet.
Lemon – This also has a high concentration of d-limonene. It also relieves digestive discomfort. A research published in the Journal of Clinical Biochemistry and Nutrition[4] shows that lemon can suppress diet-induced weight gain.
Stevia leaf – This is a very sweet leaf that is used as a zero-calorie sweetener. It comes from the stevia rebaudiana plant. Science Direct[5] research supports its use as a weight-loss substance.
Slique Essence – Questions and Answers
Q: How to Use Slique Essence?
A: Before you add this product to a beverage, shake it vigorously. Add 2-4 drops to 4-6 oz. of water or any other beverage. This can be done multiple times throughout the day.
Q: Does Slique Essence Have Any Side Effects?
A: There are no side effects associated with this product, and users have not complained of any particular problems. However, if side effects are experienced, stop using the product immediately.
Q: Can I Take Slique Essence If I Have A Health Condition?
A: There are no health conditions that preclude the use of this product. However, it is possible that users may have allergies to certain ingredients.
Q: Does Slique Essence Work?
A: The customer reviews are mixed on this product's effectiveness. About half of the users recommended it stating that it made them feel full, thereby controlling cravings.
The other half found this to be poor to a mediocre product with little effect.
Q: What Is Slique Essence Moneyback Guarantee, Return & Refund Policy?
A: On the manufacturer's official website, there is a 30-day return policy. The policy only applies to items that are unopened. If you want a refund, let the company know and send the product back within 30 days of the original purchase date.
You can also buy the product from other retailers online. In that case, you're covered by the policy on that site.
Advertisement
*All individuals are unique. Your results can and will vary.
Slique Essence Alternatives – Compare with Similar Items
Brand
Price
Active Ingredients
Phen375
$65.95
Caffeine Anhydrous, L-Carnitine,Citrus Aurantium,Chromium,
Cayenne Pepper
Tegreen
$31.03
Green tea
PhenQ
$69.95
Capsimax, calcium carbonate, chromium picolinate, caffeine, nopal, L-carnitine fumarate, lacys reset
Holistic Cupboard weight loss blend
$24.68
Grapefruit, Cinnamon, Lemon, ginger, Peppermint
RazaLean
$69.95
Capsaicin, caffeine, kelp, apple cider vinegar, turmeric, arginine
Essential oils for weight loss are generally inexpensive, however, Slique Essence is pricier than the rest. This is despite the fact that the ingredients are very similar. Therefore, you may be paying more for Slique Essence without getting anything extra.
Is Slique Essence Safe? – Warnings & Complaints
The product is safe; none of the user complaints pertain to safety issues.
Slique Essence Customer Reviews & Results
There were a variety of reviews for this product, and there were slightly more negative reviews than positive. Nonetheless, there were some very happy customers who found that this product helped them with weight loss stating it kept them full and controlled their cravings.
However, there was a group of customers who found this product to be ineffective. Complaints included the taste of the product, which many found disgusting.
Slique Essence: Packages, Deals, Prices & Where to Buy It?
You can purchase the product on the manufacturer's website at a retail price for $35.20. The oil is available on other retail websites also for a similar price.
Advertisement
*All individuals are unique. Your results can and will vary.
The Bottom Line
This weight-loss essential oil product has mixed reviews on its effectiveness. There were also some issues of users receiving products that had been opened. Although the oil is safe, check with your doctor prior to starting it.
Is There Anything Else You Should Know About Slique Essence?
Ideally, this essential oil product will help you with your weight-loss journey. However, you can't rely on essential oil alone to get and stay the weight you want to be. It requires a healthy lifestyle for the long-term. Here are some tips:
Follow a healthy, nutritious diet rich in vitamins and minerals. Eat a lot of protein and limit processed foods.
Stay active by exercising at least 3-4 times a week.
Drink water to quench your thirst.
Choose healthy snacks between meals.
Read Next – Forskolin 1020 and Cellucor D4 Thermal Shock
Sources
Health Insiders relies on peer-reviewed studies, academic research institutions, and medical associations. We avoid using tertiary references. You can learn more about how we ensure our content is accurate and current by reading our editorial policy.
[1] Sun J. D-Limonene: safety and clinical applications. Altern Med Rev. 2007 Sep;12(3):259-64. PMID: 18072821.
[2] Jing L, Zhang Y, Fan S, Gu M, Guan Y, Lu X, Huang C, Zhou Z. Preventive and ameliorating effects of citrus D-limonene on dyslipidemia and hyperglycemia in mice with high-fat diet-induced obesity. Eur J Pharmacol. 2013 Sep 5;715(1-3):46-55. doi: 10.1016/j.ejphar.2013.06.022. Epub 2013 Jul 6. PMID: 23838456.
[3] Fujioka K, Greenway F, Sheard J, Ying Y. The effects of grapefruit on weight and insulin resistance: relationship to the metabolic syndrome. J Med Food. 2006 Spring;9(1):49-54. doi: 10.1089/jmf.2006.9.49. PMID: 16579728.
[4] Lemon Polyphenols Suppress Diet-induced Obesity by Up-Regulation of mRNA Levels of the Enzymes Involved in β-Oxidation in Mouse White Adipose Tissue
[5] Effect of stevia sweetener consumption as non-caloric sweetening on body weight gain and biochemical's parameters in overweight female rats.