About Primal Max
Primal Max is a sexual enhancement product for men, which comes in the form of both capsules and a powder drink. The combination may enhance the strength of erections and increase libido. In addition, this product may help build up your muscles and increase your cognitive focus.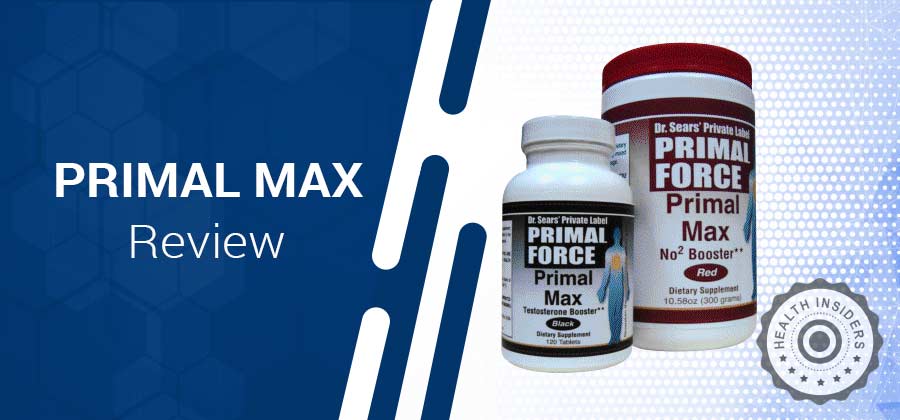 Primal Max Ingredients – What to Look For
Here are some of the primary active ingredients in this supplement:
L-Arginine – This is an amino acid which increases levels of nitric oxide in the body. This improves circulation, which leads to stronger erections. A study in the Journal of Psychosexual Health found that L-arginine is an effective treatment for erectile dysfunction.
L-Citrulline – This is an amino acid that is made naturally by the body and is also found in some foods. It's also an effective treatment for erectile dysfunction because it increases nitric oxide. A study published in Urology concluded that supplementation of L-Citrulline orally improved impotence in men with mild erectile dysfunction.
Fenugreek Extract – This is a plant in the Fabaceae family, and it grows all over the world. It can raise libido, and it may also help with diabetes. A study in Phototherapy Research found that fenugreek can enhance sexual libido.
How Does It Work? | The Science Behind Primal Max
This product functions largely by increasing the amount of testosterone in the system. This leads to an increase in arousal, and it helps build up the muscles.
In addition, some ingredients claims to help treat erectile dysfunction by increasing the amount of nitric oxide in your body. This improves circulation. The increased blood flow to the manhood could strengthen erections.
Primal Max Pros & Cons
Pros
The product might strengthen your erections.
It could enhance sexual libido.
This supplement claims to enhance your sexual stamina.
It could increase the size and strength of your muscles.
The product may give you greater mental focus.
Cons
You have to take 2 different products, including 4 supplements and a drink per day.
The capsules contain artificial colors.
Yohimbine could cause kidney problems.
Customer Questions and Answers
Primal Max Alternatives
| Brand | Price | Active Ingredients |
| --- | --- | --- |
| Primal Max | $99.97 per set, plus shipping | Yohimbine, Fenugreek, Nettle, Beet Extract, Epimedium, Muira Puama, Zinc, Black Walnut |
| Zytenz | $39.95 | Tribulus Terrestris, Zinc, Tongkat Ali, Maca, Catuaba, Resveratrol, Magnesium, Chaste Berry |
| TestoMax200 | $69.95 + $6.95 shipping in the U.S. | Tongkat Ali, Ginger Root, Gingko Biloba |
| Ageless Male | $44.95 | Fenugreek, Zinc, Magnesium |
| Nugenix | $69.99 plus $4.99 S&H | Tribulus Terrestris, Zinc, Vitamin B12, Vitamin B6, L-Citrulline Malate |
| Libido Max | $9.99 | Yohimbe, maca root, L-Arginine, ginger, horny goat weed, Tribulus Terrestris |
| VigRX Plus | $69 | Epimedium leaf extract, Asian Red Ginseng, Muira Pauma Bark extract |
| Pro Blast XL | $34.97 | Yohimbine, Horny Goat Weed, Ginseng, Tribulus Terrestris, Muira Puama, Tongkat Ali |
The sexual enhancement pills are expensive, but clearly Primal Max is at the top of the range. You do get 2 supplements for this price, but with most brands you only need one.
In terms of ingredients, there is some overlap with these supplements. However, Primal Max does have some unique elements.
Is Primal Max Safe? – Warnings & Complaints
Most of the ingredients are quite safe. Yohimbine has some serious risks associated with it of you take it at too high a dose. These could include seizures, kidney problems, heart attack, racing heartbeat, and fluctuations in blood pressure.
It's important to make sure you do not exceed the recommended dosage of this product, so you don't put yourself at risk for health problems.
Primal Max Customer Reviews & Results
There are virtually no customer review of this product online – either supplement. Until more appear, it's not really possible to get a good idea of customer opinion of Primal Max.
Primal Max: Packages, Deals, Prices & Where to Buy It
You can buy this supplement on the manufacturer's official website. It's also on Amazon, but both products are unavailable at the moment and there's no price. The prices on the official website are as follows:
1 month one-time purchase – $99.97 per set, plus shipping
3 months one-time purchase – $89.97/each, plus shipping
3 months and join auto-shipment program (every 90 day delivery) – $89.97/each, and free shipping
The Bottom Line
Primal Max is male sexual enhancement supplement made up of both capsules and a powder drink. It claims to increase libido and stamina, strengthen erections, improve your mental focus, and build your muscles. It's made up a quality collection of organic ingredients, some of which have clinical research backing up their efficacy.
The user reviews for this product are almost non-existent, so there's no way to get a good idea of customer opinion on this product. More may appear when it's been on the market for long.
There are some health risks associated with taking this product, so it's particularly important that you go to a physician before taking it to check that it suits you health-wise.
Is There Anything Else You Should Know About Primal Max?
Ideally, Primal Max is the product you've been seeking to enhance your sexual functioning. We hope the product raises your libido and strengthens your erections, among other benefits. There are some things you can do in your life to increase your libido naturally. Here are some tips:
Consume foods that are aphrodisiacs, including pumpkin, celery, chocolate, oysters, pine nuts, pistachio nuts, garlic, and apples.
Exercise on a regular basis to elevate your libido and improve your body image.
Try to keep your stress levels to a minimum, perhaps with techniques like meditation and mindfulness. Stress can lower the libido.
Try to stay away from excessive smoking and alcohol, as they can dampen sex drive.