What is Powher?
Powher is a brand of organic supplements for women, offering a pre-workout product, a cut supplement, and a multivitamin. The brand offers benefits like building muscles, sharpening mental focus, suppressing hunger and cravings, promoting weight loss, providing nutrients, and boosting health and immunity. These are the products:
Powher Preworkout – This is a low-stimulant supplement which supports stronger workouts, provides mental focus, and elevates motivation.
Powher Cut – This supplement increases energy during exercise, supports normal fat metabolism, reduces cravings, and helps you meet your fitness goals.
Powher Multivitamin – This product is full of nutrients which women need for optimal health to make sure your wellness needs are met.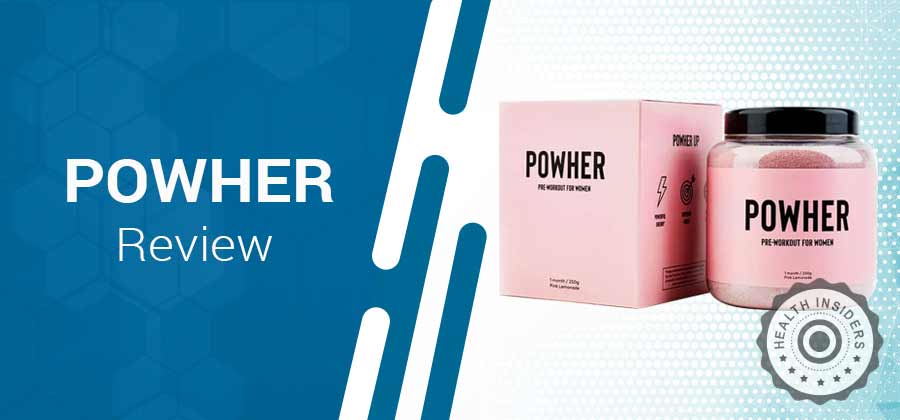 | | |
| --- | --- |
| Features | All-Natural Formulas |
| Form | Powder, Capsules |
| Health Benefits | Energy, Endurance, Speeds Up Metabolism, Strengthens Immune System, Increase Focus and Motivation, Reduces Cravings and Hunger, Provides Nutrients and Supports Optimal Health, Builds Muscle |
| Ingredients | Green Coffee Bean, Vitamin B6 and 12, Enxtra, Vitamin A, Vitamin K, Vitamin C, Vitamin D3, Glucomannan, Caffeine, Choline, Chromium Picolinate |
| Type | Fitness Dietary Supplements for Women |
How Does Powher Work?
Powher contains caffeine, which speeds up the metabolism and puts the body into the fat-burning state of thermogenesis. This can promote weight loss, and it can also give you additional energy and improve your workout endurance. A study on women in the European Journal of Clinical Nutrition found that caffeine intake promotes successful weight loss and maintenance [1].
The products also contain fiber, which fill up the stomach and can suppress hunger and cravings. This causes you to take in less calories, leading to weight loss. Fiber can also improve digestive health by pushing the food along the intestines.
This promotes regularity and decrease symptoms like gas and bloating. Powher also contains anti-inflammatory agents, which can reduce swelling in the body, such as in the gut. A study in Nutrition Journal found that an anti-inflammatory diet was an effective treatment for inflammatory bowel disease [2].
Powher is very rich in nutrients which promote health, can resolve any nutritional deficiencies in the body, and strengthen the bones. Many of them are full of antioxidants, which kill free radicals and lessen oxidative stress. This promotes bodily healing and improves immunity.
What Are the Ingredients in Powher?
These are some of the primary active Powher ingredients:
Caffeine – This is a popular stimulant which can boost energy levels and improve athletic endurance. It could also speeds up the metabolism, leading to fat-burning and rapid weight loss.
A review in Sports Medicine discussed caffeine and exercise in terms of endurance, metabolism, and performance [3].
Glucomannan – This is a dietary fiber which can fill up the stomach and suppress appetite and cravings, possibly leading to weight loss. It can also improve digestive health, promoting regularity and decreasing symptoms like bloating and diarrhea.
A study in the International Journal of Obesity concluded that over an 8-week period, glucomannan led to significant weight loss in obese patients [4].
Vitamin C – This is a powerful antioxidant which promotes healing in the body and makes the immune system stronger.
Advertisement
*All individuals are unique. Your results can and will vary.
It can heal wounds and support and maintain the bones, cartilage, and teeth. It's involved in numerous bodily processes. An article in the Indian Journal of Clinical Biochemistry explored Vitamin C in disease prevention and cure [5].
Choline – The liver produces this nutrient, and you can also get it from food. It plays an important role in supporting the nervous system and brain.
It's the precursor to acetylcholine, a key brain neurotransmitter involved in learning [6]. An article in Nutrition Reviews discussed choline as an essential nutrient for public health [7].
Pros & Cons of Powher
Pros
Powher may improve workout performance.
It could provide you with additional energy.
These supplements might suppress appetite.
Powher may increase mental focus.
It could promote fat burning and weight loss.
Cons
There are a limited number of products in the brand.
The products will work differently for different users.
There are no supplements for men.
How Does Powher Rate?
| Feature | Rating | Comments |
| --- | --- | --- |
| Ingredients | 9 | Quality organic ingredients backed by science |
| Benefits | 10 | Offers a number of health and workout benefits |
| Return Policy | 9 | 90-day money back guarantee |
Powher FAQ
Q: How Do You Take Powher?
A: For the Powher pre workout, take one 10g scoop, mix with water, and drink. The instructions for the Powher Cut product are 2 capsules with 1-2 glasses of water 3 times per day with a meal each time. Take 1 multivitamin once a day with water. Do not take more than the maximum dosage of these supplements for any reason.
Q: Where To Buy Powher?
A: You can buy this product on the manufacturer's official website, and there are a couple of other online retailers who sell them. The prices for single bottle are as follows. You can get discounts for bulk orders:
Powher Pre Workout – $35
Powher Cut – $51
Powher Multivitamin – $31
Q: What is the Powher Return Policy?
A: The manufacturer has a 90-day money-back guarantee. If you're not happy with the items you bought, email the company within 7 days of receiving your order. You can only get a refund for unused items.

In addition, to get your money back you must have bought the "ultimate" package and used it for 90 days. Send the item back to the company and you should get a refund.
Q: Who is the Manufacturer of Powher?
A: The manufacturer is a company called Ultimate Life Ltd. Located in Leeds, United Kingdom. They started in 2015 as an organization which produces all-natural health and fitness supplements.
Q: Does Powher Work?
A: Powher has a lot of merit as a brand, and it offers numerous health and workout benefits. In addition, they user rich organic ingredients, so the brand should certainly work. The Powher reviews on the official website were quite positive, with users getting great health benefits.
Q: What Sets Powher Apart From the Competition?
A: There's not a tremendous amount that sets this brand apart from the competition. The ingredients, benefits, and prices are fairly typical. However, this is an excellent quality brand which is worth purchasing.
Q: Is Powher Legit?
A: There's no doubt that Powher is a legitimate brand, as the manufacturer is a known and reputable organization with 7 years in the business. The website is professional and there are some positive reviews.
Advertisement
*All individuals are unique. Your results can and will vary.
How Does Powher Compare with Other Brands?
| Brand | Price Range | Ingredients |
| --- | --- | --- |
| Crazy Nutrition | Approx. $45-$65 | Creatine Monohydrate, Amylase, Protease, Lactase, Lipase, Milk Protein Concentrate, Whey Protein Isolate |
| MCT Wellness Gundry MD | Approx. $49.95 | Bitter Melon, Green Tea, Vitamin C, D, K, Elderberry, Calcium, Garlic Bulb, Berberine, Zinc, Skullcap, Echinacea |
| Vital Proteins | Approx. $4-$35 (workout) | Bone Broth, Ashwagandha, Marine Collagen Peptides, Hyaluronic Acid, Vitamin C, Monk Fruit Extract, Arginine Nitrate |
| Force Factor | Not for sale on the manufacturer's site, prices vary but are around $15-25 | Beets, Probiotics, Ashwagandha, 36 Fruits and Vegetables, Green Coffee Bean Extract, Organic Fiber |
| Athletic Greens | $99 | 75 Vitamins, Minerals, and Whole Food Sourced Nutrients; Probiotics, Zinc, Vitamin C, Mushrooms |
| Purium | Approx. $34.95-$109.95 | Organic Rice Bran Extract, Organic Oat Flour, Spirulina, L – Leucine, Probiotic Blend, L – Valine, Wheat Germ Extract, Chicory Root Fiber Extract, Fulvic acid blend, Tart Cherry Juice |
Conclusion
Powher is a brand of natural supplements for women designed to promote weight loss and muscle building, increase mental focus and motivation, boost overall health, improve endurance, provide extra energy, and strengthen the immune system. This is a quality brand which is reasonably-priced for the market.
The Powher review posted online were all on the manufacturer's official website. Numerous customers raved about the amazing workout and health benefits of these brands, such as energy and enhanced workout performance. There was no mention of any users having side effects.
The manufacturer of Powher is a reputable UK-based company called Ultimate Life Ltd. They produce quality naturally-sourced ingredients which are safe and should not lead to any harmful side effects. If you're a women looking for a great health supplement brand, this is an excellent choice.
12 sources
Health Insiders relies on peer-reviewed studies, academic research institutions, and medical associations. We avoid using tertiary references. You can learn more about how we ensure our content is accurate and current by reading our editorial policy.
[1] Icken, D., Feller, S., Engeli, S. et al. Caffeine intake is related to successful weight loss maintenance. Eur J Clin Nutr 70, 532–534 (2016)
[2] Olendzki, B.C., Silverstein, T.D., Persuitte, G.M. et al. An anti-inflammatory diet as treatment for inflammatory bowel disease: a case series report. Nutr J 13, 5 (2014)
[3] Graham TE. Caffeine and exercise: metabolism, endurance and performance. Sports Med. 2001;31(11):785-807. doi: 10.2165/00007256-200131110-00002. PMID: 11583104.
[4] Walsh DE, Yaghoubian V, Behforooz A. Effect of glucomannan on obese patients: a clinical study. Int J Obes. 1984;8(4):289-93. PMID: 6096282.
[5] Chambial S, Dwivedi S, Shukla KK, John PJ, Sharma P. Vitamin C in disease prevention and cure: an overview. Indian J Clin Biochem. 2013;28(4):314-328. doi:10.1007/s12291-013-0375-3
[6] Choline: https://lpi.oregonstate.edu/mic/other-nutrients/choline
[7] Zeisel SH, da Costa KA. Choline: an essential nutrient for public health. Nutr Rev. 2009;67(11):615-623. doi:10.1111/j.1753-4887.2009.00246.x
[8] Harty, P.S., Zabriskie, H.A., Erickson, J.L. et al. Multi-ingredient pre-workout supplements, safety implications, and performance outcomes: a brief review. J Int Soc Sports Nutr 15, 41 (2018).
[9] Bergstrom, Haley C.1; Byrd, M. Travis1; Wallace, Brian J.2; Clasey, Jody L.1. Examination of a Multi-ingredient Preworkout Supplement on Total Volume of Resistance Exercise and Subsequent Strength and Power Performance. Journal of Strength and Conditioning Research: June 2018 - Volume 32 - Issue 6 - p 1479-1490 doi: 10.1519/JSC.0000000000002480
[10] Volpe, Stella Lucia Ph.D., R.D., L.D.N., FACSM. Vitamin K, Osteoarthritis, and Athletic Performance. ACSM's Health & Fitness Journal: January/February 2016 - Volume 20 - Issue 1 - p 32-33 doi: 10.1249/FIT.0000000000000175
[11] Kruskall, Laura J. Ph.D., R.D., CSSD, FACSM; Miracle, Amy M.A., M.S., R.D., CSSD. CAFFEINE AND EXERCISE PERFORMANCE: What's All the Buzz About?. ACSM's Health & Fitness Journal: November 2009 - Volume 13 - Issue 6 - p 17-23 doi: 10.1249/FIT.0b013e3181bcd865
[12] Health-Promoting Effects Of Konjac Glucomannan And Its Practical Applications: A Critical Review: https://www.sciencedirect.com/science/article/abs/pii/S0141813018346397