About Palmers
Palmers is a skincare brand owned by E.T. Browne Drug Co., Inc., an American company that was founded over 175 years ago. Palmers products are supposedly crafted from formulations that have been passed down from generation to generation.
The brand features high-quality natural ingredients as per the manufacturer's claims. Palmers products revolve around solutions for hand & body, stretch mark & scars, hair, face, lip, bath, men, and babies.
What Are The Best Selling Palmers Products?
| Product | Benefit | Cost | Active Ingredients |
| --- | --- | --- | --- |
| Palmers Cocoa Butter Formula Firming Body Lotion | Firms and tones skin | $5.19 | Cocoa butter, collagen, elastin, Q10, vitamin E |
| Palmers Coconut Oil Formula Moisture Boost Protein Pack | Strengthens, smoothes damaged hair cuticles, and improves shine | $17.04 | Coconut oil, Polynesian tiare Tahiti flowers |
| Palmers Skin Success Fade Cream | Fades age spots, dark spots, discoloration, and uneven skin tone | $14.13 | Niacinamide, retinol, songyi mushroom extract, enhanced moisturizers, vitamin C, and E |
| Palmers Cocoa Butter Cream Soap | Cleanses skin without stripping its natural oils. | $29.28 | Cocoa butter, vitamin E |
| Palmers Cocoa Butter Lip Balm (Ultra Moisturizing) | Moisturizes, softens, and protects chapped lips | $5.05 | Cocoa butter, vitamin E |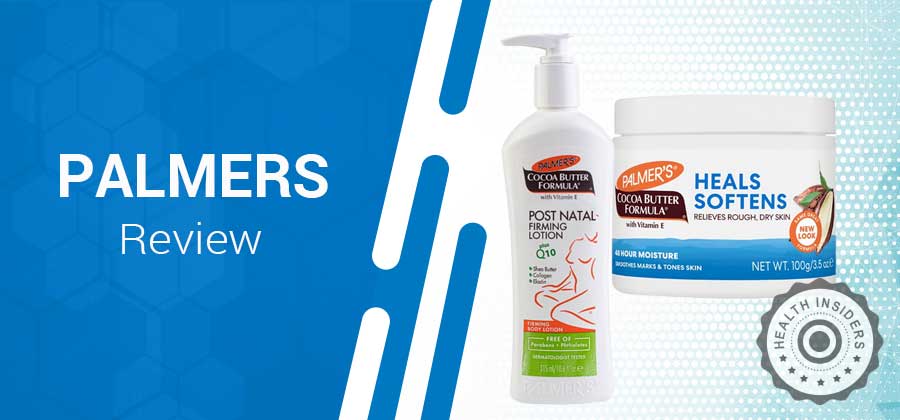 Palmers Pros & Cons
Palmers Pros
Provides skin care and hair care solutions using quality natural ingredients
Products like palmers coconut oil may moisturize the skin and enhance its radiance
Palmers hair products may improve hair hydration, strength, and manageability
Palmers shea butter may nourish dry, sensitive skin
Most products are supposedly free from parabens, mineral oils, phthalates, sulfates, and dyes
Palmers Cons
Results may vary from user to user
Some consumers find the scent of palmers cocoa butter oil to be unpleasant
How Does It Work? | The Science Behind Palmers
Palmers oils are formulated using natural oils that are known to have a plethora of benefits to the skin. Most notable oils in the formulas are coconut oil, cocoa butter, and shea butter. These oils help to soothe, treat, hydrate, plump, and brighten the skin and hair.
Other products like the palmers cleansing oil are used to eliminate impurities on the skin gently. These cleansers do not strip the skin off its natural oils. Instead, they preserve these oils leaving the skin feeling softer, smoother, and supple.
Palmers Ingredients – The Evidence
Coconut oil
This plant-based is oil extracted from coconuts and has a high amount of saturated fats.
Traditionally, coconut oil has been used as a moisturizer. According to the Journal of Traditional and Complementary Medicine, coconut oil has inflammatory and skin protective benefits.
Coconut butter
This is a natural moisturizer that is claimed to keep skin soft and silky throughout the day.
In hair care, coconut butter can prevent from damage caused by protein loss during grooming as per findings in the Journal of American College of Nutrition.
Shea butter
This is fat extracted from the kernels of the shea tree. Shea butter has tremendous to the skin.
Advertisement
*All individuals are unique. Your results can and will vary.
Shea butter is a multipurpose fat. Due to its emollient and occlusive properties, it is a great skin moisturizer. A review study in the journal of Dermatologic Therapy found that shea butter prevented trans-epidermal water loss.
Olive oil
This natural oil is extracted from olives and is used for its diet and skincare benefits.
In a study published in the International Journal of Phytocosmetics and Natural Ingredients, a formulation that contained olive oil was found to improve hair cuticles, softness, hydration, and strength.
Vitamin E
This is a fat-soluble vitamin and a powerful antioxidant that may enhance the appearance of stretch marks, scars, and other skin imperfections.
Vitamin E, according to a study in the Sultan Qaboos University Medical Journal, is packed with antioxidants which help prevent oxidative stress. It also works to prevent diseases such as cancer and cardiovascular disease.
How Does Brand Rate?
| Feature | Rating | Comments |
| --- | --- | --- |
| Safety | 9 | Products are formulated using natural ingredients and do not contain synthetic ingredients. |
| Performance | 8 | Results are highly individualized. |
| Customer Comments | 4 stars | Most users loved the products and gave it high ratings. |
Palmers – Questions and Answers
Q: Is Palmers Cruelty Free?
A: While the brand claims that it does not test its products on animals, its products are sold in mainland China where animal testing is required by law.
Q: Does Palmers Cocoa Butter Lighten Skin?
A: Yes, the Palmer's Cocoa Butter Eventone Cream under the palmers skin success collection does lighten the skin. By lightening the skin, it fades dark spots and evens out discolorations on the skin.
Q: Does Palmers Really Work?
A: Yes, according to customers, products like the palmers cocoa butter stretch marks, palmers skin therapy oil, and palmers lip balm work as advertised.
Q: Can You Use Palmers Cocoa Butter on a Tattoo?
A: Yes, tattoo enthusiasts are recommended to care for their tattoo with cocoa butter products such as the palmers cocoa butter lotion as it has both nourishing and healing benefits.
Q: Is Palmers Any Good?
A: Yes this brand may be good going by the ingredients used in the formulations and customer reviews.
Q: What Is Palmers Moneyback Guarantee, Return & Refund Policy?
A: Users can return products for a full refund of the purchase price. However, there are no specifications on the length of the return period.
Advertisement
*All individuals are unique. Your results can and will vary.
Q: Is Palmers Vegan?
A: Not all products by this brand are vegan. Some vegan products include:
Palmers Tummy Butter for Stretch Marks
Palmers Cocoa Butter Formula Body Lotion
Palmers Cocoa Butter Formula Scar Serum
Palmers Best Sellers – Compare With Other Brands
| Brand | Price | Benefits | Active Ingredients |
| --- | --- | --- | --- |
| Skinception | $69.95 | Provides solutions for blemishes, scars, and stretch marks | Shea butter, retinol, patented peptides (SYN-COLL + Pro-Coll-One |
| Tru Alchemy | $39.00 | Promotes hydration, spot elimination, and skin brightening | Activated vitamin C, hyaluronix, bakuchiol, licorice root, niacinamide |
| Perricone MD | $59.00 | Provides hydrating, firming, lifting, and correct other aging signs | Vitamin C, alpha lipoic acid, glycolic acid, sunflower seed oil, soybean oil, rosemary leaf extract |
| Elemis | $118.08 | Delivers cutting-edge anti-aging products | Rose & mimosa wax, chamomile, cocoa butter, banana flower extract, chlorella |
| Formulyst | $79.00 | Offers solutions for wrinkles, uneven tone, saggy skin, and dark spots | Sodium hyaluronate, linoleic acid, Chondrus chrispus extract, caprylyl glycol, potassium sorbate, citric acid |
SEE ALSO – Olay Skincare Review and PONDS Review
Is Palmers Safe? – Warnings & Complaints
Yes, Palmer's products are safe for all consumer use including pregnant women. The cocoa butter formula products are supposedly dermatologically tested and effective in improving the appearance of stretch marks.
Palmers Customer Reviews & Results – What Users Are Saying
Generally, users love Palmer's products especially pregnant women who are struggling with stretch marks. For instance, the reviews for palmers stretch mark lotion and palmers stretch mark cream are quite remarkable. Users gave them 4 stars because they are effective, moisturizing, and have a good scent. The palmers bust cream also received lots of love with a whopping 4.7 star rating.
Palmers: Packages, Deals, Prices & Where to Buy It
You can purchase products from the brand website or retailers such as Amazon and Walmart. Some of the Palmer's products cost:
Palmers Face Oil – $10.95
Palmers Cocoa Butter Oil (Moisturizing Body Oil) – $4.16
Palmers Lip Balm (Coconut Oil) – $2.88
Palmers Shampoo (Conditioning Shampoo for Dry Damaged) – $9.98
Palmers leave in conditioner – $11.57
Advertisement
*All individuals are unique. Your results can and will vary.
The Bottom Line on Palmers
Palmer's product collection is known for providing precise solutions to skin issues such as dark spots and stretch marks. For instance, the palmers skin success fade milk lightens skin to eliminate discolorations while the palmers skin therapy oil face transforms the skin through the 10 essential oils in its formula.
Palmer's skincare brand also sells palmers hair products. These products like their skincare counterparts have also received positive reviews.
However, there have been negative reviews about one particular palmers lip balm, the Ultra Moisturizing Cocoa Butter Formula. Some users experienced adverse reactions to this product. That said, it was a few reviewers who developed allergies to the product. Most users claimed it worked and that they would purchase it again.
This goes to show that these products may work for some and not others. If you have no allergies to any of the ingredients in Palmer's formulations, you can try them out. Otherwise, there are other products in the market that you can explore.
Is There Anything Else You Should Know About Palmers?
Palmer's Cocoa Butter ranks as the number 1 cocoa butter brand in the United States of America.
5 sources
Health Insiders relies on peer-reviewed studies, academic research institutions, and medical associations. We avoid using tertiary references. You can learn more about how we ensure our content is accurate and current by reading our editorial policy.
[1] Varma SR, Sivaprakasam TO, Arumugam I, et al. In vitro anti-inflammatory and skin protective properties of Virgin coconut oil. J Tradit Complement Med. 2018;9(1):5-14. Published 2018 Jan 17. doi:10.1016/j.jtcme.2017.06.012
[2] Wallace TC. Health Effects of Coconut Oil-A Narrative Review of Current Evidence. J Am Coll Nutr. 2019 Feb;38(2):97-107. doi: 10.1080/07315724.2018.1497562. Epub 2018 Nov 5. PMID: 30395784.
[3] Ayanlowo, Olusola & Ebie, Cynthia & Cole-Adeife, Olufolakemi & Ilomuanya, Margaret & Adegbulu, Abigail. (2021). Shea Butter As Skin, Scalp and Hair Moisturiser in Nigerians. Dermatologic Therapy. 34. 10.1111/dth.14863.
[4] Gabarra Almeida Leite, Marcella & Campos, Patricia. (2018). Development and efficacy evaluation of hair care formulations containing vegetable oils and silicone. International Journal of Phytocosmetics and Natural Ingredients. 5. 9-9. 10.15171/ijpni.2018.09.
[5] Rizvi S, Raza ST, Ahmed F, Ahmad A, Abbas S, Mahdi F. The role of vitamin e in human health and some diseases. Sultan Qaboos Univ Med J. 2014 May;14(2):e157-65. Epub 2014 Apr 7. PMID: 24790736; PMCID: PMC3997530.