About New Chapter Prostate 5LX
New Chapter Prostate 5LX is a natural supplement made out of 66 rich organic ingredients. It's for men who have benign prostatic hypoplasia and are suffering from urinary tract symptoms because of it. This product may support a normal urine flow, and overall prostate health. In addition, it increases general immunity.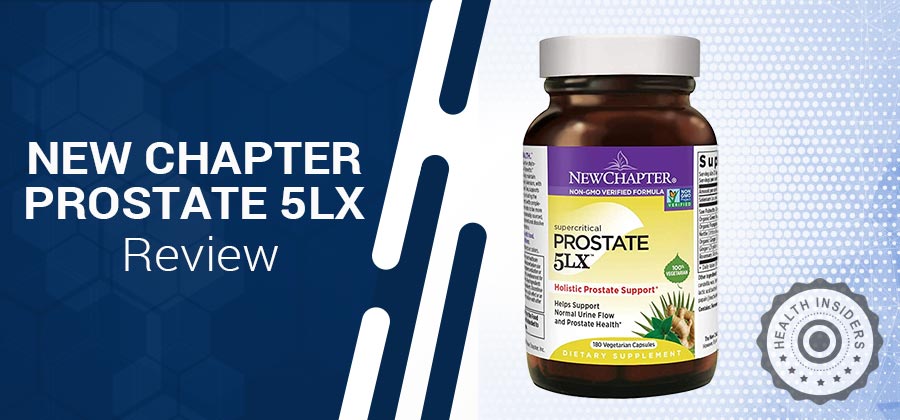 New Chapter Prostate 5LX Ingredients – What to Look For
Here are some of the primary active New Chapter Prostate 5LX ingredients:
Rosemary Leaf – This is an evergreen plant in the mint family which is native to the Mediterranean region. It has many medicinal benefits, such as brain health, improving digestion, and prostate health. It contains antioxidants called polyphenols which elevate immunity and promote healing in the body. A study published in The Faseb Journal found that rosemary had potent anti-prostate cancer properties.
Ginger – This is a flowering plant with potent medicinal properties. It's used as a spice in cooking. Ginger has potent antioxidants, and anti-inflammatory benefits which can lessen swelling in the prostate and reduce urinary tract symptoms. An article published in the British Journal of Nutrition discussed whole ginger extract as a beneficial remedy for prostate cancer.
Organic Green Tea – This tea is made from the leaves of the Camellia Sinensis plant and is native to China. It's rich in antioxidants called polyphenols which help heal the body and increase immunity. It also has anti-inflammatory agents which can lessen swelling in the prostate. A study published in Therapeutic Advances in Urology found that a green and black tea extract was beneficial for treating urinary tract symptoms in men.
How Does It Work? | The Science Behind New Chapter Prostate 5LX
New Chapter Prostate 5LX contains 66 organic ingredients, many of which have shown promise in treating prostate symptoms. They contain antioxidants, which boost immunity and heal the body.
A review published in
Nutrition and Cancer
found that dietary antioxidants can help in the treatment of prostate cancer.
It also contains anti-inflammatory properties, which can lessen the swelling in the prostate and diminish urinary tract symptoms. The Prostate Cancer Foundation suggests an anti-inflammatory diet for prostate health.
New Chapter Prostate 5LX Pros & Cons
Pros
New Chapter Prostate 5LX may support a normal urine flow.
The product could support prostate health.
New Chapter Prostate 5LX can increase immunity.
It may improve bone strength and mobility.
The product has 66 potent organic substances.
Cons
It contains soy, which is a common allergen.
The product has a lot of ingredients, increasing the chance of side effects.
Customer Questions and Answers
New Chapter Prostate 5LX Alternatives
Brand
Price
Active Ingredients
Prostaplex
$69.00
Lycopene, Pumpkin Seed, Zinc Oxide, Beta-Sitosterol
VitalFlow
$69.00
Saw Palmetto, Graviola Leaf, Cat's Claw, Selenium, Zinc
Prostate Plus
$26.84
Vitamins E and B6, Saw Palmetto and Green Tea
Superior Prostate
$29.99
Beta Sitosterol, Saw Palmetto, Nettle Leaf, Pumpkin Seed, Enzyme Blend, Lycopene, Grape Seed Extract
LifeSeasons Pros-T
$45.99
Saw Palmetto, pumpkin seed oil, zinc, selenium, nettle root, Swedish flower pollen extract
Prostate PQ
$95
Quercetin, Flower Pollen Extract
Flotrol
$59.95
Magnesium Stearate, Pumpkin Seed Extract, Soy Isoflavones
Prostavec
$34
Pygeum Bark, Turmeric, Nettle, Kelp, Cornsilk, Prickly Ash Bark, Saw Palmetto, Olive Leaf
NOW Prostate Health Clinical Strength
$34.99
Quercetin, Stinging Nettle, Turmeric, Plant Sterols, Saw Palmetto,
Pumpkin Seed Oil, Lycopene, Zinc, Selenium, Vitamin D3
LES Labs Prostate Health
$29.99
Stinging Nettle, Beta Sitosterol, Lycopene, Pumpkin Seed Extract,
Zinc, Saw Palmetto, Boron, Turmeric
New Chapter Prostate 5LX is very reasonable for the market, and cheaper than many other brands. It also has the richest and highest number of ingredients of all of the different products such as Prostate 911.
Is New Chapter Prostate 5LX Safe? – Warnings & Complaints
This is a very safe organic product rich in fruits and vegetables. It's important to heed the health warnings for this supplement. Otherwise, you may only get mild side effects from New Chapter Prostate 5LX. If you have unpleasant symptoms, stop using the product.
New Chapter Prostate 5LX Customer Reviews & Results
The New Chapter Prostate 5LX reviews were outstanding. About 90% of users gave a high rating to this product, and said it was extremely helpful at reducing their symptoms. There were very few complaints.
New Chapter Prostate 5LX: Packages, Deals, Prices & Where to Buy It
You can buy New Chapter Prostate 5LX on the manufacturer's official website, on Amazon, New Chapter Prostate 5LX Walmart, New Chapter Prostate 5LX CVS, and from several other online retailers. The prices on the official website are as follows. There is free shipping on all orders over $50. If you subscribe to a monthly subscription, you can save up to 15%.
New Chapter Prostate 5LX 60 Softgel Capsules– $27
New Chapter Prostate 5LX 120 Softgel Capsules – $45
New Chapter Prostate 5LX 180 Softgels – $60
The Bottom Line
New Chapter Prostate 5LX is an organic supplement for men who are suffering from benign prostatic hypoplasia, meaning they have urinary tract issues related to having an enlarged prostate. This is an extremely potent mix which includes 66 organic ingredients. It can lessen symptoms, and it supports a healthy immune system.
The New Chapter Prostate 5LX reviews were quite glowing on the whole. The vast majority of the customers said that this was a very helpful supplement that did a lot to reduce their symptoms, and it also gave them an overall feeling of well-being. There were few complaints about the product.
There is a chance that you could have some mild side effects in response to using this prostate health supplement. If this happens, stop using it right away. Before you begin using New Chapter Prostate 5LX, go to a doctor and make sure it's medically suitable for you.
Is There Anything Else You Should Know About New Chapter Prostate 5LX?
We hope that New Chapter Prostate 5LX is working well for you and helping to get rid of your urinary tract symptoms. Hopefully, you aren't getting up as much at night and are sleeping better. There are some natural methods for supporting a healthy prostate. Here are some suggestions:
Follow a healthy diet rich in foods which have anti-inflammatory and antioxidant properties. This may include fatty fish, leafy vegetables, berries, lean meat, milk, and nuts.
Exercise as much as possible. Research has shown that being in physical shape can help support prostate health.
Avoid drinking a lot of caffeinated beverages and alcohol. They could worsen symptoms.
Keep your stress levels in check. Stress can make symptoms worse.