What is Naked and Thriving?
Naked and Thriving products include a wide range of serums, creams, soaps, and oils, which promise skin tightening and wrinkle-smoothing properties, hydrate and eliminate dryness, brighten the skin and prevent hyperpigmentation, and help heal skin conditions.
While the brand is somewhat costly, they have a quality collection of products and are 100% cruelty free. The formulas are mostly organic but do have fragrance which may irritate sensitive skin types.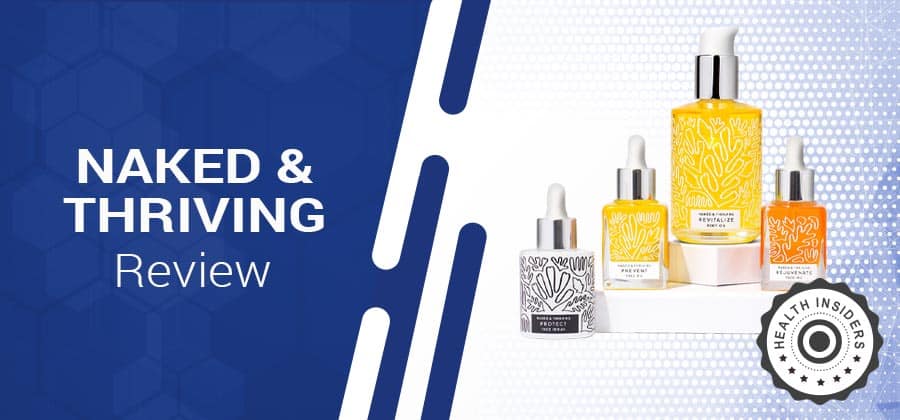 ---
Buy on Official Website
Quick Facts & Specs
Naked and Thriving
Naked and Thriving is an organic skin care brand which promises benefits like cleansing, anti-aging, decreasing inflammation, and moisturizing.
Form:

Serums, Oils, Creams, Soaps.

Type:

Skin Care and Anti-Aging Products.

Benefit:

Anti-Aging, Cleansing, Hydrating, Rejuvenating, Reducing Hyperpigmentation, Brightening, Tightening, Improving Elasticity, Repairing Damage, Decreasing Inflammation.

Phone and Address:

Naked & Thriving
608 Willoughby Ave, Brooklyn, New York, 11206, United States
Phone: 1.855.943.0521
Email:

[email protected]

Brand:

Naked and Thriving

Uses:

Anti-Aging, Skin Rejuvenation.

Prices:

Approx. $35-$100

Active Ingredient:

Peptides, Argan Oil, Pomegranate Seed Oil, Cucumber, Fruit Alpha Hydroxy Acids, Squalane, Sea Buckthorn, Bakuchiol, Rosehip Oil, Hyaluronic Acid, Moringa Oil, Carrot Seed, Sugar Glycolic Acids, Apricot Kernel, Ferulic Acid.
Pros & Cons
Pros
Naked and Thriving may offer anti-aging skin benefits.
These products could hydrate the skin and eliminate dryness.
Naked & Thriving might decrease inflammation and heal skin conditions.
The company is Leaping Bunny cruelty-free.
These products could decrease hyperpigmentation and age spots.
Cons
Some products have fragrances and other ingredients which could irritate the skin.
The results may vary based on individual differences.
The prices are moderately expensive.
---
Highlighted Products
---
Buy On Amazon
Naked and Thriving Prevent
Uses: Moisturizes, Offers Anti-Aging Benefits, Repairs, Heals Skin Condition
Best For: Skin Hydration
Advertisement
*All individuals are unique. Your results can and will vary.
Price: $62
Ingredients: Carrot Seed, Rosehip Oil, Moringa Oil, Apricot Kernel
---
Buy On Official website
Naked & Thriving Renew Serum
Uses: Brightening, Anti-Aging, Hydrating, Repairing, Exfoliating, Decreasing Inflammation, Nourishing
Best For: Exfoliating
Price: $75
Ingredients: Pomegranate Seed Oil, Sea Buckthorn, Argan Oil, Rosehip Oil
---
Buy on Official Website
Naked & Thriving Protect Serum
Uses: Moisturizes, Smooths Wrinkles and Lines, Repairs, Sooths, Decreases Inflammation
Best For: Anti-Aging and Hydrating
Advertisement
*All individuals are unique. Your results can and will vary.
Price: $62
Ingredients: Green Tea, Pea Peptides, Hyaluronic Acid, Shiitake Mushrooms
How Does Naked and Thriving Work? | The Science
The formulas all have different strengths. Many of them are very hydrating, which moisturizes and gets rid of dry, flaky skin. The moisture also plumps the skin to smooth wrinkles and fine lines.
Some ingredients boost collagen and elastin production, replacing lost levels to tighten the skin, improve elasticity, and smooths wrinkles. A review in the International Journal of Dermatology concluded that collagen decreased wrinkles, improved elasticity, and hydrated [1].
Some of the Naked and Thriving products offer cleansing and exfoliating benefits, eliminating dirt and oils from the pores. There are ingredients which block the production of the pigment melanin, which may eliminate hyperpigmentation and age spots on the skin.
An article in JAMA Network discussed the treatment of skin hyperpigmentation [2]. The formulas have anti-inflammatory agents which could decrease swelling on the skin, and may help heal skin conditions.
The products are all high in antioxidants which repair damage to the skin barrier, and also protect from environmental threats like the sun's rays. An article in Frontiers in Pharmacology discussed the benefits of antioxidants in preventing UV skin damage [3].
What Are the Ingredients in Naked and Thriving?
Some of the primary active ingredients include:
Advertisement
*All individuals are unique. Your results can and will vary.
Rosehip Oil – Derived from rose bushes, this rich hydrating oil may moisturize, eliminate dryness, and offer anti-inflammatory agents which could heal skin conditions. It has skin cell regeneration properties.
It also boosts collagen production, tightening the skin and smoothing lines and wrinkles. A 4-week study in Clinical Interventions in Aging concluded that rosehip oil has anti-aging and longevity benefits for the skin [4].
Hyaluronic Acid – This is a natural substance that exists in the skin, eyes, and connective tissue. It draws a tremendous amount of liquid, hydrating the skin, getting rid of dry patches, and plumping to smooth fine lines and wrinkles.
It may also brighten the skin and promote radiance. An article in Molecules discussed the advantages of hyaluronic acid alone and with other bioactive ingredients in cosmeceutical products [5].
Pomegranate Seed Oil – The oil from pomegranate seeds is deeply hydrating and can moisturize the skin and ease dryness. It plumps the complexion, smoothing fine lines and wrinkles.
Rich in the antioxidant Vitamin C, it could decrease hyperpigmentation and repair harm to the skin barrier. An article in the Journal of Ethnopharmacology discussed the cosmeceutical benefits of pomegranate [6].
Fruit Alpha Hydroxy Acids – This is a mix of ingredients like lactic and glycolic acid which have potent anti-aging and anti-wrinkle benefits. They exfoliate the skin, eliminating oils and dirt and preventing acne.
A 6-week study in the International Journal of Cosmetic Sciences compared the effectiveness of different hydroxy acids on the skin [7].
How Do the Products Rate?
| Product | Rating |
| --- | --- |
| Naked and Thriving Protect Serum | 5/5 |
| Naked and Thriving Renew Serum | 4.8/5 |
| Naked and Thriving Rejuvenate | 4.7/5 |
| Naked and Thriving Revive Eye Cream | 5/5 |
Naked and Thriving – Frequently Asked Questions (FAQs)
Q: Who Sells Naked and Thriving?
A: The manufacturer of this brand is a small, family run company called Naked & Thriving, based in New York, New York. Founded by Gregory Kimball in 2017, they develop a range of natural skin care products.
Q: What is the Return Policy?
A: The manufacturer has a 30-day return policy for bottles that have at least 50% of the product remaining. If you're not happy with the order, contact customer service through the contact form.

Then send the products back within 2 weeks of getting the label from the company and 30 days of the purchase. You'll get a full refund, but US residents do not get shipping costs back.
Q: Where to Buy Naked and Thriving?
A: The best place to purchase these products is on the manufacturer's official website, but they are also available from other retailers like Amazon and Walmart.
The manufacturer is offering free holiday shipping for orders over $50. There is no Naked and Thriving coupon code at the moment, but they do sometimes offer them. Here are the prices of some of the top products:

Naked and Thriving Protect Serum – $62
Naked and Thriving Prevent – $62
Naked & Thriving Renew Serum – $75
Naked and Thriving Illuminate Serum – $65
Naked and Thriving Eye Cream Set – $125
Q: What Sets It Apart From the Competition?
A: The brand is unique in that they are a small company run by a family, which gives a more personal touch. They are also completely cruelty-free, certified by PETA. On the other hand, the developers are not dermatologists or skin care experts.
What Do the Naked and Thriving Reviews Say?
The Naked and Thriving review posts offered a range of opinions, depending on the user and product. Many items were very popular, for example, the Naked and Thriving renew serum reviews were very positive.
Not every user loved the products, and some did find them costly. Here are some of the customer comments on this brand:
Love The Products and the Mission!!
I tried the Renew Serum and Rejuvenate Oil on a whim. And I'm SO happy I did! The products make my skin feel healthier and I thought at 66 nothing could help my fine lines, but these products are fantastic. And I love that they plant a tree for every bottle sold. – Betty J.
Rejuvenate: Awesome For Aging Skin
I'm almost 62 and found this product almost a year ago. People noticed a difference in my skin within a couple of weeks.

I use the Protect, then wait about 3 minutes to apply the Renew, then wait a few more minutes to apply a tinted sunscreen. I'm buying my 3rd bottle of this, can't stop using it! – Denise A.
Made My Rosacea Flare Up
I tried this product as it got good reviews. I liked the smell and I liked how my skin absorbed it with no greasy feeling.

Unfortunately my rosacea, that was under control, flared up within 2 days of using this product. I woke up to redness, bumps and swelling on my cheeks and chin. Very disappointed! – Bruton
How Does It Compare with Other Brands?
| Brand | Price Range | Ingredients | Return Policy |
| --- | --- | --- | --- |
| SkinCeuticals | Approx $35-$170 | Peppermint Oil, Lavender, Blueberry Extract, Rosemary, Flavonoids, Cholesterol, Fatty Acids, Ceramides | 30-Day Return Policy |
| Avira Skin | Approx $30-50 | Glycerin, Vitamin E, Shea Butter, Glycolic Acid, Licorice, Hyaluronic Acid | 14-Day Return Policy |
| Beverly Hills MD | Approx $30-200 | Algae, Peptides, Grape Seed Extract, Collagen, Hyaluronic Acid, Holy Basil | 60-Day Guarantee |
Naked and Thriving Reviews – The Bottom Line
Naked and Thriving is a brand of skin care products which promise benefits like anti-aging, hydrating, repairing skin damage, and healing skin conditions. These are quality products with science-backed ingredients, although they are somewhat expensive for the product sizes.
The Naked and Thriving reviews varied somewhat. There were many positive comments from customers who love the brand and its results. There were also people who were less happy with the results, and a few that prefer scent-free skin care like Serious Skincare's Reverse Lift.
Naked&Thriving includes primarily organic ingredients, although some products have fragrance and other substances which could cause irritation. If you experience a skin reaction, stop using the brand immediately and see a dermatologist if necessary.
References
Health Insiders relies on peer-reviewed studies, academic research institutions, and medical associations. We avoid using tertiary references. You can learn more about how we ensure our content is accurate and current by reading our editorial policy.
[1] Effects of hydrolyzed collagen supplementation on skin aging: a systematic review and meta-analysis; Roseane B. de Miranda MD, Patrícia Weimer MD, Rochele C. Rossi PhD; published: 202; DOI: https://doi.org/10.1111/ijd.15518
[2] TLerner AB, Fitzpatrick TB. TREATMENT OF MELANIN HYPERPIGMENTATION. JAMA. 1953;152(7):577–582. doi:10.1001/jama.1953.03690070011004
[3] Dunaway Spencer, Odin Rachel, Zhou Linli, Ji Liyuan, Zhang Yuhang, Kadekaro Ana L; Natural Antioxidants: Multiple Mechanisms to Protect Skin From Solar Radiation; Frontiers in Pharmacology; Volume: 9; YEAR: 2018; DOI: 10.3389/fphar.2018.00392; ISSN=1663-9812
[4] Phetcharat L, Wongsuphasawat K, Winther K. The effectiveness of a standardized rose hip powder, containing seeds and shells of Rosa canina, on cell longevity, skin wrinkles, moisture, and elasticity. Clin Interv Aging. 2015 Nov 19;10:1849-56. doi: 10.2147/CIA.S90092. PMID: 26604725; PMCID: PMC4655903.
[5] Juncan AM, Moisă DG, Santini A, Morgovan C, Rus LL, Vonica-Țincu AL, Loghin F. Advantages of Hyaluronic Acid and Its Combination with Other Bioactive Ingredients in Cosmeceuticals. Molecules. 2021 Jul 22;26(15):4429. doi: 10.3390/molecules26154429. PMID: 34361586; PMCID: PMC8347214.
[6] Aslam, Muhammad & Lansky, Ephraim & Varani, James. (2006). Pomegranate as a cosmeceutical source: Pomegranate fractions promote proliferation and procollagen synthesis and inhibit matrix metalloproteinase-1 production in human skin cells. Journal of ethnopharmacology. 103. 311-8. 10.1016/j.jep.2005.07.027.
[7] Smith WP. Comparative effectiveness of alpha-hydroxy acids on skin properties. Int J Cosmet Sci. 1996 Apr;18(2):75-83. doi: 10.1111/j.1467-2494.1996.tb00137.x. PMID: 19245467.
[8] Tang SC, Yang JH. Dual Effects of Alpha-Hydroxy Acids on the Skin. Molecules. 2018 Apr 10;23(4):863. doi: 10.3390/molecules23040863. PMID: 29642579; PMCID: PMC6017965.
[9] Chaudhuri RK, Bojanowski K. Bakuchiol: a retinol-like functional compound revealed by gene expression profiling and clinically proven to have anti-aging effects. Int J Cosmet Sci. 2014 Jun;36(3):221-30. doi: 10.1111/ics.12117. Epub 2014 Mar 6. PMID: 24471735.
[10] Kang SJ, Choi BR, Kim SH, Yi HY, Park HR, Song CH, Ku SK, Lee YJ. Beneficial effects of dried pomegranate juice concentrated powder on ultraviolet B-induced skin photoaging in hairless mice. Exp Ther Med. 2017 Aug;14(2):1023-1036. doi: 10.3892/etm.2017.4626. Epub 2017 Jun 16. PMID: 28810554; PMCID: PMC5525583.
[11] Gorouhi F, Maibach HI. Role of topical peptides in preventing or treating aged skin. Int J Cosmet Sci. 2009 Oct;31(5):327-45. doi: 10.1111/j.1468-2494.2009.00490.x. Epub 2009 Jun 30. PMID: 19570099.
[12] Naveed, Akhtar & Mahmood, Arshad & Barkat, Ali & Khan, Barkat & Mahmood, Tariq & Muhammad, Haji & Khan, Haji M. shoaib & Saeed, Tariq. (2011). Exploring cucumber extract for skin rejuvenation. AFRICAN JOURNAL OF BIOTECHNOLOGY. 10. 1206-1216.