About Live Conscious
Live Conscious is a brand that develops dietary supplements designed for skin and beauty, immunity, body strength, gut, mood, and general body wellness. The supplements help support joints, muscles, hair, skin, nails, gut, muscles, digestive health, heart and bone health, and digestive health.
What Are The Best Selling Live Conscious Products?
| Product | Benefit | Cost | Active Ingredients |
| --- | --- | --- | --- |
| Live Conscious Collagen Peptides | Skin, Hair, nail, and joint support | $34.99 | Hydroyzed Type I and III Bovine Collagen, Sodium, Iron, Calcium, Protein |
| Live Conscious Omega Well | Brain, Heart, and Joint support | $24.99 | Fish oil, Omega-3 fatty acids EPA/DHA |
| Live Conscious Live Greens with Immune supporting probiotics | Energy, Detox, and Immunity mix | $39.99 | Milk thistle, Rhodiola Rosea, Ethinacea, Matcha, Chlorella, Lactospore, Acacia gum, Ceylon cinnamon |
| Live Conscious MagWell with Magnesium and Zinc | Bone, Nerve, and Immunity health support | $19.99 | Magnesium, Zinc, Vitamin D3 |
| Live Conscious MoveWell | Joint Health Support | $29.99 | Glucosamine, Chondroitin, Boswellia |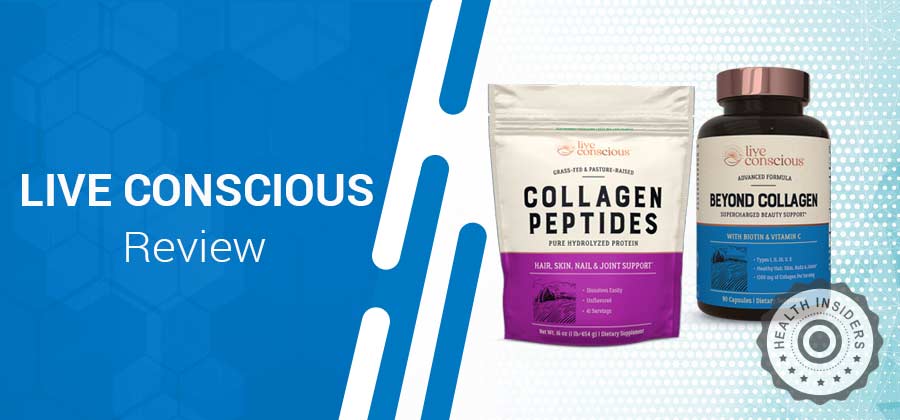 Live Conscious Pros & Cons
Pros
Live Conscious dietary supplements are manufactured under current Good Manufacturing Practices
The collagen supplements help support healthy hair, skin, nails, and joints
Live Conscious omega well help support a healthy immune system
The brands organic proteins help boost the immune system and support muscle strength
Some of the dietary supplements help improve vision and eye health
The products help with the digestive and gut health
The brand also manufacturers products that support children's immune system
LiverWell contains powerful antioxidants that aid kidney and liver function
All of the brands products are designed to support general body wellness
Cons
There is no clear information on whether or not the return policy covers shipping and handling fee
Individual results may vary because people are unique
How Does It Work? | The Science Behind Live Conscious
Live Conscious products are clinically proven and designed to deliver effective results. The formulas contain active ingredients, including hydrolyzed collagen, omega-3, plant-based proteins, vitamins, and minerals that work to ensure the body functions effectively and is healthy.
Each product contains different natural ingredients that once consumed, they strengthen the bones, skin, hair, nails, eyes, bones, lungs, liver, gut, and the digestive system. The brand's kindred collection contains Kids Elderberry Immune Gummy that helps boost children's immune systems.
Live Conscious Ingredients – The Evidence
Hydrolyzed Collagen
Hydrolyzed collagen is a collagen type that is easily absorbed into the body. Collagen is an essential protein found in the bones, tendons, cartilages, skin, and teeth. Collagen peptides help improve skin elasticity, support bone and joint health, enhance wound healing, and promote bone repair.
Collagen supplementation also helps build muscle mass and strength. A publication in the Nutrients journal reveals that collagen supplementation helps fight any signs of aging, increase skin elasticity, support hair and nail growth, and improve skin texture.
Omega-3
Omega-3 fatty acids contain DHA and EPA and are beneficial to people with a healthy heart and those without a healthy heart. Findings show that omega-3 helps lower blood pressure, reduce stroke risk, and prevent heart diseases. Omega-3 also helps regulate oil production, improve skin elasticity, reduce signs of aging, and smoothen rough skin.
According to the Nutrients journal, omega-3 fatty acids help regulate blood pressure, support the immune system, regulate glucose tolerance, and support bone functioning.
Vitamin D3
Vitamin D is an essential vitamin and can be sourced from the sun or dietary supplements. Vitamin D3 assists in supporting the nerves, brain, immune system, supporting health bones and teeth, promoting healthy lung function, supporting cardiovascular health, and regulating diabetes.
The International Journal of Molecular Sciences reveals that vitamin D facilitates the development of the skeletal system and supports the immune system.
Probiotics
Probiotics are the good bacteria that provide balance in the digestive system and restore the natural balance of the gut. They are usually taken as dietary supplements or can be found in fermented foods. Probiotics also helps prevent diarrhea, improve mood, support healthy heart and mind, boost the immune system, and prevent digestive disorders.
According to Tropical Life Sciences Research, probiotics are microorganisms that help prevent digestive issues, support the immune system, and provide microbial balance.
How Does Live Conscious Brand Rate?
Feature
Rating
Comments
Safety
10 /10
The ingredients that are used to manufacture Live Conscious products have been researched, are non-GMO, hormone-free, vegan-friendly, and organic. All the products are manufactured in the USA under current GMP standards and have been tested by a third-party.
Performance
7 / 10
Every product contains different ingredients and the results may vary according to the different users.
Customer Reviews
4 /5 stars
This brand has been recommended by many on the official website and has received numerous five-star ratings.
Live Conscious – Questions and Answers
Q: Who Owns Live Conscious?
A: Jake and Hannah Eagle are the co-founders of Live Conscious, and they brought together over 50 years of combined experience to develop products that support healthy living.
Q: How to Use Live Conscious?
A: Live Conscious manufactures many dietary supplements. Each of the supplements is taken differently. The official website provides the direction for taking each of its products.
Q: Does Live Conscious Have Any Side Effects?
A: There are very few reported cases of Live Conscious side effects and they are not major reactions. According to the manufacturer, Live Conscious products are organic, non-GMO, vegan-friendly, and hormone-free. However, you should talk to your doctor before taking the supplements or if you experience any adverse side effects.
Q: Does Live Conscious Work?
A: Yes, Live Conscious products target various areas and parts of the body, including the gut, heart, immune system, digestive system, bones, skin, hair, nails, nerves, and mood.
Q: What Is Live Conscious Refund Policy?
A: If the product is not beneficial to you, you can call customer care who will direct you on how to return the product. The company offers 100% money-back guarantee on its products.
Q: Is Live Conscious Legit?
A: Yes, Live Conscious is a legit brand. All their products have gone through clinical trials and third-party testing. They are also manufactured under current Good Manufacturing Practices in the USA.
Q: Is Live Conscious Worth the Money?
A: Live Conscious products are worth trying. Customer reviews on the website are positive. The reviews show that the customers are happy with the results that the products are delivering. The manufacturer believes that they have superior products that help support the body's wellbeing.
Live Conscious – Comparison with other Brands
| Brand | Price | Active Ingredients |
| --- | --- | --- |
| Zenith Brain C13 | $39.00 | Huperzine A, DMAE, Rosemary leaf, rhodiola root, turmeric, gingko leaf. |
| 1MD Nutrition | $19.99 -$54.95 | Curcumin, Probiotics, Boswellia Serrata, Stinging Nettle, Hyaluronic Acid, Krill Oil |
| ActivatedYou | $59 – $75 | Lactobacillus Acidophilus, Rhodiola Rosea, Amylase, Algal Oil, Borage Oil, Omega 3s and 6s |
| Goli Nutrition | $25 – $54.00 | Apple cider vinegar, Pomegranate, Carrots |
| Gundry MD | $69.95-$419.70 | Organic Guar Gum, Marshmallow roots powder, Grape Seed Extract |
Is Live Conscious Safe? – Warnings & Complaints
Yes, Live Conscious products are safe for human consumption since they are GMP-certified and contain natural ingredients.
Live Conscious Customer Reviews & Results – What Users Are Saying
Live Conscious customer reviews are available on the company's website, and most of them are encouraging. Live Conscious collagen peptide reviews support the fact that the product works to boost skin elasticity and make you feel younger.
Live Conscious: Packages, Deals, Prices & Where to Buy It
You can make your purchases from the company's official website or other authorized retailers. On the official website, the Live conscious coupon code allows you to get discounts on your purchases. The prices of the products are displayed on the website.
The Bottom Line on Live Conscious
Live Conscious boasts of using natural ingredients in the manufacturing of its products. The products provide numerous benefits to the skin, hair, nails, joints, gut, heart, digestive system, and immune system. The brand also has kids' supplements that help support a healthy immune system.
Is There Anything Else You Should Know About Live Conscious?
The manufacturer of this brand does not offer any sample or free trials for its products.
4 sources
Health Insiders relies on peer-reviewed studies, academic research institutions, and medical associations. We avoid using tertiary references. You can learn more about how we ensure our content is accurate and current by reading our editorial policy.
[1] Bolke L, Schlippe G, Gerß J, Voss W. A Collagen Supplement Improves Skin Hydration, Elasticity, Roughness, and Density: Results of a Randomized, Placebo-Controlled, Blind Study. Nutrients. 2019 Oct 17;11(10):2494. doi: 10.3390/nu11102494. PMID: 31627309; PMCID: PMC6835901.
[2] Gammone MA, Riccioni G, Parrinello G, D'Orazio N. Omega-3 Polyunsaturated Fatty Acids: Benefits and Endpoints in Sport. Nutrients. 2018 Dec 27;11(1):46. doi: 10.3390/nu11010046. PMID: 30591639; PMCID: PMC6357022.
[3] Zmijewski MA. Vitamin D and Human Health. Int J Mol Sci. 2019 Jan 3;20(1):145. doi: 10.3390/ijms20010145. PMID: 30609781; PMCID: PMC6337085.
[4] Shi LH, Balakrishnan K, Thiagarajah K, Mohd Ismail NI, Yin OS. Beneficial Properties of Probiotics. Trop Life Sci Res. 2016 Aug;27(2):73-90. doi: 10.21315/tlsr2016.27.2.6. PMID: 27688852; PMCID: PMC5031164.