What is Mito Vitality?
Mito Vitality is a green apple flavored organic drink formula which uses plant-based ingredients to optimize energy levels in the body by stimulating the mitochondria.
This formula boosts digestion, for better energy processing, and it also improves blood flow to transport more energy to your cells. In addition, it can elevate physical stamina and strengthen the immune system.
QUICK FACTS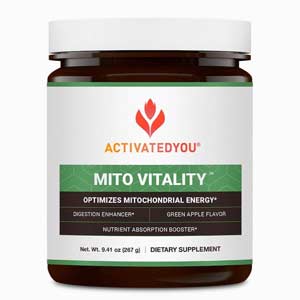 Buy on Website
Quick Facts & Specs
ActivatedYou Mito Vitality
Mito Vitality is a delicious, drinkable formula designed to help optimize your body's natural energy from the inside out. This formula is designed to revitalize your body, boost your energy, and streamline your digestion with long-lasting, all-day energy without a caffeine "rush" or jitters.
Form:

Powder

Type:

Supplement

Benefit:

Improved digestion, improves mental strength, enhances physical endurance, strengthens immunity

Phone & Address:

1-800-720-8403; Santa Monica, California, 90404

Brand:

ActivatedYou

Uses:

Improves circulation, supports mitochondria, combats fatigue, boosts overall energy

Price:

$79.99*

Active Ingredients:

D-Ribose, Niacin, Panax Ginseng, Malic Acid, L-Carnitine Tartrate, Green Tea, Rhodiola, Coenzyme Q10, Amylase, Lactase
ActivatedYou Mito Vitality Pros & Cons
Pros
ActivatedYou Mito Vitality can improve digestive health.
This product can improve physical endurance.
The supplement drink can increase energy levels.
Mito Vitality can elevate your immune system.
It can help build stronger muscles.
Cons
There's only one flavor selection for Mito Vitality ActivatedYou.
The benefits will vary for different customers.
Each scoop contains 25 calories.
How Does Mito Vitality Work?
Mito Vitality supports general cell health and stimulates the mitochondria of the cells to activate energy all over the body. This formula leads to greater muscle mass and strength and can enhance physical endurance. An article in Biomedicine discusses the regulation and dysregulation of cellular energy supply and metabolism [1].
Mito Vitality also promotes healthy bacteria in your system, which can enhance energy. In addition, it has ingredients which improve digestive health. There are enzyme which break down the food into particles that are easier to digest. An article in Natural Medicine Journal looked at the use of digestive enzymes in digestive disorders [2].
This promotes regular bowel movements, alleviates symptoms like diarrhea and bloating, and can promote additional energy. The supplement includes anti-inflammatory agents which can reduce swelling in the gut and the rest of the body.
Mito Vitality has antioxidants which destroy free radicals and lower oxidative stress. This promotes bodily healing and strengthens the immune system.
What Are the Ingredients in Mito Vitality?
These are some of the primary active ingredients in Mito Vitality:
Green Tea – Green tea contains antioxidants called polyphenols which boost the immune system and promote healing. They contains some caffeine, which provides energy and may improve exercise endurance.
A review in the Journal of Herbal Medicine concluded that green tea can improve resting energy expenditure in adults [3].
Malic Acid – This is an organic compound which all living things produce. It's highly effective in improving digestion, helping to absorb key nutrients into our bodies, combating fatigue, providing additional energy, and enhancing endurance.
An article in Science Direct discussed the characteristics and properties of malic acid [4].
D-Ribose – This is a sugar molecule that makes up part of your DNA. It works to provide your cells with energy by activating to mitochondria of the cells.
D-ribose can ease fatigue and provide additional energy, and it may also play a role in improving heart health. An article in Advances in Bioscience and Clinical Medicine discussed the connection between d-ribose and mitochondrial function [5].
Coenzyme Q10 – This is a key nutrient which exists naturally in the body and has a number of functions. It assists in providing cells with the energy they need to run other bodily processes. It's also a potent antioxidant which boosts immunity.
An article in the Journal of Pharmacy and Bio Allied Sciences explored coenzyme Q10 as an essential nutrient [6].
How Does Mito Vitality Rate?
| Feature | Rating | Comments |
| --- | --- | --- |
| Ingredients | 10 | A blend of organic ingredients backed by scientific research |
| Manufacturer | 9.5 | Highly reputable manufacturer known for making quality products |
| Benefits | 9 | A host of strong benefits like improved digestion, energy, endurance, and immunity |
Frequently Asked Questions (FAQs)
Q: When To Take Mito Vitality?
A: The recommended dosage is one scoop of powder mixed with 8 ounces of water, at any time of the day. You can substitute water for juice or add the powder to a smoothie. Do not take more than the maximum dosage for any reason.
Q: Where Can You Buy Mito Vitality?
A: This product is for sale on the manufacturer's official website, and on eBay. The company pays free shipping for U.S orders above $50. The prices are as follows:
1 Jar – $79.99
3 Jars – $213.97
6 Jars – $402.75
Q: What is the Mito Vitality Return Policy?
A: The manufacturer has a 90 day return policy called the 'ActivatedYou Promise'. If you're not happy with the product, send it back to the manufacturer used or unused within 90 days of the purchase, and you should get a full refund.
Q: Who is the Manufacturer of Mito Vitality?
A: The manufacturer of this product is a company called ActivatedYou which has its headquarters in Santra Monica, California. Founded in 2017 by nutrition expert Maggie Q, these products promote overall health and wellness. Physician Dr. Frank Lipman designs the products.
Q: Does Mito Vitality Work?
A: Mito Vitality is a blend of powerful organic ingredients which promote health and immunity as well as numerous other benefits. Most of these substances have scientific research supporting their benefits. It promotes bodily energy on numerous levels and should work very well. Most of the Mito Vitality reviews were very happy with the product.
Q: What Sets Mito Vitality Apart From the Competition?
A: Mito Vitality optimizes the body on several levels, enhancing the natural energy and revitalizing your system. Few energy formulas are as potent as this product.
Q: What Do the Customers Think of Mito Vitality?
A: Most of the Mito Vitality review posts had very positive things to say about this blend. Most people enjoyed the flavor and found drinking it enjoyable. Users raved about benefits like improved digestion and added energy.
SEE NEXT – Quicksilver Scientific Reviews
How Does Mito Vitality Compare with Other Brands?
| Brand | Price Range | Ingredients |
| --- | --- | --- |
| Balance of Nature Fiber and Spice | $69.95 | Ginger Root, Turmeric, Flaxseed, Psyllium Husk, Cinnamon Bark, Nutmeg, Cumin, Fennel Seed |
| MCT Wellness | $49.95 | GoMCT C8, Malic Acid, MitoHeal, Citric Acid, Silica, Monk Fruit Extract and Red Grape Extract, |
| LCR Health Q L-5 | $56 | Lion's Mane Mushroom, Toothed Clubmoss Extract, Ashwagandha |
| Gundry MD TriTrim | $240 | Berberine, Cinnamon Bark, Turmeric, Glucomannan, Zinc, Chromium, Selenium, White Kidney Bean, Black Pepper Fruit Extract |
| KaraMD Pure Nature | $39.95 | Alfalfa Powder, Beet Root, Apple Fiber, Cucumber, Parsley Leaf, Cabbage Leaf, Kale |
Conclusion
Mito Vitality is a rich green apple drink supplement which works to restore the body's natural energy. It enhances digestion to improve energy processing, improves circulation, and supports the body's mitochondria. It can boost physical stamina and enhance overall health and immunity.
The vast majority of the ActivatedYou Mito Vitality reviews raved about the great benefits of this product. There were customers who said they now drink this in the morning instead of coffee. Users said it enhanced energy, digestion, and exercise stamina, and most enjoyed the delicious green apple flavor.
The manufacturer of Mito Vitality is a reputable brand which uses only 100% naturally-sourced ingredients in their products. There are no artificial or chemical additives or fillers, and you should not experience any side effects. This is a good choice for all of your health, wellness, and energy needs.
Where To Find It
You can BUY it directly from the manufacturer's Official Website
11 sources
Health Insiders relies on peer-reviewed studies, academic research institutions, and medical associations. We avoid using tertiary references. You can learn more about how we ensure our content is accurate and current by reading our editorial policy.
[1] Schirrmacher V. Mitochondria at Work: New Insights into Regulation and Dysregulation of Cellular Energy Supply and Metabolism. Biomedicines. 2020 Nov 22;8(11):526. doi: 10.3390/biomedicines8110526. PMID: 33266387; PMCID: PMC7700424.
[2] The Use of Digestive Enzymes in Specific Digestive Disorders: https://www.naturalmedicinejournal.com/journal/2013-09/use-digestive-enzymes-specific-digestive-disorders
[3] The Effects Of Supplementation With Green Tea On Energy Expenditure Rate And Thermal Energy Expenditure In Adult Individuals: A Systematic Review Of Clinical Trials - ScienceDirect
[4] Malic Acid: https://www.sciencedirect.com/science/article/abs/pii/S221080332100035X
[5] Mahoney DE, Hiebert JB, Thimmesch A, Pierce JT, Vacek JL, Clancy RL, Sauer AJ, Pierce JD. Understanding D-Ribose and Mitochondrial Function. Adv Biosci Clin Med. 2018;6(1):1-5. doi: 10.7575/aiac.abcmed.v.6n.1p.1. PMID: 29780691; PMCID: PMC5959283.
Saini R. Coenzyme Q10: The essential nutrient. J Pharm Bioallied Sci. 2011 Jul;3(3):466-7. doi: 10.4103/0975-7406.84471. PMID: 21966175; PMCID: PMC3178961.
[7] Pizzorno J. Mitochondria-Fundamental to Life and Health. Integr Med (Encinitas). 2014 Apr;13(2):8-15. PMID: 26770084; PMCID: PMC4684129.
[8] Exercise And Mitochondrial Health: https://physoc.onlinelibrary.wiley.com/doi/10.1113/JP278853
[9] Human ?-Amylase And Starch Digestion: An Interesting Marriage: https://onlinelibrary.wiley.com/doi/full/10.1002/star.201000150
[10] The Effects Of Supplementation With Green Tea On Energy Expenditure Rate And Thermal Energy Expenditure In Adult Individuals: A Systematic Review Of Clinical Trials: https://www.sciencedirect.com/science/article/abs/pii/S221080332100035X
[11] Seifert, J.G., Brumet, A. & St Cyr, J.A. The influence of D-ribose ingestion and fitness level on performance and recovery. J Int Soc Sports Nutr 14, 47 (2017).