About Joyelle Derma Cream
Joyelle Derma Cream is an organic anti-aging cream marketed to improve the appearance of fine lines and wrinkles. The main marketing claim for this product is attaining "youthful" appearing skin.
---
Joyelle Derma Cream Pros & Cons
Pros
Moisturizing properties and hydrating properties
Cons
Cost – The product is highly priced.
Limited availability worldwide; limited to US residents only as of now
Limited evidence regarding anti-aging claims
---
How Does It Work? | Learn The Science Behind This Product
Other than moisturizing properties, there is little to be said regarding the anti-aging properties as the ingredients listed may be helpful in collagen production; however, minimal anti-aging properties.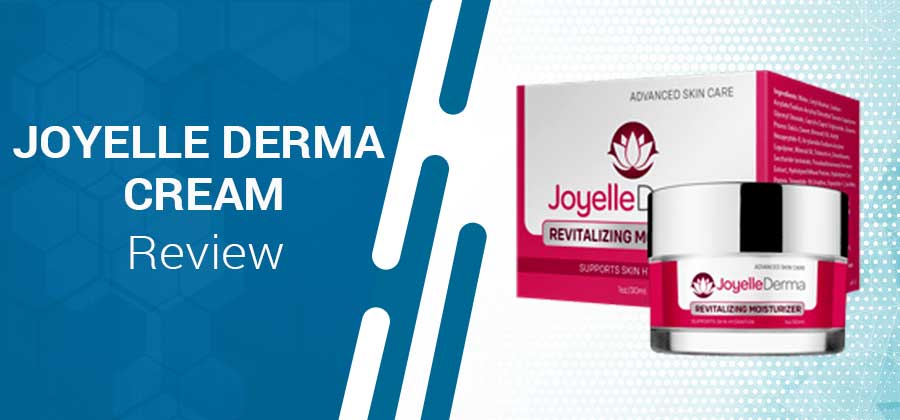 Joyelle Derma Cream Ingredients – What to Look For?
The only ingredient listed on any of the product websites is peptides[1].
What are peptides?
This ingredient is comprised of chains of amino acids that are incorporated in collagen formation.
YOU MAY ALSO LIKE – Lush Lift Cream Reviews and NO BS Skincare Reviews

Joyelle Derma Cream – Questions and Answers
Q: How to Use Joyelle Derma Cream?
A: Begin by cleansing your face with your regular face wash, and dry.
Step 1 – Add any bases you use to your face, including toners, serums, and eye creams. Then either take a small amount of cream into your fingers or use the little scoop tool provided.
Step 2 – Apply the cream in dots all over your face and neck.
Step 3 – Then blend the cream in well, and let it dry for 5 minutes before putting anything else on top of it.
Q: Does Joyelle Derma Cream Have Any Side Effects?
A: There are no side effects listed on any of the product websites. Since there's no list of ingredients provided either, it's impossible to determine. Naturally, if you experience a reaction from using this product, discontinue use immediately.
Q: Can I Take Joyelle Derma Cream If I Have A Health Condition?
A: There's no information limiting any individual with a particular medical condition from using this product. However, since a full ingredient list isn't provided it's not possible to say for certain. If you have sensitive skin or skin allergies, you may want to avoid this one.
Q: Does Joyelle Derma Cream Work?
A: Given limited customer reviews available, unclear anecdotal evidence of effectiveness. However, based on the ingredients listed, this product will provide hydration to the skin as a moisturizer. Claims regarding the anti-aging properties of this product are difficult to discern and not promising.
Advertisement
*All individuals are unique. Your results can and will vary.
Q: What Is Joyelle Derma Cream Moneyback Guarantee, Return & Refund Policy?
A: There's no guarantee or return policy listed on any of the product websites.
Alternatives
Brand
Price
Active Ingredients
Joyelle Derma Cream
$89.02
Peptides
EarthsCure
$20-159
Retinol, Peptides, Vitamin C, Jojoba Oil, Gotu Kola,
Hyaluronic Acid, Aloe Vera, Vitamin E, Dandelion
XYZ Smart Collagen Cream
$49.99
Knipholone, Bulbine Frutescens, Acetylated Polymannose
Plexaderm
$59.95
Titanium Dioxide, Acetyl hexapeptide-8, hydrolyzed rice protein
LifeCell
$189
Hyaluronic Acid, Retinol, Deanol, Ubiquinone
Beverly Hills MD Dermal Repair Complex
$39.95
Saw Palmetto, MSM, Hydrolyzed Collagen, Hyaluronic Acid, Vitamins
Miami MD
$49
Progeline, Haloxyl, Matrixyl 3000, Eyeliss, Argireline, Acetyl Hexapeptide
Musely Spot Rx
$30-$80
Tretinoin, Hyaluronic Acid, Titanium Dioxide, Cucumber Extract
Joyelle Derma Cream: Packages, Deals, Prices & Where to Buy It
You can only purchase this product by first signing up for the 14-day trial, for which you pay a small shipping fee.
At that point, you'll get and be charged for a bottle a month until you cancel the subscription. The price of a bottle of the product is $89.92.
NOTE: This cream is not available from any other online retailer.
The Bottom Line
It may provide the benefit of a moisturizer; however, based on the list of ingredients and paucity of reviews and scientific evidence behind the product line there is a limited benefit of this product as an anti-aging cream.
Caution with use in those with dry, sensitive, and/or acne-prone skin or history of allergic contact dermatitis or eczema as this topical may lead to further irritation and rashes.
Sources
Health Insiders relies on peer-reviewed studies, academic research institutions, and medical associations. We avoid using tertiary references. You can learn more about how we ensure our content is accurate and current by reading our editorial policy.
[1] SPECIFIC NATURAL BIOACTIVE TYPE 1 COLLAGEN PEPTIDES ORAL INTAKE REVERSE SKIN AGING SIGNS IN MATURE WOMEN.