About NO BS Skincare
Imagine a skin care brand whose products are so natural that they ban 1500 different potentially harmful substances from inclusion. That's NO BS Skincare. Their products include a wide range of items like masks, cleansers, moisturizers, exfoliants, anti-aging, anti-acne, and others. They use only the highest quality ingredients which enrich the skin and leave it with a radiant glow. Here are some of the top products in the line:
Antioxidant QoQ10 Cream – Rich in antioxidants and hydration, this formula can smooth wrinkles and lines, repair skin damage, and deeply moisturize.
Caffeine Eye Cream – It provides improved circulation to perk up your tired eyes and eliminate dark circles, and hydration to plump the skin and smooth wrinkles and fine lines.
Gentle Foaming Cleanser – A calming cleanser that cleans out the pores, removing dirt and dead skin cells. It's also high in antioxidants and can repair skin damage and protect from harm.
Day + Night Hyaluronic Cream – This formula provides the skin with a wealth of moisture and forms a barrier to keep it locked inside the skin.
---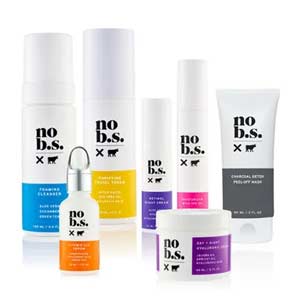 Buy on Official Website
Quick Facts & Specs
NO BS Skincare
NO BS Skincare is a natural skincare line that provides anti-aging, moisturising, acne elimination, skin restoration, and protection.
Form:

Facial products

Type:

Face

Benefit:

This line offers anti-aging benefits like smoothing lines and wrinkles.

Brand:

NO B. S. NO BAD STUFF

Uses:

NO BS Skincare cleans the pores and eliminates acne.

Ingredients:

Vitamin C, Maringo Oil, Mango Seed Butter, Hyaluronic Acid, Jojoba Oil, Apricot Oil, Vitamin E, Coenzyme Q10

Price:

Approx. $30-45
NO BS Skincare Pros & Cons
Pros
NO BS Skincare is safe and free of toxic substances.
This line offers anti-aging benefits like smoothing lines and wrinkles.
NO BS Skincare cleans the pores and eliminates acne.
The products are deeply hydrating and get rid of dry skin.
Some items can lighten dark spots and areas with hyperpigmentation.
Cons
One of their products is not vegan.
NO BS Skincare is only available online.
High demand sometimes leads to low stock.
---
How Does It Work? | The Science Behind NO BS Skincare
There are numerous products in this line and they work in different ways, but what most of them do have in common is that they're high in antioxidants. This helps heals the skin by destroying damaging free radicals and lower oxidative stress.
They also protect from environmental harm such as UV rays and pollution. An article in ISRN Dermatology[1] discussed the role of antioxidants in preventing photoaging (5).
Many of these formulas contain anti-inflammatory properties which can very powerfully help to heal skin conditions and decrease redness and swelling. Others boost collagen production which tightens the skin, improves elasticity, and can smooth wrinkles and lines. An article in the Journal of Cosmetic Dermatology[2] reviewed the sources and cosmetic application of collagen (6).
Generally speaking, the NO BS Skincare products provide a high amount of moisture to the skin and also lock the liquid in so the skin stays hydrated. This can also plump the skin, smoothing wrinkles and lines on the skin, and eliminates dryness. They also deeply cleanse and exfoliate the skin, cleaning out the pores of dirt and skin cells and helping to eliminate acne.
NO BS Skincare Ingredients – What to Look For?
Here are some of the primary active ingredients in NO BS Skincare:
Aloe Vera – This oil from the Aloe Vera plant can provide and retain a lot of moisture, making it very beneficial for the skin. It also has anti-inflammatory properties which can help treat skin conditions, reduce redness, and prevent ulcers. In addition, it's rich in healing antioxidants and can increase the collagen in wounds (1).
A review in the Iranian Journal of Medical Science[3] found that aloe vera can retain skin moisture as well as improve wound healing.
Green Tea – This tea is rich in polyphenols called catechins, which are healing for the body and the skin. They can repair damage to the skin and offer anti-aging benefits (2).
A review of the literature in JAMA Dermatology[4] concluded that green tea has anti-inflammatory benefits and can treat skin conditions, and it may also prevent cancer (3).
Jojoba Oil – This oil rich in fatty acids comes from an evergreen shrub, and it's deeply hydrating for the skin. It also contains antioxidants that can repair skin damage and protect it from harmful agents like UV rays, as well as offer anti-aging benefits. In addition, jojoba is high in anti-inflammatory properties which can help heal skin conditions.
An article in Israel Journal of Plant Sciences[5] examined the medicinal properties of jojoba (4).
NO BS Skincare – Questions & Answers
Q: How to Use NO BS Skincare?
A: The instructions vary with the product, but they are all provided on the label. Be sure to read the directions and follow them carefully.
Q: Does NO BS Skincare Have Any Side Effects?
A: There are no harmful side effects like a skin rash associated with these products. The manufacturer has ensured that there are no toxic or harmful substances, by banning 1500 different potentially harmful ingredients from the formulas.
Q: Can I Take NO BS Skincare If I Have A Health Condition?
A: There are no health conditions that preclude using these skin care products unless you have a particular intolerance to an ingredient that could lead to redness on the skin. These are pure organic ingredients with no harmful substances included.
Q: Does NO BS Skincare Work?
A: The NO BS Skincare line includes high-quality products which use effective organic ingredients to provide anti-aging benefits, cleanse, tone, moisturize, and enrich the skin with nutrients and antioxidants.
It's clear from the ingredients that these products work well, but there are also some fantastic NO BS Skincare review posts that attest to the fact that this is a very effective brand.
Q: What Is NO BS Skincare Moneyback Guarantee, Return & Refund Policy?
A: NO BS Skincare has a 30-day return policy that applies to domestic and not international purchases. If you are not happy with your purchase, contact customer service by sending them an email, and they will instruct you on how to return the product.
Then send the items(s) back to the company within 30 days of the purchase. They must be in a new, resalable condition. You'll get a full refund, minus the $5 restocking fee.
Q: Is NO BS Skincare Vegan?
A: The NO BS Skincare line is almost completely vegan, with the exception of one product which is the Moisturizer SPF 20. The manufacturer states that they are working towards having their entire line vegan.
Q: Who Owns NO BS Skincare?
A: This line is manufactured by NO BS Skincare, which is a Florida-based company founded in 2107. In 2002 Pure K Holdings Corp acquired the organization. NO BS Skincare is an environmentally conscious company that uses safe ingredients and sustainable packaging. They also partner with important organizations like She Recovers and Feeding America.
Q: Is NO BS Skincare Healthy for the Skin?
A: NO BS Skincare is extremely healthy for the skin. Containing only safe, pure organic ingredients, these brands are full of healthy nutrients like vitamins and minerals. In addition, they contain antioxidants that repair damage to the skin barrier and protect them from UV rays and other environmental stressors.
NO BS Skincare Alternatives – Compare with Similar Items
Brand
Price
Ingredients
NO BS Skincare
Approximately $30-45
Vitamin C, Maringo Oil, Mango Seed Butter, Hyaluronic Acid, Jojoba Oil,
Apricot Oil, Vitamin E, Coenzyme Q10
Belle Nubian
Ranges from $15 to around $40
for individual products.
Glutathione, Vitamin C and E, Collagen, Kojic, Hydrogenated Palm Oil,
Glycerin, Alpha Arbutin
Riversol
$20s-90s
Beta-Thujaplicin, Vitamins C and E, Allantoin, Shea Butter, Matrixyl, Haloxyl, Tranexamic
Youth to the People
$20s-60s
Acai, Moringa Leaf Extract, Maqui, Prickly Pear, Goji Extract, Squalane Olive, Cranberry Seed Oil
The NO BS Skincare line is average for the market, or even a little less expensive than many other brands. It includes a rich collection of pure organic ingredients, at least comparable to the other products here in quality and effectiveness. Plus it doesn't include the toxic ingredients like parabens, which some other lines may have.
Is NO BS Skincare Safe? – Warnings & Complaints
There's no doubt that the NO BS Skincare line contains safe, purely organic ingredients. While the FDA bans 11 toxic substances from skin care, this company considers 1500 ingredients too unsafe to be in their products. This is a high-quality, safe line that will not lead to any harmful side effects.
NO BS Skincare Customer Reviews & Results – What Users Are Saying
Most of the NO BS Skincare reviews were incredibly positive. There were a number of long-time users who said they don't use any other brand now. A number of customers loved the anti-aging benefits and many said they looked and felt more youthful. There were few complaints or negative reviews about this brand.
NO BS Skincare: Packages, Deals, Prices & Where to Buy It
You can buy the NO BS Skincare on the manufacturer's official website. Here are the prices of some of the top products:
Day + Night Hyaluronic Cream – $45
Healing Acne Patches – From $18
Antioxidant QoQ10 Cream – $50
Pure Hyaluronic Serum – $45
The Vitamin C + E Serum – $40
Caffeine Eye Cream – $35
Retinol Night Cream – $50
Purifying BHA Facial Toner – $30
Gentle Foaming Cleanser – $25
Collagen Moisturizer With SPF 20 – $40
The Bottom Line on NO BS Skincare
NO BS Skincare is an all-natural product line that prides itself on using purely organic ingredients with absolutely no potentially harmful substances. They offer a line of skin care products that include cleansers, anti-aging, moisturizers, toners, and other enriching items at very reasonable prices.
The vast majority of the NO BS Skincare reviews had great things to say about this line. Users felt that the products were gentle on their skin, and worked rapidly to improve and enhance their complexion, even removing signs of age like fine lines and wrinkles. Some of the customers sent NO BS Skincare before and after photos to the manufacturer.
NO BS Skincare is a popular brand that produces high-quality, completely safe products. You will not have side effects or a skin reaction using these items. The manufacturer uses environmentally-friendly packaging and supports a number of social causes. We highly recommend this brand for users looking to improve their skin health.
Is There Anything Else You Should Know About NO BS Skincare?
NO BS Skincare is natural enough to use on any skin type, and it should give your complexion enriching benefits leading to greater health. If you've used it already, we hope it's providing your skin with all of the enrichment it deserves. Besides using high-quality skin care on a daily basis, there are other natural ways to support good skin health. Here are some tips:
Protect your skin from the sun by wearing sunblock any time you leave the house, even in winter. The sun's rays can do damage to the skin and cause premature aging.
Follow a nutritious, healthy diet full of vitamin-rich fruits and vegetables as well as other foods high in antioxidants. Avoid sugar and processed foods as they can be harmful to the complexion.
Do not put hot water on your face for an extended period of time, in the shower or otherwise. This can strip the natural oils from your skin and do harm.
Drink plenty of water on a daily basis to keep your skin hydrated and get rid of dryness. Aim for 8 glasses every day.
Sources
Health Insiders relies on peer-reviewed studies, academic research institutions, and medical associations. We avoid using tertiary references. You can learn more about how we ensure our content is accurate and current by reading our
editorial policy
.
1. Skin Photoaging and the Role of Antioxidants in Its Prevention
2. Collagen: A review on its sources and potential cosmetic applications
3. The Effect of Aloe Vera Clinical Trials on Prevention and Healing of Skin Wound: A Systematic Review
4. Katiyar SK, Ahmad N, Mukhtar H. Green Tea and Skin. Arch Dermatol. 2000;136(8):989–994. doi:10.1001/archderm.136.8.989
5. Medicinal properties of jojoba (Simmondsia chinensis).