What is Zenith Labs?
Zenith Labs is one of the top health supplement brands on the market, offering numerous medicinal benefits including better brain health, decreased joint pain, lower blood pressure, better digestion, enhanced sleep, and a stronger immune system, among others.
This is a well-respected brand which employs completely organic ingredients and offers reasonable prices. Here are some of the top products in the line:
Blood Sugar Premier Zenith Labs – Based on herbs used in Chinese medicine, this formula balances blood sugar levels and promotes body fat loss.
Longevity Activator Zenith Labs – This supplement promotes healthy aging, supports brain health, improves memory, and boosts mood.
Vision 20 Supplement Zenith Labs – A rich formula filled with nutrients which support proper vision and prevent age-related visual decline.
Zenith Labs Brain C13 – This is a potent brain health supplement which prevents age-related decline, improves memory, boosts mood and focus, and supports rapid thinking.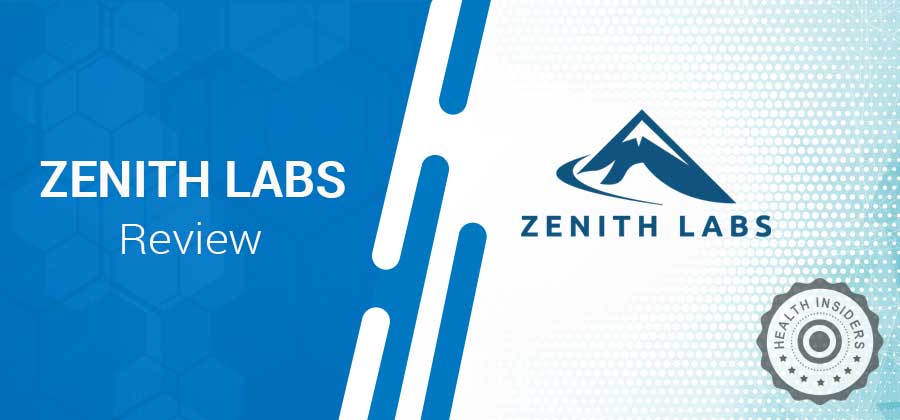 Key Facts
| | |
| --- | --- |
| Features | Research-Based |
| Form | Capsules and Liquid Supplements |
| Health Benefits | Improved Vision, Longevity, Joint Health, Decreased Blood Pressure, Brain Health, Sexual Vigor and Stamina, Improved Sleep, Better Digestion, Stronger Immunity |
| Ingredients | Omega 3 Fatty Acids, Chamomile, Skullcap, Valarian, Zinc, Lutein, Vitamin C, Probiotics, Ginger Root Powder, Niacinamide, Basil Root Powder |
| Type | Dietary Supplements |
How Does Zenith Labs Work?
Zenith Labs contains a number of supplements which all work differently, and we'll discuss some of them. Most of these products are rich in nutrients which help resolve deficiencies and promote health benefits.
The majority of the supplements are high in antioxidants, which kill free radicals and decrease oxidative stress. This promotes healing in the body and strengthens the immune system. There are supplements which raise levels of key neurotransmitters, elevating mood, decreasing stress, and improving cognitive functioning.
Many of the formulas have anti-inflammatory agents which decrease swelling in the body. This can ease muscle and joint pain, for example, and help heal wounds and skin conditions. An article in Mediators of Inflammation discussed the role of anti-inflammatory agents in the pathogenesis of osteoarthritis [1].
Some supplements contains probiotics and enzymes which can help promote a healthy gut microbiome, improving overall digestion and eliminating symptoms like gas and bloating. Harvard Health Publishing discussed the health benefits of taking probiotics [2].
Pros and Cons of Zenith Labs
Pros
Physicians make all of the Zenith Labs products.
Medical research supports the Zenith Labs ingredients.
These supplements offer whole-body health solutions.
The company partners with charities so every purchase helps a child in need.
The Zenith Labs Supplements support a strong immune system.
Cons
The manufacturer does not offer any free product samples.
These are popular supplements which may sometimes run low stock.
The results may be somewhat different for different users,
What Are the Ingredients in Zenith Labs?
These are some of the primary active ingredients in Zenith Labs:
Valarian – This is a plant known for its sedative properties. It includes chemicals that relax the body and mind, but it also has an impact on raising levels of the neurotransmitter GABA and consequently reducing anxiety. Valarian is also used as an effective sleep remedy [3].
A review in the Journal of Evidence-Based Integrative Medicine discussed the role of Valarian in treating insomnia and other sleep disorders [4].
Ginger Root Powder – Ginger is a potent root which contains anti-inflammatory and antioxidant benefits. It helps support health and may lessen pain and swelling in the joints. In addition, there's some evidence that is has anti-cancer properties [5]. A systematic review in Nutrients reviewed the impact of ginger on human health [6].
Omega 3 Fatty Acids – These are healthy fatty acids found in foods like fish and flaxseed. They are high in anti-oxidants and are often included in joint health products for their ability to decrease pain and swelling.
They also include antioxidants which help repair and protect. An article in the Mediterranean Journal of Rheumatology explored the effects of omega-3 fatty acids on rheumatoid arthritis [7].
Niacinamide – This is Vitamin B3, and its main role is to convert the nutrients in your body into energy to create fats and carbs. It's also involved in the development and repair of DNA, and it has rich skin benefits [8].
Niacinamide is a powerful antioxidant which promotes healing and immunity. An article in the International Journal of Tryptophan Research explored the influence of niacinamide in health and disease [9].
How Does Zenith Labs Rate?
| Feature | Rating | Comments |
| --- | --- | --- |
| Ingredients | 10 | High-quality organic ingredients supported by scientific research |
| Benefits | 10 | A wide range of benefits, such as improving the health of the brain, joints, digestive tract, heart, immune system, and others. |
| Safety | 9 | These are naturally-sourced ingredients and the products do not contain additives or fillers. There should be few side effects. |
Frequently Asked Questions (FAQs)
Q: How Do You Take Zenith Labs?
A: There are a range of health supplements in this brand, each with their own instructions. Make sure you read and follow the directions carefully, and don't take more than the maximum dosage under any circumstances.
Q: Where Can You Buy Zenith Labs?
A: Zenith Labs is for sale exclusively on the official website, which ensures that you get the genuine product every time. The prices of some of the top products are as follows:
Zenith Labs Vision 20 – $49
Zenith Labs BP Zone – $59
Zenith Labs Joint N11 – $49
Zenith Labs Barbarian XL – $49
Zenith Labs Brain C13 – $49
Pure Greens Zenith Labs – $39
Q: What is the Zenith Labs Return Policy?
A: The manufacturer is offering a 180-day, empty bottle money-back guarantee. If you're not happy with the product, let the company know and send the bottle back within 180 days of the purchase even if it's empty. You'll get a full refund.
Q: Where is Zenith Labs Located?
A: Zenith Labs is a highly reputable health and wellness supplement company which has its headquarters in McHenry, Illinois and a sales office in Dubai. Founded in 1988, they offer a wide range of all-natural products to support health and immunity.
Q: Is Zenith Labs Worth It?
A: The prices of the supplements in the Zenith Labs brand are very reasonable for the market, and for that you get products with a collection of some of the most potent organics available. A team of doctors developed the formulas, based on science and research.
We're more than certain that these supplements are worth it, and the vast majority of the Zenith Labs reviews agree with this sentiment.
Q: How Does Zenith Labs Compare with Other Brands?
Brand
Price Range
Ingredients
1MD Nutrition
Approx. $40-45
Krill Oil, Phospholipids,
Astaxanthin, Omega 3 Fatty Acids, Magnesium, Probiotics, Prebiotics, Curcumin, Magnesium
Primal Harvest
Approx. $30-$40
Turmeric, Bioperine, Collagen, Arginine, Tyrosine, Valine, Ashwagandha, Boswellia Serrata, Eggshell Membrane, Vitamin C
Vita Balance
Approx. $30-$50
BHB Ketones, Magnesium, Biotin, Horsetail Extract, Saw Palmetto, Plant Sterols, Catalase, Zinc, Copper, L-Tyrosine
1St Phorm
Approx.$25-$100+
Whey Protein, Citric Acid, Apple Fiber, Green Tea Extract, Coffee Arabica Extract, Pomegranate, Grape Seed Extract
AlgaeCal
Approx. $30-$100
Omega 3 Fatty Acids, Curcumin, Astaxanthin, Green Tea, Rosemary Extract, Magnesium, Vitamin C and K, Boron
What Sets Zenith Labs Apart From the Competition?
There are other health supplement brands in the market which offer organic products for a range of wellness benefits. However, it's the richness of the formulas in Zenith Labs which makes this brand unique. Each supplement is full of a wide selection of natural substances which have scientific studies supporting their benefits.
What Do the Customers Think of Zenith Labs?
The Zenith Labs reviews were generally very positive. Users had their favorite products, and some were more popular than others. However, for the most part customers raved about the wonderful health benefits they received, quickly.
Conclusion
Zenith Labs is one of the best health and wellness product lines on the market today, with a rich collection of supplements for diverse health issues such as eyesight, joint health, energy, digestion, sleep, mood, and immune functioning, among others. These all-natural supplements are reasonably-priced and should be very effective.
Most of the Zenith Labs reviews for the various supplements were very positive. Customers got a lot of benefits from these supplements, and many said they were planning to repurchase and possibly try other products. Many people said that Zenith Labs had a huge impact on not only their health but their quality of life.
Zenith Labs is a well-regarded company which included only 100% organically-sourced ingredients in their supplements, with no chemical or artificial additives or fillers. They are safe and should lead to few side effects. If you're in the market for a new supplement brand, Zenith Labs is an excellent choice!
READ NEXT – Schiff Vitamins Review: All You Need To Know About Schiff Vitamins & Supplements
14 sources
Health Insiders relies on peer-reviewed studies, academic research institutions, and medical associations. We avoid using tertiary references. You can learn more about how we ensure our content is accurate and current by reading our editorial policy.
[1] Piotr Wojdasiewicz, Łukasz A. Poniatowski, Dariusz Szukiewicz, "The Role of Inflammatory and Anti-Inflammatory Cytokines in the Pathogenesis of Osteoarthritis", Mediators of Inflammation, vol. 2014, Article ID 561459, 19 pages, 2014. https://doi.org/10.1155/2014/561459
[2] Understanding the health benefits of taking probioticsHealth Benefits Of Taking Probiotics - Harvard Health
[3] Shinjyo N, Waddell G, Green J. Valerian Root in Treating Sleep Problems and Associated Disorders-A Systematic Review and Meta-Analysis. J Evid Based Integr Med. 2020 Jan-Dec;25:2515690X20967323. doi: 10.1177/2515690X20967323. PMID: 33086877; PMCID: PMC7585905.
[4] Anh NH, Kim SJ, Long NP, Min JE, Yoon YC, Lee EG, Kim M, Kim TJ, Yang YY, Son EY, Yoon SJ, Diem NC, Kim HM, Kwon SW. Ginger on Human Health: A Comprehensive Systematic Review of 109 Randomized Controlled Trials. Nutrients. 2020 Jan 6;12(1):157. doi: 10.3390/nu12010157. PMID: 31935866; PMCID: PMC7019938.
[5] Kostoglou-Athanassiou I, Athanassiou L, Athanassiou P. The Effect of Omega-3 Fatty Acids on Rheumatoid Arthritis. Mediterr J Rheumatol. 2020 Jun 30;31(2):190-194. doi: 10.31138/mjr.31.2.190. PMID: 32676556; PMCID: PMC7362115.
[6] Fricker RA, Green EL, Jenkins SI, Griffin SM. The Influence of Nicotinamide on Health and Disease in the Central Nervous System. Int J Tryptophan Res. 2018 May 21;11:1178646918776658. doi: 10.1177/1178646918776658. PMID: 29844677; PMCID: PMC5966847.
[7] Mashhadi NS, Ghiasvand R, Askari G, Hariri M, Darvishi L, Mofid MR. Anti-oxidative and anti-inflammatory effects of ginger in health and physical activity: review of current evidence. Int J Prev Med. 2013 Apr;4(Suppl 1):S36-42. PMID: 23717767; PMCID: PMC3665023.
[8] Niacin – Vitamin B3 https://www.hsph.harvard.edu/nutritionsource/niacin-vitamin-b3/
[9] Fricker RA, Green EL, Jenkins SI, Griffin SM. The Influence of Nicotinamide on Health and Disease in the Central Nervous System. Int J Tryptophan Res. 2018 May 21;11:1178646918776658. doi: 10.1177/1178646918776658. PMID: 29844677; PMCID: PMC5966847.
[10] Omega 3 Fatty Acids: https://ods.od.nih.gov/factsheets/Omega3FattyAcids-HealthProfessional/
[11] Gasperi V, Sibilano M, Savini I, Catani MV. Niacin in the Central Nervous System: An Update of Biological Aspects and Clinical Applications. Int J Mol Sci. 2019 Feb 23;20(4):974. doi: 10.3390/ijms20040974. PMID: 30813414; PMCID: PMC6412771.
[12] Chaplin DD. Overview of the immune response. J Allergy Clin Immunol. 2010 Feb;125(2 Suppl 2):S3-23. doi: 10.1016/j.jaci.2009.12.980. PMID: 20176265; PMCID: PMC2923430.
[13] Ginger: An Overview of Health Benefits: https://journals.lww.com/nutritiontodayonline/Abstract/2010/07000/Ginger__An_Overview_of_Health_Benefits.8.aspx
[14] Mao JJ, Li QS, Soeller I, Rockwell K, Xie SX, Amsterdam JD. Long-Term Chamomile Therapy of Generalized Anxiety Disorder: A Study Protocol for a Randomized, Double-Blind, Placebo- Controlled Trial. J Clin Trials. 2014 Nov;4(5):188. doi: 10.4172/2167-0870.1000188. Epub 2014 Oct 9. PMID: 29057164; PMCID: PMC5650245.