What is Dad Bod Destroyer Stack?
Dad Bod Destroyer Stack includes 3 natural supplement products for men which offer benefits like suppressing hunger, speeding up fat loss, promoting weight loss, improving mood, and building muscle mass and strength.
The formulas also boost energy levels and exercise performance and promote better general health and immunity. In addition, the brand improves both sleep speed and quality.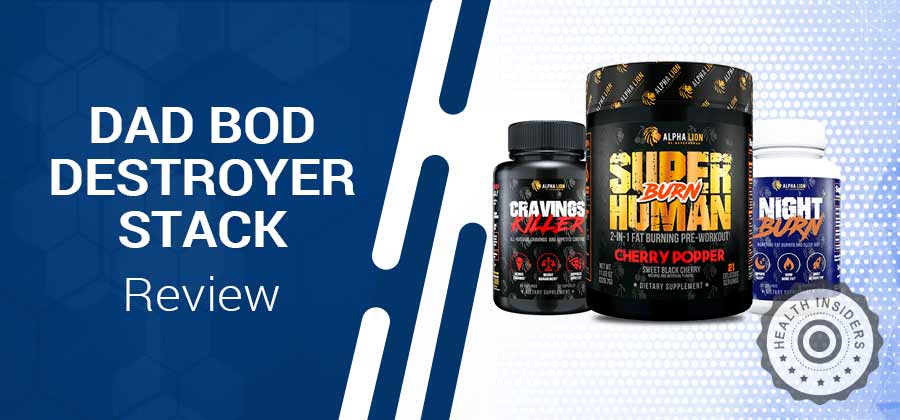 ---
Quick Facts & Specs
Dad Bod Destroyer Stack
Dad Bod Destroyer Stack is a set of 3 organic products for men which promote weight loss, muscle building, improved immune functioning, and better sleep quality.
Form:

2 capsule products and 1 powder drink supplement

Type:

Dietary Supplements

Benefit:

Burns Fat, Lowers Appetite and Cravings, Promotes Weight Loss, Builds Lean Muscle, Enhances Sleep, Strengthens Immune System, Speeds Up Muscle Recovery, Elevates Mood, Provides Energy

Address:

Alpha Lion LLC, 1 Radisson Plz, New Rochelle, NY 10801

Phone:

(833) 962-5742

Website:

www.alphalion.com

Brand:

Alpha Lion

Uses:

Weight Loss and Body Sculpting

Price:

$147 for set of 3 products

Active Ingredient:

Cravings Killer: Astralagus, Garcinia Cambogia, Saffron, Chromium Picolinate, Panax Ginseng

Superhuman Burn: L-Taurine, Withania Somnifera, Beta Alanine, Black Pepper, L-Tyrosine, L-Citrulline, Caffeine Anhydrous, Choline Bitartrate

NightBurn: Aframomum Melegueta, Ashwagandha, Panax Ginseng, Melatoni
Dad Bod Destroyer Stack Pros & Cons
Pros
Dad Bod Destroyer Stack can build lean muscle mass and strength.
The brand can decrease hunger and cravings.
These products can promote fat-burning and weight loss.
Dad Bod Destroyer Stack strengthens the immune system.
It can improve sleep speed and quality.
Cons
You have to take 3 products daily.
The results of Dad Bod supplements may vary for different users.
It's a popular set which sometimes runs low stock.
---
Highlighted Products
Cravings Killer
Uses:

Suppresses Hunger and Cravings, Promotes Weight Loss, Strengthens Immune System, Boosts Brain Health

Best For:

Suppresses Hunger

Ingredients:

Astralagus, Garcinia Cambogia, Saffron, Chromium Picolinate, Panax Ginseng
---
NightBurn
Uses:

Improves Sleep Speed and Quality, Strengthens Immunity

Best For:

Sleep Quality

Ingredients:

Aframomum Melegueta, Ashwagandha, Panax Ginseng, Melatonin
---
Superhuman Burn
Uses:

Weight Loss and Muscle-Building

Best For:

Improves Mental Focus and Cognitive Performance, Builds Muscle Mass and Strength, Speeds Up Metabolism, Burns Fat, Promotes Weight Loss, Raises Energy Levels

Ingredients:

L-Taurine, Withania Somnifera, Beta Alanine, Black Pepper, L-Tyrosine, L-Citrulline, Caffeine Anhydrous, Choline Bitartrate
---
How Does It Work | The Science Behind Dad Bod Destroyer Stack
Each product offers unique benefits, for example, the Cravings Killer contains ingredients which may suppress hunger and cravings, so you consume less daily calories. It could also lower lipid levels and balance blood sugar and insulin.
The Superhuman Burn speeds up the metabolism, which causes the body to enter the fat-burning state of thermogenesis leading to rapid weight loss. It has stimulants like caffeine which offer added energy, improve workout endurance, and sharpen mental focus and alertness.
A study in Scientific Reports concluded that caffeine had a positive impact on cognitive functioning [1].
The formula could improve mood and cognitive performance by increasing levels of brain neurotransmitters like epinephrine, norepinephrine, and dopamine. It also enhances bodily circulation.
An article in Biomedicines discussed the role of dopamine in treating health and disease [2].
NightBurn decreases levels of anxiety, induces relaxation, and improves sleep quality and length of sleep via ingredients like melatonin. The pineal gland in the brain releases this hormone at night to make you drowsy, and it also regulates the sleep-wake cycle.
A meta-analysis in PLOS ONE concluded that melatonin improved sleep quality, length, and latency [3]. These formulas are also healthy and high in antioxidants which kill free radicals and lower oxidative stress. This can promote healing in the body and improved immunity.
What Are the Ingredients In Dad Bod Destroyer Stack?
Some of the primary active ingredients include:
Garcinia Cambogia – This is a tropical fruit which is high in hydroxycitric acid, a compound which may have appetite-suppressing benefits, according to a proven study mentioned in our Gynetrex Review article. It could also block the storage of fat, leading to weight loss over time.
A 12-week study on obese subjects in Current Therapeutic Research, Clinical and Experimental concluded that garcinia reduced abdominal fat accumulation on all participants regardless of gender [4].
In addition, it may have positive benefits for athletic performance. Garcinia may be helpful for diabetics, as there's some evidence that it can decrease blood sugar levels and improve insulin sensitivity.
A study in Molecular Nutrition Food Research found evidence supporting the use of garcinia to regulate glucose levels in obesity-induced diabetes [5].
Saffron – Saffron comes from the Crocus Sativus and is a spice in cooking. It raises levels of the brain chemicals norepinephrine, dopamine, and serotonin, which could improve mood and cognitive functioning.
A study on healthy adults in Frontiers in Nutrition concluded that saffron improved sub-clinical depressive symptoms and decreased the risk of developing stress-related mental health conditions [6].
High in antioxidants, it strengthens the immune system and offers neuroprotective properties. Saffron also contains bioactive compounds which may promote appetite suppression and weight loss. In addition, it could boost libido, strengthen erections, and improve sexual performance.
Beta Alanine – This is an amino acid which exists in the body already, and it stimulates carnosine production. This compound balances acid levels in the muscles, helping to enhance performance during high-intensity workouts.
A systematic review and meta-analysis in the British Journal of Sports Medicine concluded that beta-alanine improves exercise capacity and performance [7].
In addition, it may enhance lean muscle mass over time. It has powerful antioxidants which boost immunity and have anti-aging benefits for the body.

How Do the Features Rate?
Overall Rating: 4.7
| Feature | Rating |
| --- | --- |
| Ingredients | 4.8 |
| Customer Reviews | 4.6 |
| Manufacturer | 4.5 |
| Money-Back Guarantee | 5 |
Dad Bod Destroyer Stack – Frequently Asked Questions (FAQs)
Q: Is Dad Bod Destroyer Stack Worth It?
A: Yes, Dad Bod Destroyer Stack is a very effective brand which offers numerous health benefits, and the set is on sale right now for a very reasonable cost. According to most of the Dad Bod Destroyer Stack reviews, it's very worthwhile and more than worth it.
Q: What is the Return Policy?
A: The company is offering a generous 365-day money back satisfaction guarantee. If the brand doesn't work for you, contact customer service for instructions and then send it back within a year of buying it. You should get a full, hassle-free refund.
Q: Where to Buy this Brand?
A: You can buy Dad Bod Destroyer Stack on the official site as a set of all 3 products. They have a great deal right now at $147 for all three supplements, which is a 64% savings compared to the regular cost. The products are also available from other retailers, and you may also find them separately.
Q: What Sets It Apart From the Competition?
A: The set of 3 daily products covers a range of benefits, including weight loss, body sculping and muscle building, improving sleep quality, and boosting general health. This is a very beneficial brand at a reasonable price.
What Do the Reviews Say?
The reviews for Dad Bod Destroyer Stack had mostly very good things to say about the set of products, and raved about the benefits for energy, workout endurance, and weight loss in particular. Here are some of the reviews:
Helps

This stack helps fire up for working out, and it burns way more fat than ever before. – Daniel K.
Awesome Product!

Love my workouts on this. Better energy, for a lot longer than anything else! Awesome pump! – Nick L.
Spot On!

Excellent, this has been a great bundle. Still at an early stage at only the 2nd week on it but can already start to see the changes. The night burn actually helps me get a better night sleep and wake up well rested. – Ishmael C.
How Does It Compare with Other Brands?
| Brand/Product | Price Range | Ingredients | Return Policy |
| --- | --- | --- | --- |
| Crazy Bulk | Approx $60-70 | Fenugreek, Tribulus Terrestris, Choline, DMAE, Wild Yam, L-Arginine, Zinc, Boron | 14- Day Return Policy |
| D Bal Max | $68.95 | 20-Hydrohyecdysterone, Whey Protein Complex, Pro BCAA Complex | 60-Day Money Back Guarantee |
| Power Life Nutrition | Approx $60-$80 | Caffeine, Astaxanthin, L-Citrulline, High Impact Whey Protein, Digestive Enzymes, Artichoke | 90-Day Money Back Warranty |
The Bottom Line
Dad Bod Destroyer Stack includes three premium organic supplements for men which promote health benefits like suppressing hunger, burning fat, building muscle mass and strength, providing energy, and improving sleep quality. This is a popular brand, and they are offering the set at a big discount right now on the official site.
For the most part, the Dad Bod Destroyer Stack reviews were from happy customers who said the products were really helping them to transform their bodies, boost energy levels, and improve their workouts. Many users loved the flavor of the Superhuman Burn supplement.
This set of products contains 100% natural ingredients, with no artificial or chemical additives or fillers. The formulas are safe, and should no cause harmful side effects. This is a great brand for any man (dad or not!) who wants to transform his body.
12 Sources
Health Insiders relies on peer-reviewed studies, academic research institutions, and medical associations. We avoid using tertiary references. You can learn more about how we ensure our content is accurate and current by reading our editorial policy.
[1] Kim, H., Kang, S.H., Kim, S.H. et al. Drinking coffee enhances neurocognitive function by reorganizing brain functional connectivity. Sci Rep 11, 14381 (2021). https://doi.org/10.1038/s41598-021-93849-7
[2] Franco R, Reyes-Resina I, Navarro G. Dopamine in Health and Disease: Much More Than a Neurotransmitter. Biomedicines. 2021 Jan 22;9(2):109. doi: 10.3390/biomedicines9020109. PMID: 33499192; PMCID: PMC7911410.
[3] Ferracioli-Oda E, Qawasmi A, Bloch MH. Meta-analysis: melatonin for the treatment of primary sleep disorders. PLoS One. 2013 May 17;8(5):e63773. doi: 10.1371/journal.pone.0063773. PMID: 23691095; PMCID: PMC3656905.
[4] Hayamizu K, Ishii Y, Kaneko I, Shen M, Okuhara Y, Shigematsu N, Tomi H, Furuse M, Yoshino G, Shimasaki H. Effects of garcinia cambogia (Hydroxycitric Acid) on visceral fat accumulation: a double-blind, randomized, placebo-controlled trial. Curr Ther Res Clin Exp. 2003 Sep;64(8):551-67. doi: 10.1016/j.curtheres.2003.08.006. PMID: 24944404; PMCID: PMC4053034.
[5] Garcinia Cambogia Improves High-Fat Diet-Induced Glucose Imbalance by Enhancing Calcium/CaMKII/AMPK/GLUT4-Mediated Glucose Uptake in Skeletal Muscle: https://doi.org/10.1002/mnfr.202100669
[6] Jackson PA, Forster J, Khan J, Pouchieu C, Dubreuil S, Gaudout D, Moras B, Pourtau L, Joffre F, Vaysse C, Bertrand K, Abrous H, Vauzour D, Brossaud J, Corcuff JB, Capuron L, Kennedy DO. Effects of Saffron Extract Supplementation on Mood, Well-Being, and Response to a Psychosocial Stressor in Healthy Adults: A Randomized, Double-Blind, Parallel Group, Clinical Trial. Front Nutr. 2021 Feb 1;7:606124. doi: 10.3389/fnut.2020.606124. PMID: 33598475; PMCID: PMC7882499.
[7] Saunders B, Elliott-Sale K, Artioli GG, et alβ-alanine supplementation to improve exercise capacity and performance: a systematic review and meta-analysisBritish Journal of Sports Medicine 2017;51:658-669.
[8] Veit Ny, Milan Houška, Roman Pavela, Jan Tříska,Potential benefits of incorporating Astragalus membranaceus into the diet of people undergoing disease treatment: An overview,Journal of Functional Foods,Volume 77,2021,104339,ISSN 1756-4646, https://doi.org/10.1016/j.jff.2020.104339.
[9] Sletten TL, Magee M, Murray JM, Gordon CJ, Lovato N, Kennaway DJ, et al. (2018) Efficacy of melatonin with behavioural sleep-wake scheduling for delayed sleep-wake phase disorder: A double-blind, randomised clinical trial. PLoS Med 15(6): e1002587. https://doi.org/10.1371/journal.pmed.1002587
[10] Verónica Giráldez-Costas, Millán Aguilar-Navarro, Jaime González-García, Juan Del Coso, Juan José Salinero. (2022) Acute caffeine supplementation enhances several aspects of shot put performance in trained athletes. Journal of the International Society of Sports Nutrition 19:1, pages 366-380.
[11] Blusztajn JK, Slack BE, Mellott TJ. Neuroprotective Actions of Dietary Choline. Nutrients. 2017 Jul 28;9(8):815. doi: 10.3390/nu9080815. PMID: 28788094; PMCID: PMC5579609.
[12] Schaffer S, Kim HW. Effects and Mechanisms of Taurine as a Therapeutic Agent. Biomol Ther (Seoul). 2018 May 1;26(3):225-241. doi: 10.4062/biomolther.2017.251. PMID: 29631391; PMCID: PMC5933890.