About Brilliance SF
Brilliance SF is an age-defying skincare cream that specifically targets to help rebuild the skin by diminishing aging signs. It claims to rejuvenate, improve skin tone, and over time erase wrinkles, all thanks to its moisture retention and enhancement properties.
This peptide-rich skincare cream may also improve the unsightly appearance of under-eye puffiness, dark circles, and skin texture[1]. On top of that, it has skin firming properties, which means people with loose skin can expect to look younger.
---
Buy on Website
Quick Facts & Specs
Brilliance SF
Brilliance SF is an age-defying skin care cream that aids in skin restoration by minimising the appearance of ageing signs.
Form:

Cream

Type:

Skin

Benefit:

Might improve hydration on the skin.

Brand:

Brilliance SF

Uses:

Claims to help firm saggy skin.

Ingredients:

Peptides, Hyaluronic Acid, Smart Cleanse Detox Proprietary Blend, Antioxidants

Price:

$49.00
Brilliance SF Pros & Cons
Pros
The cream is said to diminish wrinkles
It may fight the impact of free-radicals damage
Might improve hydration on the skin
It claims to help correct the look of eye puffiness
Claims to help firm saggy skin
Cons
The results may vary based on skin type
May not completely remove under-eye puffiness
To keep the wrinkles diminished continued use would be necessary
The official website is not detailed enough about the ingredients
---
How Does It Work? The Science Behind TLC Resolution Drops
Brilliance SF is packed with peptides, which supposedly play an active role in improving collagen production. Healthy levels of collagen are said to support skin function and this helps strengthen its self-repair efficiency. Consequently, what happens is that the skin becomes firmer, improves in appearance and its elasticity is restored.
Besides, the formula in general expands the skin's water retention ability. That is, the ingredients support deep hydration which goes a long way to reduce the appearance of puffed eyes and improves the skin's protective barrier.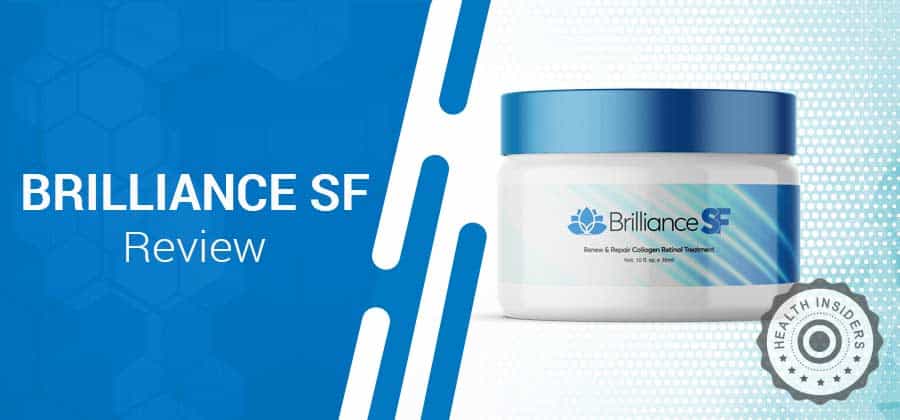 Brilliance SF Ingredients – What to Look For?
The key ingredients in this anti-wrinkle cream include;
Peptides – This is a commonly featured compound ingredient in antiaging creams. In the journal of Simplified Facial Rejuvenation[2], peptides have been suggested that support the skin's natural rejuvenating process.
Hyaluronic Acid – This ingredient has strong moisturizing benefits on the skin, which are agreed to help reduce wrinkles and fine lines. According to the International Journal of Biological Macromolecules[3], HA's antiaging benefits are well supported by research.
Smart Cleanse Detox Proprietary Blend – This is supposedly a complex blend of ingredients that includes extracts from aloe vera, apple pectin, papaya leaf oat bran, and flaxseed. It offers skin-cleansing benefits and strengthens the skin's protection against natural aggressors among other benefits. For instance, the BioMed Research International[4] journal points out that Aloe Vera in skincare supports wound healing.
Antioxidants – Different studies agree that antioxidants reduce skin deterioration by fighting away free radicals. In addition to this, a review article in Dermato Endocrinology[5] mentions that antioxidants shield against pollutants.
Brilliance SF – Questions and Answers
Q: How to Use Brilliance SF?
A: Place a generous amount of Brilliance SF cream on your hand and rub gently on your skin. For better results ensure the cream is well absorbed before going on with your other beauty routine.
Q: Does Brilliance SF Have Any Side Effects?
A: Based on the revealed ingredients this scream is considered free from unwanted effects. Notably, there is no inclusion of paraben or other well-known potentially harmful ingredients.
Q: Can I Use Brilliance SF If I Have A Health Condition?
A: While this cream doesn't limit or point out that one shouldn't use it in case, they have any skin related condition, it is always advisable to inquire from your dermatologist before starting on any cream.
Q: Does Brilliance SF Work?
A: Yes, this cream may help improve moisture retention on the skin by the fact that it features certain ingredients including hyaluronic acid. The presence of peptides also helps support collagen levels on the skin, according to the producer.
Q: What Is Brilliance SF Money-back Guarantee, Return & Refund Policy?
A: Brilliance SF is sold with a 30-day return policy. This means in case one decides that this product is not what they wanted; they can ask for a refund on sending the product back to the manufacturer.
Brilliance SF Alternatives – Compare with Similar Items
Brand
Price
Active Ingredients
Plexaderm
$59.95
Acetyl hexapeptide-8, titanium dioxide, hydrolyzed rice extract
Crepe Erase
$49.95
Beeswax, shea butter, coconut butter, coconut oil
Hydroxatone
$69.99
Licorice, chamomile, shea butter, acetyl hexapeptide 8,
hyaluronate, grape seed extract,
Juvederm
$400
Hyaluronic acid
Is Brilliance SF Safe? – Warnings & Complaints
The answer for whether this antiaging cream is safe is yes, but that is based on the availed ingredients. Also, Brilliance SF has not been complained against so far, and no restrictions or warnings have been issued against it.
Brilliance SF Customer Reviews & Results – What Users Are Saying
So far not much has been shared about this product in regards to user experiences. The few reviews available about Brilliance SF is that it has worked for some people, while on the other hand, some users pointed out that it didn't work for them.
Brilliance SF: Packages, Deals, Prices & Where to Buy It
The listed retail price for this cream is as below;
1 Bottle – $49.00 (plus $9.95 to cover shipping and handling fees)
2 Bottles Plan – $33.33 each (free shipping)
3 Bottle Plan – $29.60 each (free shipping)
The Bottom Line on Brilliance SF
Like other antiaging creams, Brilliance SF is confident that it can help fight wrinkles. It prides of having a strong ingredient profile which among others, points out hyaluronic acid. Claiming that their version of HA has strong hydration benefits that allow it to diminish shouty fine lines, puffiness, and wrinkles.
In addition, Brilliance SF may supposedly help re-organize the skin to restore its collagen production[6] to healthy levels. However, there is a waiting gap that first-time users may need to note with this cream. That is to mean, you should give the cream a grace period, and use it regularly before you can see notable changes.
Is There Anything Else You Should Know About Brilliance SF?
The company that makes Brilliance SF is supposedly a specialized antiaging brand and that they use the most recent breakthrough ingredients on their product line. The U.S.-based company claims to mostly use ingredients that support the skin's natural function, for instance, this product has been designed to improve the function of whole collagen molecules in the skin.
READ NEXT – DRMTLGY Reviews

Sources
Health Insiders relies on peer-reviewed studies, academic research institutions, and medical associations. We avoid using tertiary references. You can learn more about how we ensure our content is accurate and current by reading our editorial policy.
[1] An Insight into the Changes in Skin Texture and Properties following Dietary Intervention with a Nutricosmeceutical Containing a Blend of Collagen Bioactive Peptides and Antioxidants
[2] Lupo M. (2008) Peptides for Facial Skin Aging. In: Shiffman M., Mirrafati S., Lam S., Cueteaux C. (eds) Simplified Facial Rejuvenation. Springer, Berlin, Heidelberg. https://doi.org/10.1007/978-3-540-71097-4_7
[3] Bukhari SNA, Roswandi NL, Waqas M, Habib H, Hussain F, Khan S, Sohail M, Ramli NA, Thu HE, Hussain Z. Hyaluronic acid, a promising skin rejuvenating biomedicine: A review of recent updates and pre-clinical and clinical investigations on cosmetic and nutricosmetic effects. Int J Biol Macromol. 2018 Dec;120(Pt B):1682-1695. doi: 10.1016/j.ijbiomac.2018.09.188. Epub 2018 Oct 1. PMID: 30287361.
[4] The Review on Properties of Aloe Vera in Healing of Cutaneous Wounds
[5] Discovering the link between nutrition and skin aging
[6] Edgar, S., Hopley, B., Genovese, L. et al. Effects of collagen-derived bioactive peptides and natural antioxidant compounds on proliferation and matrix protein synthesis by cultured normal human dermal fibroblasts. Sci Rep 8, 10474 (2018). https://doi.org/10.1038/s41598-018-28492-w