About Bosley Revitalizer
Bosley Revitalizer is supposedly an advanced hair loss solution that aims to help regrow hair. The reason the product is branded as a medical-grade device is that it uses clinically recommended low-level laser technology to offer therapeutic benefits that may effectively work in the treatment of hair loss.
Besides helping to reverse hair loss, Bosley Revitalizer may help decrease the rate of thinning which means, it may help slow down the balding process. The company behind the laser hair growth device prides on having been a solution to hair loss for over 40 years, and that they only use science-backed technology which is both effective and safe.
---
QUICK FACTS
Buy on Website
Buy on Amazon
Quick Facts & Specs
Bosley Revitalizer
Low-level laser therapy (LLLT) is a non-surgical, FDA-cleared technology that provides an easy, convenient, and effective way to treat hair loss in men and women. By stimulating cellular activity and blood circulation, LLLT promotes hair growth while reducing hair thinning.
Form:

Hair Regrowth Device

Type:

All Hair Types

Benefit:

Treats genetic hair loss, promotes thicker hair growth

Phone & Address:

800.985.6405; Bosley Inc., 9100 Wilshire Blvd, East Tower Penthouse, Beverly Hills, CA 90212

Brand:

Bosley

Uses:

Revitalizes damaged hair, enhances hair regrowth, treats hair loss and hair thinning

Price:

$1,699*
Bosley Revitalizer Pros & Cons
Pros
The device may help reduce hair thinning
It may help reverse baldness in men, also called androgenetic alopecia
The product claims it helps you grow thicker fuller hair
It may be effective on both men and women
It is supposedly built for maximum treatment coverage
Cons
It might not work immediately
The product only comes in regular and XL size variations
Deciding on which version to choose, the 164-laser-diode and the 272-diode version might be confusing
---
How Does It Work? | The Science Behind Bosley Revitalizer
This brand emphasizes the word 'revitalizer' in that, it comes in to sort of revive or in other words rejuvenate hair growth. What this means is that it supports the natural process of hair growth. In this aspect, the technique is considered safe, because all it does is enhance the natural mechanism of hair growth.
According to the producer, Bosley Revitalizer relies on careful emission of up to 650 nanometers of light, or wavelength. In this case, this is called low-level laser and is considered as the clinically recommended wavelength which can help improve blood circulation and cellular activity in the scalp. This consequently, is said to affect the inactive hair follicles, to kindle and promote hair growth. This biological concept is supported in one study that was reported in the Cosmetic and Laser Therapy Journal.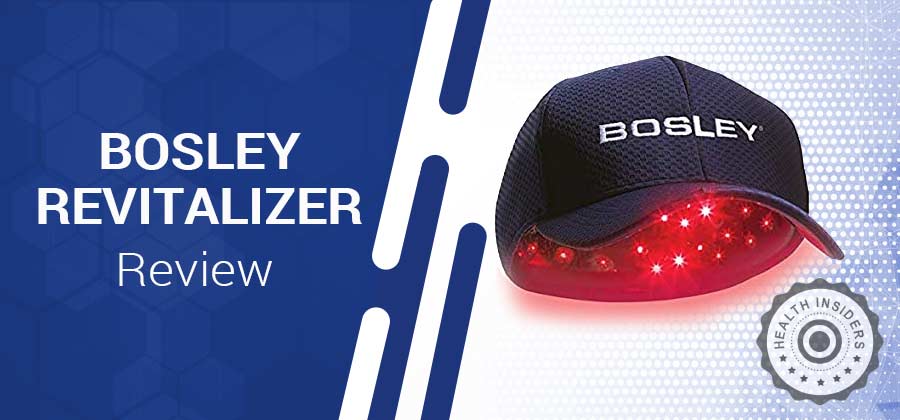 What Technology is Used to Build Bosley Revitalizer?
Low Laser Light Therapy, shortened to LLLT is the technology that this device is built upon, and that helps it achieve its goal. It is designed with 272 diodes and powered by a rechargeable battery, these diodes emit a type of wavelength that can efficiently and safely be absorbed to support the growth of hair.
Advertisement
*All individuals are unique. Your results can and will vary.
In other words, the ingredient that makes this product work is its ability to produce a light laser version that is clinically recommended to support hair growth and in the treatment of other alopecias, which the Journal of Cold Spring Harbor Perspective Medicine explains.
Bosley Revitalizer – Questions and Answers
Q: How to Use Bosley Revitalizer?
A: You can either use the devices for 30 minutes in a row daily or simply go for short treatment sessions of 5 to 10 minutes with breaks in between in a day. With the 30-minute session daily option, the Revitalizer will shut off automatically on the elapse of the time, but for the shorter sessions, you will need to manually set it.
Q: Does Bosley Revitalizer Have Side Effects?
A: The notion is that this hair revitalizer uses a specially designed low-level therapy method that may not result in any unwanted consequences. The laser power is supposedly meant to be only enough to promote the mechanism of hair growth.
Q: Does Bosley Revitalizer Work for Thinning Hair?
A: Yes, according to the manufacturer, the first notable results that users get from this product is it slows the rate of thinning as well as starts promoting hair growth.
Q: Does Bosley Revitalizer Work?
A: The confidence which the company behind this device has is one aspect that may make you want to give it a try. They say it is a medically cleared gadget that actively treats hair loss, to support thicker hair growth and reverse the impact of genetic hair decline.
Q: What Is Bosley Revitalizer Money-back Guarantee, Return & Refund Policy?
A: This Revitalizer is covered by a 2-year warranty and in case of any technical issues, a malfunction, or defect, you can let the company know. The battery however has a separate, one-year warranty.
Bosley Revitalizer Alternatives
| Brand | Price |
| --- | --- |
| iRestore Laser Hair Growth System | $495.00 |
| Theradome Pro LH80 Laser Hair Growth Helmet | $895.00 |
| Capillus Ultra Mobile Laser Therapy Cap | $999.00 |
| HairMax Laser Hair Growth Band | $545.00 |
Is Bosley Revitalizer Safe? – Warnings & Complaints
The Low Laser technology that this revitalizer uses has no health risks associated with it, according to the producer. And that because of this no complaints have been reported against the product so far.
Bosley Revitalizer Customer Reviews & Results
Although there are many reviews on other hair replacement procedures that the company behind this product undertakes, seems like this is their new product in the market and is yet to receive customer feedback.
Advertisement
*All individuals are unique. Your results can and will vary.
Bosley Revitalizer: Packages, Deals, Prices & Where to Buy It
All the versions of this Revitalizer are available on the company's official website, but you can also order it from some major retailer sites.
The Bottom Line
All Bosley Revitalizer caps point out that their crown fitly covers the hairline. Besides, they all deploy the same wavelength. However, the 272-diode model, as opposed to the 164 laser diodes, claims to offer enhanced coverage and that this may help increase the hair density.
In general, this product line may work more effectively on people with genetically caused hair loss. Its working principle is associated with stimulating cellular activity in the scalp, so if you are struggling with androgenic alopecia, you may find it helpful.
What is not clear, however, is how effective it would be on other causes of hair loss, for example, chemotherapy caused or skin disease-related hair loss.
Is There Anything Else You Should Know About Bosley Revitalizer?
One of the key details about this particular product that is worth noting is, you have to continue using it even if your results are great. If for any reason you stop using it, the process of hair miniaturization may begin to inhibit the growth cycle again.
In addition, you also need to clean the inner part of the cap once in a while to help maintain its good working condition. To do this, disconnect all the cords or cables, and using a clean cloth wipe the inner surface of the cap gently.
SOURCES
Health Insiders relies on peer-reviewed studies, academic research institutions, and medical associations. We avoid using tertiary references. You can learn more about how we ensure our content is accurate and current by reading our editorial policy.
[1] Qi J, Garza LA. An overview of alopecias. Cold Spring Harb Perspect Med. 2014 Mar 1;4(3):a013615. doi: 10.1101/cshperspect.a013615. PMID: 24591533; PMCID: PMC3935391.
[2] Hosking A, -M, Juhasz M, Atanaskova Mesinkovska N: Complementary and Alternative Treatments for Alopecia: A Comprehensive Review. Skin Appendage Disord 2019;5:72-89. doi: 10.1159/000492035
[3] https://onlinelibrary.wiley.com/doi/10.1111/exd.13690 https://onlinelibrary.wiley.com/doi/10.1111/exd.13690