Do laser hair growth devices really work? Lasers don't always remove hair. In many cases, they can be used to stimulate hair growth.
It's important to note that not every laser hair growth device will work for everyone, and your results may vary.
What are Laser Hair Growth Devices and How Do They Work?
Laser hair growth devices are non-invasive products designed for men and women who are experiencing hair loss and want to initiate regrowth. Laser therapy for hair is also referred to as cold laser, red light therapy, or photobiomodulation.
These products emit low-level light therapy, dispensing photons deep into the scalp to activate the hemoglobin and improve blood circulation. They also activate the hair follicles, leading to cell regeneration and additional growth.
About Low-Level Laser Therapy for Hair Loss
A Hungarian physicist accidentally discovered that low-level laser therapy was effective for hair loss in 1967. A study where he used laser therapy with mice had the additional effect of growing extra hair.
Despite this, the first laser therapy for hair removal device didn't come out until 2000, in the form of a laser comb for use at home. In 2007, the first FDA approved laser comb for men hit the market. In 2011, a similar product for women came out (1).
Research has demonstrated the effectiveness of this technology over and over again. For example, a review of studies published in Lasers Medical Science[1] looked at 21 studies and found that the majority of then showed positive results for hair growth.
A very recent review article from September 2020 in Skin Appendage Disorders[2] showed both the efficacy and the safety of low-level laser therapy for hair loss.
How Does Laser Therapy (LLLT) Work?
Laser therapy for hair loss functions through several mechanisms which stimulate hair growth. The laser penetrates into the cells, stimulating the hair follicles and initiating more cell division, as well as reducing any inflammation.
The device also leads to the release of additional nitric oxide, which improves circulation in the scalp and enhances its health. In addition, the laser can inhibit an enzyme called 5-alpha reductase, which causes testosterone to convert into the hormone dihydrotestosterone (DHT). This substance plays a role in hair loss.
The result of laser therapy for hair growth is that the follicles become more active, leading to hair growth. It also lengthens the active growth phase of the hair.
About Laser Caps for Hair Loss and Regrowth
Laser caps are probably the most common laser therapy for hair growth devices. The are in the form of a helmet or cap you wear on your head for a specified length of time (usually 30 minutes) on a regular basis while it delivers low-level light therapy.
They cover almost the entire scalp and deliver up to 272 diodes. This makes them more powerful than bands or combs. Where they may fall short is for people who have very thick hair, as it may block the scalp from the effect of the laser.
What are the Types of Laser Hair Growth Devices?
Laser therapy for hair regrowth devices may be in the form of a cap you wear on your head for a specified amount of time, a hair growth comb, or a laser band.
14 Best Laser Hair Growth Device – Comparison Table
Learn more about laser therapy and our comparisons of the top devices on the market.
Model
Price
FDA Cleared?
Diodes
Treatment Time
Theradome Pro LH80 Laser Hair Growth Helmet
$895
Yes
80 medical
grade lasers
6
RegrowMD Laser Cap 272 by HairMax
$899
Yes
272
4-52 weeks as a
gradual process
CapillusUltra Mobile Laser Therapy Cap for Hair Regrowth
$980.23
Yes
82
3-24 months
HairMax Laser Hair Growth Band LaserBand 41
$545
Yes
41
3-6 months
iRestore Professional
$1,195
Yes
282
3-6 months
iRestore Laser Hair Growth System
$695
Yes
255
4-6 months
Theradome EVO LH40 Hair Growth Helmet
$595
Yes
40 medical
grade lasers
4-6 months
REVIAN RED Hair Growth System
$995
Yes
620 and 660 nm
16-26 weeks
iGrow Laser Hair Growth Helmet
$449.99
Yes
Unknown
3-6 months
NutraStim Professional Hair Growth Laser Comb
$212.48
Yes
12 low level
lasers
4-6 months
Illumiflow Laser Helmet for Thinning Hair
$549
Yes
272
4-12 months
Kiierr Laser Cap System for Hair Growth
148 –complete
system $675 272 complete
system – $925
Yes
148, 272
7 months
Bosley Revitalizer
$2599
Yes
272
Unknown
illumiFlow 272 Laser Cap
$799
Yes
272
4-12 months
Top 14 Laser Hair Growth Device Reviews
There are plenty of options to choose from by the most respected brands in the industry. Our research team has placed their bet on the reviewed 15 devices, but you may find many others on the market.
---
This is a laser hair therapy for hair product which actually won the Laser Hair Restoration Treatment of the Year. There are two versions of the product, one with 40 lasers and the other with 80. Users are meant to use both devices, the 80 for 2 days a week and the 40 for 4 days a week. With this system, you should have a nice thick growth of hair within a year.
Pros
The product is cordless with a battery that is rechargeable.
The helmet fits 98% of potential users.
The product has a success rate of more than 90%.
Cons
This is an expensive product.
You may have a skin reaction to the product.
The company has poor customer service.
This is a powerful laser therapy for hair growth system of 272 diodes which is an extremely popular and well-known brand in the hair regrowth industry. This cap is a comfortable Hairmax hair growth laser light device, and it has openings which allow for the direct flow of the light energy onto your scalp.
Users have been extremely happy with this product, and many of them saw hair growth results within 1 or 2 months. Some customers in the Hairmax hair growth laser light device reviews said the product really changed their lives. Clinical studies of the device have indicated a 90% success rate.
Pros
It's a powerful product at 272 diodes.
The manufacturer has a good reputation.
Clinical research shows its efficacy.
Cons
This is an expensive product.
There's a greater chance of a skin reaction with 272 diodes.
This powerful laser hair therapy for hair loss device is made to look like a baseball cap, and it's quite appealing. It's equipped with 82 lasers which work hard to increase hair growth and thickness over time. This is a lightweight cap which is comfortable to wear and is rechargeable, so you don't need to plug it in while you're using it. There are plugs included for when you travel.
One the whole, the reviews for this medical hair growth laser device varied quite a bit. There were customers who found this to be an immensely helpful product in growing in their hair, and others who didn't see too much in the way of results.
Pros
It's an attractive model.
Each session is only 6 minutes.
You can use this hands-free without a cord.
Cons
It's quite expensive.
It may take some time for it to show results.
A band like this one is suitable for people who have mild to moderate hair loss. Although the product isn't cheap, it's less expensive than many of the caps and helmets. Of course, it's also much less powerful in terms of the intensity of the lasers.
The reviews for this laser therapy for hair removal product were mostly positive, with users saying it slowed their hair from falling out and helps grow it in thicker and healthier. There were some users who said they were still waiting patiently for results.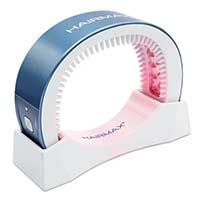 Pros
It's a very lightweight model.
They have 8 FDA clearances – the product is safe.
They use medical-grade lasers.
Cons
Some users say the cap fits too tight.
It's not a powerful device at 41 diodes.
A band doesn't cover the entire head.
This is a powerful device of 282 diodes. It's expensive, but it delivers more power than any other device on the market. The manufacturer promises that you'll have visible results and ticker hair within 3-6 months. If you have significant hair loss, this could be the restoration system for you.
The company conducted a clinical study which showed that customers had over 43% increase in hair growth. The reviews were also very positive, with customers raving about their hair growth and even positing pictures.
Pros
There's a rechargeable battery, so no cord.
This is the most powerful device available.
LCD display times the session.
Cons
This is an expensive device.
The added power makes a skin reaction more likely.
This product is slightly less powerful than the professional model at 255 diodes, and also less expensive at $695. You can get the full kit for $755. This is an effective device which will grow in your hair and make it thicker within 3-6 months.
This product comes with a rechargeable battery pack, and it has a 3-year warranty. The iRestore Laser Hair Growth System got fairly good reviews from customers, but not an overwhelming amount.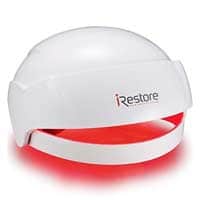 Pros
Clinical studies show 43% increase in growth in 100% of users.
There is a 6-month guarantee.
It's a hands-free method for growing hair.
Cons
Some users didn't find it effective.
It has 255 instead of 272 or more diodes.
This Theradome Evo laser hair growth device is a known and respected brand in the hair restoration industry. It contains 40 medical grade lasers. You should use the device 4 times a week for 20 minutes each session. The device is a cap with full scalp coverage which should bring results within 6 months if you use it consistently.
There are some glowing reviews on the company website from users who also posted impressive before and after pictures of their results. Within a few months, many customers saw significant hair growth.
Pros
The Theradome Evo laser hair growth price is more affordable than some other brands.
A former NASA scientist invented the product.
It's proven effective for 98% of customers.
Cons
Other brands have more lasers.
The company does not have good customer support.
This laser device for hair growth looks like a riding crop, and it covers your entire head, so it really reaches every area. It uses modulated light therapy to stimulate circulation and hair growth, as well as generally enhancing scalp health. This product is a little expensive, but the manufacturer offers some financing options.
The treatments for this product are 10 minutes on a daily basis, and this is enough to lead to significant hair growth within a few months' time. The reviews of this product are quite mixed. Some customers said they saw great results, and others saw none at all.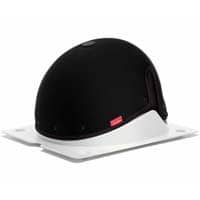 Pros
You should see results in 16-26 weeks.
This is a powerful product.
It could improve overall hair and scalp health.
Cons
This is a costly product.
You may have a skin reaction.
This is a home medical hair growth laser device which is a cap with some with headphones so you can listen to music and relax during your treatment. The manufacturer promises that within 4-6 months, you'll have fuller, thicker hair and hopefully feel better about yourself. They promise an average increase of 35% growth. This product is attractive, and it's also more affordable than many other similar devices.
The manufacturer does not provide information about how powerful the device is, which is important information missing. However, the reviewers are fairly happy with this product, with the majority finding positive results.
Pros
The product may lead to cellular rejuvenation.
There's a 6-month money-back guarantee.
The price is reasonable for the market.
Cons
The company may have poor customer service.
There's no information about the diodes.
It's possible to have a skin reaction to the product.
This is a comb, so that instead of wearing it as a cap or helmet you comb it through your hair for 8 minutes 3 times per week. This product should stop your hair from falling out, and it should grow your hair in within 4-6 months' time. The comb allows you to control which areas of your scalp you reach, which is more difficult with a helmet or cap.
Unfortunately, the reviews for this comb were only mediocre. Many users did find it helpful and got great results. Some said that besides hair growth and slowing down hair loss, it also reduced scalp itchiness. Others weren't as impressed and found the results were not as they would have hoped.
Pros
It's much more affordable than a cap or helmet.
The treatment sessions are only 8 minutes.
The comb also massages your scalp.
Cons
It's not as powerful as some of the other products.
It doesn't cover your whole head for the entire treatment.
You have to plug it in while you use it.
This is a powerful hair loss cap at 272 diodes. It looks like a baseball cap and is quite attractive. It should also be effective at stimulating your scalp and improving circulation. According to the manufacturer this is a high-quality device which should last for 20,000+ treatment sessions. You should see hair growth results from 4-12 months, with gradual improvement.
Pros
It has cooling technology for the lasers.
This is a hands-free model.
It covers your entire scalp.
Cons
Since it's powerful, some people may have a skin reaction.
It's a fairly expensive product.
There are two models, the full model of 272 diodes and another model of 148 diodes. These caps promise to penetrate deep into your scalp and stimulate hair growth and cell regeneration. You use this product for 30 minutes every other day, hands-free. It turns off automatically, so you can even use it when you're taking a nap.
This seems like a very promising product. The hair growth laser light device reviews on the official website are incredibly positive, with many users thrilled with the hair growth results they got within just a few months. There weren't a lot of complaints about this item.
Pros
This is a powerful product.
They guarantee results within 7 months.
The manufacturer has a 93% success rate in clinical studies.
Cons
The full model is expensive.
It's powerful, so some people may get a skin rash.
This is a very high-level laser hair growth device with 272 powerful diodes. It's a medical device which can treat genetically acquired hair loss and make the hair grow in thicker and healthier. The manufacturer is well known in the industry and very well-respected. You can schedule a free consultation through their website and discuss your condition.
The home medical hair growth laser device reviews were actually quite mixed. Some users found it to be immensely helpful in growing in their hair and making it thicker. Others didn't find it as helpful, or they were unhappy with the price.
Pros
It's attractive; it looks like a baseball cap.
This is a powerful product for hair growth.
Reviewers say the team is caring and knowledgeable.
Cons
This product is extremely expensive.
It could lead to a skin reaction or acne.
Not only does this laser device for hair growth look like a baseball cap, but you can also take your own favorite cap and easily slip the lasers inside. It's a powerful device at 272 diodes and should cover your entire head and stimulate hair growth. It should also prevent hair loss from continuing.
This is a lightweight cap which you can use hands free, and it turns off automatically at the end of the session. It's a little expensive, but for the strength of the device it's average or cheaper. On the whole, users were quite happy with this product and found that it did give them results. Some say this is the best laser hair growth device.
Pros
It has a 5-year warranty.
This is a hands-free device.
It's safe and FDA-approved.
Cons
It doesn't accommodate different head sizes well.
You could develop a skin reaction as it's powerful.
Things to Consider When Buying the Best Laser Hair Growth Device
Before you choose laser treatment for hair removal at home devices, consider a number of factors. Initially, you have a device which type of device to buy. Someone with severe hair loss is much better off with a cap or helmet, which covers the majority of their hair. A comb is better for someone with minor hair loss. People with very thick hair should not use a helmet or cap if the hair can block the laser.
Also, consider the price, and what your budget allows for. Some of the helmets are quite expensive. In addition to cost, the safety of the product is important. The technology is FDA approved, and the product should be as well. If it's not, do not purchase it.
You should check the power of the device, in terms of how many diodes it has. The upper limit is 282 diodes. Make sure you get a powerful product. Finally, check if the manufacturer has listed side effects.
Helmets vs Combs

Helmets cover your entire scalp, making sure the laser reaches every area. You don't have to touch it once you've turned it on, you just sit and wait. They have up to 282 diodes, which is a lot more than most combs would have. One issue is that they are not good for people with thick hair, as the hair prevents the laser from reaching your scalp.

Combs are smaller and less powerful, but they are a good choice for people who have scalp irritation that they want to itch or massage. The downside is you have to operate them manually. They are much cheaper than caps or helmets.

FDA Clearance & Severity

The first FDA clearances for laser therapy for hair regrowth devices for hair loss were issues in 2007. The technology is FDA approved, as will most of the devices for sale on the market. This is one thing you should check for before you make your purchase.

Price

The prices for the caps vary widely, from about $200 to up around $1500. Sometimes the difference is in the number of diodes, so check that carefully before you buy. Combs are much cheaper, from around $30 to $300.

Nanometers

Low-level laser therapy emits a light which delves deep into the scalp and stimulates follicles and cells. The light may be excimer at 308 nanometers, helium-neon at 632.8 nanometers, or fractional erbium glass at 1550 nanometers.

Time and Dedication

Low-level laser therapy works, but it takes time for it to really begin to make your hair grow. If you want this technology to help you, you have to make sure you use it consistently for as many months as it takes. If you use the device sporadically, it most likely will not bring the results you want.

Amount of Low-Level Lasers

There are dozens of different laser therapy for hair devices on the market, so research carefully before you choose one. One key factor in selecting a product is the number of lights it has. More lights mean the device will be more effective at growing your hair. Make this a factor to consider when you decide on which device to buy.
Step-by-Step Guide to Using Your New Laser Hair Growth Device
For a helmet, cap, or band, the instructions for use are quite easy. Before you use the device, wash your hair with a medicated shampoo to lessen any irritation. Follow up with a good conditioner which will prevent hair breakage.
Then dry your hair carefully before using the product. In order to get it to work, you just place the cap on your head. You can do other things at home while you're waiting for the treatment to end. It usually takes about 20-30 minutes and should shut off on its own when it's done.
A comb is slightly different in that you have to brush it through your hair for the allotted length of time, about 20-30 minutes.
How to Get the Most from Your New Laser Hair Growth Device
There are some things you can do to really get the most out of your product. These include:
Study the manual carefully and get to know your device.
Store the product somewhere cool and dry to protect the mechanism.
Wash, condition, and dry your hair before you begin.
Start from the edge of your hairline.
Follow the instructions carefully.
Don't use the device for longer than the recommendation.
Frequently Asked Questions
Q: How long does it take to regrow hair with lasers?
A: This will vary depending on the individual, but in general, it takes anywhere from 3-12 months to regrow your hair with a laser hair regrowth device.
Q: How much is laser treatment for hair removal?
A: The prices vary quite widely, from a few hundred to a couple thousand.
Q: Who can benefit from laser hair growth devices?
A: Both men and women who have experienced issues with hair loss can benefit from this therapy. However, people who are completely bald will not see any advantage of using this technology. Most likely at that point, the hair follicles are already dead.
Q: Do lasers work for young and aged people?
A: There is no age limit or barrier for low-level laser therapy. This technology is safe, and it has even been used on children for purposes other than hair loss (2). For older people, it may take longer for the hair to grow.
Q: Which type of device is better: a cap or a comb?
A: A cap is generally preferable to a comb. It covers much more of the scalp, and it's more powerful as it uses more diodes. For people who have especially thick hair, a comb may be better. With a cap, the thickness of the hair may block the laser from having an effect.
Q: Are therapy lasers devices safe for home use?
A: A laser hair regrowth device is absolutely safe for home use, and there are many brands on the market that you can order to use regularly in your home. We have presented some of the best ones in this article. Remember not to look at the laser with your eyes while you are using it.
Q: Will the laser actually stimulate growth?
A: Yes, there's no doubt that for most people the hair will stimulate growth. It may even stimulate a lot of growth. The device improves circulation and stimulates the hair follicles. Within a few months, most people do see significant growth with this technology.
Q: Can you use the device when it's plugged in?
A: Yes, it can. Many of these devices actually come with no battery at all, so you have to plug them in in order to use them.
What are the possible side effects of laser hair growth therapy?
It's possible that laser hair growth therapy could lead to a skin reaction like a rash, swelling, or even acne. There may also be scarring, a change in skin color, or an infection (3). Otherwise, there are few laser treatments for hair removal side effects.
Do Laser Hair Growth Devices & Laser Therapy really regrow hair?
Yes, laser therapy for hair loss work. The research shows very clearly that these devices will help grow hair longer and thicker if you use them consistently over a number of months. For example, a review of 9 studies in the Journal of Cosmetic and Laser Therapy[3] found this type of device is helpful for people with hair loss and does grow in hair. However, they did note that it works better for some people than others.
What Else Can You Do?
There are some natural ways to encourage your hair to grow which you can try along with your laser hair regrowth device. Try some of these:
Get a scalp massage or massage your scalp yourself on a regular basis. This will stimulate the follicles and improve blood circulation.
Rinse your hair off with cool water instead of warm or hot. This makes the hair follicles stronger, while hot water could damage the hair.
Consume plenty of omega3 fatty acids, as they nourish the hair and help it grow. Eat a lot of fatty fish, for example.
Cut down on or quit smoking if this is your habit. It can decrease circulation in your scalp, making hair growth more difficult.
Don't shampoo every single day unless you really have to. Shampooing too much can remove a lot of the natural oils in your hair, making it less healthy.
Conclusion
If you have experienced hair loss, consider purchasing a laser therapy for hair device for home use. Using this type of product on a consistent basis will help your hair grow, and it should come in thicker and healthier than previously. Numerous studies have confirmed the efficacy of this technology.
These laser therapy for hair growth devices are also incredibly easy to use. You place the cap, helmet, or band on your head and go about your business for about 30 minutes while it does its magic. With a comb, you spend about 20 minutes brushing through your hair. We've presented a number of good models in this article which can help you to find a product for you.
Remember to do your research before you choose laser therapy for hair loss devices, considering factors like the number of lights, the strength (diodes), the price, and the reviews. With any luck, in a few months, you'll find the best laser device for hair growth and be growing thick, radiant-looking hair.
Sources
Health Insiders relies on peer-reviewed studies, academic research institutions, and medical associations. We avoid using tertiary references. You can learn more about how we ensure our content is accurate and current by reading our editorial policy.
[1] Zarei M, Wikramanayake TC, Falto-Aizpurua L, Schachner LA, Jimenez JJ. Low level laser therapy and hair regrowth: an evidence-based review. Lasers Med Sci. 2016 Feb;31(2):363-71. doi: 10.1007/s10103-015-1818-2. Epub 2015 Dec 21. PMID: 26690359.
[2] Examining the Safety and Efficacy of Low-Level Laser Therapy for Male and Female Pattern Hair Loss: A Review of the Literature
[3] The use of low-level light for hair growth: Part I