What Is Nucific Bio X4?
Bio X4 is a weight loss aid that comes in capsule form. The purpose of this supplement is to curb cravings, improve digestion, and increase metabolism to promote weight loss. Bio X4 by Nucific, which was founded by Dr. Amy Lee (Bariatric Physician) and is based out of California. The company's mission is to utilize science and offer products that help your body function at its optimal level.
Nucific sells a variety of supplements and has been accredited by the Better Business Bureau since 2016. The company currently holds an A+ rating, despite customer complaints of overcharging and shipping errors.
In this review of Bio-X4, we'll analyze all aspects of the Nucific Bio X4 probiotic supplement to help you make the best decision for your health, answering common questions like:
Are there any Bio X4 side effects?
What do Bio X4 Nucific reviews and complaints say?
Is Nucific Bio X4 safe?
Does Bio X4 work?
What is Bio X4 Good For?
Who is the Manufacturer?
Bio X4 is a product from one of the reputable health and wellness companies known as Nucific. It is known for its high quality and healthy products like Nucific Slimming Chocolates, Probiotic Complex, Deep Cell Activator, Carb-C6, Prebio Cleanse, Antarctic Krill Oil, MoroSlim.
Is Dr. Amy Lee a Real Doctor?
Amy Lee, MD is an Internal Medicine Specialist in Riverside, CA, and has over 47 years of experience in the medical field. She graduated from Taipei Medical University medical school in 1973. Her profile can be seen on the websites like Healthgrades, US News, Lindora, Seattle Children's, UW Medicine – Seattle, and MedStar Health.
---
QUICK FACTS
Buy on Official Website
Quick Facts & Specs
Nucific Bio X4
Bio-X4 is a probiotic-based dietary supplement that claims to help with hunger management, metabolism, and digestion.
Form:

Capsule

Type:

Supplement

Benefit:

This product is likely to promote gut health and some weight loss.

Brand:

Nucific

Uses:

Supports smoother digestion.

Ingredients:

Probiotic Blend, Digestive Enzyme Blend, Weight Management Blend, Craving Control Blend

Price:

$99.00
Nucific Bio X4 Pros & Cons
Pros
This product is likely to promote gut health and some weight loss
Research behind individual ingredients overall support the effectiveness of them
Biox4 ingredients are from whole fruits and vegetables
Nucific donates a portion of every purchase to the Action Against Hunger organization
Significant number of positive customer reviews on Bio X4
Appears to be a reputable company, has a physical location, and offers support via phone and email
Nucific offers an extensive 90-day money-back guarantee if you're not fully satisfied with their product
Cons
Mild stomach pain and nausea may occur
---
Bio X4 Ingredients – The Breakdown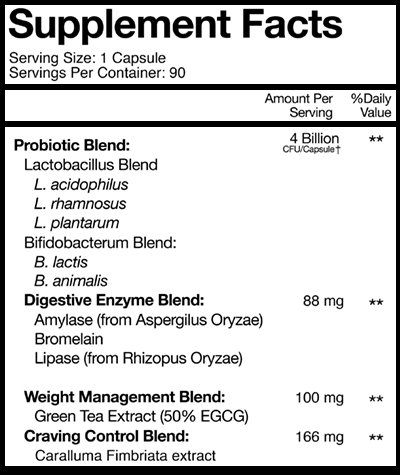 The ingredients in Bio X4 pills are made up of 4 proprietary blends and in parentheses are amounts of each main ingredient in 1 capsule.
We examined the scientific evidence behind Bio X4 ingredients to see if these claims hold up.
Probiotic Blend (4 Billion CFU): A mixture of Lactobacillus and Bifidobacterium strains. Bio X4 probiotics are most commonly used to treat gastrointestinal conditions, but specific strains may offer various types of additional health benefits. For example, Lactobacillus acidophilus [1] may reduce the severity of lung infections in children and number of eczema breakouts in infants [2] and Bifidobacterium lactis may boost your immune system.
Digestive Enzyme Blend (43mg): A combination of amylase, bromelain, and lipase. Amylase and lipase are enzymes in the body – enzyme blend amylase breaks down carbohydrates and lipase breaks down fat for easier digestion. Bromelain is an enzyme mixture in pineapple that is commonly taken for sinusitis and may show promise in treating other inflammatory-related conditions [3]. In regards to gut health, bromelain may help an upset stomach and reduce diarrhea, but according to the National Institute of Health, may or may not be helpful in digestion [4].
Weight Management Blend (100mg): Green tea extract that is 50% epigallocatechin gallate (EGCG), a highly potent antioxidant naturally found in green tea. Green tea can boost metabolism to promote weight loss, likely related to the combination of antioxidants and caffeine. A study in the International Journal of Obesity found that green tea leads to weight loss [5].
Craving Control Blend (166mg): It consists of Caralluma Fimbriata (C. Fimbriata) extract which comes from the C. Fimbriata plant native to India and is commonly used to suppress the appetite. A study in Scientific Reports concluded that this plants induces satiety and can lead to weight loss in men and women [6].
How Does Bio X4 Work – The Science
The science behind Bio X4 Nucific is in the ingredients that together are meant to reduce total calorie intake, improve digestion, boost energy levels, and burn more calories to result in weight loss. One may specifically wonder why a company would add probiotics to a best weight loss supplement, but Harvard Health discusses a positive link between good gut bacteria and weight management.
The article proposes good bacteria in your gut may reduce the total amount of calories your body absorbs, making it easier to lose weight or minimally maintain your current weight.
The active Nucific Bio X4 ingredients also increases the speed of the metabolism, which causes the body to enter the fast-burning state of thermogenesis which leads to rapid weight loss. Other ingredients suppress appetite, so you eat less overall.
Bio X4 – Frequently Asked Questions
Q: How to take Bio X4?
A: Nucific reviews weight loss suggest taking 1 capsule 3 times per day with meals. The company mentions you can increase to 2 capsules per meal, but you should not exceed 6 capsules per day.
Q: How Long Does a Bottle of Bio X4 Last?
A: For 90 capsules, Nucific Bio X4 costs $49.00. This works out to be $1.63 – $3.26 per day to take these. A single bottle will last you between 15 – 30 days.
Q: What is Bio X4 Used For?
A: It is a dietary supplement that is used to control appetite and boost metabolism, leading to weight loss. In addition, it supports a healthy digestive system and can ease symptoms like bloating and diarrhea.
Q: Does Bio X4 Help You Lose Weight?
A: Nucific Bio-X4 contains EGCG — a natural compound found in green tea, which has been shown in numerous studies to boost your metabolism and help your body burn more fat. It also contains Caralluma Fimbriata, which is a potent appetite suppressant that helps you eat smaller portions. According to the manufacturer, this potent metabolism booster can help you achieve a slimmer, lighter body — while giving you the energy to enjoy every minute of every day.
Nucific Bio X4 is one of many probiotic supplements available online. The company behind Bio-X4, 'Nucific', claims it will help with weight loss, metabolism, digestion, and appetite. As of now, there's limited evidence to suggest that probiotic supplements may lead to a small amount of weight loss, but only by about one pound.
Q: What Sets Bio X4 Apart From Other Health Supplements?
A: Compared to other best weight loss supplements, Bio X4 Nucific promotes digestive health to ensure you get the best from your diet and support healthy weight management. Bio-X4 supports your health goals by balancing gut health with the unique ingredients blend.
Q: How to Order Bio X4?
A: You have the option to buy 1, 3, or 6 bottles at a time. Each bottle is a 1-month supply if 3 capsules are taken daily. Each order also includes free shipping:
1 bottle = $99.00
3 bottles = $261.36
6 bottles = $487.08
All prices listed here are as they appear on the official Nucific website.
Q: I Just Saw a Whole Ad By Dr. Amy Lee and I Saw The Offer For $49.00 Per Bottle At The End and I Lost The Site Where I Could Order it. Can I Order it Now?
A: Yes, the best place to purchase BIO-X4 is directly from Nucific's website.
Q: How Do I Re-order Nucific Bio X4?
A: You can either make a one-time purchase when you visit the website. You can also subscribe to the website for an additional 10% discount every month. When you purchase Bio X4 from Nucific official website, you enjoy a 90-day money-back guarantee. In case you do not like your purchase, you can return it and get a refund.
Q: What Are The Side Effects of Bio X4?
A: The manufacturer's official website claims there are no known Nucific Bio X4 side effects, and for the most part, we agree that it appears to be one of the safer weight loss supplements on the market.
Q: What if I Have a Health Condition?
A: Nucific Bio X4 side effects are likely to be minimal but be sure to discuss this supplement with a healthcare provider prior to starting it to ensure there are no pre-existing health condition concerns or medication interactions.
Q: Is Bio X4 Safe?
A: This is a very safe supplement that includes only 100% organic ingredients. There are no chemical or artificial substances added, and this product will not cause any harmful side effects.
Q: How Long Does it Take For Bio X4 to Work and Show Real Results?
A: With Nucific Bio X4, it can take a couple of months (between 30 and 60 days) to see results. However, some users have noticed results sooner than that (within 2 to 3 weeks).
Q: What is Bio X4's Return & Refund Policy?
A: Nucific offers a wonderful 90-day money-back guarantee for users who are not 100% satisfied with their purchase. Users just have to call the company and they'll get their money back. The Contact link provides an email address, physical location, and phone number with hours of operation to reach them.
Q: Is Bio X4 Legit?
A: This is absolutely a legitimate product, made by a reputable company called Nucific. They have an actual address and have been in business for 7 years. It's a high-quality brand, and the Nucific Bio X4 reviews Dr. Oz attest to the fact that it's not only legitimate, but also highly effective. To avoid any potential Bio X4 scam products, always buy directly from the manufacturer.
Q: Does Bio X4 Have Caffeine?
A: Yes, Bio X4 includes some caffeine in green tea which helps to speed up the metabolism and put you in a fat-burning state. However, the amount is not very high and should not lead to any side effects.
Q: Does Bio X4 Actually Work?
A: Yes, this product contains highly effective ingredients like probiotics, enzymes, and caffeine which help ease digestive symptoms and promote weight loss. It should work very well, and most of the Nucific Bio X4 Amazon reviews support this.
Q: I have candida overgrowth and recently have become more flatulent. How might this product Bio X4 affect my system?
A: By taking a high-quality probiotic supplement like Bio X4, the good bacteria can begin to colonize your gut, making it an unpleasant environment for Candida to live in.
In therapeutic terms, probiotics are known to reduce Candida infections in different organ systems of the human body, and are generally considered to be beneficial for overall health (source: Clinical Infectious Diseases).[7]
Recent Studies involving the use of yogurt and honey in the vagina suggest that this mixture takes about a week to work [8]. Oral probiotics, on the other hand, can take anywhere from one to four weeks to alter the microbiota of your vagina.
Bio X4 Alternatives
| Brand | Price | Ingredients |
| --- | --- | --- |
| Vital Reds | $69.95 | Green tea, Aronia Berries, Grape Seed Extract, Mulberry Extract, Bitter Melon Extract |
| 1MD Complete Probiotics Platinum | $40.99 | Bifidobacterium lactis, Lactobacillus acidophilus, and NutraFlora prebiotic fiber |
| Active PK | $69.00 | Gynostemma Pentaphyllum Leaf Extract, Quercetin Dihydrate, Berberine HCI |
| Bio Complete 3 | $80.00 | CoreBiome, Sunfiber, ProDURA |
| PhenQ Weight Loss | $69.95 | A Lacys Reset, Nopal, Capsimax, L-Carnitine Fumarate, Caffeine |
| ActivatedYou Morning Complete | $49 | Aloe Vera, Green Tea, Turmeric, Ginger Root, Probiotic Blend, Astralagus, Fennel Seed, Spinach, Broccoli, Kale, Cinnamon Bark |
*All prices listed here are as they appear on their websites and are subject to change.
Bio X4 Customer Reviews & Results
Does Bio X4 work? What does the BioX4 reviews say? The majority of Nucific Bio-X4 reviews are positive as many reported curbed cravings, weight loss, elimination of bloating and indigestion, increased energy levels, and no side effects.
"Bio X4 pills have made all the difference in my digestion!" — I found Nucific Bio-X4 by chance and understood from the promotional video that this product could be the answer I was looking for. I've had several rounds of antibiotics and have tried probiotic supplements that did not reach my intestinal tract, where they're needed most. I considered the four ingredients in Bio-X4 and how they are made and decided it was worthwhile trying for 30 days (in conjunction with the excellent recipes provided).
I received Bio-X4 from Nucific within a few days and have been taking them for 11 days. I am extremely happy to say that I can feel a vast difference in my health and my energy! I felt a small adjustment to my digestion which aligns with the healing expected by introducing good bacteria and have since noticed a great improvement in my skin, my movement, and my digestion! Considering this has been 11 days, I fully intend to continue with Bio-X4 and would highly recommend anyone who is suffering from digestion/weight issues to seriously consider Bio-X4. ~ by Cicely Doell
Negative Bio X4 reviews were mainly the complaints which revolved around incomplete shipments/shipping errors from companies other than the manufacturer. However, most of the Bio-X4 Nucific reviews were very positive, especially when the order came directly from the company.
*Individual results can and will vary.
The Bottom Line on Bio X4 Nucific Reviews
Bio X4 seems to be an effective supplement with the intriguing addition of probiotics and an overwhelming amount of positive results. If you can get your hands on this supplement, it may very well be worth any type of hassle. The science is there and not only may it benefit your gut, but your waistline too!
Nucific Bio X4 reviews Dr. Oz had some very good things to say about this supplement, including that it led to great weight loss and eased digestive symptoms. People said it also helped suppress the appetite, which sped up the weight loss. There were very few poor reviews or complaints about this product.
Bio X4 is a high-quality weight loss and digestions supplement which is well-liked by customers. It's made by a highly reputable manufacturer called Nucific which produces its products safely in and FDA-approved facility.
Is There Anything Else I Should Know About Bio-X4 Nucific Probiotics?
Keep in mind there is no such thing as a miracle weight loss pill, as much as it seems like this might be it. The company recommends you give BioX4 at least 60 days to do its thing. If you keep your expectations reasonable, you may be able to greatly benefit from this supplement. Here are some natural ways to help with weight loss:
To really burn off the calories, exercise at least 30 times a week for 30-45 minutes.
Don't buy tempting snacks like chips and ice cream. If they aren't in the house, you're less likely to eat them.
Work on keeping your anxiety levels down, as this can lead to stress-eating. Try meditation, mindfulness, yoga, or any other method you like.
Follow a healthy diet including fruits and vegetables, fatty fish, lean meat, whole grains, and some dairy. Avoid refined sugar and processed foods.
10 sources
Health Insiders relies on peer-reviewed studies, academic research institutions, and medical associations. We avoid using tertiary references. You can learn more about how we ensure our content is accurate and current by reading our editorial policy.
[1] Acidophilus https://www.mayoclinic.org/drugs-supplements-acidophilus/art-20361967
[2] Bustamante M, Oomah BD, Oliveira WP, Burgos-Díaz C, Rubilar M, Shene C. Probiotics and prebiotics potential for the care of skin, female urogenital tract, and respiratory tract. Folia Microbiol (Praha). 2020 Apr;65(2):245-264. doi: 10.1007/s12223-019-00759-3. Epub 2019 Nov 26. PMID: 31773556; PMCID: PMC7090755.
[3] Pavan R, Jain S, Shraddha, Kumar A. Properties and therapeutic application of bromelain: a review. Biotechnol Res Int. 2012;2012:976203. doi: 10.1155/2012/976203. Epub 2012 Dec 10. PMID: 23304525; PMCID: PMC3529416.
[4] Bromelain https://www.nccih.nih.gov/health/bromelain
[5] Hursel, Rick & Viechtbauer, Wolfgang & Westerterp-Plantenga, M.S.. (2009). Effects of green tea on weight loss and weight maintenance. A meta-analysis. International journal of obesity (2005). 33. 956-61. 10.1038/ijo.2009.135.
[6] Rao, A., Briskey, D., dos Reis, C. et al. The effect of an orally-dosed Caralluma Fimbriata extracts on appetite control and body composition in overweight adults. Sci Rep 11, 6791 (2021). https://doi.org/10.1038/s41598-021-86108-2
[7] The Comparison of vaginal cream of mixing yogurt, honey and clotrimazole on symptoms of vaginal candidiasis https://www.ccsenet.org/journal/index.php/gjhs/article/view/43971
[8] Victor H. Matsubara, H. M. H. N. Bandara, Marcia P. A. Mayer, Lakshman P. Samaranayake, Probiotics as Antifungals in Mucosal Candidiasis, Clinical Infectious Diseases, Volume 62, Issue 9, 1 May 2016, Pages 1143–1153, https://doi.org/10.1093/cid/ciw038
[9] Batra HS, Kumar A, Saha TK, Misra P, Ambade V. Comparative study of serum amylase and lipase in acute pancreatitis patients. Indian J Clin Biochem. 2015 Apr;30(2):230-3. doi: 10.1007/s12291-013-0416-y. Epub 2014 Jan 24. PMID: 25883434; PMCID: PMC4393381.
[10] Chacko SM, Thambi PT, Kuttan R, Nishigaki I. Beneficial effects of green tea: a literature review. Chin Med. 2010 Apr 6;5:13. doi: 10.1186/1749-8546-5-13. PMID: 20370896; PMCID: PMC2855614.