Avene Retrinal
Avene Retrinal is an anti aging moisturizer that claims to actively reduces signs of skin aging, according to its producer. It contains a high concentration of vitamin A and is designed for all skin types including those prone to acne[1].
Avene further claims that this intensive cream is oil-free, paraben-free, and fragrance-free. It is hypoallergenic and asserts that it has been approved by dermatologists.
It is an over-the-counter topical retinoid that requires no prescription. However, some dermatologists can still prescribe it for you.
---
Buy on Amazon
Buy on Walmart
Quick Facts & Specs
Avene Retrinal
Avene RetrinAL 0.1 is an anti-aging cream that uses this powerful ingredient along with soothing ingredients to help reduce irritation.
Form:

Cream

Type:

Skin

Benefit:

Actively reduces signs of skin aging.

Brand:

Eau Thermale Avène

Uses:

Claims to help nourish and protect the skin.

Ingredients:

Peptides, Vitamin E, Titanium Dioxide, Mica, Antioxidants

Price:

$70
Avene Retrinal Pros & Cons
Pros
This product claims to be approved by dermatologists as an able anti-aging cream
It claims to be free from parabens, fragrance, and oil
It prides of being hypoallergenic and comfortable on the skin
The cream claims to be suitable on all skin types including acne-prone skin
It is available over the counter as well as online
Cons
It may not work as fast on some skin types and may delay your goals
The cream may leave a yellow residue on bedding when you apply at night
The wrinkles and fine lines may reappear if you stop using the cream
Some people might prefer it scented differently
---
How Does It Work? | The Science Behind Avene Retrinal
Avene Retrinal contains effective ingredients that claims to help nourish and protect the skin.
Nourishment in this formula comes in terms of essential vitamins, peptides, proteins, and antioxidants while the protective measures come in the form of radical scavenging and sun screening.
Both measures can help the skin rejuvenate and battle aging signs that undermine the beauty of your skin.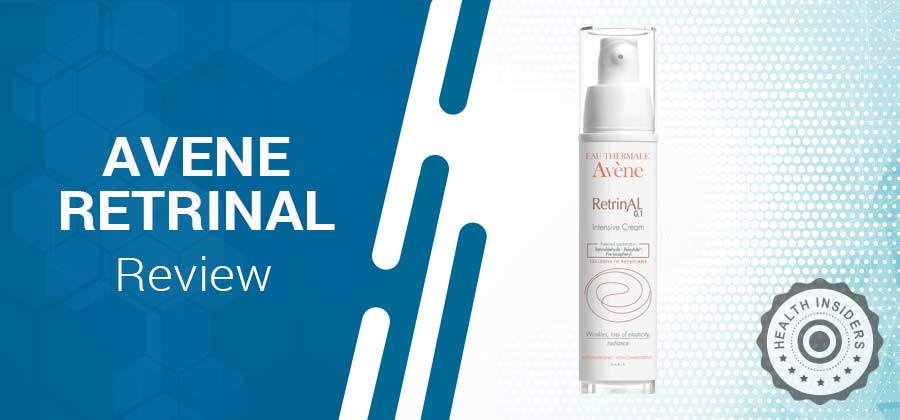 Advertisement
*All individuals are unique. Your results can and will vary.
Avene Retrinal Ingredients – The Breakdown
There are a number of ingredients that have been used to formulate this product. They include;
Peptides – These are short-chain amino acids. According to the Journal of Cosmetic Dermatology, peptides help to battle aging signs as they can penetrate the upper layer of the skin. There they trigger important functions such as collagen support that firms, thicken and improve the skin's elasticity.
Vitamin E – this is a vital fat-soluble antioxidant that is synthesized by plants. Vitamin E provides the skin with solar radiation protection by assuming the role of a free radical scavenger. Additionally, this vitamin rarely causes breakouts such as dermatitis as explained by the Indian Dermatology Online Journal[2].
Titanium Dioxide – this ingredient has good sun screening properties. Titanium Dioxide permeates through the skin and absorbs UVA rays preventing them from reaching and damaging the dermal layer. The Advanced Pharmaceutical Bulletin[3] studied titanium dioxide in a sunscreen formulation and observed its effectiveness.
Mica – this is an inorganic material that is widely used in cosmetics and other personal care products. In a review article published in the National Library of Medicine[4], mica is associated with the formulation of color cosmetics where it works as an optical and tactile modifier.
Antioxidants – the Reactive Oxygen Species (ROS) are known to initiate both intracellular and extracellular oxidative stress that cause skin aging. According to the Japanese Society for Investigative Dermatology[5], antioxidants prevent symptoms related to photo-induced aging of the skin.
Avene Retrinal cream – Questions and Answers
Q: How do I use Avene Retrinal cream?
A: Apply the cream on a clean face and neck in the evenings or as directed by your dermatologist (in case it was prescribed).
Q: Does Avene Retrinal Have Any Side Effects?
A: This product may not cause side effects as it is free from soap, gluten, soy, parabens, oil, and fragrance.
Q: Can I Use Avene Retrinal If I Have A Skin Condition?
A: There are no restrictions given on users with a health condition. Nevertheless, you should enquire from your dermatologist if it is safe for you to use this anti-aging moisturizer.
Q: Does Avene Retrinal Work?
A: This intensive cream may actually work considering the ingredients present in its formula. The ingredients have scientific evidence to prove their effectiveness.
Q: What Is Avene Retrinal Moneyback Guarantee, Return & Refund Policy?
A: You can only return unopened products in order to get a refund from the brand. Returns should be done within 30 days of purchase.
Advertisement
*All individuals are unique. Your results can and will vary.
Avene Retrinal Alternatives
| Brand | Price | Active Ingredients |
| --- | --- | --- |
| Dermacort | $89.99 | Collagen |
| Derma Progenix | $69.00 | Vitamins, Matrixyl 3000, Moisturizers |
| Beverly Hills MD Dermal Repair Complex | $39.99 | Vitamin A, Thiamin, Riboflavin, Niacin, Vitamin B6, Folate, Biotin, Pantothenic Acid |
| Plexaderm | $59.95 | Titanium Dioxide, Acetyl hexapeptide-8, hydrolyzed rice protein |
| Renee Rouleau | $30.50-162 | Lactic Acid, Hyaluronic Acid, Citric Acid, Ethyl Lactate, Vitamin E, Licorice Root, Kakadu Plum |
| ActivatedYou Essential Skin Food | $69.95 | Vitamin C, Cosmythic, Dermaval, Amino Acid Complex |
| Biossance | $10-72 | Squalane, Hyaluronic Acid, Glycerin, Panthenol, Pelargonium Graveolens Flower Oil |
| Musely Rx | $30-$80 | Tretinoin, Hyaluronic Acid, Titanium Dioxide, Cucumber Extract |
| Miami MD | $49 | Progeline, Haloxyl, Matrixyl 3000, Eyeliss, Argireline, Acetyl Hexapeptide |
Is Avene Retrinal Safe? – Warnings & Complaints
This product may be safe because it is free of oil, parabens, soy, gluten, fragrance, and soap. It also claims to be hypoallergenic and approved by dermatologists.
Avene Retrinal Customer Reviews & Results
This product has many positive reviews with customers claiming it nice and gentle and it works as it should. Customers with sensitive skin acknowledged that the cream did not cause any allergic reactions.
The only negative remark that the customers mentioned was the cream left behind a yellow residue on their bedding.
Avene Retrinal: Packages, Deals, Prices & Where to Buy It
This cream costs $70 and can be bought from the official website as well as other online retailers.
SEE ALSO – Perricone MD Cold Plasma Plus and Juvederm

The Bottom Line on Avene Retrinal
Avene Retrinal Intensive Cream is an anti-aging moisturizing cream that promises to plump, brighten, erase fine lines, even your skin tone[6] and rejuvenate the skin.
Advertisement
*All individuals are unique. Your results can and will vary.
It is suitable for all skin types including those with sensitive skin and the good thing about this cream is that it has many positive reviews.
Most of the customers were happy with the results and they claimed to continue buying the product.
The only setback this product has is that it leaves a yellow residue on the bedding when applied at night which could be messy.
But if you don't mind cleaning up, then this product could be a great solution for you.
Is There Anything Else You Should Know About Avene Retrinal?
When using Avene Retrinal Intensive Cream, you should always use sunscreen to protect yourself from sun damage. This is because the sun-blocking ingredients in this cream cannot pass for an actual sunscreen.
Also, sunscreen protects you from harmful UV rays that may damage your skin causing premature aging.