About Athletic Greens
Athletic Greens is a multi-ingredient supplement that blends over 75 vitamins, probiotics, minerals, and other ingredients to promote different aspects of healthy living.
This supplement claims to boost your energy levels, improves your immunity, assists indigestion, and aids in recovery[1].
Athletic Green is manufactured under Good Manufacturing Practice, in a New Zealand certified facility, making it an authentic product with a high degree of transparency.
---
Buy on Amazon
Buy on Walmart
Quick Facts & Specs
Athletic Greens
Athletic Greens supports gut health, immunity, energy, recovery, focus, aging, and more.
Form:

Powder

Type:

Supplements

Benefit:

Helps in boosting energy levels.

Brand:

Athletic Greens

Uses:

Aids the digestion system.

Active Ingredients:

Vitamins and Minerals, Alkaline Nutrient, Probiotics and Digestive Enzymes

Price:

$97
Athletic Greens Pro Pros & Cons
Pros
It may help boosts your energy levels
Claims to aid the digestion system
Might help support immunity
Works with many dietary limitations
Offers nutritional support that your body might be lacking
Free from harmful preservatives and chemicals
Cons
The amounts for each ingredient are not available making it hard to predict the efficiency
May cause a mild feeling of nausea and vomiting to some first-time users
Daily zinc consumption above 100mg may cause digestive issues.
Some people may not like the packaging
---
How Does It Work? | The Science Behind Athletic Greens
When one heaped tablespoon of the Athletic Greens powder is dissolved in water and taken daily, it works by boosting your energy levels and improving your immunity. It also assists in digestion and aid in recovery.
The supplement also works with many dietary restrictions because the formula is free from gluten, wheat, egg, yeast, dairy, lactose, corn, dextrose, sucrose, animal products, and peanuts.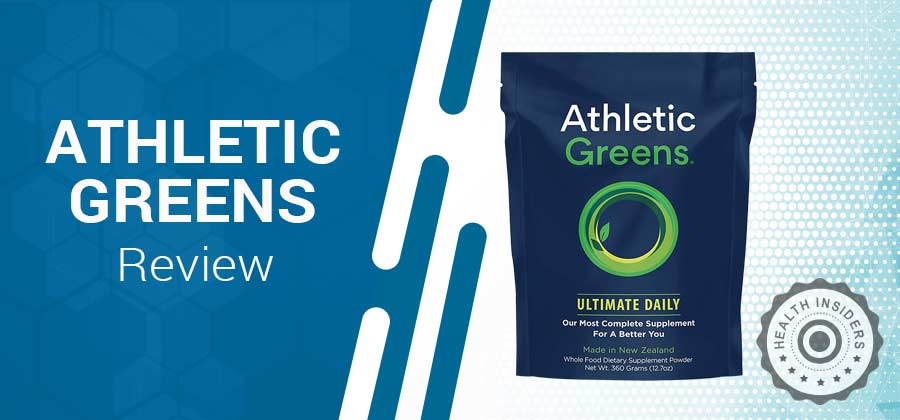 Advertisement
*All individuals are unique. Your results can and will vary.
Athletic Greens Ingredients – What to Look For?
Vitamins and Minerals – The combination of these health support components helps the body meet its daily need for minerals and vitamins. In precise, nutrients are crucial for the functioning of the immune and nervous systems. They include B vitamins and zinc.
A study report in the Official Publication of the College of Family Physicians of Canada[2] supports that a daily intake of vitamins and mineral supplements has profound health benefits.
Alkaline Nutrient – It is dense superfoods, natural extract, herbs, and antioxidants offering a blend of nutrients that compares to about 12 servings of vegetables and fruits. Antioxidants help to fight free radicals in the body.
The International Journal of Molecular Sciences[3] has found out that alkaline nutrient is a powerful antioxidant with powerful biological effects like anti-aging, anti-inflammatory, and anti-cancer.
Probiotics and Digestive Enzymes – These include L. Acidophilus UALa and Bifidobacterium BifidumUABb-10. Probiotics play a critical role in immune support, digestion, and overall health.
According to Tropical Life Sciences Research[4], probiotics improve the immune system and prevent digestive diseases.
Athletic Greens – Questions & Answers
Q: How to Use Athletic Greens Ultimate Daily?
A: Dissolve one heaped tablespoon of Athletic Green powder into water and drink every day.
Q: Does Athletic Greens Have Any Side Effects?
A: Taking Athletic Greens every day may have no side effects if you adhere to the stated dosage. Vitamin B12 which is the main ingredient can easily be flashed out through the urine.
However, though toxicity may be uncommon, daily zinc consumption above 100mg may cause digestive issues. So, it is advisable not to exceed the stated dose.
Q: Can I Use Athletic Greens Ultimate Daily If I Have A Health Condition?
A: The product contains many ingredients, and it is wise to consult a doctor before using it.
Advertisement
*All individuals are unique. Your results can and will vary.
Q: Does Athletic Greens Work?
A: Yes, it works. Customers who have used Athletic Greens boast of increased energy levels, reduced stomach cramps, and IBS symptoms relief.
Q: What Is Athletic Greens Money-back Guarantee, Return & Refund Policy?
A: The Company offers a 60-day money-back guarantee on all orders. If you are unsatisfied, there is a number you can call on the product's website, or you can have a live chat. The company does not cater to the shipping costs.
SEE ALSO – Primal Harvest

Athletic Greens Alternatives – Compare with Similar Items
Brand
Price
Ingredients
Energy Renew
1 jar $74.95, 3 jars $285.00, 6 jars $377.70
Vitamin C, D-Ribose, N-Acetyl L-Carnitine, Polyphenol Blend
Gundry MD Total Restore
1 bottle at $69.95 for non-members & 1 bottle at $44.95 for members
L-Glutamine, NAG, MBH, zinc
SuperBeets
$39.95
Sodium, Potassium, Carbohydrates, Protein, Magnesium, Vitamin C
Goli Nutrition
$19.00
Apple cider vinegar, organic beet root, organic pormegranate, vitamin B9
Is Athletic Greens Safe? – Warnings & Complaints
Yes, it is safe for daily consumption. The product is free from harmful preservatives and chemicals, and it meets the FDA guidelines.
However, previous customers have warned that some users of this supplement may experience side effects such as skin flush, nausea, and vomiting.
Athletic Greens Customer Reviews & Results – What Users Are Saying
The vast majority of the Athletic Greens reviews are happy that their energy levels rose once they used it. Some of the Athletic Greens reviews state that they had reduced stomach cramping and relief from IBS symptoms. Other people also say that the product has good taste.
On the other hand, some customers were not happy with the product and shared their negative experiences. Others could not see any results after taking it, while others complained of constipation after taking the supplement.
The packing of the product is not appealing to some customers. Some Athletic Greens reviews also state that the product is expensive.
Advertisement
*All individuals are unique. Your results can and will vary.
Athletic Greens: Packages, Deals, Prices & Where to Buy It
One packet contains thirty 12g servings, which can last an entire month. You can get the product on the company's website as well as from Athletic Greens Amazon, which offers different purchasing options. Special offers and deals along with Athletic Greens Discount Code is available on the website.
One-time purchase: 1 packet at $97 plus a shipping fee of $9
Monthly subscription plan: 1 packet at $77, OR 2 packets at $147 plus a shipping fee of $9 each
The subscription plan allows you to save up to 24% of the total cost.
The Bottom Line on Athletic Greens
Athletic Greens formula offers you many nutrients that cover most of your body's needs, irrespective of dietary restrictions. The supplement is beneficial to those that don't take dairy, wheat, animal products, or nuts as they contain vital micronutrients[5].
This supplement claims to boost your energy levels, improve your immunity, assist with indigestion, and aid in recovery. Though athletic green may be a bit expensive compared to alternative vegetable and fruit supplements in the market, it is highly efficient and replaces the need to take many different supplements which can be pricey when bought separately.
Is There Anything Else You Should Know About Athletic Greens?
While this product is a great option for people who need to support their nutritional intake, eating healthy may be all one needs to get the same results for most healthy people. Also, it is not clear whether having an excess of the supplied nutrients that are not deficient in the body is safe. It is, therefore, important to consult your healthcare provider before use.
Sources
Health Insiders relies on peer-reviewed studies, academic research institutions, and medical associations. We avoid using tertiary references. You can learn more about how we ensure our content is accurate and current by reading our editorial policy.
[1] Ranchordas MK, Dawson JT, Russell M. Practical nutritional recovery strategies for elite soccer players when limited time separates repeated matches. J Int Soc Sports Nutr. 2017;14:35. Published 2017 Sep 12. doi:10.1186/s12970-017-0193-8
[2] Ryan-Harshman M, Aldoori W. Health benefits of selected vitamins. Can Fam Physician. 2005;51(7):965-968.
[3] Xu DP, Li Y, Meng X, et al. Natural Antioxidants in Foods and Medicinal Plants: Extraction, Assessment and Resources. Int J Mol Sci. 2017;18(1):96. Published 2017 Jan 5. doi:10.3390/ijms18010096
[4] Shi LH, Balakrishnan K, Thiagarajah K, Mohd Ismail NI, Yin OS. Beneficial Properties of Probiotics. Trop Life Sci Res. 2016;27(2):73-90. doi:10.21315/tlsr2016.27.2.6
[5] Gombart AF, Pierre A, Maggini S. A Review of Micronutrients and the Immune System-Working in Harmony to Reduce the Risk of Infection. Nutrients. 2020 Jan 16;12(1):236. doi: 10.3390/nu12010236. PMID: 31963293; PMCID: PMC7019735.