About AlgaeCal
AlgaeCal contains strong nutrients known to increase bone density and slow bone loss. The supplements are, therefore, believed to help naturally change the course of osteoporosis (bone weakening) in women, hence helping them to maintain healthy and strong bones regardless of their age.
Fast Fact Table
| | |
| --- | --- |
| About this Brand | AlgaeCal brand founded in the year 2002 by Dean Neuls. It is based in Vancouver, British Columbia, Canada. The brand is GMP compliant. |
| Best for: | AlgaeCal is a brand with multi-nutrient bone supplements best for helping women maintain bone mass density. |
| Key Ingredients | Algae Calcium, Magnesium, Boron, Vitamin D, and Vitamin K2 |
| Price Range | AlgaeCal price ranges from $33.00-$102.00 |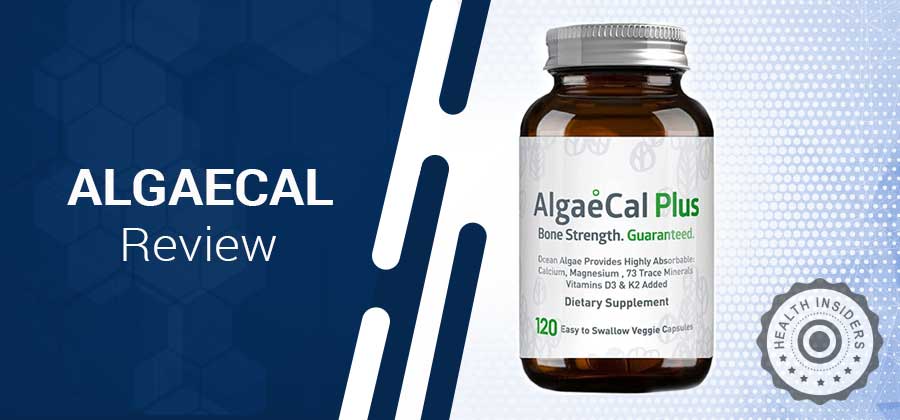 What Are The Best Selling AlgaeCal Products?
Bone Builder Pack
AlgaeCal Plus
Strontium Boost
AlgaeCal Basic
Tripple Power Fish Oil
Pros and Cons of AlgaeCal
Pros
AlgaelCal claims to support bone mass density
It may help strengthen the bones
It purports to prevent bones from weakening
AlgaeCal claims to improve overall digestion and boost nutrient absorption
Cons
The brand sells its products online
There is no clear information on whether or not the return policy covers shipping and handling fee
How Does It Work? | The Science Behind AlgaeCal
The manufacturer of AlgaeCal supplements claims their ingredients are sourced from plants and work together to increase calcium absorption in the body. They are oral supplements. Once you ingest them and they come into contact with the acid in the stomach, absorption of calcium takes place, leading to healthy strong bones.

AlgaeCal Ingredients – The Evidence
Algae Calcium
Algae calcium is rich in minerals, including calcium, a nutrient said to support strong and healthy bones. It is also a good therapeutic intervention for delaying and preventing osteoporosis incidence.
According to a study in Nutrition Journal, consumption of Algae Calcium can increase bone density.
Magnesium
Magnesium is a potent mineral that supports the building of bone mass density. The mineral deficiency is, therefore, associated with osteoporosis (the weakening of the bones).
According to research by the American Journal of Clinical Nutrition, there is evidence that magnesium supplementation can help improve bone mass density in humans.
Vitamin D
Vitamin D is said to have plenty of health benefits. That is why it is part of the ingredients in AlgaeCal supplements. Studies have shown that only a few foods contain this nutrient, hence necessitating its supplementation.
According to the Journal of Pharmacology & Pharmacotherapeutics, vitamin D influences different parts of the body, including bones, immune, muscles, cardiovascular, and brain.
Vitamin K2
Vitamin 2 is a nutrient with immense health benefits present in preserved foods and animal foods. Studies have shown that it contributes to bone metabolisms and skin health. It also enhances the proper functioning of the brain and prevents various heart diseases. The nutrient has also been found to promote the use of calcium in the body which helps to build bones.
A study in Nutrients has shown that Vitamin K2 plays a crucial role in calcium metabolism, and the deficit of this nutrient can interfere with various mechanisms, leading to a collection of different health issues like broken bones. The research further states that Vitamin K2 has been shown to have an effect on bone mass density.
How Does Algaecal Brand Rate?
| Feature | Rating | Comments |
| --- | --- | --- |
| Safety | 10 /10 | AlgaeCal supplements are developed using organic ingredients. They go through numerous clinical studies and are tested by a third-party facility. They are, therefore, non-allergic, Paraben-free, and vegan friendly. |
| Performance | 7 / 10 | Because of various factors, AlgaeCal supplements' results may not be the same for all users. However, there are varieties of these supplements that you may want to consider trying out if you find that a particular product is not working for you. |
| Customer Reviews | 4 /5 stars | Most users have given AlgaeCal products five-star ratings, with plenty of positive reviews, an indication that people like and trust the brand. |
AlgaeCal FAQs
Q: Is Algaecal Safe?
A: Yes, AlgaeCal products are safe for use. For instance, users have found Algaecal plus side effects be close to nil. According to the manufacturer; this brand's products have been developed in GMP-certified facilities and tested by a third-party facility. The ingredients used are also clinically tested to ensure safety and efficiency.
Q: Does Algaecal Work for Osteoporosis?
A: Yes, AlgaeCal works for Osteoporosis. According to the manufacturer, their supplements contain powerful ingredients such as magnesium, calcium, vitamin K2, and Vitamin D which are key in promoting bone mass density as well as bone strengthening.
Q: Where Can I Buy Algaecal?
A: AlgaeCal products can be purchased from the brand's official website. The products are also available at other authorized online distribution outlets.
Q: Does Algaecal Have Side Effects?
A: There are very few reported cases of AlgaeCal side effects and most of them are minor reactions. According to the manufacturer, AgaeCal products are manufactured in GMP-certified facilities, using clinically tested natural ingredients. The supplements are, therefore, non-GMO, collagen-free, soy-free, and dairy-free.
Q: Does Algaecal Increase Bone Density?
A: Algaecal contains potent ingredients such as magnesium, calcium, vitamin D, and vitamin K2 known to influence the increase of bone mass density in the body.
Q: Is Algaecal Legitimate?
A: Algaecal is a legit brand. It has an official website that gives transparent information about its products, location, and contact. You can also find other useful information like customer reviews and testimonials to help rate the efficiency of the product. The brand is also present on social media platforms such as Pinterest, Facebook, Twitter, Instagram, and YouTube.
Q: Do Doctors Recommend Algaecal?
A: The manufacturer of AlgaeCal claims that their supplements contain a super nutrient called algae calcium that supports bone mass density. However, according to doctors, there is still no evidence to show that algae calcium can support bone density more than other types of calcium.
Q: Can I Take AlgaeCal If I Have A Health Condition?
A: If you have a health condition, the manufacturer recommends that you talk to your doctor first before you can start using the supplements.
Q: Does AlgaeCal Work?
A: There are plenty of positive reviews on the official website and on other websites as well, a great sign that this product works. AlgaeCal supplements have also been developed using effective ingredients to ensure that they give you real results.
Q: What Is AlgaeCal Moneyback Guarantee, Return & Refund Policy?
A: AlgaeCal supplements are made with confidence that they will work to help you achieve your health goals. However, manufacturer appreciates that there are those who will find the products not to satisfy their needs. That is why supplements like Algaecal Plus and Strontium Boost and the rest of the products come with a one-year money-back guarantee.
So, if for some reason you want to return any of their products, you can do so within one year from the date of purchase. Upon receiving the merchandise, they will give you a full refund of your purchase price.
AlgaeCal Best Sellers – Product Alternatives
| Brand | Price | Active Ingredients |
| --- | --- | --- |
| 1MD OsteoMD | $45.99 | Calzbone, MenaQ7, Vitamin D3 as Cholecalciferol, Calcium Hydroxyapatite |
| BONE AND HEART Complex | $21.95 | Calcium, Vitamin D3, Vitamin K2, Vitamin B12 |
| Algae Calcium | $24.95 | Vitamin D, Calcium, Zinc, Magnesium, Manganese sulfate, Boron, Vitamin K2 |
| Vegan Plant-Based Calcium | $24.96 | Vitamin 3D (Lichen), Vitamin K2 (from nato), Magnesium (from aquamin Icelandic red algae), Organic vegan and red algae blend |
Is AlgaeCal Safe? – Warnings & Complaints
AlgaeCal supplements are safe for use by healthy individuals. People with any health condition or under medication should not use the supplements before consulting with their doctor.
AlgaeCal Customer Reviews & Results – What Users Are Saying
AlgaeCal customer reviews available on the official website and other websites are mostly positive, an indication that users are pleased with the results. From the reviews from the official website and other websites, the majority of customers said that they are happy because the supplements are really working for them. AlgaeCal Plus reviews are overwhelming. It seems that almost every user is pleased with the product's results.
However, there are also negative reviews from customers. There is one who has complained about the price saying that it is higher. Another one said that the supplements did not work for her while another one said that she had a bad reaction after using the supplement.
AlgaeCal: Packages, Deals, Prices & Where to Buy It
The price of AlgaeCal supplements as given on the official website are as follows:
Bone Builder Pack – $102.00 (one month supply)
AlgaeCal Plus – $69.00 (one month supply)
Strontium Boost – $33.00 (one month supply)
AlgaeCal Basic – $48.00 (one month supply)
Triple Power Fish Oil – $52.00 (one month supply)
Omega 3 Blood Test Kit -$50.00 (one month supply)
Note that the above prices are for a one time purchase option. But there are other better price deals available you may want to check out. You might want to check out Algaecal Plus best prices from Algaecal website and AlgaeCal Amazon.
The Bottom Line on AlgaeCal
There are various factors that prevent the body from getting the right amount of nutrients needed to support healthy strong bones. That is why most people begin to experience weakening on bones while they still look young and vibrant. Scientists and doctors have been working hard to ensure that people across the world have access to supplements that can help compensate the deficiency of nutrients.
AlgaeCal is one of top brand that has some up with effective supplements to support healthy bones. Benefits of Algaecal are evident and that is why the supplements have received plenty of positive review from customers, including users of AlgaeCal Plus and Strontium Boost in UK.
Is There Anything Else You Should Know About AlgaeCal?
AlgaeCal supplements are meant to be used by adults only and not intended for children. Also, pregnant or expectant women should not use these supplements.
4 sources
Health Insiders relies on peer-reviewed studies, academic research institutions, and medical associations. We avoid using tertiary references. You can learn more about how we ensure our content is accurate and current by reading our editorial policy.
[1] Boskey AL, Coleman R. Aging and bone. J Dent Res. 2010;89(12):1333-1348. doi:10.1177/0022034510377791
[2] Changes in Total Body Bone Mineral Density Following a Common Bone Health Plan with Two Version of a Unique Bone Health Supplement: A Comparative Effectiveness Research Study: https://nutritionj.biomedcentral.com/articles/10.1186/1475-2891-10-32
[3] Orchard TS, Larson JC, Alghothani N, et al. Magnesium intake, bone mineral density, and fractures: results from the Women's Health Initiative Observational Study. Am J Clin Nutr. 2014;99(4):926-933. doi:10.3945/ajcn.113.067488
[4] Nair R, Maseeh A. Vitamin D: The "sunshine" vitamin. J Pharmacol Pharmacother. 2012;3(2):118-126. doi:10.4103/0976-500X.95506.